From Shakespeare to ChatGPT: the impact of AI on writing and creativity
Since this world was made, words and writers have been essential to humankind. The first ones help us to communicate. And the last ones are the ones who put this world in words in different perspectives that we can see it. Without these two elements, people would not have known the beginning of their existence, the different cultures that exist in this world, the born of poetry and literature, the mere world history wouldn't be accessible to people without some writers that took care to write everything they knew. But, when we think of those times, we imagine paper and pen, words written, and a lot of research and attention to the world. Not the ChatGPT, artificial intelligence, and other entities that will not steal our jobs.
What would Shakespeare say about this love-hate relationship between AI, machines, and humans? Or what would he have written about this?
"We know what we are but know not what we may be." My dear Ophelia, you are right. Probably he would have also adapted to this new world and way of writing. Like the rest of us did. Or we are trying.
But I will let Shakespeare rest. I will come closer to today when everybody talks about artificial intelligence, machine learning, and AI tools that are doing our jobs and, ultimately, stealing it. Nothing more wrong. First, what we have to understand, no matter the position you have, is that no AI, ML, or other combinations of letters can put aside the HUMAN and its capacities. All these tools are made to help us in our everyday jobs and make our life easier by being able to enjoy life. No more fluff talking; I want to show you the impact of AI in writing and how we, the content writers, can use this to our advantage.
AI and Content Writers
As a content writer is my moral duty to always look for new ways of keeping my writing up to date and to avoid writer's block as much as possible. Even though when technology started to evolve in the direction where everybody was frightened of losing their jobs in front of evolution, I began to ask myself, what if the real reason is to use that piece of technology to my advantage as a writer? Not so long ago, people went crazy with a specific tool. I could read posts everywhere from people saying that this is the future and the end of our jobs in content or marketing. AI and ML will replace us because they can do our jobs faster without worrying about writer's block.
Wrong. No AI or machine can replace a human being's touch, and no algorithm can reproduce something unpredictable, like human emotions or reactions. And so, to demonstrate my theory, I started to interact with ChatGPT – the tool that everybody was talking about. Now, if you are a content writer or your job involves developing written content, you must read further. I haven't discovered America, but I did understand how I can use an AI tool to do my job a little faster, but not have a tool writing for me.
I'm not a scientist, but I do a lot of research.
Now. Let's start with the beginning. More than letting my creativity out, being a content writer means I also have to do a lot of research when writing about a specific subject. First, I don't want to write vanilla content just for Google to see me as another one filling the internet with words. Thus, it would be best to have time to research to deliver quality content. I am a content writer, but not Nostradamus. Adequate research can take time, especially if you are unfamiliar with the topic. And I am a content writer that likes to have her homework done.
Before asking ChatGPT to do my job, I wondered if this AI tool could help me instead with my research and deliver the information that it would take me time to find. To understand how this tool works and what it can provide me, or the accuracy that it delivers, I started to do some tests.
Thus, I want to learn more about AI tools and what kind of tools exists in the market that a content writer can use. And all of this without searching on Google or another engine search.
Good. Here, the tool generated a definition of AI tools. I've put a general question and received a general answer.
So, until now, it saved me 5 to 10 minutes of searching from multiple sources. Now that I've understood what an AI tool is, I want to dig into this and find what kind of tools exists in the market that content writers can use.
Some of them are already familiar to me. But I really liked the fact that for each type of category, the tool highlights precisely how they are using AI. So I can use this information as part of my research. Instead of spending time looking by myself, this tool delivered the information in less than 30 seconds. 
Let's see what else ChatGPT can do for me. I've mentioned earlier that sometimes can occur writer's block, and I still have to write a piece of news on a specific subject, but I need to figure out where to start. I can start with the article's title, but I need to figure it out.
Thus, if you don't want your personal touch over the title, the tool can give you enough title variations from which you can choose or combine. Until this point, I think it is valid only to provide just a tiny inbound as a content writer and some inspiration because if you don't want Google to tail you and say that you're using AI-generated content, you will rephrase or rewrite the content using your tone of voice and your style.
From software to more personal approaches
You'll ask where I want to go with this little trial. I want to understand its limitation, the amount of information this tool has, its accuracy, and even how people who need to learn how to write content can use it properly for different contexts. But to have some accuracy in its answer, it is better to create specific contexts for the AI and explain precisely what you are doing and the purpose of the piece of content or information you're searching for. Until now, I understood we could use this tool for research, inspiration, or rewriting, saving you some time or from situations when you have a block and don't know where to start.
So, let's keep pushing and pushing.
From where I stand, the tool is scraping all over the internet, gathering pieces of information from different sources in seconds. It saves me time and is a good start if I don't know exactly what to do. But I want some basic ideas and content that I can use for my posts. Or at least from where to inspire. But you must remember that the most information you feed to the machine, the most accurate, will be the content it delivers.
It's good. The tool delivered me four posts. But I'm impressed with the fact that the tool not only wrote my content but also, for each post, he suggested me also visual content to support the written content. But with this, I also discovered some limitations. If I write to it the name of the brand and what information he can give me about it, he will not be able to do it because he's not a search engine like Google.
"I'm sorry, but as a language model trained by OpenAI, I don't have real-time access to the internet to search for information on specific businesses. However, you can use a search engine like Google to find information on. If you could provide more details or context about what you're looking for, I might be able to provide more relevant information."
Let's go further and see what else we can ask this AI and how you can use the information. Or if it has any limitation that makes you think the data also needs some checkup on the internet.
PS: I know that the questions may look silly to you, but for me, it was a good starting point in my "relationship" with ChatGPT. 
Of course, Novak Djokovic is the best tennis player; I could not agree more. But the interesting part is the limitation I have discovered with this AI: he only has access to information until 2021. Thus, if you want to find information or to write about a more actual subject with up-to-date information, you might need more than that. That's why I recently did another try to see if he had changed.
He still can't help with this, but if I give it a text about this topic to rewrite in a manner I desire, it will be capable. We hope they will fix this soon, and until then, you should play with information until 2021 so that the tool can deliver accurate content. Thus, if you are a lazy journalist and need to cover a topic about the last earthquake in Turkey, he will probably not write you an article about the last one. So, you should start doing your job and fear less that an AI will steal your job. Otherwise, I also have to notice that ChatGPT uses a personal tone in our conversations, as he uses "I'm sorry."
Not human, but created by humans
Many people omit that this artificial intelligence was created by humans, following some patterns in our behavior but unable to precisely reproduce human emotions. Another pro for ChatGPT is that the tool is aware of harmful content, illegal activities, child abuse, or politics. Of course, this is part of their policies and some parameters set by the ones who created it.
But I'm not done. Like many writers, I keep my options open and my procrastination even wider until I don't feel like I'm done and bored with the subject; I'm not finished. Now, the exciting part, I want to show you that this ChatGPT can write for you. And that's why many pieces of content from the internet started to look similar, with maybe one or two changes here and there; because those people are using the content that the AI is generating without taking matters into their hands and doing some actual editing.
Good, but not good enough. I don't need another tool to verify that this piece of content was written with an AI because I can see it from the tone of voice or the lack of it, and it doesn't have a personal touch. Let's see if ChatGTP can make this text more personal, a little creative, and different than sounding like physics and chemistry.
It starts to look more like summer, but still not that hot. It is better than the first, but I still feel forced. Yet, it is a good start when you need to learn how to start writing about a specific topic. Then, my advice will be to rewrite the text in your style and continue. And to check if we can go further and mimic some already-known writing styles.
I am impressed with the possibilities that this AI tool offers to people, not only content writers. And now that I've come to the end of my little experiment, I want to sum up this article with a few things:
An AI would never be as creative as the human mind can be. So, you can use an AI writing tool like ChatGPT for your content to save research time or to have a start when you're out of ideas. I suggest writing that content yourself so you can offer Mr. Google original and accurate content to scrap. So, research topics.
You can use the tool to generate ideas regarding marketing campaigns, article titles, and article introductions. Or to rewrite content in a style of your choice.
As a content writer, you can use ChatGPT to improve your writing. Because it generates content by itself, the tool can also change or improve a piece of content you wrote. The tool can offer you feedback by analyzing your content and can become your own personal writing tool.
And I will show you a last conversation with ChatGPT so you can see exactly how great this tool is if you know how to use it properly instead of just putting it to do your job. Because remember, this one is a tool, not a content writer, and it is not your creativity or your mind, but a tool that will help you improve your content and skills if you use it properly without cheating your passion for writing.
So, I asked ChatGPT what it thinks about my article, and here are its answers: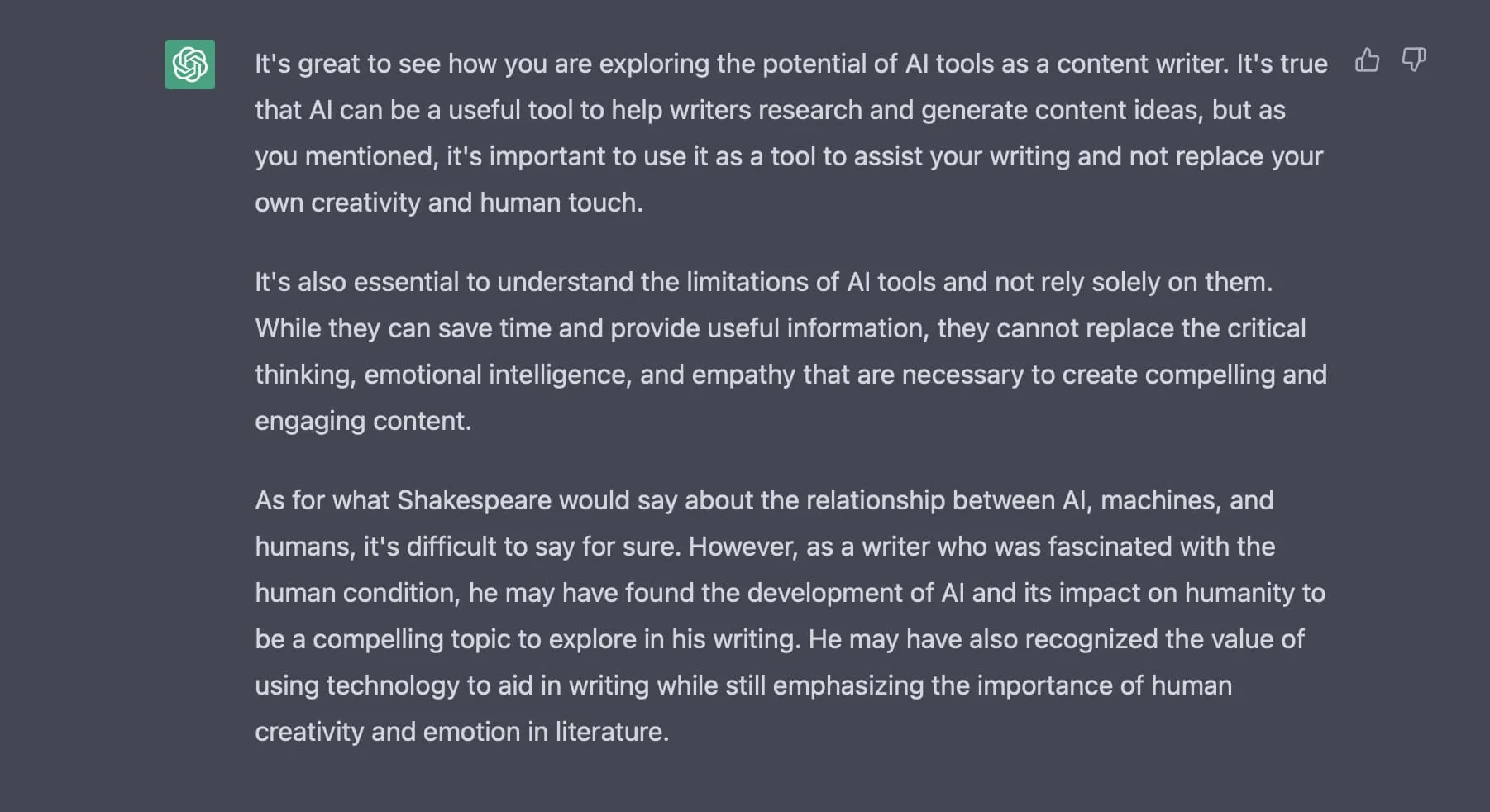 As you can notice, it is well-analyzed and personal, and I felt like I was receiving my feedback when I was a student.