GetResponse Free
Grab The New GetResponse Free Forever Plan with limited features, or try it Free for 30 Days!
Disclaimer
We sometimes use affiliate links in our content. This won't cost you anything, but it helps us offset the costs of paying our writing team. Thanks for your support!
GetResponse Free plan
Get your GetResponse Free account and start your marketing automation journey immediately. If you are wondering why it is that? As we all get through difficult times, we must figure out things. Thus, get your online business up and running and let the GetResponse automation & lead generation process make this easier for you.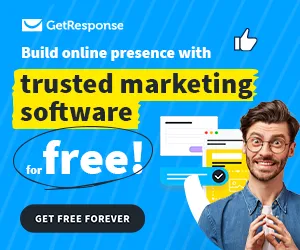 Moreover, the package is free forever & gives you access to the following :
Build and host one website with 5GB bandwidth
Connect your domain or choose a free one
Use SEO-optimization tools to attract organic traffic
Ensure maximum security with SSL certificates
GetResponse 30-Day Trial
Explore first, decide later – try all features for 30 Days with GetResponse Free Trial!
Included in the free trial, you will get the following:
Unlimited email marketing
Space for up to 500 contacts
AI-powered, code-free website builder
Marketing automation
Highly engaging webinars
Signup forms and popups
Advanced analytics and testing tools
Automated sales, lead, and webinar funnels
Start free now, there's no credit card required, and you can cancel anytime!
Now, we think this is the helping hand we all need at the begging of the journey. So, hop on the Getresponse train, get your business out there, and make it easy for your customers to find you.
As a bonus, once your business starts, you can upgrade your account and switch to one of the paid versions for automation. Compared to the free Getresponse version, you will find the full version of the tool is a whole new universe to discover and enjoy.
Enjoy the tool, and let us know what you think about all the amazing perks Getresponse brings to the table for all marketers.