Best Marketing Automation Software
Are you looking for a tool to put your marketing strategy on autopilot? For sure, you need one of the marketing automation software!
Compare Marketing Automation Software
See Results
Open Filters & Sort
ActiveCampaign, a popular cloud-based marketing automation software, serves over 180k businesses worldwide. It handles everything from email marketing, reporting, landing pages, and CRM, making it op...
Learn more about ActiveCampaign
Netcore
Officially verified by the Software Seller.
Netcore is a comprehensive engagement and experience platform trusted by over 6500 digital-first brands. It offers a full-stack growth platform for marketers, product managers, and growth managers. I...
Learn more about Netcore
MailChimp
Product not verified by the Software Seller.
MailChimp is an all-in-one marketing platform for businesses of all sizes. The Saas started as a straightforward email marketing platform; however, today, there is nearly nothing you can't do i...
Learn more about MailChimp
Freshmarketer is a well-known marketing automation software. It offers seamless collaborative features that improve marketing teams and sales work processes. With it, you can complete contact managem...
Learn more about Freshmarketer
Bloomreach
Product not verified by the Software Seller.
Bloomreach is a marketing automation software that contains a suite of products that drive true personalization and digital commerce growth. Thus, it empowers brands to deliver customer journeys so p...
Learn more about Bloomreach
Braze
Product not verified by the Software Seller.
Braze is a cloud-based marketing automation software engagement platform that powers customer interactions between consumers and brands. It improves customer retention, lifetime value, and ROI and, a...
Learn more about Braze
Carts Guru
Product not verified by the Software Seller.
Carts Guru is a marketing automation platform designed for e-commerce. It helps shop owners increase their revenue and grow faster with multichannel marketing campaigns, automated workflows, actionab...
Learn more about Carts Guru
HubSpot Marketing Hub is a set of marketing tools that allows you to: generate leads (find potential customers) automate your marketing (sift through leads without getting bogged down) do analytics...
Learn more about HubSpot Marketing Hub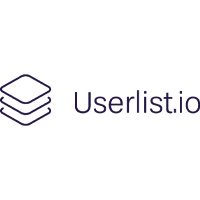 Userlist
Product not verified by the Software Seller.
Userlist is the best way for SaaS companies to send onboarding emails, segment their users based on their behavior, and see where their customers get stuck in the product. Choose the right channel (e...
Learn more about Userlist
AWeber
Product not verified by the Software Seller.
AWeber is a marketing email platform that allows you to create e-newsletters and autoresponder cycles. You can also take advantage of its basic e-commerce functionality that allows you to sell subscr...
Learn more about AWeber
This tool will optimize your business and, besides, will do all the marketing tasks like emails, social media posts, or lead generation in your place.
Discover the best MA software on the market from our encyclopedia. Check out our reviews and decide which one is right for you!
What is marketing automation software?
Not only can you improve the workflow of your team, but you also gain time and energy to focus on the business. Or other tasks that need your attention. A MA software is designed to help marketers or businesses attract more customers. Additionally, you can improve marketing efficiency and analyze lead behavior.
Even though this kind of tool automates some processes based on your customer's actions and behavior, also you can scale the business efforts to build engagement with clients or the community.
Moreover, this type of software is replacing manual and repetitive tasks. Isn't that great?
Types of marketing automation software
What did you think? That you only have to look through the MA software category, and that's it? Let me tell you that you can choose from different types of marketing tools depending on your needs:
Inbound marketing automation
Lead management and nurturing automation
Pricing automation
B2B vs. B2C
To sum up, here you will read honest reviews about all sorts of automation software that will help you grow your marketing strategy, improve your sales, and so on. Discover which marketing automation tool is the best or ideal for small and medium businesses according to its features, pricing plans, or other benefits.
Marketing Automation Software Insights
Similar Marketing Automation Software Categories