What is a SaaS Company? – The Flash of delivering services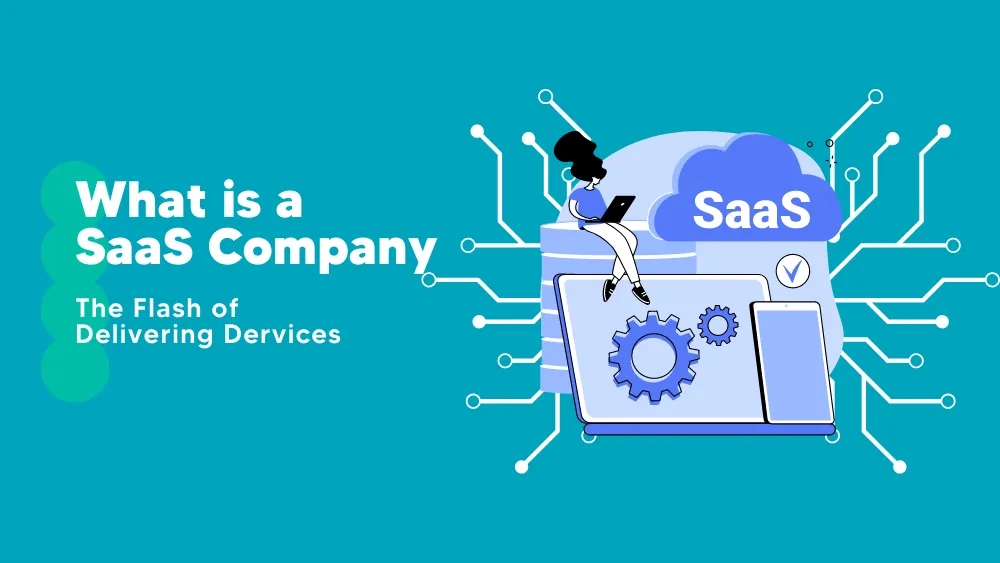 Before SaaS Companies appeared, the software industry started its path in the 20th century. The first company that began to offer software products and services was Computer Usage Company in 1955; before this time, users of personal computers had been developing software. Businesses were buying software licenses and installing the software in their personal hardware to get access to applications, and everything was on-premise (self-hosted).
All this action procedure was costing not only money but also time, and at the beginning of the 21st century arrived, one of the best business models, named SaaS (Software as a Service). Nowadays, SaaS Company is a massive part of the IT industry and is worth approximately $ 195 billion, according to (Gartner), and it keeps growing.
In this article, you'll learn more about a SaaS Company and everything surrounding it. You can use the chapter links to get the information you need. Keep reading, prepare a tea and enjoy.
What is a SaaS company?
Software as a service (SaaS) Company is a business that creates software applications(digital tools) for customers targeted in B2B and B2C, usually for a monthly subscription. These companies host the infrastructure and the software, and clients get access to the internet. SaaS was evolving as a software delivery model with many benefits, like accessibility, flexible pricing, and reduced time.
Time and money are precious pawns in business, and SaaS helps you save both. The old way of installing, managing, and updating the application on the local servers or computers was a big waste of time and money. Therefore, SaaS Companies became a model for software delivery, and technology companies like Salesforce, Microsoft, Oracle, and many others evolved, giving SaaS products that were in B2B and B2C.
Benefits of SaaS Companies
Using the benefits that SaaS providers offer to you will lead to a growth spurt for your company. Here you can find the advantages of SaaS Companies that consist of your business life tree.
Well-managed money keeps your project far away from the ravine. The need for expensive hardware and software disappears, paying usually a monthly subscription, your team or business will benefit from the pack tool you paid for.
A provided application can be accessed from almost any gadget with an internet connection, making life easier for remote workers, unlike the traditional model where the application was on the hardware you have at the workplace.
The traditional model of installing the software occupies a lot of time. Instead, with cloud-based SaaS applications, you install it thru the internet, and it is already configured.
Providers upgrade the product, which becomes available for customers once they upload the new version. With their help, the time and effort you spend to get the latest version of an application are less than the traditional model that forces the customer to purchase an upgraded package and install it.
Types of SaaS companies
SaaS Companies are based on software applications for a type of industry area. Focusing on their target audience, the provider creates manageable software for the requirements your business is searching for.
Customer Relationships Management 
CRM SaaS Company provides software applications for managing customer relationships, marketing activities, data, and customer service. Some examples of CRM SaaS are Microsoft Dynamics 365, Salesforce, and Close.
SaaS Company provides software applications for creating meetings, video calls, share screens, time tracking, etc. The most popular products are Zoom, Slack, and Haiilo. A significant impact of creating communication tools was by the workers in remote areas.
SaaS made some solutions for online stores or marketplaces. Including great features like payment gateways, customer relationship management, and email marketing makes running an online store easier. Some good e-commerce SaaS are Shopify, Big Commerce, Woo Commerce.
This SaaS provider usually manages the information about the patient. Some main features are pieces of training (for medical staff), payment gateways, billing systems, and data security. Some healthcare products are On-Demand Homecare, Alora Home Health, and AxisCare.
These SaaS providers focus on creating products for everyone who needs to learn. Their clients can be students, teachers, or workers, and the pandemic period made it a very asked product. Some good products in this field are Grammarly, Teachoo, Prerply, Labster, and Outschool.
Risks of SaaS companies
We already know that a SaaS Company gives its customers many benefits, but as we know, with every plus, there must be a minus. These businesses can hold the maintenance, so their customers don't have to do it. That means that the third party of the SaaS company will respond to customers' business functions, which demands the subsequent risk.
That third party holds database security. Some SaaS companies don't respect the security standards like SOC2, HIPAA, and PCI-DSS. Also, remote workers that access services with any devices connected to the internet increase the vulnerability of unauthorized use.
SaaS applications produce more efficiency in your business, but sometimes, a SaaS Company's issues could also affect your business. Because of any interruptions of the SaaS System, customers cannot access their data.
SaaS Companies include more packs of pricing models. This move of attainability surrounds more potential clients starting from small businesses to huge companies; it also allows small teams to evolve. As we can see on the screen I attached above, Microsoft offers us more options on the subscription. It depends on what tools you need and what kind of customer you are. Price can change over time, affecting the plan of wasting a business's money on tools.
Companies need more visibility and control of their data if they use SaaS. Losing data can start severe problems for the financial field, reputation, and others. On the financial plan, inventing new security measures and regaining customer trust (a tough action) can cost your company a lot of time and money.
Read here how to manage your business data with these software products
A SaaS Company asks customers for long-term subscriptions. This action can lead to difficulty switching the SaaS provider if the customer doesn't need their service anymore or the price is higher.  An example can be a B2C situation; you bought Office 365 for personal use. You are using Microsoft word to create a letter for the university you want to study in. Once you become a university student, you receive Office 365 for free, but you must wait for the subscription to end.
Freemium vs. Premium SaaS products
Freemium in SaaS is a marketing business model that provides free SaaS without charge, and the Premium version is the one you charge for. Usually, for more advanced features, you must pay. A good example is Slack Technologies, LLC, whose products are classified into four versions. In this pricing list, we can see the Freemium one is the first method. The free version of the application provides only three features access to message history, integrations with other apps, and audio/video conversations with screen sharing.


The idea of the Freemium version is to get more customers who make part of the small-size businesses.
Premium versions such as Pro, Business+, and Enterprise Grid give more features to the customers, targeting medium and huge-size businesses. The pro version already includes more features than the freemium version. Audio and video conversations of up to 50 people evolve worker communication. It is already a good start to improve communication for a small company that is classified with 50 employee range.
Choosing a SaaS company
It's essential to make sure when selecting a SaaS Company for your business because SaaS providers can radically change how the business customer works. Evaluating a SaaS provider, companies should pay attention to the following:
1. If the Service meets your expectations
Businesses should check if the provider makes all the services that they need. Based on the latest data from explodingtopics.com, approximately 30,000 SaaS Companies exist in the industry. Companies must study the pack of services that a SaaS Company offers and select the one that meets their expectations.
2. SaaS Provider with a good reputation
If your results gave more than one SaaS Company for your business's needs, you must select the one with a better reputation. Looking for reviews from the present versions and past, you can see if it's a trusted provider on the marketplace.
3. Provider's maintenance and support
Before starting to work with a SaaS provider, try to check support policies. If they offer in their service pack efficient support in case of issues with their providing products, they are a good choice.
4. Evaluate the provider's security.
Security is an essential aspect of any customer that profits from services. Businesses must avoid SaaS providers that work with a third-party processor. Poor data security leads to penalties; reporting to Statista, the average data breach cost in the United States is more than $8.6 million starting in 2020.
5. Pricing model and possible substitutions
Once you have identified your needs from a SaaS provider, try to find more SaaS companies with similar digital tools. One important point of choosing the right one is checking the price model list. You can find the cheapest provider if you have a small business, which will save you money in the future.
6. Investigation
It is a significant action, always measure twice and cut once. All the steps you take have consequences. If you research before selecting your SaaS provider, your business will grow like never before.
SaaS vs. other cloud services
Software as a Service is a part of the IT industry with incredibly fast-developing results. SaaS is placed in first place (2021-2023) because it gives more functionality than other cloud services. The total growth of the SaaS market will increase more in the next future; it's a fact because companies are selecting SaaS for different business operations.
IaaS (Infrastructure as a Service) comprises scalable and automated computer resources. As opposed to SaaS, IaaS delivers cloud computing infrastructure, including servers, networks, operating systems, and storage.
PaaS (Platform as a Service) provides cloud components to specific software while being used for applications. It delivers a framework for developers, who can use it to create customized applications.
Gartner expects that PaaS and software-as-a-service (SaaS) will see the most significant impacts from inflation due to staffing challenges and the focus on margin protection. However, both segments will still see continued growth, with Gartner forecasting.
Conclusion
Software as a Service has been one of the fastest-growing market segments of IT for over three years. Fortunebusinessinsights.com says that the Software as a Service market will grow from $251.17 billion in 2022 to $883.34 billion by 2029, exhibiting a CAGR of 19.7% during the forecast period. This evolution is happening because SaaS Companies resolve problems with their hosted services at a low cost in a short time very efficiently. The Wall Street Journal claims that businesses now spend 20% more on these cloud technologies than they did just a year ago, which helps them grow faster at the same time as the SaaS Companies.