RallyUp Reviews
& Product Details
What is RallyUp?
RallyUp is a nonprofit service that assists groups with fundraising, contributions, event management, campaign monitoring, and other activities. In addition, it enables team members to construct custom-branded fundraising sites with comment sections, unique URLs, campaign descriptions, social sharing buttons, verified badges, countdown clocks, and progress bars. So, without further ado, let us review one such online fundraising platform.
Found in these Categories
Best For
Online fundraising platform for nonprofits.
StartUps

Freelancers

Small Business

Medium Business

Large Enterprise

Non-profit Organization

Personal
Cloud, SaaS, Web-Based

Mobile - Android

Mobile - iPhone

Mobile - iPad

Desktop - Mac

Desktop - Windows

Desktop - Linux

Desktop - Chromebook

On-Premise - Windows

On-Premise - Linux
Company Name

RallyUp.com, Inc

Located In

United States

Website

rallyup.com
Starting from:
$0.49 +1.99% per transaction
Pricing Model: Pay-as-you-go
Pricing Details:
You can use RallyUp for free, but payment processing fees apply – 1.99% + $0.49 to 2.9% + $0.30 per transaction.
Accounting

Auction Management

Campaign Management

Contribution Tracking

Electronic Payments

Event Management

Fundraising Management

Membership Management

Payment Processing

Registration Management

Website Integration
Additional Features
API

Activity Dashboard

Activity Tracking

Alerts/ Notifications

Campaign Analytics

Customizable Branding

Customizable Fields

Customizable Forms

Dashboard

Donor Management

Email Reminders

Event Scheduling

Event Ticketing

For Nonprofits

Goal Setting/ Tracking

Mobile Access

Mobile Giving

Online Forms

PCI Compliance

Pledge Management

Receipt Management

Reporting & Statistics
Raise more. Pay less. Give better. Free fundraising, forever.
Donor management software that nonprofits love to use.
RallyUp: A Fundraising Platform
As digitalization continues to transform how people work, live, and interact daily, there has been a shift in the way individuals give, with younger generations becoming more interested in micro-philanthropy. 
While individual gift amounts are decreasing, cause-based awareness, mobilization, and donation volume are increasing. Unfortunately, organizations will miss out on a new audience of contributors if they do not have the skills and technology to capitalize on this transformation. 
Staff members may use RallyUp to check event attendees, establish team lists, show leaderboards, send registration emails, and set up registration costs. 
Employees may customize bid increments, categorize things, set up fair market value, create item sharing URLs, and handle multiple number auction items with the auction tool. Administrators may also create crowdfunding sites with one-time donations, limited-quantity rewards, and weekly, monthly, and annual recurring donations.
In the context of fundraising, the traditional in-person gala is still significant, but it is no longer where most donating takes place. Instead, donors now live in a hybrid environment where offline and online collide. They want to be able to approach giving events with the same flexibility they do the rest of their lives.

Steve Bernat, RallyUp's CEO
RallyUp has an application programming interface (API) that allows companies to connect the platform to third-party services, including ActiveCampaign, Stripe, Facebook, and DonorPerfect. Pricing is accessible upon request, and live chat, FAQs, video lessons, documentation, and other internet tools are used to assist.
RallyUp is a free, interactive fundraising tool that enables any size organization to build professional-level fundraising experiences easily. The adaptable, adjustable solutions are intended to assist NGOs in engaging current contributors, attracting new donors, and raising more funds.
Raffles Auctions A-thons Sweepstakes Sales Crowdfunding Using RallyUp, organizations may build single or multi-activity fundraising events that include Events (totally virtual, completely in-person, or hybrid) Raffles Auctions A-thons Sweepstakes Sales
However, without technology to improve the giving experience, this new face of fundraising would not be conceivable. Organizers who do not implement new solutions now may miss out on huge possibilities to raise more money in this changing environment, and they may even lose their donor base entirely.

Steve Bernat, RallyUp's CEO
Live streaming and peer-to-peer capability may be added to any experience for free, whether it contains one or more activity types. In addition, when you use RallyUp, you can expect to take home more of what you raise since there are no membership fees or locked features, and you never have to enter credit card information.
RallyUp was founded by Steve Bernat, the company's founder and CEO, to help philanthropic groups enhance their fundraising efforts. The company's headquarters are in Tucson, Arizona, while other team members are spread around the globe. Any organization or group that wishes to collect money for a good cause can utilize RallyUp.
Non-US consumers can also use their services since they accept foreign credit card donations that are instantly converted to US dollars. In addition, many countries, like the United Kingdom and Canada, allow users to accept and receive donations in their currency without conversion.
Virtual and Hybrid Event Characteristics
RallyUp's Virtual and Hybrid Events solution enables organizations to link on-site attendees with a virtual audience through several classic activities such as raffles, auctions, and sales, as well as RallyUp's unique features such as:
Robust Event Platform — With all the features needed to conduct a huge virtual fundraising event, organizations may broadcast to more than 10,000 guests.
Trivia Contests, Spotlight Items, Paddle Raises, Flash Auctions, Raffles, and Donate-to-Vote, are all examples of interactive live streaming actions that assist virtual event organizers in attracting more contributors to support their cause fully.
Donors frequently have to traverse one or more URLs before an event to interact with an organization's fundraising operations and then a separate URL during the live-streamed event. Organizers may now share a single URL with contributors that they can use from beginning to end.
Livestreaming is both unlimited and gated — Organizers may conduct as many live streams as they wish for a single event. Livestreams might be restricted to ticket holders or made available to the general public.
What Is the Process for using RallyUp?
The campaign features allow you to customize each campaign to meet your specific demands by leveraging your organization's logo and design. In addition, you may create a community with personalized pages, and team and member fundraising is also supported.
You may also send individual thank-you cards and promote your campaign via email and social media. Donor management is a type of customer relationship management system used to keep track of donor information and campaigns.
It allows you to keep track of your donors' profiles, track donor engagement and activity patterns, send customized emails for each campaign, and see donor contribution history by the campaign. You may also export donor data and transactions to Excel and organize donors by campaign or team activity. In addition, your contributors will be able to donate from anywhere globally if you use mobile giving.
It also allows you to set up and operate campaigns from your phone, manage your donors and donations, keep donor information organized and safe, and allow participants to join or establish new teams, purchase tickets, merchandise, or contribute while on the move.
RallyUp is a highly user-friendly layout with several useful tools to help you organize and track data.
Details of RallyUp Features
The top features that make Rally Up stand out among its competitors are discussed below:
Peer-to-peer fundraising, often known as team fundraising, is a method of having people join your campaign and generate dollars for you. It allows participants to share the fundraising with their friends, family, and social media networks. Consequently, they can increase the campaign's reach, resulting in more donations raised for your organization.
Here's how peer-to-peer fundraising works in practice:
Imagine a school that wishes to generate money for a new football field by holding a jog-a-thon. Peer-to-peer fundraising allows every student at the school to participate in a campaign to raise money based on the number of laps they run. Students can also be divided into classes to keep track of how much money each group raises.
Text-to-Give allows people to donate more easily by sending an SMS message with a link to your fundraising website. This feature may be added to any campaign, but it's especially useful for in-person events, live streaming, and advertisements.
Before you start, you should know that Twilio powers Text-to-Give. However, because cannabis and CBD aren't legal anywhere in the US, Twilio's Messaging Policy prohibits sending messages about them and promoting or selling cannabis products. Therefore, this feature should not be used if you or your donors are in the United States and your Experience contains cannabis or CBD goods.
Raffles and sweepstakes (sometimes called giveaways) are excellent ways to generate funds for a good cause. However, they come with specific legal criteria that the recipient organization must meet. As a result, the organization for whom you're raising donations must be registered with RallyUp to manage the campaign and receive the contributions.
Google Analytics is an online activity tracking application that gives website visitors' attributes and behavior information.
If you've created a RallyUp account, you may use Google Analytics on your campaign pages to:
View real-time data on how many people are visiting your campaign pages at any given time.
Examine the demographics of users who visit your pages (age, gender, geography, and so on).
Understand how users interact with your campaign pages, such as session length and bounce rates (how many viewers leave your site after viewing only one page)
Follow the path of the traffic (e.g., if they came from a social media link)
These insights might assist you in determining where your campaign advertising efforts may need to be strengthened. You can, for example, target different age groups, geographic places, and other communities using multiple platforms.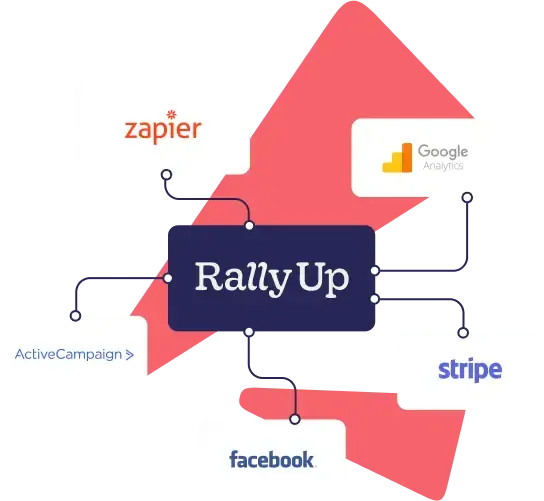 A Facebook pixel is an analytics tool that lets you follow and analyze your supporters' behavior when they visit any website. It comprises code that can be added to a website to measure Facebook ad conversions, define target audiences, and more. 
The Facebook pixel is activated whenever a visitor makes an action on a website, and the activity is reported. Therefore, you may use Facebook pixels in various ways to increase the success of your campaign.
You may, for example, add a Facebook pixel to your campaign pages to collect data on users, such as how many people see a campaign, add things to their basket (such as raffle tickets, event registrations, and so on), begin the checkout process, and finish their purchase. A Facebook pixel can also be used to generate more successful ad campaigns by:
Create advertising that retargets visitors who have previously expressed interest in your fundraisers (for example, by adding goods to their basket but not completing a sale).
Use attractive advertisements to find new clients who are more likely to see or contribute to your campaign, depending on the criteria.
Viewing conversion rates (the number of people who completed a purchase after clicking on an ad) and determining the success of a certain ad campaign
Other Features
RallyUp has campaigns that benefit charity organizations or groups, and the cash is given directly to the beneficiary. Aside from campaigns, donor management and mobile giving are also available.
Dinner galas, fashion shows, goal competitions, pledge ideas based on goals, bench press, tweet, and crowdfunding concepts based on school sports, disaster assistance, films, and benefit concerts are all part of their campaign methods.
Wine tasting, trips, technology, and automobiles are frequently included in raffles, while t-shirts, baked delicacies, signed artifacts, and flowers are frequently featured in sales.
Customer Service
RallyUp may be reached at 520-314-8800 or by email. You may also contact them via their contact form, Facebook, Twitter, or LinkedIn accounts, and a member of their staff will respond.
Your Registration and/or Campaign may be revoked if it is being used in connection with any unlawful, improper, or objectionable actions, as assessed by them in their sole discretion.
RallyUp Review Conclusions
RallyUp is a unique and new addition to the fundraising industry. Their straightforward price structure, which includes no hidden fees, makes it easier to use and rely on. As a result, RallyUp will benefit nonprofits, charities, and even schools. 
Moreover, RallyUp provides an overall sense of being new and entertaining. It efficiently services charitable organizations and has one of the most affordable costs, which many groups appreciate. There aren't many RallyUp complaints online, and most people applaud it for having a real culture.