5 Best student software products to use in 2023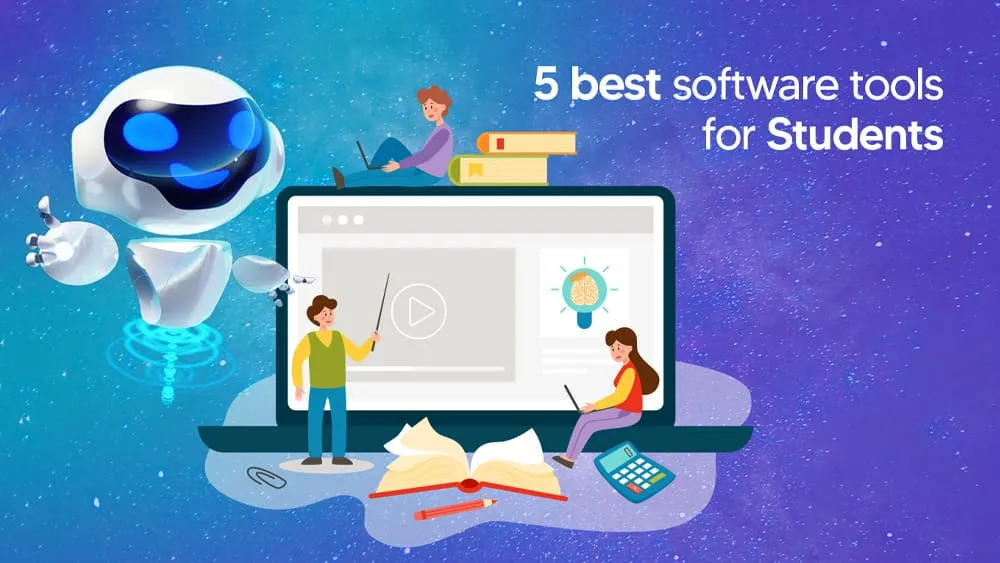 Being a student might be tough. And, of course, I am not talking about college parties and nightlife. This is the generally acceptable toughness. But, here I am speaking about classes. Especially if you are not prepared for this chapter, that means a landslide of information. As you go through student life and contact all the subjects, you will notice the overwhelming volume of information that might outweigh you. Moreover, there is also the risk of falling behind with work.
When you thought that student life boils down to a lot of informational chaos, the software tools for students appeared. As we are all digital natives, it is a piece of cake to use apps that make the learning experience a little more bearable. So, if you haven't already heard about these tools, here we are to shed some light. And to help you live the student life in the real way we were talking about at the beginning. So, let's get started. 
How to become more effective as a student 
If you are in your student era, you might have learned by now that the key to effectiveness is studying smarter, not harder. And as usual, this key is found in digital tools. There is students' software that can help you organize your activities, schedule them, make plans, etc. They do everything you need to streamline your workflow and keep up with your student and personal life. We thought of some common but essential practices a student should rely on not to miss a thing from their learning experience. These practices are supported by productivity tools that will make the best out of your years of student life. 
To be organized is the basis of swinging big from the start. So take a seat and think about every requirement you have to meet, every project, essay, or assessment you must take throughout a week or even a month. Also, consider the additional learning materials you need. Please make a list of all of them, so you will have them in only one place when it is time to use them. 
Time planning
Great results come due to greater strategies and planning. So, it is important to set a schedule for your daily activities. This way, you will know your priorities and what you should do first. Then, make plans, manage your time better, and make education a priority in your schedule. Moreover, using student software tools have the advantage of tracking time. But, we will present them more in-depth later. Thus, they give you valuable insights into the time you spend doing an activity, so you will have more control over organizing a realistic learning schedule. 
Another practice you should have in mind when learning is taking notes. I am referring to class notes and writing your ideas and thoughts. From my personal student experience, I figured out that note-taking apps benefit so many levels. Taking notes during your courses keeps you focused on the learning experience and will make your later learning process easier. Furthermore, it helps you keep track of your thoughts and ideas in real-time. 
Because the chances you're a digital native are huge, you can easily use digital tools to access work any time you want, whether it is from your personal computer or your mobile phone. In the next section, we have compiled a list of some of the best student software you should keep an eye on. 
Best note-taking app for students
The human mind is limited and cannot remember every thought. This is where student software shows up. It would be a shame to lose a disruptive and eye-opening idea just because you forgot to note it somewhere. Moreover, it helps to take notes right from your courses, because when the exams period comes, you will be prepared with class notes and everything you have to learn to pass. We have come across many note-taking apps in our testing journey, but let's see together which of them we can call the best software for students. 
An app very dear to us is Evernote. This digital tool helps you capture any idea, no matter when it comes. Write it down to find it anytime and build on it later. And besides helping with taking notes, it also supports planning your schedule. Make to-do lists, set deadlines, and prioritize activities. Thus, your projects won't pile up because Evernote features allow you to organize the tasks and activities. And we saved the best part for the end. All the necessary files for finishing your activities are stored right in your notes up. This means that you do not have to search all over your computer for certain materials because they all live within the app. You have them in only one place, and you can joggle with them effortlessly. 
Notion is a tool that makes it all easier. It works very well with your personal and professional life. Take notes, combine work tasks and individual scheduling, and manage both successfully. It seems to be an all-in-one solution. You can think about it as a project management solution since it allows you to collaborate with others. The project management system is connected to your notes to have everything within an app. Notion offers interesting features: planning, project map, Gantt, calendar, templates, time, and expense. Notion is a platform that integrates great features and, for this, we tend to say this is a more professional and advanced app than Evernote.
Another alternative to staying organized with little effort is Microsoft OneNote. This app promises to make you more productive in digital planning and note-taking. Write ideas, movie titles, schedule your day and everything you need to remember. OneNote is a digital notebook that can capture a wide range of elements. You can type notes or record audio materials, complement notes with pictures, switch devices and pick up your work exactly where you left off, and share your progress with other members so you can create projects together.
It would be impossible for an app from the Google suite to be missing from our list. If you use Google Workspace, note that Google Keep Notes lets you sync the notes With Google Docs, Calendar, and many others. It is compatible with any web browser, Android, and iOS device. You need to create a Google account, and you are good to go. This tool encourages you to become more organized and responsible for your work.
We consider that the best student discounts are when an app has a free version. The above-mentioned note-taking tools are free and ready to support your student's progress. 
Best tools for online courses
The pandemic crisis proposed the reimagination of human interactions through digital tools. We saw this reconfiguration trail in businesses' activities, personal communication, and the educational field. Schools and universities had to keep their activity going and switched their classes online using educational software. They tried to use comprehensive and efficient models and methods to compensate for the lack of authentic interaction. Thus, they found and tested online tools that best fit their academic needs. The most popular students software that proved their usefulness throughout this period were Webex, Zoom, Krisp, Google Classroom, and Microsoft Teams. We will see what made them so famous for teaching and learning activities. 
Webex is an easy-to-use app that works well with video and audio conferencing. More than this, it is a very effective educational software because it allows teachers and students to screen share files, do class presentations, and record meetings in case someone missed them. It works with one on one meetings, as well as with thousands of call members. You can use it on your PC devices or the go. 
Zoom has pretty much the same features as Webex. It allows you to have online audio and video conferences, share screen, record meetings. Also, you can create breakout rooms when you want students to work in teams, use the incorporated chat to make an addition to your lecture, class notes, or let students write when they cannot use the microphone. Due to its various integrations like Hive, Dot Collector, Kahoot!, or Notejoy, classes are more interactive, and you can do cool things in only one place. 
Another app designed for remote calls is Krisp. This AI-driven tool uses echo removal techniques that help cancel background noise for a great performance of the educational processes. And this is a more than welcome advantage because you will no longer hear your colleagues and teachers apologizing for background noise. It also can be used by small or large companies or for personal reasons. The only minus it has is the limited free trial. 
Microsoft Teams is a conference app and also more than that. It has lots of functionalities, being a hub for teamwork. You can work with classmates, receive and send files to teachers and team members, get assignments, edit files simultaneously, or add notes. This app gathers in the same place teams and necessary files. Moreover, it allows you to use chat instead of email, facilitating communication between team members. 
Best tools for writing your essays
I searched for some digital tools throughout my student years that could make my learning experience easier. Finally, I came across some tools for students like productivity tools, educational software, and note-taking apps. These have helped me improve my student activities, not miss a deadline, write good essays, and take my final exams. Generally speaking, to be on point with everything that happened in college. As a student and content writer, I still use writing apps for my classes, professional activities, and personal reasons. Here are some of the best software for students that I stuck to. 
Once you start using Grammarly, you will surely stick to it forever. It is a writing assistant app you can use when writing essays or taking exams. Grammarly is an AI-driven tool that checks real-time texts for grammatical errors, misspellings, or plagiarism. It also gives suggestions for rephrasing, changing, and switching words for better clarity and readability. 
QuillBot is a stand-out paraphrasing app using artificial intelligence. Its best features include the Grammar Checker, Summarizer, Citation Generator, and Co-Writer. This student's software can easily summarize your text, create citations for your work, and generate your next sentence. It is easy-to-use writing software that has a free version, great extensions, and offers both manual and automatic paraphrasing.
As its name says, ProWritingAid is a professional aid in improving your writing. It analyzes your text and gives you suggestions of key actions you might want to proceed to make your essay clearer. In addition, ProWritingAid offers various statistics that measure readability, overused words, sentence structure,  writing style tips, grammar check, sticky sentences, and much more.
WordPerfect Office allows users to create documents, presentations, and spreadsheets. You can call it a productivity tool that incorporates writing functionalities. WordPerfect Office has one of the best student discounts and offers an affordable one-time payment Student Plan. It integrates learning resources, free templates, photos, graphics, intuitive tools, and extensive compatibility.
Using one of these best writing tools for students, your essays and school projects will surely glow. 
Students' software tools as real-life extensions
Living in the remote work and school scenario has become an inherent part of ourselves. And this trend seems to be here to stay. So, in 2023 students need to be prepared to face this delicate situation. Now, more than ever, productivity tools, educational software, note-taking apps, and students' software prove their worth and value. As students, we all know the biases of online communication. It cannot match perfectly real-life human interactions. But, all that is left to do is adapt and overcome the circumstances and point towards digital solutions. 
As I have seen during the pandemic, productivity tools made me feel more responsible for my entire activity, made me more organized, and did my work until due dates. In these times, we should make friends out of these tools and use them to our advantage.