Business Phone System: Exploring Choices for Small Businesses
Businesses that reach for smart choices regarding cost-effectiveness will always be one step ahead. On the one hand, internal and client communication, on the other hand, are both essential elements of a company's life. Today technology helps businesses in many regards. For example, they don't need fancy and expensive phone equipment and special hardware to make and receive calls. Instead, a business phone system relying on the famous Voice over Internet Protocol technology is an efficient alternative. 
A VoIP phone system allows businesses to keep communication alive only with an internet connection and a reliable mobile or desktop app. It doesn't mean the virtual phone system lacks advanced features if the business doesn't have special phone equipment—quite the opposite. A VoIP program offers a multi-line phone system and the possibility to incorporate unified communication features like video calls, chat with your team, and voicemail-to-email functionalities. 
Best phone services your small business should use
A VoIP phone system for small businesses makes it simple for companies to handle calls and provide excellent customer service. 
You can find a wide range of business phone software on the market, but not every system will suit your small business. The functionalities of a business phone system make the difference. Thus, we compiled a list of the best three business VoIP software to make the team and client communication seamless. 
Grasshopper
A business phone system solution comes from Grasshopper. This VoIP phone service helps small businesses look more professional while maintaining customer connections with high efficiency and lower costs. This is possible due to the Grasshopper's ability to host all the hardware and data. But how does this business VoIP software work, and how can Grasshopper meet a small company's requests? 
This calling app provides companies with an online phone number allowing them to use more advanced features than a traditional communication system would have. Grasshopper VoIP business phone system lets you speak with clients and give assistance in real time.
Being a business phone system with mobile deployment, you can access it anywhere. In addition, you can transfer and send calls directly to voicemail. This way, you won't miss anything. Furthermore, this VoIP software helps small businesses prevent miscommunications and has advanced online telephony features that improve the overall customer experience and boost first-call resolution rates. 
Besides this, Grasshopper features provide automated responses via a virtual receptionist that helps customers with payment issues, scheduling appointments, and other basic requirements. Furthermore, you can choose a local phone number, a toll-free or a vanity one for your small business. In addition, this works as a team phone system since it allows coworkers to send text messages. Voice transcription and automated greetings also complement the features of the Grasshopper business phone system.
RingCentral
Developing and selling web-based communication packages that rely on VoIP technology has become a trend. And RingCentral is not one to miss the party. In addition, it has to offer many interesting and useful features to grow your business. This cloud-based virtual phone system allows users to make high-quality video and audio calls, desk phone rentals, collaboration tools, etc. 
RingCentral is not your usual call app. However, it is quite distinct from competitors because it allows users to integrate it with existing PBX systems or local phone services. Moreover, it offers various functionalities such as voicemail and greeting, video conferencing, unlimited business SMS, toll-free and local numbers, multi-level interactive voice response, faxing, and deployment for all your devices. 
A business phone system like RingCentral gives users a better perspective of their overall client communication activity. Yet, it provides automated analytics for quick insights that monitor call quality, usage, device status, and alerts. These performance reports help small businesses understand the bigger picture of their company. 
Furthermore, RingCentral has a special plan for small businesses that integrates support for VoIP standard services, team messaging features, and support for online calls and faxes. 
Nextiva
Do you want to switch your traditional phone service to an online call app? Meet Nextiva! It is a business phone system solution that simplifies staying in touch with your clients and teammates. What do you say about audio and video conferencing, calling, faxing, collaboration, SMS, chat, and survey features within a single VoIP phone platform? Furthermore, Nextiva is PC, iOS, and Android compliant, so that users can enjoy this business phone system's flexibility.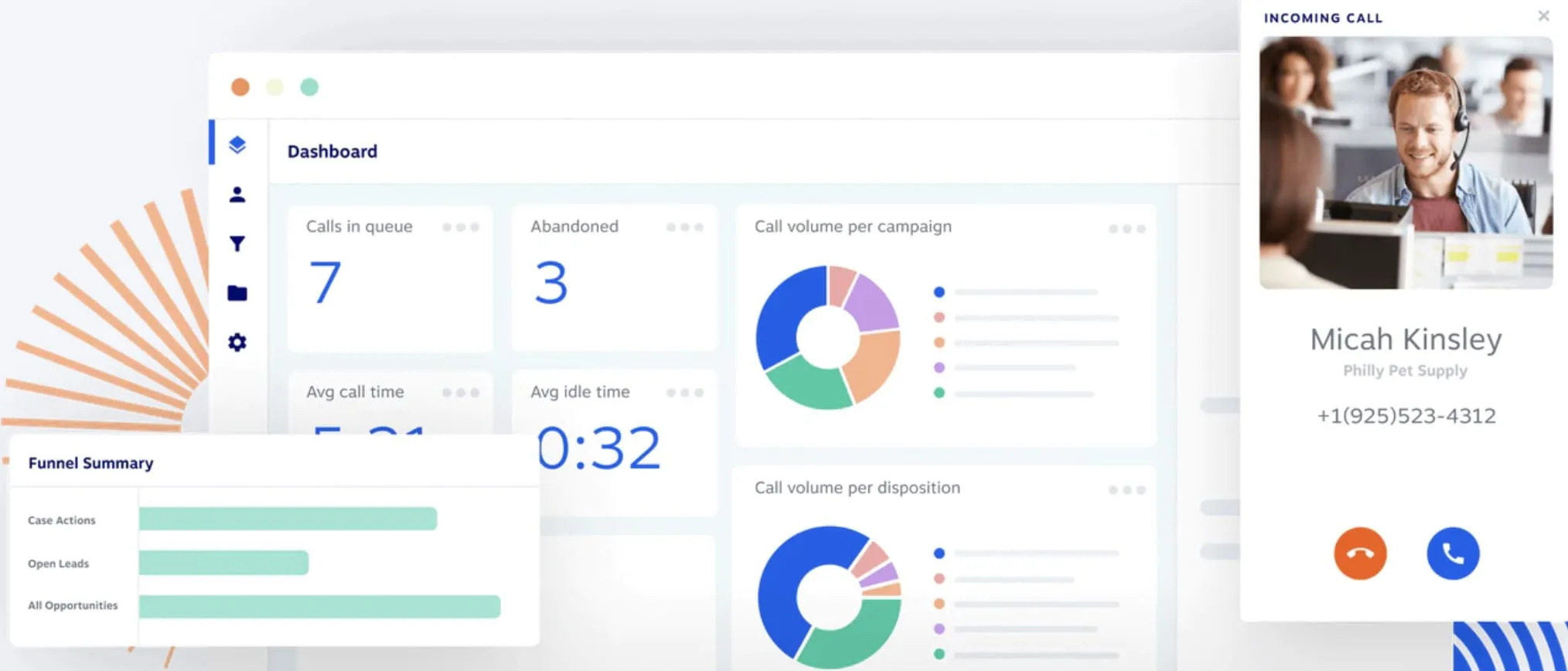 What is awesome about Nextiva's phone service is that it offers a sales CRM pipeline that measures customer satisfaction and keyword seeks. It also has automatic reminders and 360 pipeline visuals so that small businesses get the best of both worlds in one single calling app – VoIP phone system and CRM platform.
This way, you can grow your small business by seizing every opportunity to catch an online lead. Other ideal features for small companies include voicemails, email processing, name queuing, and unlimited calling. In addition, you can make unlimited calls across the U.S. and Canada. Moreover, all the plans integrate the video calling option. 
Conclusion
Staying abreast of advancements is imperative in today's dynamic and technologically-driven era. Implementing this cutting-edge business strategy can enhance your company's efficiency while remaining cost-effective—an imperative consideration for any discerning entrepreneur.
Integrating a business phone system is an exceptional alternative to conventional phone services that often entail costly and elaborate equipment. With a VoIP (Voice over Internet Protocol) phone system tool, the process is streamlined: download the app, select a phone number, and immerse yourself in a wealth of advanced features.
Embracing this approach promises to unlock substantial growth for your small business, paving the way for a resounding success.