Burning Studio 23 Reviews
& Product Details
What is Burning Studio 23?
Burning Studio 23 is a powerful and easy-to-use DVD burner that can help you to burn data, audio, and video files to CDs, DVDs, Blu-rays, and other discs. It is a simple and all-in-one CD/DVD/BD burning suite which provides you with everything you need to create audio and data CDs, DVDs, HD DVDs, or Blu-rays. It is easy to use, with a friendly interface to start quickly.
Moreover, it supports all major formats (including MP3, WMA, and WAV) and encoders (such as LAME) to meet your needs. You can also convert videos from one format into another without losing quality. Furthermore, you can do it simultaneously with multiple files. The program offers many options for customization: changeable skins, audio effects, video effects (color correction), and multi-channel sound support.
Found in these Categories
Best For
Copy & burn your data, movies, and music to CD, DVD & Blu-ray.
StartUps

Freelancers

Small Business

Medium Business

Large Enterprise

Non-profit Organization

Personal
Cloud, SaaS, Web-Based

Mobile - Android

Mobile - iPhone

Mobile - iPad

Desktop - Mac

Desktop - Windows

Desktop - Linux

Desktop - Chromebook

On-Premise - Windows

On-Premise - Linux
Company Name

Ashampoo

Located In

Germany

Website

ashampoo.com
Starting from:
$49.99 /license
Pricing Model: Lifetime License
Pricing Details:
Ashampoo Burning Studio 23 has a fixed cost of $49.99 per license. A Free version of the software is also available. However, it has limited functionality.
See Burning Studio 23 Coupons
Additional Features
Fully Windows 11 compatible

Audiobook module

Auto-sort audiobook chapters

H.265 decoder

Enhanced Cover Search

Presets

Password Protection

Animated Menus

Labels

Disc-spanning
Burning Studio 23 is a powerful Windows application that allows you to create and burn CDs, DVDs, and Blu-ray discs. The program includes various features to create custom discs, including audio CDs, data CDs, and video DVDs. Burning Studio 23 also has an integrated image editor that can be used to add images and text to your homemade discs. The software can also convert audio files from one format to another.
Based on our Burning Studio 23 review, this Ashampoo DVD burner supports all popular disc formats, including CD-R/RW, DVD-R/RW, DVD+R/RW, and Blu-ray Discs (BD). It also supports both dual-layer and quad-layer media. In addition, it supports all major operating systems, including Windows XP/Vista/7/8/10 and Mac OS X 10.4.
Burning Studio 23 – DVD burner
Burning Studio 23 is a CD, DVD, and Blu-ray burning software that allows you to create discs of any kind with all the features you need. It also provides an impressive range of tools that make your life easier. This is the right choice if you want a program to burn discs or files. The program offers a complete solution to all your burning files needs while offering a simple interface and powerful features. It's easy to install and use and can be used by beginners and advanced users.
How to use Burning Studio 23?
You'll need to download the Burning Studio 23 software from their website. Once you've downloaded the file, double-click on it to open it. Then follow these steps:
Run the Burning Studio 23 installer file by double-clicking on it.
Click "Next" on the Welcome screen to continue with the installation.
Click "I Agree" when prompted with license agreement information.
Select a destination folder for installation (you can change this later). The default location is C:\Program Files\Burning Studio 23\. Click Next to continue with the installation.
If not already installed on your computer, you may be prompted to install additional software during setup, such as Microsoft .NET Framework 4 Client Profile or Visual C++ Redistributable Package 2010 SP1 x86/x64.
Click Yes or Next as appropriate to continue installing any additional components that may be required.
How much does Burning Studio 23 cost?
Ashampoo Burning Studio 23 has a free version that allows you to burn your data securely, copy CD, DVD, and Blu-ray discs without effort, and access a wide range of top-of-the-line multimedia features. You can download it on their site. They also have premium plans and often offer discounts that you can take advantage of.
Details of Burning Studio 23 Features
Burning Studio 23 comes with many useful features that make it great for everyday use:
Support for all major formats
This software supports the most common file formats, such as MP3, FLAC, AVI, MKV, etc. However, before burning them onto a disc, you can convert files into other formats, such as ISO or WAV.
You can convert your audio files into other formats like MP3 or FLAC before burning them onto a disc.
The software uses advanced codecs that provide high-speed and quality DVD/Blu-Ray discs.
Fully Windows 11 compatible
Best-of feature for quick source switching
More project versatility with intermediate buffering
Extensive audiobook module
Auto-sort audiobook chapters
Enhanced cover search
Quick ripping too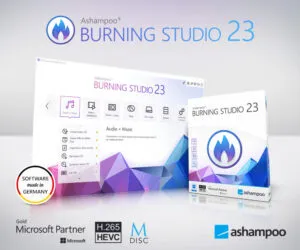 Alternatives to Burning Studio 23
Ashampoo Burning Studio 23 is not the only software you can use to burn your data securely or as a backup; there is much other software for burning files. Here are some Burning Studio 23 alternatives:
Nero 12 Platinum
Nero is one of the biggest names in DVD-burning software, and this software is packed with features such as music editing, video editing, and Blu-ray support. There's also a free trial version available, so if you want to give it a go before buying, you can do that too.
Nero is a popular, full-featured burning application with many features, including the ability to burn discs, audio CDs, and DVD videos. The free version is called Nero Free–it doesn't include the ability to burn DVD movies.
CDBurnerXP Pro
CDBurnerXP Pro is one of the most popular CDs/DVD burning tools because it's so easy to use and has tons of great features that make it ideal for novice users or people who need something simple for everyday use. 
With this software, you can create audio CDs, MP3 CDs, or data CDs/DVDs — you have to drag and drop files into the program window or select them from an existing folder on your computer. The software also includes support for burning Blu-ray discs, though you'll need an external Blu-ray drive if you want to use that feature (and they're expensive).
Burn Aware Free
Try this if you need a simple, free-burning tool for your Windows PC. It's easy to use and has a very straightforward interface. In addition, BurnAware Free supports all the major disc formats out there and lets you burn multiple files and folders at once onto a disc without any additional delays.
AllFreeVideoToDVDConverter
This is a great option for a free video converter tool to convert video files into DVD format. AllFreeVideoToDVDConverter supports all popular video formats, including AVI, MP4, MOV, WMV, FLV, VOB, and more. In addition, you can select the output format (DVD) and convert your videos immediately.
Burning Studio 23 Review Conclusions
If you are looking for powerful and easy-to-use burning software, then Ashampoo Burning Studio 23 is the one you should try. It has many features that enable you to burn discs, copy, erase and manage your files on CDs and DVDs.
Based on our Burning Studio 23 review, it also supports Blu-ray discs, HD DVDs, and AVCHD discs. With all these features, it is no surprise that millions of people have downloaded this software worldwide since its release.
The interface of Ashampoo Burning Studio 23 is very simple, so you can easily find what you are looking for without having any difficulties. This DVD burner also comes with inbuilt tutorials to help new users learn how to use it effectively.