Hotjar Reviews
& Product Details
What is Hotjar?
Hotjar is a user data aggregation tool that uses website heatmaps and user activity recordings to understand what drives user engagement. The data is then used by product managers, designers, and researchers to remove hurdles in the user experience.
The shining example is the below-the-fold principle. Researchers have long known that 80% of website visitors judge a website without scrolling down the page. First impressions matter; in the case of a website, it's whatever is in the top left corner of the page. Interestingly, visitors from countries using right-to-left languages have a mirrored scan pattern — they start in the top right corner and scan the contents right to left, going down the page. If the landing page does not have the needed information, the visitor will move on without a second thought.
A Hotjar heatmap will reveal which website areas aren't attracting enough attention. You can then create a survey to gain insight into user behavior and narrow down why.
Found in these Categories
Best For
Understand how users behave on your site and what they need.
Recommended For
StartUps

Freelancers

Small Business

Medium Business

Large Enterprise

Non-profit Organization

Personal
Deployment
Cloud, SaaS, Web-Based

Mobile - Android

Mobile - iPhone

Mobile - iPad

Desktop - Mac

Desktop - Windows

Desktop - Linux

Desktop - Chromebook

On-Premise - Windows

On-Premise - Linux
Contact
Company Name

Hotjar

Located In

Malta

Website

hotjar.com
Hotjar Pricing
Starting from:
$39 /month
Pricing Model: Subscription
Pricing Details:
Hotjar Pricing is divided into two sections: Observe & Ask. You can build your package by choosing plans from both of the products. Observe helps you visualize user behavior with Heatmaps and see what your users see with Recordings. Ask lets you discover how your users feel with Feedback and hear from your users with Surveys. The Observe Basic plan is free forever and gives access to up to 1,050 sessions/month, automatic data capture, and unlimited heatmaps. In addition, when choosing the annual payments, you will save 20% of the monthly cost. The Ask Basic plan gives you access to create and store three surveys & 3 feedback widgets, and Feedback in 40+ languages.
Hotjar Features
Conversions

Custom Reports and Dashboards

Engagement

Funnels

Multiple-site Management

Real-Time Reporting

Sessions - Digital Analytics

Tracking & Reporting

User, Role, and Access Management

User Data
Additional Features
Behavioral Analytics

Conversion Rate Optimization

Customer Journey Mapping

Customer Segmentation

Customizable Forms

Data Import/Export

Data Visualization

Engagement Tracking

Feedback Management

Funnel Analysis

Heatmaps

Negative Feedback Management

NPS Survey Structure

Multi-Channel Communication

Multi-Channel Data Collection

Performance Metrics

Problem Area Alerts

Reporting/Analytics

Screen Activity Recording

Sentiment Analysis

Session Recording

Surveys & Feedback

Templates

Text Analysis

Third-Party Integrations

Trend Analysis

User Journeys

User Research Analysis

Visitor Tracking

Website Analytics
Online, humans act like wild animals — they sniff for prey and track it. This is the "information scent" theory of human behavior, which states the conversion rate of website visitors is dictated by their user experience. They will stick around if they find the information they're looking for; if not, they'll move on. Hotjar to the rescue! It is a website analytics tool that gathers user feedback and provides behavior analytics. Sounds too complicated? Read this Hotjar review to the end, and you'll figure it all out.
Hotjar — understanding your users' behavior
Website visitors are swimming in information and stimuli. They have a fraction of a second to choose where to go and what to do. Unfortunately, they make these choices without realizing how, so asking them can't reveal the truth. Instead, website owners need to employ a tool like Hotjar, which provides a visual way to understand web analytics while also providing heat maps and user feedback tools. By understanding their visitors and customers, website owners can remove sources of frustration and make for a better user experience.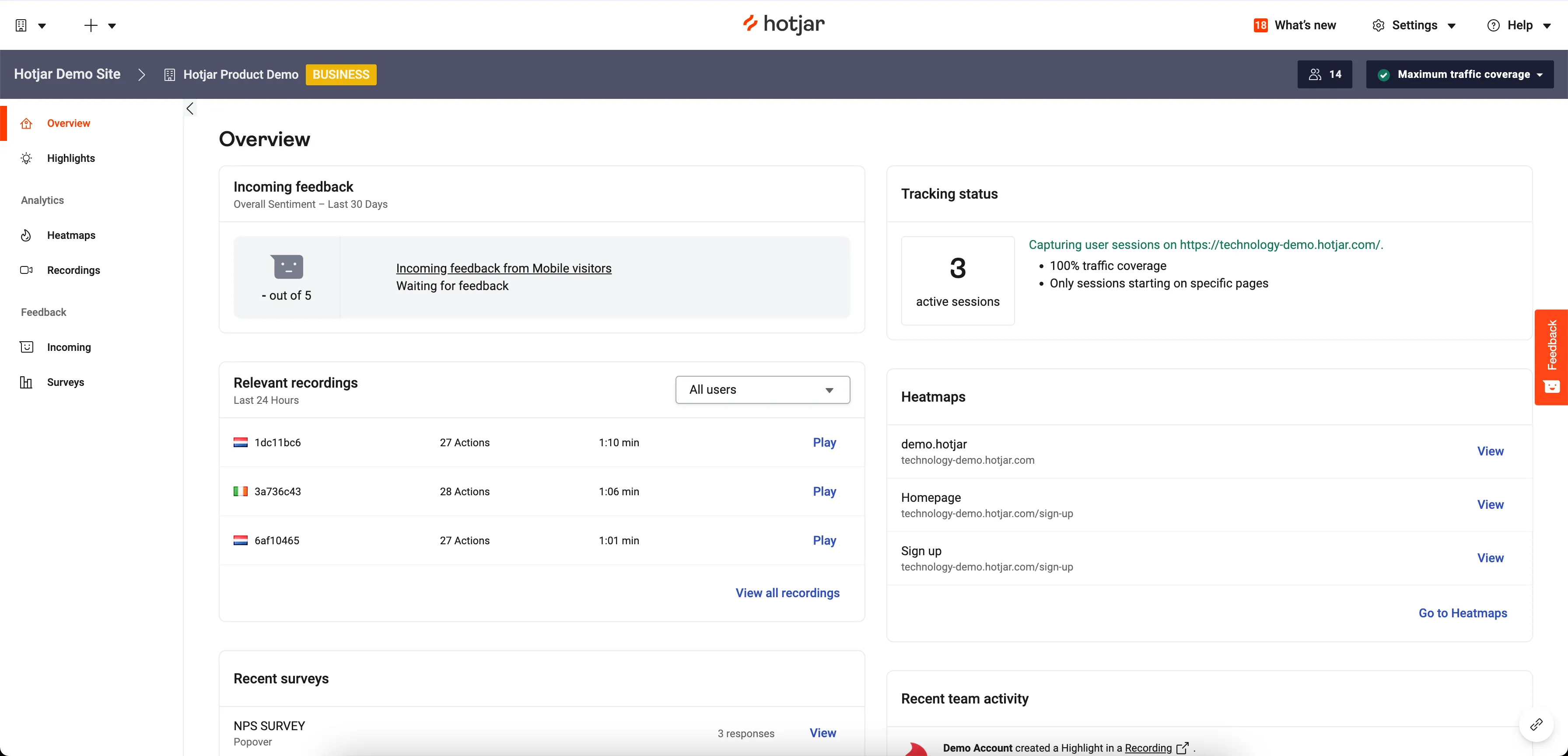 How to use Hotjar?
Sign up with an e-mail address or a Google account. After confirming the 6-digit PIN, you will be asked to provide your organization's name, size, and role. There are seven organization size tiers, with the largest intended for 5,000+ employees. There are also seven user roles, such as analyst and store owner. Past the Hotjar login, enter a web address you own, and install the Hotjar code on the corresponding page. You will get three options:
enter code manually
install on the platform
Share the code
The code has 11 lines. First, you install the tracking script by copying/pasting this code into its HTML's <head> section. After the installation, you can have Hotjar verify it's properly installed. This automatically opens the Hotjar dashboard and starts the 14-day free trial, but the first results will only come after seven days of monitoring.
Details of Hotjar Features
Now let's discover some of its best features, and then you can decide if this is the tool you need or not.
Upon logging into Hotjar, the user is welcomed by the dashboard. It has six sections in the left-hand sidebar:
Overview
Highlights
Heatmaps
Recordings
Incoming
Surveys
Overview and Highlights are for reviewing all the data captured. Heatmaps and Recordings review the involuntary user interactions, while Incoming Surveys are for voluntary user feedback.
Unique insight into user behavior
To understand a person, we should walk a mile in their shoes. Hotjar lets you experience a first-person view of what the user did, revealing cursor movement, mouse clicks, and the feedback sent as if you're the user. This is provided under the tab "Recordings" as a video file with regular video controls, allowing you to rewind, fast-forward, speed up, or slow down the playback.
User activity is captured by recording the cursor position on the web page 10 times a second and when a click happens. In addition, Hotjar uses the MutationObserver API, a feature in all modern browsers, to check for changes on the web page, parse, and send them to the WebSocket.
The system can detect "rage clicks," multiple fast clicks on the same area when the user is stuck and about to give up. The rage-click moments and other notable events are denoted with appropriate emoticons in the progress bar in the recording.
Interacting with the recording is delightful and easy, like using a YouTube video.
There is no way to download these recordings; you can only export a list of their URLs in the .CSV or .XLSX file format. The limit is 100,000 recording URLs per file. In addition, Hotjar supports tracking on single-page applications (SPA) that infinitely load content as the user scrolls and other custom-made web pages that tinker with the URL.
By default, Hotjar captures only sessions longer than 30 seconds, but you can toggle this off and set the capture to trigger when an event happens. To do this, you will have to add an event in the Hotjar dashboard and a corresponding code snippet in the HTML of the target web page. For example, triggers can be clicking a survey, starting, completing checkout, etc. People can use Google Tag Manager to set them.
Limitations and restrictions
Hotjar will not capture sessions where:
the web browser is not supported
JavaScript is disabled or blocked
cookies are disabled or blocked
Do-Not-Track is turned on
the browser is in private/incognito mode
browser's local Storage or session Storage is disabled
the browser uses script blockers or adblockers, such as Ublock Origin
the internet connection to Hotjar is blocked or interrupted
Websites that don't support custom third-party JavaScript, such as Dribble or Google Sites, won't let you use Hotjar. If the Content Security Policy prevents the Hotjar connection, the code won't work. In addition, you can't track through Hotjar websites built in a cross-platform development environment, such as Cordova.
When a user lands on a web page, Hotjar takes a full-size screenshot measuring 15,000 pixels. Hotjar will render any page stretching further up to 15,000 pixels. Heatmaps are also limited when the page has a scrolling element on the DIV container. The software cannot detect the scrolling element or properly track the interaction with contents inside the container.
Pages with iFrames and Adobe Flash content will also not generate a heatmap. Finally, it will not generate the heatmap if the web page is over 10 MB in size due to code and/or images.
You can create surveys in Hotjar by hand, which is a lot of work, by using the provided survey templates, featuring your template, or requesting Hotjar make a new one. You can add surveys to your workflow through Zapier. Surveys feel like they don't belong in Hotjar; they're just plain form fields where the user types in answers.
The Incoming Feedback widget lets you ask users for feedback and send you a screenshot of the area they're referring to. This is a brilliant and intuitive twist on the old x-out-of-five-stars system, making me wish Hotjar innovated in the survey department as well. But unfortunately, for a company dealing with user feedback, Hotjar seems to have trouble understanding what its users want.
Within two minutes of signing up, two Hotjar surveys were nudging me to complete them. One even promised a $50 gift card if the answers were valuable enough for Hotjar to warrant a follow-up survey.
Results depend on the data set
This is a flaw you don't often see with services — Hotjar cannot guarantee any results since they exclusively depend on the data set your users to provide through their activity. If there is bias in the data, Hotjar will produce a biased result, and nobody will be the wiser. Without giving serious consideration to your data, you'll reach plausible but nonsensical conclusions.
The root cause of this is how human behavior changes over time. Individual behavior depends on and needs to be looked at in the context of contemporary trends that shift like dunes.
The results you get through Hotjar may not make sense or only make sense within a certain period or due to a certain trend. All psychological research has the same problem of being notoriously hard to replicate outside of its societal context.
In short, you must do big-boy science to get big-boy results. You must gather as much data as humanly possible and use a statistician and/or psychologist to interpret it. However, Hotjar feels like a kid's toy in this regard. It lets you tinker with pretty colors, but that's not good enough for serious research.
You can assign user attributes if you install another code snippet in your HTML's <head> section below the tracking one. Some of them are:
last purchase category
total purchases
last purchase date
last refund date
They let you set apart visitors or customers that did an action during a certain time frame, such as refunding within the last 30 days. You can have up to a hundred attributes on any website, targeting any number of users.
This is called "user segmentation" and runs under Hotjar's Identify API, only available for Business and Scale pricing plans. The user attribute data from your website is passed on to Hotjar via an asynchronous AJAX call, where it's matched against a user ID. Hotjar lets you sift through users by their IDs or by their attributes.
Hotjar lets you gather anonymous data and then assemble it into a personal profile without any personally identifying information (PII), which formally satisfies GDPR and other privacy-related legislation. The tool was initially staunchly against gathering any PII but eventually caved in and left its customers a loophole — use our API and promise you won't gather any PII while we look away.
Hotjar can gather the following data from a website where you install its code snippets:
user identifiers
name, e-mail address, and other similar data
protected classifications (race, gender, etc.)
records of services or products bought
user interactions (buttons clicked, mouse movements, etc.)
current or past job history and/or performance assessments
education data
Do-Not-Track
The data collection is done through cookies, so if you disable them, Hotjar will take the hint and not gather any data. Hotjar also respects Do-Not-Track headers, which is a welcome surprise.
Do-Not-Track is a setting in modern browsers that lets websites and web analytics services know the user would like to stay anonymous. Of course, there is no such thing as the Internet Police, so nobody enforces it, and websites have no reason to honor it, but Hotjar does.
Privacy legislation allows web users to request and receive all personal data gathered by a website. Hotjar gives you access to the User Lookup tool if you get one such request. Through it, you can access user information using their e-mail addresses and/or user IDs.
So, how much can you discover by just tracking customers' shopping history? Well, quite a bit. 2012 The New York Times article titled "How Companies Learn Your Secrets" reveals how Target used the shopping records of female customers to determine which ones were pregnant, even when they didn't know it themselves. In the early 2000s, this was without much computing power or fancy artificial intelligence, only using math and stats.
Today, marketers and statisticians can access and crunch more data than ever before but so can anyone with internet access and some determination. That became painfully obvious in 2014 when the Cambridge Analytica scandal revealed just how much of what we like reveals who we are, even if we don't consider it PII. In that instance, researchers correlated liking certain Facebook pages with life choices and events.
A user liking two Facebook pages, one dedicated to a certain band and one dedicated to a certain comic book, could be a teenager whose parents have or are about to get a divorce. As more and more likes are known, the correlation becomes more precise. Researchers can guesstimate the person's past, present, and future sexual orientation, drug use, and mental illnesses are given enough likes.
As for Hotjar's session recordings, one can conceivably use them to estimate the likelihood of dementia since reaction speed and click precision are ostensibly correlated to the state of the person's nervous system. The data could also show if the person is left-handed and reveal various personality traits, such as the propensity to get enraged and/or emotional.
Integrations
Hotjar Business and Scale plans support seven integrations:
Google Optimize
HubSpot
Omniconvert
Optimizely
Segment
Slack
Zapier integrations
Details of integrations
Google Optimize is a tool that tests the performance of HTML code on web pages. It also has the Google Marketing Platform, an online website analytics suite. HubSpot is a marketing platform that helps you find new customers, draw them in, sell them stuff, and see if they're happy about it. Provides features for marketers, developers, and support staff.
Omniconvert is a growth platform for eCommerce businesses. From acquisition to conversion and retention, Omniconvert helps you define and build your ideal audience, improving the conversion rate for your website(s). In real terms, it lets you cut down on your marketing costs.
Optimizely is a user experience platform that lets you experiment with data and test your ideas. You can introduce multiple calls to action to a single product, observing which converts more and why. The platform also lets you manage your digital content.
The Segment is a product and customer analytics tool. Applied to marketing, Segment lets you track the customer's journey across products, platforms, and devices.
Slack is a mass messaging platform for tightly woven teams. Integrated with Hotjar, Slack can funnel feedback to you straight away. Zapier is an automation and integration platform. It links together systems that would normally be incompatible.
Hotjar Review Conclusions
Hotjar is a fine behavior analytics tool that works well with other analytics tools, such as Google Analytics, but doesn't have much apparent utility on its own. Moreover, Hotjar seems to bear all the trappings of the modern web, namely obsessing with immediate presentability rather than long-term usability. So you get the pretty colors, recordings, and heatmaps, but unless you have the scientific inclination to dig until you find the context, they're more likely to mislead you than lead you.
Understanding others is a worthwhile goal, especially if your business depends on goodwill and customer satisfaction. Observing others without interfering with their choices reveals who they are and where they are heading. However, Hotjar is by no means enough for this and can, at best, whet your appetite for research.