ThriveCart Reviews
& Product Details
What is ThriveCart?
Thrive Cart is a  cloud-based shopping cart platform and an affiliate management system was developed to make owning a webshop a breeze. Furthermore, it comes with two versions ThriveCart Standard and the more popular brother ThriveCart Pro. Thus, as you probably already suspect, the Pro version has more features that you might find essential to succeed.
For example, marketing is critical to the success of your business. Therefore you might be interested in the affiliate management functionality available only in the Thrive Cart pro version.
Found in these Categories
Best For
High-converting cart pages, funnels, aaffiliate campaigns, & more
StartUps

Freelancers

Small Business

Medium Business

Large Enterprise

Non-profit Organization

Personal
Cloud, SaaS, Web-Based

Mobile - Android

Mobile - iPhone

Mobile - iPad

Desktop - Mac

Desktop - Windows

Desktop - Linux

Desktop - Chromebook

On-Premise - Windows

On-Premise - Linux
Company Name

ThriveCart

Located In

United States

Website

thrivecart.com
Pricing Model: Lifetime License
Pricing Details:
Thrivecart pricing comes in a one-time payment version for a limited period.
See ThriveCart Coupons
Activity Dashboard

Checkout Process

Order Management

Customizable Branding

Customizable Templates

Email Marketing

Payment Processing

User Management

Drag & Drop

Customization

Returns / Refunds

Reporting / Analytics

Product Search and Filtering

Social Media Integration

Tax Display and Processing
About ThriveCart
ThriveCart was founded by Josh Bartlett back in 2016. The SaaS underwent over 2 years of upgrades and ran only under the pilot version for a while. We are over that period, even with a new update that came up at the beginning of 2020.
The following Thrivecart review will review all the crucial features, integrations, pricing, and alternatives. The software has to give you the knowledge necessary to make an informed decision. So let's begin our journey by defining Thrive Cart.
How does ThriveCart work?
Very easy, to be fair. First, you need to integrate the software into your e-commerce platform. Second, start using the applications to create all the automation you need.
Third, connect ThriveCart to Zapier. This will enable you to get access to thousands of automation tools that will make your work easier. Last, remember that Zapier allows you to integrate just one ThriveCart account into your platform.
ThriveCart Facebook Academy
A remarkable fact about ThriveCart is that their Facebook group is dedicated to their software. The purpose of the Facebook group with the name ThriveCart Academy is to educate users on taking full advantage of all the features. If you want to buy the product, it would probably be a great place to exchange information with other users and ThriveCart representatives.
Furthermore, defining what Thrivecart is, as you can see, can be a bit complex. So, let's continue by looking at the features, integrations, pricing, and alternatives and let you decide if this shopping cart tool is suitable for you.
Now, let's move on with the ThriveCart review, check out the tool's features, and evaluate its value for money.
ThriveCart Detailed Features
ThriveCart had a massive update in January 2020 when it released quite a few new features and improved some of the ones their customers suggested they should. The software comes with 46 features now and can offer you a whole shopping cart experience.
Thus, we will split the features into ThriveCart Pro features, and ThriveCart Standard features to keep things needed. Furthermore, the main difference between the two lies in the recent updates made to the software, even if most Thrive Cart improvements were made to the standard version. Most of the interesting new features were to the Pro versions.
The software is available and can be accessed from all devices. Also, it offers a 99% uptime guarantee and fast loading for a great UX/UI experience for your users. Furthermore, to clarify and make it easier for you to choose the right package for you we will split  the features in this ThriveCart review into Standard and Pro.
ThriveCart Standard Features
1-Click Bump Offer and 1-Click Upsells
Two very similar and yet very different Thrive Cart features. Both 1-click bump and 1-click upsells are used in more or less the same section on the customer checkout page, yet the effects are different. Let's take a look at each of them.
The best example we can give you is the free trial and the discount if you pay the subscription for 1 year. The free trial is the bump offer and the discount, if you pay the yearly subscription, is an upsell.
First of all, bump offers are low-value impulse purchases suggested to customers on the checkout page. The 1-Click Bump offer is that, and it requires just one click to add that additional item to a cart.
Above all, this Thrive Cart feature can give you a small bump in your sales, but little by little equals much.
Furthermore, the feature is easy to implement. It requires minimal text, and low value is usually an impulse purchase, such as gum in a supermarket.
Second, 1 -click upsells are exactly called upsells to the product you are already set to purchase. For example, think at the check-out counter in the supermarket to put it in simple terms. Do you remember the small items on your left and right? The 1-click bump offers work the same but on your website. In conclusion, the bump offer is perfect if you want to increase your customer value.
As mentioned above, upsells are just an upgrade to the product you are buying, not an impulse as the bump offers. Probably the best and funniest illustration of such an upsell is the purchase section of ThriveCart. At least it is comforting to know that we can find relevant examples of using their products straight on their website.
The new update launched a year ago for Thrive Cart increased the personalization and flexibility the software offer. So, right now, for the ThriCart WordPress integration, you can use a frontend editor similar to Elementor to move things around quickly. They kept the old cart and added some new ones called.
A modal cart will show your customers a shopping cart status with the items in their carts and the subtotal of those items. Furthermore, the ThriveCart Embedded Modal Cart adds a pop-up cart to your website, blog post, and even articles, and more. This ensures that your customers have the best buying experience.
Embeddable Carts are one of the classic options and features in ThriveCart. However, most users were complaining about before last year's update. Generally, the embeddable page implies that you will need to take an HTML code and embed it on your webpage. Furthermore, the new embeddable cart uses the new editor, which is flexible in any way possible and will let you, in contrast to the older version, create a unique cart.
The two-step cast is easy and classic in terms of shopping carts. Thus, what it does is that it make the customers first fill out the contact information while showing the purchase information on the right. The second step has the payment information and essentially finalizes the purchase; therefore, we said it was a pretty straightforward shopping cart.
Video Carts or Sales Cart
One of the new carts available after the update from last year. This cart uses an editor and gives you fantastic flexibility.
The video cart gives you the option to add a Sales video to your cart to market your product. Furthermore, the experience with this new feature is flawless and spot-on right now, considering that studies show that videos in pretty much any place on your website increase conversion.
The Thrive Cart video cart also allows you to add a timer to improve conversion and several standard options such as award-winning boxes or a refund guarantee. Then the success page comes with the same flexibility as the previous page. Moreover, the editor also lets you create an upsell page that lets you further build a sales funnel straight into your cart.
Last, Thrivecart will let you implement your WordPress design easier than before with the new editor's help. Other types of carts available that you might be interested in are Unlimited Carts. They are less popular than the other ones but still flexible and easy to use.
To wrap things up in this category, we recommend you split test and see which shopping cart best fits your need and optimizes your conversion.
Paradoxically one of the least used features that can increase your conversion the most and give you a concrete answer regarding which campaign to use, which checkout option has the least dropout rate, and which follow-up email has the other open rate. Furthermore, it would be recommendable to make slight changes to what you are using now and not radical changes as you could get skewed results or outliers. You want to avoid that.
When you create a split test on Thrive Cart on the checkout cart, pick the criteria according to which you would like to run the test from one of the three options:
Highest Income

Highest Cart Conversion

Lowest Cart Abandonment
After the test is done at the time set by you before starting the campaigns, the checkout page that performed the best will be designated as the default.
Another classic we love is the automatic receipt you are probably familiar with now. So, the feature essentially sends the receipt to your customers immediately after the purchase.
Great time-saving automation will follow up on customers who abandoned their cart, for example, or have some items saved to favorites, chase overdue subscriptions, etc. Thus, making the sales. Work for you in a way. Good follow-up automation could bring many customers back to your webshop and substantially contribute to sales growth.
A feature is similar to the follow-up. What it essentially does is retarget customers with products that, for example, were out of stock when they were trying to buy our products that fit or complement previous purchases.
Coupons, Coupon URL, and Discount URL
Coupons and discounts are essentially the same things in terms of results. However, the main difference between them is that a Coupon needs a code to be accessed, and a discount doesn't. Therefore, we will treat them together.
First, coupons are discounts created by you for customers for a certain period. Second, Coupon URLs are present in two distinct sections in ThriveCart: Cart URLs and Coupon area.
Thus, in the cart URLs feature, you will find a separate section on the popup's right side called coupon URLs. The coupon area is a section where you can access all the active coupons. You can copy the URL from the left button.

Last, if you want to automate a discount for all your users, all you have to do in ThriveCart is copy the URL,  add it to the desired button, and apply it when the client clicks it.
Enjoy all detailed reports regardless of what kind of business you have. In addition, ThriveCard offers instantly updated states and detailed recurring revenue reports.
Security and data privacy is an important aspects. Here are some of the features the software has to protect your info.
GDPR
ThriveCart follows all GDPR guidelines closely to handle your customers' data in all aspects, from requesting to send order information and sending follow-up emails and promotional emails.
2-Factor Authentification
The two-factor authentication uses your mobile device for authentification. For example, you can receive an SMS, use an authenticator or use the app on your phone to confirm your identity.
Thrive Cart uses Secure Sockets Layer (SSL) Certificates. This is the reason why your URLs will begin with HTTPS.
Link tracking is in ThriveCart as in any other platform—tracking the number of clicks obtained by a specific link to study customer actions on your website. Such a mechanism can be used on your webshop, email campaign, and even social media.
A sales funnel in ThriveCart, as in any shopping cart software, is the path users have to follow to become a customer. Moving on with the ThriveCart review to the funnels feature to see what it can do for you and how you can set it up.
Building a sales funnel is the journey you set up for your customers to increase conversion on one side and increase their order size.
The Thrivecart sales funnel builder is basically "the engine" that helps you set up your funnel.
First, to set up a funnel, click on the funnel option for the desired product. Second, choose whether you would like to have an upsell or down-sell for that product. Third, decide how to set that upsell and down-sell.
The options available are:
Provide individual URLs for each purchase

Integrate with a membership platform

Use your own custom script – for advanced users
Fourth, configure your upsells sequence. You can choose between one and ten upsells. Fourth, after setting up each upsell, you can choose to go to the success page or add another upsell. Fifth, if the user says no to your upsell, they will go to a down-sell and then send it to another upsell until they finish the journey.
Last, if you don't choose a down-sell, the customers will automatically go to the next upsell or straight to the success page.
Thrive cart offers many payment options and integrations with payment providers such as Paypal. Amongst payment options that stand out the most amongst the Thrivecart features are the multiple checkout options and mobile payments.
Are ways of connecting external applications such as, Zapier to your Thrive Cart information. By default, you get query strings if you send people to a custom URL, meaning, Zapier, the example we started with. To make it work, you must go to a product and then fulfill where you select the  – Send them to a URL- and set the Success URL to the webhook you set before. Last, check the success page, which says it redirects to your custom page. After a customer takes action, all the information gets passed on to your chosen external application.
This integration will enable you to integrate with other providers that are not compatible with Thrive Cart by default. For example, through the Zapier integration, you can also integrate with Kajabi, Zap, and WebMerge.
Are you having trouble with some of your clients or affiliates? Then give a try to the ThriveCart built-in blacklist. This option allows you to block a user's IP address or email and stop him from acquiring any other products from you. The Blacklist is found in the settings section in the interface's upright corner.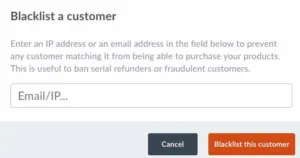 The customer hub feature in Thrive Cart was specially created to:
Decrease Refunds rates

Optimize support demands

Reduce failed charges
This area allows customers to see all the information on previous purchases, download invoices, review, renew, cancel subscriptions and update personal and contact data.
Now that we've been through all the standard features in the ThriveCart review let's move on to the premium features to help you make the most informed decision possible. First, however, our advice considering that the tool comes with a one-time payment, would be to take the ThriveCart Pro Features package.
ThriveCart Pro Detailed Features
Amongst the most appreciated features of Thrivecart is the affiliate program feature. It is appreciated for its ease and user-friendliness. The ThriveCart affiliate feature has a reputation amongst users from both ends as being extremely easy to set up on the one hand and easy to use on the other hand.
ThriveCart affiliate setup
Moving on with the ThriveCart review to see how easy it really is to set up and manage affiliates with the software.
You have to take the following steps to enable the ThriveCart affiliate for a product. First, you need to go to the product section. Second, go to the affiliate tab present in the product section. Then start by setting up your commission. The commission is how much in $ you would like to pay your affiliate or the sale percentage.
The affiliate commission you choose is crucial to generating sales through affiliates. Our recommendation is to check out what your competitors offer and align what you can offer to the industry standard.
Third, choose your affiliate options, which means you must decide how and if affiliates can sign up to promote your product or service. You have three options for allowing your affiliates to promote: automatic approval, manual approval, and disabling new sign-ups. Furthermore, you can set up the cookies first or last. This one decides which affiliate will be given credit for selling the product. However, the last cookie is most prevalent in most industries.
Cookie expiry stands for how long the affiliate link will track leads.
Fourth, you can make it compulsory for your affiliates to connect a Paypal account when signing up. The advantage of using this option is that it is extra easy to automate the payments toward them. However, if you require your affiliate to enter a Paypal, they won't be able to promote your product unless they do so. Moreover, considering that not all country's tax systems are necessarily friendly with Paypal, that might cause problems for your partners.
Every respectable affiliate management platform comes with a dashboard that should give you the big picture of how you are doing with your affiliates. So, let us discuss in this section of the ThriveCart review what you can see and how customizable this feature really is.
Yes, ThriveCart pro comes with a vendor dashboard that will show you your number of sales amongst all your affiliates and individually with their allocated names. Moreover, you can also see the paid commission towards your partners and the total commission earned by affiliates in the chosen period.
Above all, the standard affiliate dashboard features are available, some of the cool ones worth mentioning are the product funnel filters, average lifetime value, product option tabes, and rules tabs—all great information for you to predict your revenue.
Notify your customers before their card expires to avoid churn. Thus, let your customers know that their card will expire and that they should update it to prevent chasing overdue payments.
Thrive Cart calculates the tax amount you must pay according to the country you live in through the built-in tax calculation.
In ThriveCart, this represents how you split your revenue from a sale with a partner. So, while it is the classical way of sharing revenue with your affiliate partners, they wanted to define it as a whole be thing. So, it works the same but is a whole other thing, according to Thrive Cart. First, if you have both a partner and an affiliate, the affiliate will be paid a commission, and then you will share with your partner the rest.
To wrap the Thrivecart feature section up, we can only say that we have been impressed by the variety of features the tool has. Above all, we discussed in this ThriveCart review some of the features from both the standard and pro packages in big lines. As mentioned in the beginning, it comes with 46 features in total.
We concluded after extended research that the features are complex and necessary for any e-commerce platform. We could write a separate review for each of them. Furthermore, there would still be things left unsaid. However, we believe that after this humble description of what it can do, we can all agree that the tool has more than we can ask for, and it would most likely match anybody's needs. Now, we would encourage you to share your opinion on the Thrive Cart.
Finally, after much consideration, we decided to skip some of the more common shopping cart features: subscriptions, physical products, and predicted revenue which we touch upon in the affiliate section.
Let us move on without a ThriveCart review and check out the integrations and extra functionality you get from there.
ThriveCart Detailed Integrations
ThriveCart comes with over 50 integrations with some of the most commonly used software out there. Let's split them into categories and give you a few examples of available Thrivecart integrations to make things easier.
Notification Platforms
Webinar platforms
Fulfillment Services
Payment processors
Apple Pay
Stripe
GPay
Paypal
Authorize.net
Membership platforms
MemberPress
Wishlist
MemberMouse
LifterLMS
Autoresponders
Hubspot
ConvertKit
AWeber
ActiveCampaign
GetResponse
Infusionsoft
MailChimp
Drip
Sendy
Moosend
MailerLite
Ontraport
If you would be interested in other ThriveCart integration that they are missing, contact them and suggest what integration and software you would like.
ThriveCart Cost
Let's move on to the Thrivecart review pricing section. The software has a very value-for-money printed strategy meant to satisfy even the most skeptical user out there. We can criticize aspects of the Thrivecart features, even integration, but Thrivecart pricing is not one of them.
The tool has a one-time payment strategy that offers lifetime access to your just-purchased features. Furthermore, you can choose between two versions depending on your needs Standard and Pro.
[pricing_box starting="$495″ model="One Time Payment" trial="No" button="See Pricing Packages" url="https://tekpon.com/software/thrivecart/reviews/pricing/" ]Thrivecart also offers a 30 days guarantee that the product will pay for itself. If not, they will make it work in collaboration with you. While we can't guarantee that the claim is valid, we have to admit it's tempting[/pricing_box]
ThriveCart Detailed Alternatives
Amongst the most common ThriveCart alternatives are :
SamCart
ClickFunnels
PayKickstart
Klaviyo
GetResponse
ThriveCart Review Conclusion
To conclude the ThriveCart review, we don't doubt that we have a fantastic product on our hands. Furthermore, it comes with more than enough features and integrations. The value for money the software brings is incontestable. Furthermore, ThriveCart offers an easy-to-use affiliate tracking feature worth the extra Pro version cost. Finally, weigh carefully all the pluses you get from using the Pro versions.
ThriveCart Related Insights