TaxJar Reviews
& Product Details
TaxJar started back in 2012 from the founders that noticed a problem in the way companies were filing their taxes. Even though several other software developers were tackling this problem, they thought they could do better. Thus, Tax Jar decided to tackle with automation the sales tax problem nobody wants to deal with.
Found in these Categories
Recommended For
StartUps

Freelancers

Small Business

Medium Business

Large Enterprise

Non-profit Organization

Personal
Deployment
Cloud, SaaS, Web-Based

Mobile - Android

Mobile - iPhone

Mobile - iPad

Desktop - Mac

Desktop - Windows

Desktop - Linux

Desktop - Chromebook

On-Premise - Windows

On-Premise - Linux
TaxJar Pricing
Pricing Model: Subscription
TaxJar Features
Features list not provided by TaxJar.
About TaxJar
TaxJar is software trusted by more than 23.000 companies to handle their taxes worldwide. The software comes with several technological integrations that make it the perfect option for any e-commerce store out there. Furthermore, Tax Jar aims to make tax filing and dealing with sales tax a piece of cake. How are they planning to do that we'll tackle in the TaxJar review as it follows:
What is TaxJar?
TaxJar is a cloud-based and automated platform supporting businesses of all sizes through a lifecycle approach to handle their sales tax.
Moreover, the platform covers everything from calculation to filling and reporting. TaxJar is an AI-powered solution and comes with one of the fastest APIs available in its niche.
Last, in April 2021, TaxJar was acquired by Stripe. Therefore, the Tax Jar will be integrated under Stripe Billing, but it will still be available as a self-standing solution.
How does TaxJar work?
In short, line what Tax Jar does to keep track and file your taxes by yourself.
First, It does this by connecting to your shopping cart or/and marketplace; it collects the data from there.
Second, it collects and downloads that data. Last, it compiles it into reports easy to file sales tax in the state you have your sales tax nexus.
Let's take, for example, Shopify. Tax Jar connects to all your locations, reveals where you should be collecting sales tax according to the economic nexus law, and provides you with return-ready reports per jurisdiction.
Last, before moving on with the Taxjar review, we would like to underline that the tool is versatile geographically and can track sales taxes in many regions.
Where does TaxJar work?
The sales tax filling software works in 31 countries through its API function. Therefore, users can use the software in the European Union, US, Canada, Australia, and the United Kingdom.
TaxJar Integrations
The software integrates with the most relevant eCommerce software and some essential accounting software in the market. However, since the end of April 2021, you can enjoy the Tax Jar full integration with Stripe Billing after Stripe acquired them. Moving on with the TaxJar review, we will be looking at several integrations:
Acumatica, Amazon, BigCommerce, eBay, ecwid, Etsy, Magento, Oracle Netsuite, Paypal, QuickBooks, SalesForce, Shopify, Square, Squarespace, Walmart, WooCommerce
AccountMate, Chargebee, Connectedbusiness, CoreWare, Freestyle Solutions, IntegraSoft, Miva, Microsoft Dynamics NAV, Directscale, Volusion
AbenteCart, AbleCommerce, Cetec ERP, ddisystem, DrupalCommerce, Konnektive CRM, Locate, MI9 Retail, OpenCart, SearchFit, SellerCloud, Shopsite, Odoo, UltraCart, XCart,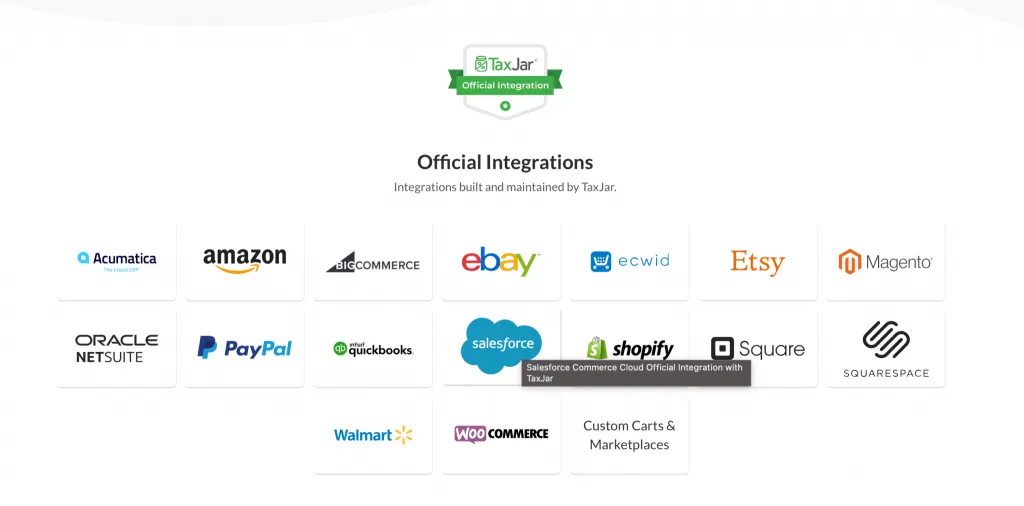 First of all, official integrations are built and maintained by TaxJar.
Second, premier certified integrations are built and supported by the partners; however, they are tested and certified by TaxJar. Last, registered certified integrations are also created and supported by partners, tested, and certified by Tax  Jar.
TaxJar Features
There is no review without features. Let's continue our Tax jar review with the features and benefits. This will help us also underline the weaknesses of the software. Thus, the main features of the tool are:
AutoFile
Sales tax reports
Auto-sync e-commerce & shopping cart
Shipping taxability
States and local sales tax report
Sales tax sourcing
API
Let us look at these features to decide if you need this or handle this on your own. Now, if you think you can handle filing taxes yourself, we would suggest you pay attention and answer the following questions:
How many sales do you have per month?
How much time does it take you to file your sales taxes?
With how many states do you collaborate?
How much time does it take out of the one dedicated to growing your business?
In conclusion, if you have a low amount of invoices per month and it takes you a small amount of time to handle your taxes, Taxjar might be expensive and not suitable for you; however, if you own a small business with a large number of orders, this tool will save lots of precious time which you can spend on growing and developing your business.
Above all, if you concluded that this tool would bring you value and save you time, let's continue the Tax Jar review by taking all its features step by step.
AutoFile
What is AutoFile TaxJar?
In short lines, Tax Jar is an automatic filling service for state sales tax offered by the tool. The function will collect all your sales data into formats that match the authorities' requirements. Moreover, it keeps track of submitting deadlines and files your sales tax reports without errors or delays. However, take this with a grain of salt as any software has errors from time to time, and we wouldn't recommend anybody to rely 100% on any software. Thus, we would recommend you to check beforehand and make sure all work optimally.
Estimated  Sales Tax Report
The tool collects sales, sales tax, and estimates tax by local jurisdictions. Furthermore, the estimated sales tax reports underline the difference between the actual vs. predicted with the scope to check if you have collected the right amount of taxes.
Auto-sync E-commerce and shopping cart
TaxJar integrates with most e-commerce and shopping cart platforms. Integrating with any of the shopping carts is easy and takes only a few minutes to set up.
First, you should connect your cart or marketplace to Tax Jar. This is one of the first setups you will be required to do when setting up. Second, connect one of the tools by selecting the shopping cart or marketplace you are using to get directions on setting up your provider. Third, after you complete the setup, TaxJar will take some time to import all the sales information from your e-commerce platform and create a Sales Tax Report. You will receive an email when the import is ready.
Last, if, for some reason, your cart is not available amongst the icons, you can safely import a CSV file with all your sales data to the platform. After the upload, it will take some time for the program to process all the information, and once it is finished, it will notify you, and you'll be able to check the Sales Tax Report.
Shipping Taxability and States tax report
As probably some of you do not know yet is that some states in the USA tax shipping. Most of the states in the USA do that. However, in this circumstance, most of the time, the customer's location influences the cost more than your location. Therefore, the local government requires you to charge sales tax for any order to residents of states where your company has a nexus.
Keep this in mind significantly when you are expanding to new states no matter the situation of your state, meaning even if it does or does not charge tax for shipping.
To help you with this situation, TaxJar has the Sales nexus feature. The feature keeps track of your sales data to determine which state/states meet economic nexus thresholds. Further, TaxJar will help you handle the sales tax situation in those states.
Tax Jar will also send you notifications with the states that are close to the nexus.
TaxJar API
Sources say that TaxJar has the fastest APIs in the niche. The API works with the previously mentioned Official integrations, and it gives real-time sales tax rates and calculations from states to special taxing districts.
The API by TaxJar comes with a guarantee of 99.99% accuracy. Now, the API does this by avoiding ZIP code rates instead uses rooftop-level calculations.
We believe that it is established that the API makes your life easier; however, the API is available only from the Professional TaxJar pricing plan. The Starter plan offers only Simple CSV import.
How long does it take to import into TaxJar?
It depends on the method you are using to import your data into TaxJar. As mentioned above, you have two methods of importing data into Tax Jar – CSV file or Auto-sync with e-commerce and market places-. It will take the TaxJar feature longer to import from a CSV. Usually, importing a CSV file will take about 30 minutes; however, this depends on the number of transactions. The API option will take you between 30 min and 1h for the first time, and afterward, it does real-time updates.
TaxJar Pricing
TaxJar comes with three pricing plans that cater to every organization's needs. Tax Jar also offers a 30 days trial period where you can try all the features and decide which plan fits yours. However, be aware that both the Simple and the Professional plan come with different prices depending on orders per month.
Starting From: $19 monthly or annually
Pricing Model: Subscription
Free Trial: 30 days
Sample content
TaxJar Alternatives
TaxJar Review Conclusion
After going through the whole spectrum of the TaxJar review, we can say that it is an excellent sales tax automation platform. However, if it is necessary for your business is an entirely different story. While all the software versions are reasonable, we recommend you go from the Professional upward to enjoy all the features and automation. Additionally, the tool is entirely cloud-based and is somewhat limited in API by Official integrations; therefore, before you purchase a plan, make sure you can enjoy all the features you would buy the product for in the first place.
Let us know your opinion about TaxJar and your personal experience.