6 Great video making tools for businesses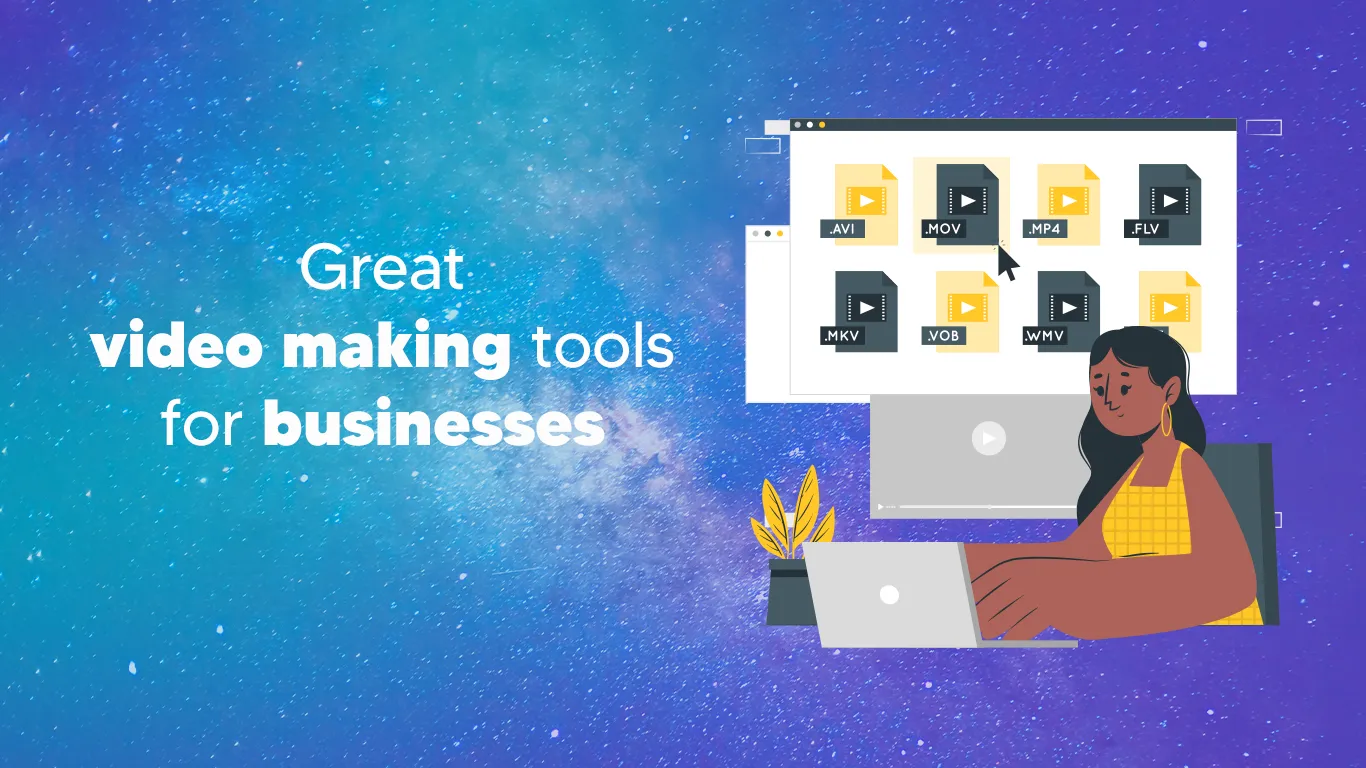 We were wondering. What weights more in terms of public appreciation and engagement? Considering a business' needs. A plain text with products and services information or a professional dynamic video? The answer is clear largely because the internet is prevailing a visual medium. Now more than ever is hard to keep internet users' attention for more than a few seconds. But engaging videos have this capability. Moreover, even if you are not an expert in video editing, video-making tools for businesses are what you need. 
Besides easy-to-use solutions, editing apps are also affordable options to make your videos look professional. The wide range of video editing software lets you create practically everything you have imagined. Also, they give guidance on how to create a video with pictures, animations, cartoons, or social media posts. 
Best video maker software to create business engagement
We haven't decided yet which is the best video-making app. It only depends on your business' needs and desires. Also, choosing a video marketing software is closely related to the type of products and services you want to promote. Thus, we will give you some recommendations on the most useful and feature-abundant platforms. 
FlexClip
If you are a content creator or just someone who indulges in video capturing moments of day-to-day life, FlexClip might meet your video editing needs. Flex Clip is an online video editor you can use to create professional and compelling videos, movies, and slideshows. The user interface of this video maker tool is so friendly that you can edit a video within five minutes. After testing video-making tools, we noticed that the video quality after the editing process usually decreases. Well, this is not the case for FlexClip, because you won't lose even the smallest pixel of your clips. In addition, this online video editor software is a no watermark video editor so that businesses can customize the video with their brand logo and colors. 
Movavi
How to edit videos is no longer a valid question when you have Movavi Video Editor. This easy-to-use video app allows you to enter into its well-structured, extensive, and creative world that makes you understand video editing processes in a breeze. This video-making app provides users with an intuitive workspace and a simple interface. Digging deeper, we were impressed by the variety of video templates that allow beginners to start their creative process without problems. Thus, Movavi Video Editor has advanced pre-set features, adjustments, and a built-in media library. Moreover, your videos can come to life due to the object animation feature allowing you to use stickers and add keyframes. 
Vyond
With Vyond software, businesses can create animation videos in a breeze. This online video editor provides users with various features to make their videos look professional. The video maker's features include pre-built video templates, expanded timelines, keyboard shortcuts, global editing, and many others. In addition, Vyond is well-known for its ability to add a touch of dynamism to your videos. Thus, Vyond animation software lets you create 2D animation videos such as training materials and business' commercials. You can create characters and change their features. Also, you can use props and scenery, music, and sound effect while creating a video. 
Wondershare Filmora
A video editing tool that is an affordable solution for your business is Wondershare Filmora. This online video editor offers advanced text and video editing, video stabilization, speed control, color grading presets, noise removal, and the possibility to create multiple video clip layers. Filmora can also be seen as a social media video editor because once you've finished editing your videos, you can instantly share them on your social media pages. And we shall not forget the plethora of Filmora integrations. Some of them are Filmstock, Vimeo Pro, FreeLogoDesign, Amazon.com, Serif, and smith micro software. 
VideoScribe
VideoScribe is the whiteboard animation software we are glad to introduce to you. This video animation platform is used mainly to create explainer videos and whiteboard-style animation. VideoScribe is an easy-to-learn and uses animation software that gives creators plenty of tools to juggle with. You can create easy drawings due to the variety of hands and pens. Also, users can work offline, import music and fonts, and find many video resolutions available. 
Adobe Premiere Rush
Although a newcomer to the video marketing software industry, Adobe Premiere Rush became popular quickly as a professional video editing. It is really easy to adjust to this app even if you are a beginner because it has a user-friendly interface and a friendlier way of operating. Its editing capabilities include adding media to the timeline, splitting, or duplicating clips. Moreover, you can add music, and effects and record voiceovers directly in the app. 
Overall, video-making tools are like the light at the end of a tunnel for a non-video creator with any experience. Put your creative ideas into practice and see how much traction your business can gain!