Best 6 collaboration tools for remote teams
The last two years have been decisive to the way we work now. We've known a dramatic turn called remote work that only team collaboration software has been able to bring us closer to normality. I've been using collaboration technology almost every day throughout these years, and I can strongly say that they managed to improve my workflow. To keep me above the float line if you wish. And give me a consistent and solid direction. 
Top collaboration tools to improve team productivity
The work-from-home scenario best suits all of our working requirements. Thus, we successfully carried out our tasks with the help of business and personal productivity apps, project management tools, knowledge management software, document management, and other project collaboration tools. Remote teams should keep an eye on these collaboration tools that will certainly ease their life.
Infinity
Let's begin with Infinity, one of the best tools for project management. This easy-to-use app gives remote teamwork impressive flexibility and is very responsive to managing multiple projects. Organize any data, customize it according to your needs and start your journey to a more productive pandemic and post-pandemic life. Infinity provides users with many functionalities such as tables, columns, lists, calendars, Gantt charts, and forms. If you wonder who is the best match for this tool, the answer is – everyone. From education, freelance, marketing, and sales teams to product development staff. The over 50 templates of Infinity software will meet every remote team's requirements. 
Notion
Notion is a reliable knowledge management platform. It is a note-taking tool that helps keep track of your personal and professional duties. Thoughts and ideas come and go, and Notion is here to ensure they last. Moreover, it is an ideal piece of software that allows you to take personal notes but also make plans, create to-do lists, databases, and sketch projects. In addition, Notion offers a single workspace for individual use or as a collaboration solution. Notion is an effective collaboration tool that improves workflow by scheduling tasks, managing files, saving documents, setting reminders, and keeping agendas up to date.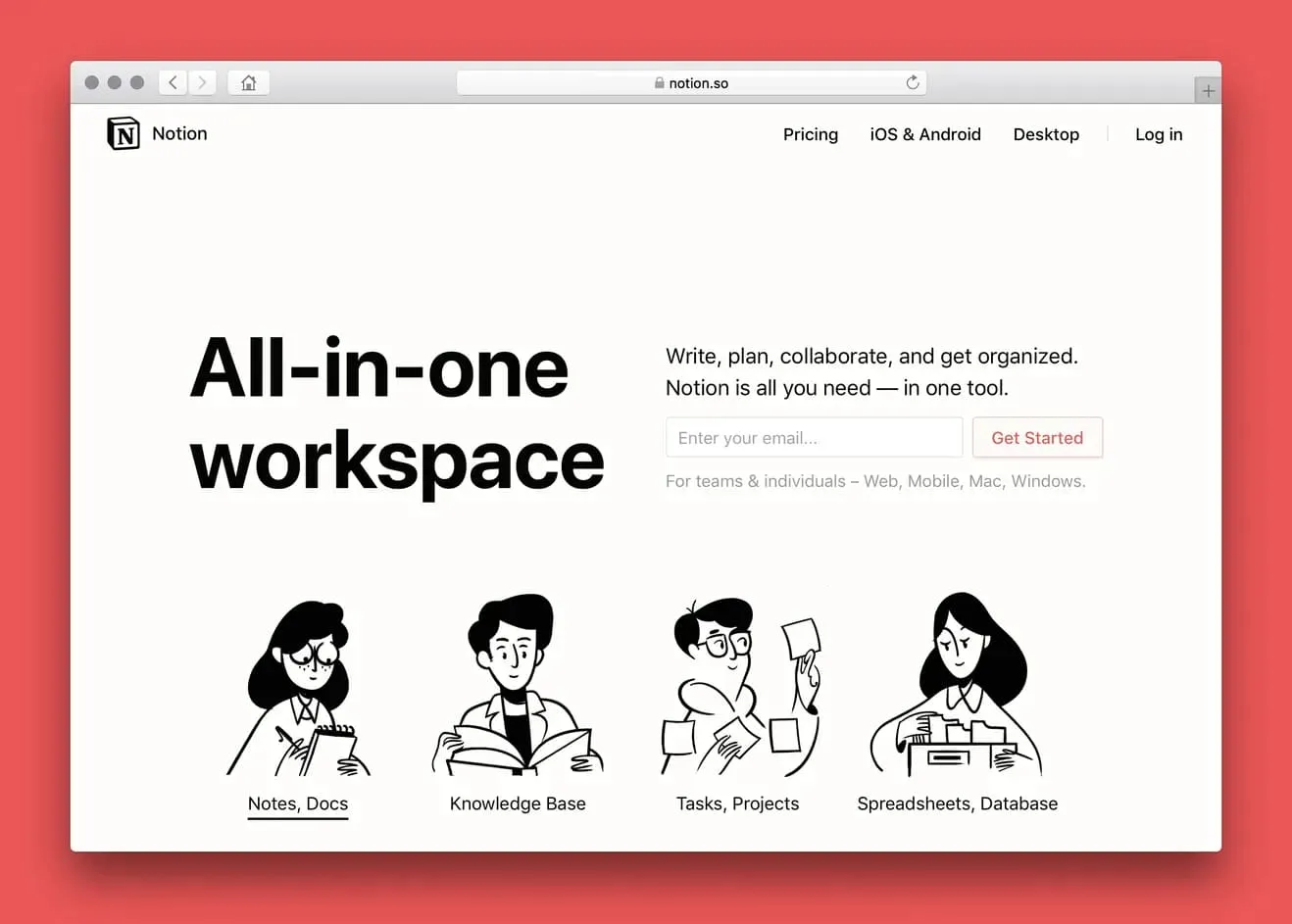 DocuSign
Remote work didn't get away from bureaucracy. Papers still need to be signed, but this process is no longer charged with the traditional hassle. DocuSign is both a document management solution and an e-signature tool. This digital signature software is perfect for large corporations and small businesses. Documents signed via the DocuSign platform are acknowledged as safe and legal, so you don't have to worry about the papers' veracity. Nor for the time wasted using pen and paper.
ClickUp
As I was saying earlier, collaboration tools are essential when working remotely. ClickUp knows this and provides users with project management software that automates and streamlines your team's work on projects. This business and productivity software allows companies of all sizes to boost efficiency due to its process, task, time management, and collaboration features. ClickUp makes you aware of the work you have to do in a day or throughout a week. Moreover, you can assign certain tasks, change statuses, post comments, or generate SOPs.
Webex
Because the last period meant a lack of physical interaction, video conferencing software is one of the best solutions to make up for it. And Cisco Webex meetings have never let us down. As a fundamental part of a business's success, communication went digital. Webex provides teams with a collaboration app to give and receive audio and video calls for business purposes. Furthermore, people can text via a chat panel to one individual user or a group. At the same time, you can share your screen with other participants and record the meeting so that you can go over the important moments of the call. In addition, Webex gives you a solid free version through which up to 100 participants can access the meeting for 50 minutes. 
Confluence
The wide range of productivity tools provides us with Confluence, a cloud-based project management software. Thus, you can create projects you can work on, organize, and share with all of your team members. Moreover, in line with Confluence's organizing capabilities, this app offers users advanced search that structures queries for searching content in different folders you create. Confluence customizable templates allow you to work on projects by your heart's and aesthetic desires. 
In these critical times, technology shows us its worth and benefits. Knowing your business and personal needs and which app you can use to satisfy them is the power of this modern digital world.