Infinity Reviews
& Product Details
What is Infinity?
Infinity is an all-in-one, flexible, and customizable project management software that will help you organize everything your way. Infinity project management tool is built for teams of any size and serves all sorts of projects. It is the perfect fit for any business size that embraces teamwork and clients and runs multiple projects. In addition, it is customizable to your needs with views, custom attributes & folders.
The founders of Infinity software have set a goal: to become the ultimate productivity and work management platform. But are they on the right track?
As you will discover, you can organize any data any way you want.
As every team member functions differently, Infinity adopts your needs and makes you the architect of your work organization.
To do so, they prepared multiple views for every purpose:
Table
Columns
List
Calendar
Gantt
Form
Furthermore, to help you get started, they created over 50 templates that are totally customizable to fit your team's needs. From Education, Events, and Freelance to Marketing, Sales, and Product Development, you will find a template that will suit you.
Found in these Categories
Best For
One tool to organize all your work your way.
StartUps

Freelancers

Small Business

Medium Business

Large Enterprise

Non-profit Organization

Personal
Cloud, SaaS, Web-Based

Mobile - Android

Mobile - iPhone

Mobile - iPad

Desktop - Mac

Desktop - Windows

Desktop - Linux

Desktop - Chromebook

On-Premise - Windows

On-Premise - Linux
Company Name

Infinity Innovations

Located In

United States

Website

startinfinity.com
Starting from:
$5 /user/month
Pricing Model: Lifetime License
Pricing Details:
Infinity has three pricing plans: Basic, Pro & Enterprise. The Infinity Pricing plans are tiered on the number of users. For example, Infinity Basic costs $5/user per month and includes one workspace, 5GB storage, and Basic Features. Choosing annual billing will bring you a discount of 25% on the monthly cost. Unfortunately, no Infinity Free trial is available, but they have a 14-day money-back guarantee for all plans.
See Infinity Coupons
Agile Methodologies

Calendars

Client Portal

Collaboration Tools

Creation & Assignment

Customizable Templates

Customization

Dashboards

Drag & Drop

Due Dates

Feedback

Gantt/Timeline view

Idea Management

Issue Management

Kanban Board

Offline Mode

Permissions

Project Planning/Scheduling

Recurring Tasks

Resource Management

Task Management

Task Prioritization

Time & Expense Tracking

To-Do Lists

Traditional Methodologies

Views

Workflows
Additional Features
Table View

Columns

List View

Chart View

Form

Gallery View

Document View

Attributes

Infinite Structure

Automations
See everything the team's working on in one place.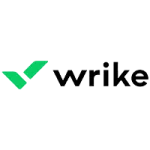 Transform the way your teams work.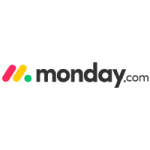 The Work OS that lets you shape workflows your way.
This Infinity Review will analyze the core problems it solves, along with features, Infinity Pricing plans & how it compares with its main competitors.
Have you ever had to plan a party or a 12-person field trip? If yes, then you know that project management is pretty hard. And it gets even more complicated when clients, teams, and complex tasks are involved. This is the reason why we need project planning tools. This kind of software helps manage everything.
Have no fear; Start Infinity comes to the rescue. Its name comes from the ability to be infinitely flexible. It helps to organize any type of project, regardless of size and complexity.
Infinity App Review – All-in-One Project Management Platform
We all know those periods when we can't even remember if we ate in the last 24 hours. So, when it comes to keeping all the projects and daily tasks on track, sometimes reminders and to-do lists aren't enough. However, thanks to technological evolution, we have many online project management tools to help us.
With over 50 software in this category, which one is the best for you? Is Infinity project management worth the money?
Let's begin this Infinity Review and find out what it is, and some use cases.
How to use the Infinity app?
Well, it is a learning curve, as for all software. However, it is not that steep. Have a peek at this introductive video on the basics of the Infinity App.
As you can see, you can use Infinity to organize to-do lists, roadmaps, and grocery lists. Moreover, you can also manage Kanban, bug tracker, sales pipeline, meetings, daily tasks, lightweight CRM, galleries, notes, bookmarks, or anything else. There are really no limits.
All things considered, we can definitely state that StartInfinity is on the right track to becoming the ultimate productivity management platform.
Details of Infinity Features
When using Infinity, you can easily organize projects, manage priorities and assign tasks to the right people.
You can easily focus on the upcoming tasks, the deadlines, and the people working on them. Infinity features include task management, resource management, Agile & Waterfall methodologies support, mobile access, and more.
Let's dive into Infinity's features and explore all the benefits it comes with.
Dashboard Views
The best product management tools out there will let you view your data in any way that fits best. The same is true with Infinity, as you & your team have different UI options available.
For example, it's best to display them on a spreadsheet for easier comprehension when looking through your contacts. For this, you have the Infinity table view.
This Infinity feature lets you display projects, tasks, contacts, and schedules the way you prefer.
For instance, you may find it easier to understand if your projects & tasks are shown in the Kanban board style. Likewise, one of your team members finds working with a to-do list more productive. Others might prefer their tasks displayed in an Infinity table view.
Whatever you choose, Infinity gives you the view you want.
If you are used to working in Google Sheets or Excel files, or you need to import a CSV file in your folder, the Infinity Table view can be your choice. You will have a more condensed & more comfortable navigating view of your items with multiple attributes. Moreover, it is excellent for using formulas in Infinity.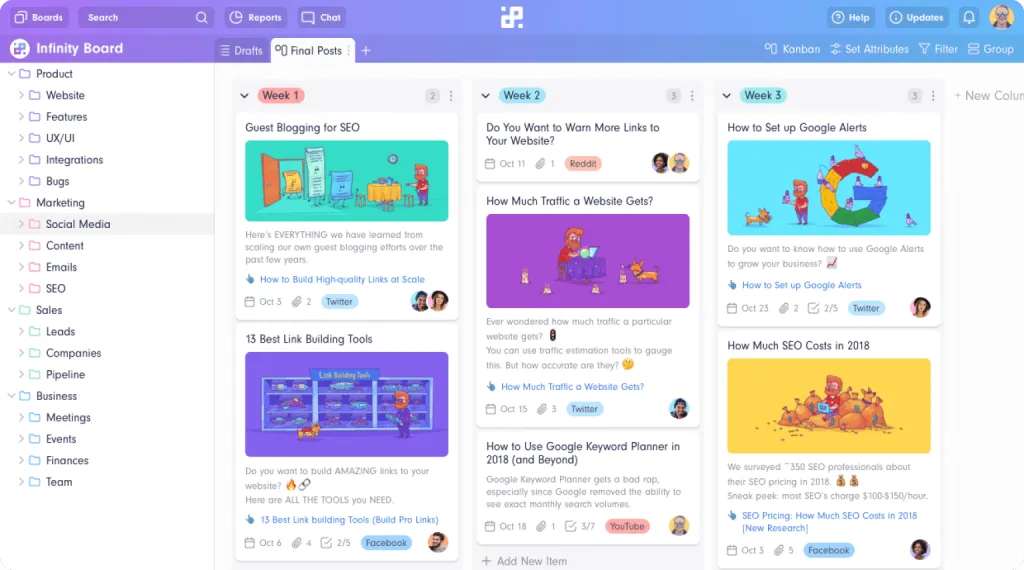 Also known as the Kanban board, it is one of the most used views in product management tools. If you need a more visual presentation of your tasks & projects, Columns' view will work great.
A simple & straightforward overview of your items. The Infinity List view is best for a quick view of team members' tasks, flipping through the pending tasks, creating a to-do list, and so on.
The Infinity Calendar view will help you see all the time-sensitive items like deadlines, scrum meetings, events, calls, etc. You can keep track of events and make detailed schedules, as you can get an overview of an entire month, week, or day. There is even a workout calendar template & memento database available.
The Infinity Gantt chart view is handy for viewing a timeline for long-term projects and establishing start and end dates in one simple view. It's best for project planning, Infinity marketing growth experiments, event planning, product roadmaps, etc.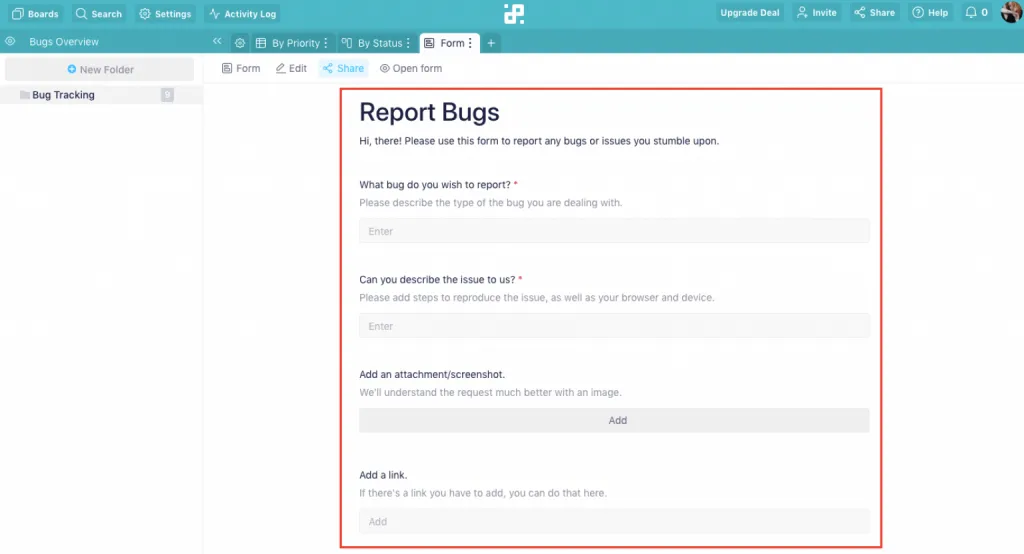 With Infinity Form view, you can create custom forms & share them with whoever you want, regardless if they do or don't have an Infinity account. You can either share the form via a link or embed it on your website. For example, you can use the form to collect feedback, increase your contacts list, do bug tracking, and more. 
Customization
You can customize and decide your dashboard's overall look and feel as Infinity offers an extensive suite of customization features.
This includes adding any type of data using attributes such as attachments, links, dates, and checkboxes. Moreover, you can create formulas for specific items and use color-coding tools for better labeling and customization.
Other Infinity tools include reordering, changing views, summarizing necessary calculations, and grouping data into specific lists or columns.
Custom Attributes

: there are 20 attributes at your disposal that will help you tailor according to your project;

Filter

: create custom formulas to filer & view only certain items;

Group

: either columns or divide lists, you can group your data any way you want;

Sort

: use any attribute you have to sort your data;

Show/Hide

: hide or show attributes for a better overview of your data;

Reorder

: it features a drag & drop interface that is easy to use and helps you add and order elements into the Workspace fast & easy;

Summarize

: helpful for executing necessary calculations in your desks;

Colors

: as you want to become the ultimate Guru of organizing, you can set a theme color for every plank or label;

Change View

: you can see your data the way you like it best, as there are six views available (Table, Columns, List, Calendar, Gantt, Form).
Infinite Structure
With these Infinity tools, you can build project structures that go as deep as you need or want. You can create boards, tabs, folders, and sub-folders per project, which results in a better structure of project data, tasks, and goals. You can create and apply custom workflows that match your projects' requirements.
Whether it is Infinity marketing, scrum meetings, or other project types, you control how each process flows. Furthermore, you will be on top of what phase or stage needs to be accomplished before you can go on to the next step.
Workspace

: the highest-level unit of Infinity & the first thing you will create to get started (1 workspace = 1 company);

Boards

: subdivisions of the Workspace – you can create an unlimited number of boards & use them however you want (for example, you can create boards for each company department, client, project, etc.);

Folders

: use them to classify your data within one board & pack your items into segments for a better & easier view;

Sub-folders

: classify your data even better by subdividing the work segments;

Tabs

: Tabs can help you see your folder data in different ways. Once you create an Infinity new tab, you can filter the data, change a view, sort items differently, and more;

Item

: An item is the core unit of a project Infinity, and it can be anything – a task, lead, idea, meetings, take note of, chores, contact, test, etc. Like all the other Infinity tools, the items can be fully customized with various attributes.
Collaboration
Product management tools are not complete without great collaboration options. Collaboration and communication are essential in any team activity.
The Infinity tools for collaboration are extensive and will help you increase communication and productivity within the workforce.
For example, you can invite, comment, share board, set permissions, mention people, assign tasks to the right team members and track all changes. Moreover, you can do everything in the software environment.
Invite

: send invites to people with who you want to collaborate or join your team;

Comments

: in this section, you can offer feedback, tag a team member, communicate, update them on an item status, and even use emojis;

Share Board

: you can make your boards public & share them with people outside Infinity;

Permissions

: easily define who can see and edit data

Assign

: easily define teams' responsibilities by assigning tasks to one or more users;

Activity Log

: it is found in the Board Manager & will enable you to keep track of all the actions made in items or boards;

Notifications

: you can fully customize the notifications you receive. For example, you can get notifications whenever a task has been assigned to you, a new form is submitted, when you're mentioned in a comment, and more. There are two types of notifications: email & push.
Integrations
Infinity has intuitive integrations with other platforms and tools, including Zapier, Clockify, Trello, and CSV. Moreover, it features a beta version of the API.
Infinity API – Beta Version
The main goal of Infinity API is to allow you to do anything you need. You will be able to build your own app or connect Infinity to any third-party software.
Currently, it is in the beta version and only available for a certain number of users. So, if you are a developer, you can contact them and test it.
Clockify Integration
Integrating Clockify will make tracking time on your Infinity tasks, creating reports & review your timesheets feel like a breeze.
Trello Import
If you were using Trello & switched to Infinity App, you don't have to start over from scratch. You can import all your data into Infinity and start your work with just a few clicks.
Furthermore, when you choose Trello Import, it will transfer all your data & tasks, alongside dates, labels, comments, & team members.
You can learn more about how to import data from Trello from this video:
Zapier Integrations
With Zapier, you can connect Infinity to over 2,000 other apps. Automated connections called Zaps are set up in minutes with no coding. Like this, you can automate your day-to-day tasks and build workflows between apps that otherwise wouldn't be possible.
However, you'll need to sign up for a free Zapier account to get started. If you have never used Zapier Integrations, there are some pre-made Zaps to help you get started.
CSV Import/Export
You can import CSV files into your Infinity boards and folders if you don't want to create an entire board from scratch.
On the other side, if you'd like to download some of your Infinity files or send them to someone, you can easily export your boards and folders in CSV format.
Infinity Web, Desktop & Mobile Apps
Another great thing about Infinity App is that you can organize your work wherever you like and never miss anything.
First, you can use it on your desktop using the web app. You have access to all its features here, but you will depend on an internet connection.
Second, you can install Infinity App on your mobile phone as well. It is supported on iOS & Android phones. By installing it, you stay up to date with everything, as you will be connected even when you are away from your computer.
Third, the Infinity Desktop App is in the Beta version. It is available on macOS, Windows, and Linux. It is faster to use, opens at system startup, has push notifications, and syncs across all devices. Moreover, the Infinity App for Desktop has the same functionalities as the browser version.
Infinity Software Review Conclusion
It is a great project management software solution that simplifies the daily chores of all kinds of industries. It provides the right tools and features to optimize workflows and processes at a great price. Additionally, you can work on all of your devices since it synchronizes everything with a single account.
In conclusion, this user-friendly software allows you to manage projects, tasks, and your database. If this sounds good to you, then you should consider Infinity App as one of your best options.
Infinity Related Insights