ClickUp Reviews
& Product Details
What is ClickUp?
ClickUp is a cloud-based service that allows you to centralize data across your organizations, including teams and individuals. Integrating various applications, it provides management of projects and collaboration tools into a single platform. Our ClickUp review found the service ideal for businesses of all sizes or even individuals who need to organize their projects.
Among the benefits of leveraging ClickUp, Project Management can increase efficiency, accessibility, and visibility. Regarding team collaboration software, the ClickUp app boosts productivity by streamlining your task management: to-do lists, box views, activity views, workload views, Gantt views, and more.
This level of customization and flexibility is why we think ClickUp is one of the best project management tools available.
Found in these Categories
Best For
All of your work in one place: Tasks, Docs, Chat, Goals & more.
StartUps

Freelancers

Small Business

Medium Business

Large Enterprise

Non-profit Organization

Personal
Cloud, SaaS, Web-Based

Mobile - Android

Mobile - iPhone

Mobile - iPad

Desktop - Mac

Desktop - Windows

Desktop - Linux

Desktop - Chromebook

On-Premise - Windows

On-Premise - Linux
Company Name

ClickUp

Located In

United States

Website

clickup.com
Starting from:
$9 /user/month
Pricing Model: Subscription
Pricing Details:
ClickUp has five pricing plans: Free, Unlimited, Business, Business Plus, and Enterprise. The Free Forever plan is best for personal use, and grants access to all the basic features, including 100MB storage, unlimited tasks, collaborative docs, etc. Unlimited, Business and Business Plus plans fit all the needs of small and medium-sized businesses. The pricing starts at $9 per user monthly. Finally, the Enterprise plan is best for many large teams - the pricing is available upon request.
See ClickUp Coupons
Agile Methodologies

Calendars

Client Portal

Chat

Collaboration Tools

Cost-to-Completion Tracking

Customizable Templates

Customization

Dashboards

Drag & Drop

Due Dates

Feedback

Gantt/Timeline view

Idea Management

Issue Management

Kanban Board

Milestone Tracking

Permissions

Prioritization

Project Planning/Scheduling

Recurring Tasks

Resource Management

Search

Task Management

Time & Expense Tracking

To-Do Lists

Traditional Methodologies

Views

Workflows
Additional Features
Reporting/Project Tracking

Billing & Invoicing

Approval Workflow

Dependency Tracking

Media Planning

Segmentation

Supports Scrum

Team Management

Color Codes/Icons

Requirements Management

Forms Management

Activity Dashboard

Multiple Projects

Change Management

Email Marketing

Social Media Integration

Sprint Planning

Vacation/Leave Tracking

Daily Reports

Employee Database
Helps manage teams & move work forward.
See everything the team's working on in one place.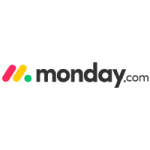 The Work OS that lets you shape workflows your way.
Project management is now one of the most important aspects of an enterprise. However, growth can slow if teams are too often bogged down in the details of projects and the repetition of tasks. ClickUp is a project management software that aims to streamline and automate those processes, allowing you to get on with more important tasks. During this ClickUp review, we will explain why this platform is an amazing solution for handling projects for business and personal users. However, other apps on the market loom large in the space, including Notion and Trello. In this ClickUp review, we will look at some of those alternatives and compare them.
ClickUp Team Collaboration
ClickUp has traditionally been one of the best project management tools available. But, as this space becomes more hotly contested, can the ClickUp app keep up with its team collaboration software? Our ClickUp review looks at every facet of the platform, and we found that ClickUp is still the gold standard for project management solutions.
What Is ClickUp For?
One of the most impressive aspects of ClickUp is its broad appeal. Whether you are a major organization or a personal user, this is a hugely functional tool tapping into the free version. By the way, that free version is robust enough that it may work as a project management tool for smaller businesses. Considering collaborative projects are now the heartbeat of enterprise, ClickUp is an excellent choice for all types of business.
Is ClickUp a Project Management Software?
While ClickUp is, by definition, a project management software, we think that label does the platform a disservice. Let's put it like this, ClickUp extends beyond the simple project and task management with its communication, status assigning, notifications, and collaboration features.
Although the scope of ClickUp is broad, it is not necessarily fair to compare it directly with pure project management solutions. The focus on collaboration and communication within ClickUp means you could compare it with apps like Slack and Microsoft Teams. However, it is worth noting that it does not match those services in terms of scope or usability.
Details of ClickUp Features
As we have mentioned, ClickUp is full of handy tools to help streamline your projects and boost productivity across your teams. In addition, you can tap into different sets of ClickUp features depending on the problems you want to solve, including:
Process management – Make projects more efficient and manage workflows across an organization.
Task management – Set tasks, track them, organize to-do lists, and manage your team in one place.
Time management – Build schedules, manage capacity on specific projects, organize calendars, and track working time.
Collaboration – Communicate with team members from with ClickUp, generate custom reports, and share information across your organization.
It would be silly to complain about having too many features, but we will go right ahead and do just that. Sometimes ClickUp feels like it is unsure what it is. There are so many features here, many of them impressive, that it is easy to become overwhelmed.
When ClickUp does focus on project management tools, it excels, but when it tries too hard to compete with all-encompassing platforms like Microsoft Teams, it is less successful. In addition, there are too many ClickUp features to list in detail on this page. So instead, we have decided to focus on our favorites:
One of the reasons we rank ClickUp so highly as a project management tool is its ease of use. This focus on usability starts with ClickUp Templates, which help make project creation simple and fun. In addition, most organizations will opt for a platform like ClickUp to scale productivity and collaboration without expending too many resources.
Streamlining processes is the best way to achieve that goal. ClickUp Templates are an amazing first step toward transforming project management. As the name suggests, Templates allow you to avoid creating projects from scratch. Instead, you can use pre-built lists, tasks, and other project elements.
Importantly, ClickUp makes it remarkably simple to find and access a template that best suits your needs. You can filter templates by level (Beginner, Intermediate, and Advanced) and more granular use cases. There are nearly 40 use case categories, with hundreds of templates under each item. Unfortunately, you cannot edit templates, so it is better to build your own if you want a more flexible and custom project.
One of the keys to modern project management is making processes as efficient as possible. Enterprises want platforms to do the dirty work so teams can focus on more productive tasks. With ClickUp automation, there are a bunch of AI-driven jobs that the platform will do automatically.
ClickUp has a suite of available automation recipes, and you can also create your own. In addition, there are over 100 ways to automate tasks on the platform, focusing on routine jobs. For example, you can use automation tools to assign tasks, change statuses, post comments, generate SOPs, and more.
We also like that the automation tools extend to the third-party integrations available on ClickUp, creating a more seamless collaborative workflow. Furthermore, you can build your automations without coding knowledge, including actions, conditions, and triggers. There are over 50 automation actions in ClickUp.
Nothing can suck resources and time like handling the same tasks day after day. ClickUp recurring tasks help you avoid the slog of starting jobs from scratch each time. For example, do you have the same meeting every morning or project SOPs that roll over multiple times? Using recurring tasks allows you to avoid these repetitive scenarios.
Highlighting the flexibility of ClickUp, you create recurring tasks at any frequency you want. For example, daily, weekly, monthly, when a status changes, and so on. Setting frequencies is easy by heading into the built-in calendar.
You can also choose how recurring tasks behave. For example, you can choose for its repeat exactly or add a new task to each reoccurrence. Other tools include the ability to set new dates and statuses.
What does ClickUp integrate with?
In the modern enterprise world, integration is at the core of the collaboration revolution. As workers turn to remote solutions increasingly, getting work done across multiple services in one place becomes more valuable. Regarding integrations with third parties, ClickUp is amazing because it links with all the leading enterprise apps.
There are dozens of native integrations built by ClickUp to connect users with leading enterprise services. Furthermore, you can use the ClickUp API to build your custom add-ons for the platform. There are too many integrations to list them all, but some of the big apps you can tap into include:
YouTube
Slack
GitHub
Dropbox
Google Drive
Outlook
OneDrive
Single Sign-On
Google Calendar
Vimeo
Zoom
Chrome
Microsoft Teams
Amazon Alexa
Google Assistant
Timely
Discord
ClickUp also works with Zapier, which lets you access over 1000 apps directly in your account.
Does ClickUp integrate with QuickBooks?
QuickBooks is a popular enterprise accounting software from Intuit. It allows users – mainly in small to medium businesses – to have in-built accounting tools for on-premises and the cloud. In addition, it handles payments, billing, and payroll management. In ClickUp, you can access the power of QuickBooks and use it directly within the platform. This is possible through Zapier's support.
Alternatives to ClickUp
Project management is a big deal in the enterprise world right now. As you might expect, there are plenty of ClickUp alternatives on the market. Again, it is worth mentioning that the all-encompassing features of ClickUp make the app sometimes feel more like a full collaboration suite. However, the reality is that ClickUp cannot compete with Microsoft Teams and Google Workspace.
ClickUp Review Conclusions
To summarize this ClickUp review, we think this product remains the best project management tool currently available. Thanks to simplification, automation, and beginner-friendly tools, it is a platform that appeals to businesses of all sizes and individual users. If you require a little more, ClickUp is also increasingly offering more collaboration and communication features, but Microsoft Teams or Google Workspace is not.
We prefer ClickUp to stick with project management tools. However, sometimes it is easy to get lost in the clutter of features. Still, if you want to streamline your projects, manage teams in a specific location, and boost productivity, ClickUp is a top-grade solution.