Notion Reviews
& Product Details
What is Notion?
Notion is an all-in-one workspace platform designed to streamline collaboration, organization, and productivity. It seamlessly combines wikis, projects, documents, and a touch of AI to create a unified space for teams and individuals.
With its wiki feature, users can centralize their knowledge base, ensuring that information is easily accessible and organized. The projects tool allows for task management, tracking, and collaboration, ensuring teams stay aligned and projects progress smoothly.
Notion's docs feature provides a space for dynamic note-taking, content creation, and documentation.
Furthermore, the platform's integration of AI offers intelligent insights, enhancing the user experience.
With its intuitive interface and versatile features, Notion stands out as a comprehensive solution for those seeking an efficient way to manage work, collaborate, and organize information.
Found in these Categories
Best For
One workspace for every team.
StartUps

Freelancers

Small Business

Medium Business

Large Enterprise

Non-profit Organization

Personal
Cloud, SaaS, Web-Based

Mobile - Android

Mobile - iPhone

Mobile - iPad

Desktop - Mac

Desktop - Windows

Desktop - Linux

Desktop - Chromebook

On-Premise - Windows

On-Premise - Linux
Company Name

Notion

Located In

United States

Website

notion.so
Pricing Model: Subscription
Pricing Details:
Four Notion pricing plans are available - Personal, Personal Pro, Team, and Enterprise. The Personal plan is free forever and includes all the basic features you need to organize your life. Personal Pro has a monthly cost of $5, or $4/month, when billed annually. The Team plan costs $10/user monthly or $8/user/month, with annual billing. The Team Plan has a free trial with a 1,000-block limit.
See Notion Coupons
Cataloging/Categorization

Collaboration Tools

Comments

Drag & Drop

Document Storage

Import

Permissions

Searchable

Tagging

Templates

Upload

Versioning & Version History
Additional Features
Content Management

Knowledge Base Management

Full-Text Search

Self Service Portal

@mentions

Annotations

Create Subtasks

Customizable Dashboard

Customizable Templates

Idea Management

Resource Management

Task Tagging

Template Management

Brainstorming

Knowledge Management

Meeting Notes

Notes Management

Real-Time Editing

To-Do List

No-Code

Project Planning/Scheduling

Task Management

Traditional Methodologies

Workflow Configuration

Agile Methodologies

Communication Management

Document Management

Kanban Board

Multi-Device Support

Reporting/Project Tracking

Third-Party Integrations

File Sharing

Issue Management

Mobile Access

Prioritization

Progress Tracking

Workflow Management

Access Controls/Permissions

Budget Management

Contact Management

Guest Access

Milestone Tracking

Project Management

Calendar Management

Gantt/Timeline View

Activity/News Feed

Offline Access

Requirements Management

Time & Expense Tracking

Reporting/Analytics

Status Tracking

Handwriting Recognition

Spreadsheet View

Task Board View
If you're in need of a versatile note-taking tool to manage both your work tasks and personal planning, then you should definitely give Notion a try. With so many apps and tools available to help us keep up with our busy schedules and manage the vast amount of information we encounter, Notion makes everything much easier.
This note-taking software is perfect for organizing your ideas and notes, as well as your projects, plans, to-do lists, databases, and more. In this review, we'll explore how to use and integrate Notion into your personal and professional life and help you stay happy and organized.
About Notion
A start-up with the same name founded the Notion software product in 2016. They created Notion as a note-taking/productivity platform that allows users to create notes, databases, kanban boards, wikis, calendars, and reminders. Moreover, they can interconnect these benefits to create a project and task management system, note-taking, data, and knowledge management.
They've wanted to create a single workplace to solve multiple needs. As a result, notion software can be used individually or in collaboration with others. Yes, we can say that Notion can be a project management software. Yet, if you want to purchase this tool only for this purpose, I recommend you read about other tools designed only to organize and manage your projects and teams.
Thus, I can describe Notion as a multitasking tool, yet we must see if it excels in all functionalities. To summarize, Notion is a software product that helps users schedule tasks, manage files, save documents, set reminders, keep agendas, and organize their work.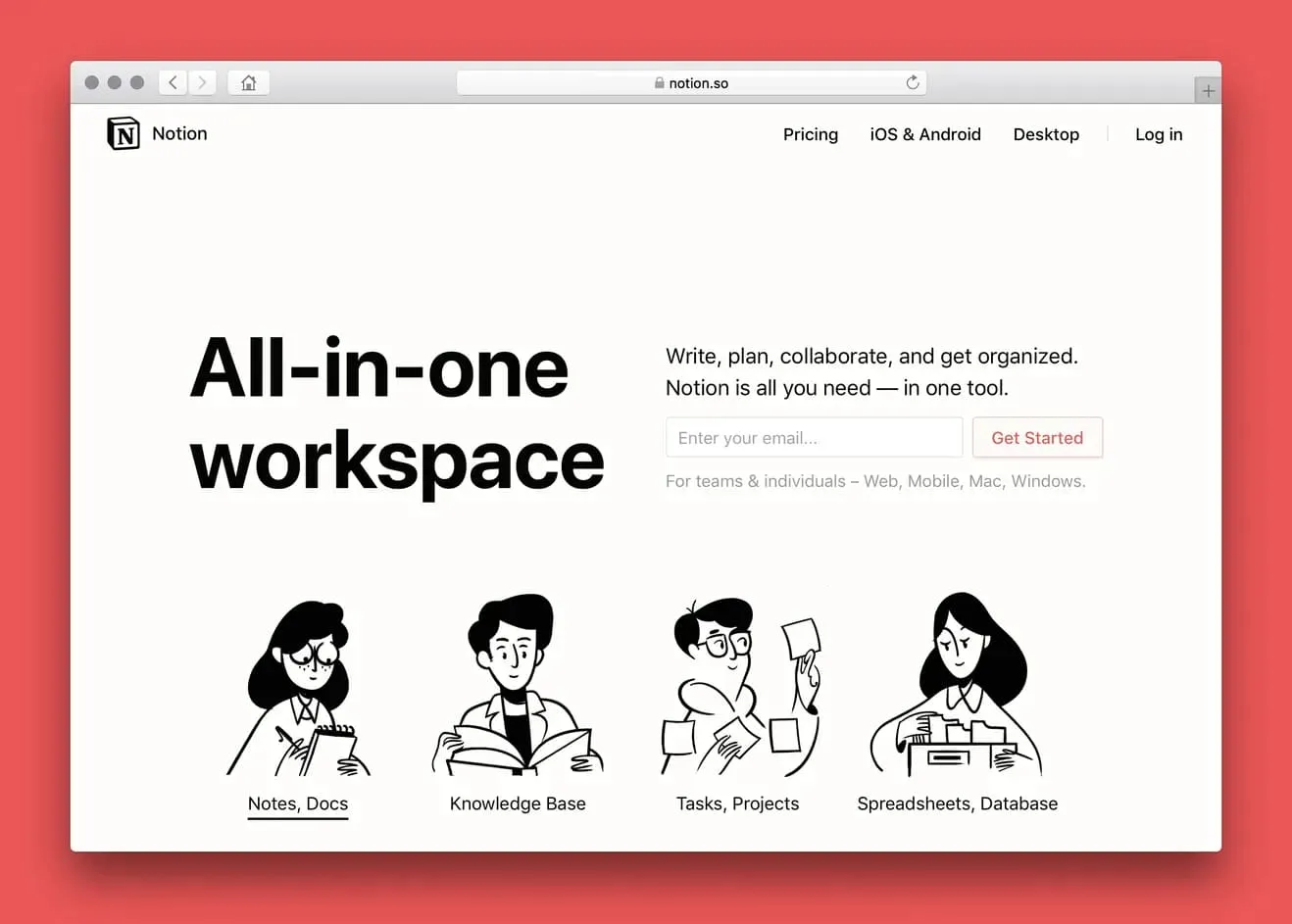 Notion Note-Taking app
If you're looking for a note-taking app, you will find more than this with the Notion app. But before going deep into our Notion review, let me create a simple context for you. People have been using more note-taking software products in the last couple of years. They allow you to take all your notes anywhere you go. Or write down every idea you have whenever it comes.
This tool can replace the traditional pen and paper with success and avoid carrying too many notebooks after you. If, in the beginning, these software products looked like they were designed especially for students, now, everyone can find a use for them.
The beauty of this Notion app is that you can't say anymore that it's just a note-taking app. So, if you want to use it, it's ideal. Yet, if you need other functionalities like project management for your projects and tasks. Or personal to-do lists. The Notion can do that for you too. So even though Evernote is the most popular tool for note-taking in this industry, Notion is a serious competitor.
I'm already using Evernote for many things, and I'm satisfied with what it offers for my needs. If you want to learn more about Evernote, you can read my full review. Moving on, I want to show through this Notion review that this industry is quite vast.
And each software product has its good things and less good things. So, to sum up, let's find from this review if the Notion app has the potential to become your next note-taking and project management tool.
How to use Notion?
I appreciate software products that are designed to be intuitive and easy to use. However, some tools require specialists in their domains to manage them. In terms of productivity and management, I believe that anyone can handle using a tool.
Speaking of productivity tools, Notion is an excellent option because it covers many needs within one app and is highly flexible. You can use it for taking notes, keeping track of tasks, managing personal to-dos, and more. Instead of using multiple apps for different needs, Notion allows you to keep track of everything from one workspace.
Despite its minimalistic design, Notion allows you to create complex projects and collaborate with your teammates. This not only boosts productivity but also keeps everything you're working on organized and easily accessible. Moreover, Notion offers three products:
Team Wiki
Projects & Tasks
Notes & Docs
What is a Wiki in Notion?
Probably you're asking what Team Wiki is and how you can use it. First of all, a wiki is a collaborative tool that allows users to contribute and modify one or more pages of related materials. Wikis are collaborative and facilitate community-building within a course. In Notion, you can organize every aspect of your life and work all in one place. That one place where you store all your content is called a personal wiki. With Notion, you can build your wiki from scratch.
For example, if a new employee is coming into your company, imagine how easier it would be for both of you to understand each other if you had a digital place where he could find everything he needs. All the information is in one workspace. And this is a nice and unique feature that Notion offers that is missing from Evernote.
Notion Templates
Another great thing about Notion is that it offers templates for different case studies and jobs like HR, students, nonprofits, startups, remote work, personal or work. The templates that Notion offers to users are designed to ease each action and create the ideal digital context for what you have to do.
That's a great thing I like about Notion; its flexibility allows users to keep their stuff, work in balance, and be on top of everything without error. You can find all their templates on their website, and I'm sure you'll find some amazing designs for you or your company.
Details of Notion Features
Notion offers many great features to make you fall in love with this tool. Of course, users can find some of the features in other tools, yet Notion offers unique instruments to ease your life. I will try and group them regarding their functionality.
Besides taking notes, Notion can help you organize your tasks for each project. Thus, Notion offers you the right instruments to plan, track, update your projects, and add due dates. This feature will give you accessibility, clear visibility of your projects, and real-time updates. Moreover, you add team members and collaborate on projects with the premium plans.
So, besides being a great note-taking app, Notion can be considered a medium project manager software. I'm saying medium because it was not designed to be developed just in this way. If you're looking for a software product just for this topic, you have other tools like Monday.com, Asana, Trello, or Teamwork. Yet, Notion is doing a good job in project management. So, let's see what other features you can get to deal with this part:
Creation & Assignment
Due Dates
Task Prioritization
To-Do Lists
Dependencies
Mass Updates
Drag & Drop
Recurring Tasks
Another great thing that differentiates Notion from other note-taking apps is the possibility of managing your projects. Besides its notes benefits, Notion offers users the right instruments to create and plan their projects with many features. The team behind this has built a strong project management system connected to your notes and gives up using two or three apps to cover all your needs.
Yes, it is also suitable for big projects. To sum up, they've designed one highly modifiable application that'll successfully replace many of the tools you've used for project management. And, for this, I think it's somehow ahead of Evernote. So, let's see what other features Notion offers to ease the workflow of your projects regardless of their dimension and goals.
Planning
Project Map
GANTT
Calendar View
Views
Project Budgeting
Issue Tracking
Templates
Critical Path
Time & Expense
Methodologies
Regarding your projects, Notion offers you the possibility to track each of them. You will need these features to improve your team workflow and productivity and adjust them at the right time.
Baselining / KPIs
Resource Allocation
Dashboards
This feature allows you to create a home for your company's information. Notion will allow you to gather all the important information for your team and new members in one digital place so that everyone can easily have access whenever they need it.
For example, you can add data like employee benefits, office guidelines, or policies to the Wiki pages. And every time an employee needs to access that information, they can do it in Notion. In this way, you can save time and misunderstandings. Instead of asking somebody, every team member can go into the Notion app and have that info.
Templates
In-Content Feedback
Comments
Versioning and Version History
Regardless of your business, knowledge is one of the keys to success. It is what you are doing and can store all the processes of your departments and teams. This system aims to improve understanding, collaboration, and process alignment. A system like this can help you save time instead of wasting it, help your teams follow the right process in their work, and share the right information.
Building a knowledge management system — or KMS — is about more than just making employee benefits information clear and easily found. It's like building a shared brain for your org that collects learnings and helps everyone operate more efficiently. To sum up, Notion can successfully replace other knowledge management software products like Confluence, Archbee, or Infinity.
Notion AI is a groundbreaking feature introduced by Notion, designed to supercharge your productivity and writing experience. This AI-powered tool seamlessly integrates into Notion, allowing users to work faster by automating tedious tasks.
It can summarize messy notes, instantly generate the next steps from meeting notes, and provide concise takeaways from various sources. Notion AI also enhances your writing, offering functionalities like spelling and grammar checks, translation into multiple languages, voice and tone editing, and simplification of complex language.
It even combats writer's block by assisting in the initial drafting process. With Notion AI, users can lean on an infinitely creative brainstorming partner, ensuring that they always produce top-tier content.
It's a comprehensive writing tool, aiming to be the only one you'll ever need.
Features Conclusions
Notion is a powerful tool that can help you and your organization do much more than just take notes and keep them organized. With Notion, you can manage all your personal and professional projects in one place, eliminating the need for multiple notebooks. It offers an array of special features that allow you to manage your notes, to-do lists, and projects in a more organized and efficient way.
While it may not be as robust as some of the dedicated project management tools available, it still offers a lot of promising features that may make it a better option in the future.
Notion can currently perform most of the functions of a project management tool, with the added benefit of being a comprehensive system for organizing all your notes and projects.
Notion Pricing Detailed
Before we proceed, you might be wondering about the cost of Notion. The good news is that the app offers a free version for personal use. It's an excellent option if you want to keep all aspects of your life organized. You can easily sync your account across different devices and choose to work on their platform or download the Notion app for Mac or Android.
Think about it; you will have all your notes, ideas, plans, tasks, and every possible content supported by Notion in one workspace. Their monthly plan starts from $ 5 per month. Notion offers 50% off on Team plans for registered nonprofits or the international equivalent. Moreover, the Personal Pro Plan is free for students and educators.
Integrations
Notion, one of the popular productivity tools, now offers an API to connect with other tools, making it more customizable than ever before. Previously, this was a disadvantage for Notion, but with the launch of its API, users can now create powerful integrations that seamlessly connect Notion with their daily tools and workflows.
This opens up a whole new world of possibilities for Notion users, allowing them to solve problems in a more efficient and effective way. While the API is still in public beta, teams from Zapier, Typeform, and Automate.io are already building integrations that enable users to bring information from different apps together in Notion. The API will continue to evolve, but this development is a major milestone for Notion and its users.
Zapier integration with Notion
Zapier automatically moves information between Notion and other applications you use every day. It already supports thousands of other apps, such as Slack, Jira, Salesforce, and more. Using Zapier, you can create automated workflows that set Notion as your team's information hub. For example, you can centralize new sales deals, advertising metrics, or website analytics in Notion without requiring your team to copy the information manually.
Alternatives to Notion
Even though Notion is a great product, it might not fit your business or personal needs. That's why I always recommend being open to discovering new ones. Thus, here are some of the best alternatives that you could try.
Evernote
Microsoft OneNote
Confluence
Quip
Slite
Monday.com
Infinity
Notion Review Conclusion
After reviewing Notion, I can confidently say that it's not just a note-taking app. It's a versatile software product that can cater to the needs of individuals and companies alike. Notion allows you to digitize your ideas and notes, eliminating the need for physical notebooks.
Notion offers much more than just a digital notebook to manage and organize all your ideas and notes. It's an all-in-one workspace that enables you to turn your ideas into real projects. The software can support small projects and also facilitate collaboration with teams on complex projects. With Notion, you can have all your ideas, projects, lists, and daily plans in one tool without the need to use multiple tools.
The Notion app is a must-try software product, and it offers a free plan to allow you to explore its features. It can significantly improve your process and productivity and keep you more organized and on top of everything. Additionally, it's a highly flexible product and can be ideal for individuals and big companies. But don't just take my word for it – give it a try and share your experience with us!