Digital Tools for Lawyers: Optimizing Legal Practice for Success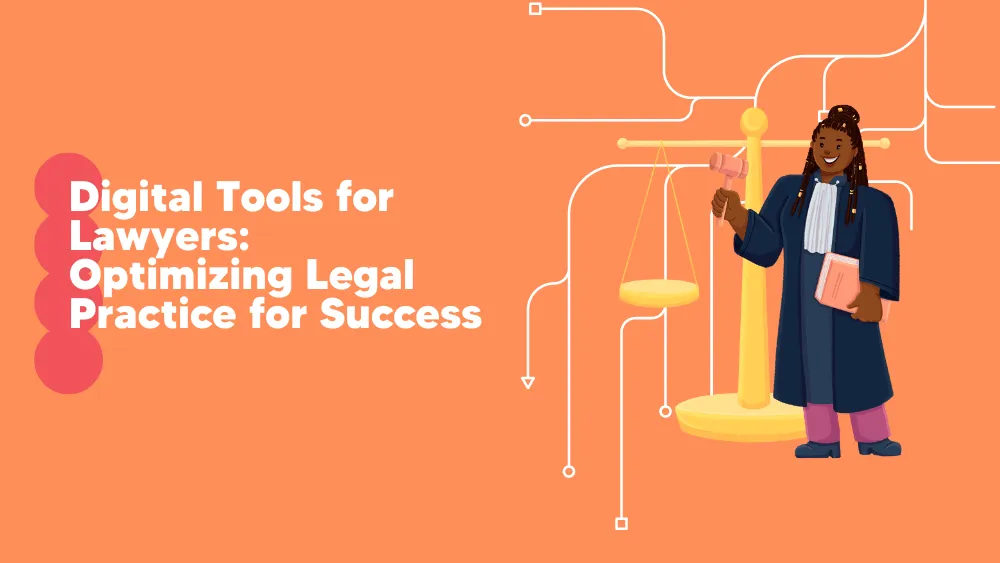 Law is one of those fields where you have to give 110% to get significant and worthy results. It takes an analytical mind, organization, and contact with clients and collaborators. And much bureaucracy. Fortunately, the work of a modern-day attorney no longer looks like it did a decade ago. Responsibilities may not have changed much, but how attorneys perform their work did. Moreover, in a predominantly digitalized environment, software for lawyers has begun to emerge and considerably ease their work. Thus, digital tools for lawyers manage to automate repetitive and time-consuming tasks. 
In this highly competitive legal landscape, you must always be one step ahead of the competition regarding methods to have maximum yield, preferably with minimal resources. And software for lawyers offers a plethora of digital tools to improve the delivery of legal services.  
Productivity tools to grow your legal business
You must have asked yourself, 'How to grow my legal business?'. Yet, we have some answers for you. Whether it is team collaboration software or project and document management platforms, there are digital tools for lawyers on the market you might not want to miss out on. 
Even though legal services seem to be a conservative field, with traditional practices, studies show an increase in the use of legal tech. Moreover, statistics show that the worldwide legal tech industry will expand significantly in the next few years. These digital tools for lawyers will be accessible to legal organizations to transform how they perform their work. For example, revenues are expected to exceed $25 billion US by 2025. This is a real opportunity the legal services market provides for the industry.  
Let's look at some of the most useful digital tools for lawyers!
Bill4time
Billfortime has a very suggestive name and sheds light on its core functionality of time billing software. Bill4time offers digital tools for lawyers since it was developed by consulting and law firms. Its main features consist of time tracking and legal billing. Hence, you can bill your clients based on your time helping them. The appointment's time is converted into billable time, which, in turn, is converted into invoices. You can customize the latter based on your preferences. In addition, this online payment system for legal firms works with popular payment software such as PayPal, LawPay, and Stripe. 
Furthermore, Bill4time law firm billing software understands the need for mobility and flexibility. Thus, users can access it from any device. Their data is available and synchronized on desktop and mobile apps as Billfortime is a Cloud-based time billing and project management app. 
But what about security? These digital tools for lawyers and consultants offered by Bill4time are highly secure, offering bank-grade security. In addition, this software for lawyers works with third-party industry leaders in data protection, boasting extra layers of security. The list is not extensive for Bill4time integrations, but some of the apps it includes are Apple Calendar, Google Calendar, Outlook, Quickbooks, and Uptime. 
Slack
Communication and great organization is the key to every business' success. Thus, Slack offers a platform for collaboration and client communication. It provides efficient communication methods by providing a chat and organizing and sharing tools. Since the world is moving fast, this business communication app allows you to keep up with it and adapt.
Besides being a client communication platform, Slack works great for remote teams, letting them collaborate in real time. You can create rooms for every office, team, department, or client you need to keep in touch with. These rooms fall under the Channels feature, aiming to organize and improve workflow and communication.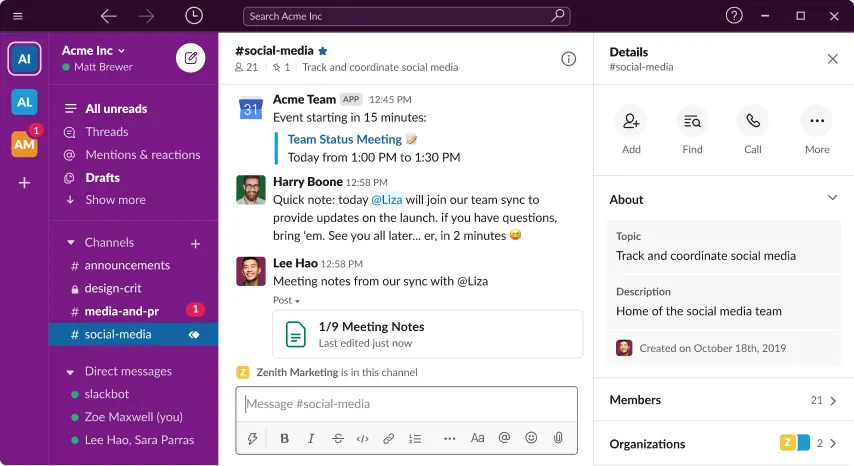 This software provides useful digital tools for lawyers and legal firms since their time is valuable and limited. You can eliminate the never-ending email replay chains with the efficient messaging feature. Moreover, users can schedule messages so that the recipient gets them at the appropriate time. Slack is a brilliant project management tool because you can create group chats and share documents and files with your teams. At the same time, it supports high-quality video and audio conferences. 
In addition, its suitable digital tools for lawyers ensure high data security and protection. Device and identity management, data protection, and information governance are some security features the Slack business communication app provides. 
DocuSign
A legal practitioner understands the frustration of signing and forwarding documents to be signed by others. Of course, people can't eliminate this protocol, but they can simplify it. DocuSign is a signature tool that allows users to sign papers digitally.
Yes, lawyers can use these digital tools because the electronic signature provided by DocuSign is a safe and legally accepted alternative to the manual signature. In addition, this document signing app allows you to create templates for standard documents that must be eSigned in your company. Yet, you can save much valuable time for other tasks. 
In addition, DocuSign offers perfect digital tools for lawyers letting them use templates for non-disclosure agreement forms, proposals, contracts, service agreements, and many others. They can also protect these documents with a password to avoid unauthorized access. Moreover, this software for lawyers includes tools like document tracking to see if the document submitted for a digital signature has been seen and eSigned by your collaborators and clients. The same goes for the documents that require your eSignature. 
Conclusion
By adopting these powerful digital tools, lawyers can streamline various aspects of their practice, from research and case management to document organization and communication. These tools offer advanced features and functionalities designed specifically to address legal professionals' unique needs and challenges.
Incorporating digital tools into legal practice leads to increased productivity, improved organization, and enhanced collaboration with clients and colleagues. From comprehensive legal research platforms to efficient case management software, these tools empower lawyers to work smarter, save time, and deliver exceptional results.
Furthermore, these digital tools provide a secure and reliable environment for managing confidential information and sensitive client data. Encryption, data backups, and secure cloud storage options ensure that lawyers can maintain client confidentiality and meet ethical obligations without compromising convenience or accessibility.
It is important for lawyers to carefully assess their specific requirements and choose the digital tools that best align with their practice areas and workflows. Investing in user-friendly and reliable tools can make a significant difference in legal practice, allowing lawyers to focus more on their core expertise and client service.
As the legal industry evolves, embracing digital tools becomes crucial for staying competitive and delivering exceptional legal services. By leveraging these powerful digital tools, lawyers can optimize their practice, increase efficiency, and achieve greater success in today's rapidly changing legal landscape.
In conclusion, integrating powerful digital tools into legal practice is essential for lawyers aiming to optimize their workflows and achieve success. These tools provide the means to streamline research, case management, document organization, and communication, leading to enhanced productivity, organization, and collaboration. By embracing these digital solutions, lawyers can revolutionize their practice, better serve their clients, and thrive in the digital era of legal services.