How to use collaboration tools to improve your workflow
Share on
Even though many of us prefer working individually, teamwork can be much more effective in productivity. Thus, good team communication offers the possibility of developing high-quality products and services. And this is what businesses should focus on. But, first, to find suitable methods for their companies to improve team collaboration.
Whether we are talking about business or personal activities, the dynamics of our work have changed lately. First, everyone had to adapt to the pandemic context that enforced the remote work. In terms of business, the pandemic has required a reimagining of working methods, especially work from home. In this way, collaboration tools have shown their necessity and usefulness in our lives. This created remote teams that use virtual collaboration tools to accomplish their work.
What are collaboration tools?
Some might say that you can already collaborate via voice and video calls, email, or messaging channels. Which, of course, is right. But are they efficient, and are they able to increase productivity at work? So, let's dive into the collaboration apps definition, way of working, and the logic behind this kind of software. After that, you will have the answer to our question. 
To begin with, collaboration tools are platforms that allow working on multiple projects individually or with your team. It is a piece of technology used to streamline the workflow of people who work together towards achieving a common goal or a specific objective. For example, you can assign work, fix deadlines, upload documents, communicate with your team, and set objectives. 
Let's take the example of a large business that has in its structure several departments that must communicate with each other to fulfill its mission successfully. Basically, by loading the tasks on the platform and specifying each person's role in a certain activity, people will focus more and know the importance of each task received.
People delegated to work on a certain project have access to assigned tasks and can see what stage they are in until their completion. So, a team collaboration software centralizes and organizes your work to make it easier to understand what you have to do in a day, in a week, or even for a longer period. Moreover, people in the same geographical area can use online collaborative tools. This is an advantage for remote work.
Project management tools, remote conferencing platforms, tracking software, or digital asset management apps can be included in the virtual collaboration tools category. You can use each one depending on what your business needs are. Collaboration tools is an umbrella term for a wide range of products that might not have so much in common with each other. 
What are the three types of collaboration software?
The world of software has developed, and companies' internal communication too. Collaboration software serves a wide range of needs. We want to present you with the three main types of online collaborative tools.
Some platforms focus mainly on team communication. Here we can talk about chats and instant messaging apps. They help remote teams exchange information about projects they are working on and communicate about the activity in progress. 
Conference platforms bring together workers, project managers, business owners, and partners to discuss their agendas and actual or future plans in real-time. For example, it might be difficult for large companies owners to meet every employee and partner in person. In addition, you can have worldwide partners and might not be comfortable switching countries for every business conversation. But through virtual collaboration software, owners can do their job without wasting time and money on flights. 
Probably the most common use of a collaboration tool is coordination. This is the latest development on the market in terms of collaborative software that has gained the most ground. We could say this is the star among its ilk. As a project manager, you can coordinate tasks assigned to specific individuals or departments. To a large extent, this helps manage interdependent laborious work to achieve collective goals. 
What does collaboration software do? 
As I was saying, collaboration platforms are digital workspaces that allow the centralization of human resources and daily activities for better communication and task solving between team members.
Teams app have multi-purpose uses. However, they stand out due to the options of sharing documents within the teams, like spreadsheets, presentations, and text files, seeing project updates, monitoring, and managing activities. And especially due to their capability of facilitating staff communication and personal interaction.
One of the biggest merits of such a platform is helping you see the true and major priorities—knowing that you can then work with your team to solve the most important things first. Losing yourself in details is not uncommon when working on large and complex projects. But, prioritizing activities helps work with a focus without getting lost in details.
Also, because you can schedule activities and set deadlines, staff will have the big picture of their work. When the workflow is organized by the book – more likely by the collaborative software – you will closely follow the steps you need to follow, so the activity you have to complete will be naturally met, without missing parts. The clearer the vision, the bigger de control over the company's activities. Hence, another interesting aspect. You can see the most time-consuming task and the employee who faces those difficulties. This looks like increased transparency, achievable by adopting virtual collaboration tools.
Project Management
This works too as a project management tool. As in any teamwork, some members do not know exactly what activities they have to perform in a day. A collaborative tool allows you to see who is in charge of performing a task, clarifying the situation. You can also allow access to more people so that everyone sees the stage of the project. Yes, we can hear project managers breathing a sigh of relief. Thanks to automation technology found in collaborative platforms, they do not have to go from a department to another, armored with pen and paper to assign and verify the stage of a task. Everything is stored in the platform and accessible to members in real-time. Perhaps the main slogan of online collaborative tools is to go paperless.
As a result of facilitating communication between staff members, you can see improvements in employee engagement. With engaged staff comes great workflow.
Choosing the right collaboration tools
As I mentioned earlier, there are three main types of collaboration tools you can use to increase productivity. But to reach for a product, take your time to learn what your needs are and what part of the workflow you want to improve. For example, maybe you want to get rid of emails and provide a dedicated chat for direct and informal messaging between employees. Perhaps you are looking for a platform to support audio and video conferences. Or would you want to keep track of staff's tasks and be in control of the entire activity of the company? Making these aspects clear, you will surely know what kind of collaborative app you are looking for.
Thus, start defining your collaboration goals, learn what benefits a software might give you, and evaluate the drawback of using a collaboration platform. Depending on your requirements, there are common key features every team app should offer.
Features of collaborative software
We made a list of the main features a collaboration software should have to be considered suitable for improving productivity:
Friendly and intuitive interface
Whiteboard
Internal messaging
Task management
Calendar
Time tracking
Permissions control
File sharing
Integration with other apps
Best collaboration software 
Based on the features we've just listed, we picked some of the best collaboration software that can certainly ease your life. Let's proceed!
Confluence manages to create a workplace for employees where every resource and piece of information they need is at their disposal. This app lets you take notes and write ideas for project plans. It is, per se, a tool that facilitates communication thanks to its feature to share announcements among all departments and get instant feedback. It might be helpful if you want to increase employee engagement.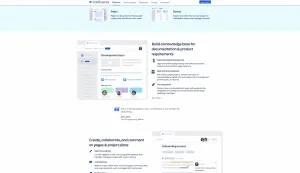 Slack is another tool designed to organize work life and to improve workflow. It is good for collaboration and can be used for internal and external communications. With over 2400 apps and integrations working seamlessly, this platform provides smooth communication between remote teams. In addition, due to its customizability, you can make your comfortable digital workplace and keep up with your work.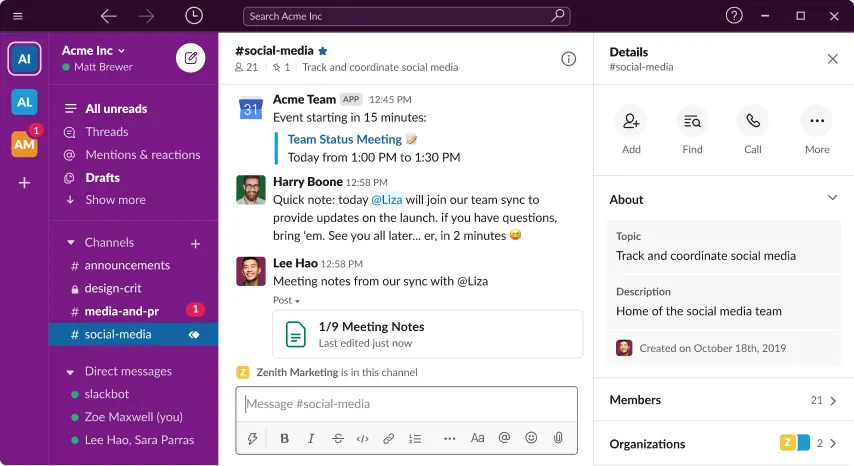 An automation technology-driven tool, Teamwork, gives you complete control over your projects by keeping track of what needs to be done and by who. Also, it is privacy-friendly, meaning that you can set the confidentiality of your projects. In addition, to avoid missing a thing, they developed mobile apps for Android and iOS to help you keep working while you are on the go. Team collaboration seems to become easier using Teamwork. 
Dropbox is undoubtedly a useful solution for remote work because it allows teams to share work by creating collaborative files. It is also a productivity app that lets teams create, share, scan and send documents for signature, capture images, and send feedback. Dropbox is also known for providing security solutions for team collaboration, like restricted downloads and password protection folders. 
With a wide variety of productivity tools, it would have been impossible for Google Workspace to be excluded from our list. It includes online collaborative tools like Gmail, Calendar, Meet, Chat, Drive, Docs, Sheets, and many others. So you can chat, plan, share ideas, and keep your work safe in only one place.
What about increasing teamwork productivity?
Overall, the main purpose of virtual collaboration software is to grant staff the possibility to communicate better and to perform even better their tasks by automating the workflow process. As a result, businesses will know more effective and efficient teamwork and increased productivity. In addition, collaboration tools manage to save valuable time. And remember: before reaching for software, ask yourself what your business needs are. This is the only dynamic that will help you make the right choice.