Connecteam Reviews
& Product Details
What is Connecteam? 
Connecteam is an all-in-one team app for small businesses. It helps teams communicate and collaborate. In addition, the task management app offers a wide array of features that make it easy to build a stronger community among employees, improve productivity and engage with customers.
Also, the Connecteam app is designed for managers and administrators to manage their employees, work schedules, and tasks assigned to each employee. It is also meant to help team members communicate and stay updated on the latest company news.
Connecteam workforce tools app has two versions available: free and paid. The free Connecteam plan includes unlimited users and access to forms, surveys, checklists, time clock/attendance tracking, GPS tracking, and one connected app. Although this version is not likely to meet your needs if you run a business with more than five employees, you can use it for free if you only need the core functions of the Connecteam employee scheduling app.
Found in these Categories
Best For
Communicate, manage, and train your non-desk employees.
StartUps

Freelancers

Small Business

Medium Business

Large Enterprise

Non-profit Organization

Personal
Cloud, SaaS, Web-Based

Mobile - Android

Mobile - iPhone

Mobile - iPad

Desktop - Mac

Desktop - Windows

Desktop - Linux

Desktop - Chromebook

On-Premise - Windows

On-Premise - Linux
Company Name

Connecteam

Located In

Israel

Website

connecteam.com
Pricing Model: Subscription
Pricing Details:
First, they offer a free plan and a 14-day free trial to try their premium pricing plans. Then, you can choose from four plans regarding your business needs: Small Business, Basic, Advanced, and Expert. The Small Business plan is free for up to 10 users.
See Connecteam Coupons
Contractor Management

Employee Scheduling

Performance Management

Reporting

Shift Planning

Skills Tracking

Time Tracking

Variable Workforce

Workforce Mobility Management

Absence Management
Additional Features
Leave Tracking

Self Service Portal

Calendar Management

Approval Process Control

Collaboration Tools

Communication Management

Compliance Management

Customizable Templates

Directory Listing Management

Group Scheduling

File Sharing

Knowledge Base Management

Messaging

Onboarding

Survey/Poll Management

Calendar Sync

Payroll Management

Benefits Management

Biometric Recognition

Brainstorming

Cataloging/Categorization

Chat/Messaging

Class Scheduling

Commenting/Notes

Contact Management

Contractor Management

Corporate/Business

Course Authoring

Course Tracking

Third-Party Integrations

Time Off Management

Training Administration

Trend Analysis

Unified Directory

User Management

WYSIWYG Editor
Reinventing the way restaurant teams work.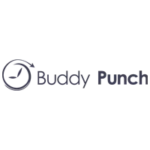 Stay on top of attendance tracking, time off, and overtime.
HR + Payroll Software Built for You, Loved by Employees.
Connecteam app is a mobile-based workforce management app that provides a central hub for real-time communication, shift scheduling, and task assignment. Based on our Connecteam review, this scheduling app is suitable for small to medium business owners who need to manage multiple locations, whether it be in the hospitality or retail industries. Moreover, robust features include employee and performance management, timesheets and attendance tracking, training, messaging, and more. In addition, this employee scheduling app offers both a free version and paid options.
What is the Connecteam time clock?
Connecteam is a good solution for businesses of any size looking for a mobile-first employee engagement system that can help them manage their business operations perfectly.
Based on our Connecteam review, this employee connection software is easy to learn and use, with an intuitive interface that makes it simple to set up. In addition, this team software comes with pre-built templates, which you can further customize using drag-and-drop functionality. The system offers an all-in-one solution, so there isn't much integration required. Plus, the vendor encourages users to share best practices and ideas through the Connecteam Forum.
Connecteam is best suited for companies with mostly hourly employees or remote workers. It works well in any industry but is particularly useful for organizations that need to track employee time and attendance and/or schedule work shifts on the fly.
How do you use Connecteam?
Here are steps you can follow to set up your Connecteam app:
This free all-in-one tracking tool gives you a quick and easy way of managing your team. You can download the Connecteam app for free for either Android or iOS (iPhone).
Create your account, enter your Connecteam login details, and fill in your company details. This will not take longer than 5 minutes.
Add your employees to the system using their email addresses or manually creating their accounts.
Start building your mobile app by adding content, tasks, schedules, feedback forms, and more.
Is the Connecteam app free?
Yes, Connecteam is a free employee scheduling app. This free employee team software is available for unlimited users and has all the basic features to manage your workforce and get started.
This means you can create unlimited forms, form templates, and questionnaires, have two admins and 500 employees, send push notifications, and so on. In addition, they offer a free 14-day trial and an affordable pro plan. The free plan includes all Connecteam integrations with third-party apps like Square, QuickBooks, and others.
The best way to get started with Connecteam is by signing up for a free trial. This will give you access to all the features of Connecteam at no cost and with no obligation to upgrade. In addition, during the trial, you can invite all your employees and explore how Connecteam fits into your business.
Details of Connecteam Features
Now it's time to discover what features this tool provides for your business.
The time clock feature on the Connecteam app allows employees to easily clock in and out at any time throughout their shift using the app's built-in scanner or by scanning their fingerprint on their phone (depending on their phone type). In addition, this GPS location feature helps you know exactly where your employees clocked in from and who forgot to punch in (and out).
The employee directory feature is great for any company. It helps you keep track of who works where and when they are available. You can also send messages to employees with ease via text or email.
The schedule feature allows you to create work schedules for each day of the week and assign tasks to specific employees on those days. There are many options, including hourly rates and overtime payouts if needed. In addition, you can create an unlimited number of shifts, assign them to specific employees and locations, manage shift swaps and time-off requests using our built-in chat feature and ensure everyone is on the same page.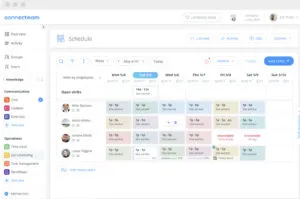 In addition to the regular work hours, track additional work hours for overtime or special projects. Employees can log their hours through the mobile app, eliminating paperwork and making it easy for you to review all hours worked every week via an automatically generated digital timesheet.
Integrated forms and surveys
With this feature, you can create custom forms or use a pre-existing one to receive feedback on any subject. For example, forms can be used for employee onboarding, staff evaluation, task management, new product testing, and more!
With this feature, you can keep your team up to date in real time and let them respond instantly from every part of the world.
You can create custom dashboards designed around each user's needs and preferences. This means that each employee can access precisely what they need to know about their role and more – all from one screen!
Connecteam has a super easy user interface, allowing for quick adoption by all employees. No training and no complicated manuals are required. The app is very simple to navigate between menus and tabs and even includes an integrated search function so employees can find exactly what they need when they need it.
Integrations
Connecteam workforce management app has integration with the following apps:
Google Drive
Dropbox
Microsoft OneDrive
Slack
Google Calendar
QuickBooks
Zenefits
Square
JotForm
Google Sheets
Gmail Add-Ons
Salesforce
Zapier
Alternatives to Connecteam
Connecteam is not the only all-in-one tracking app you can use to manage your business operations and your team. There are many other employee scheduling apps that you should consider. Here are some of them:
This is one amazing Connecteam alternative that you should consider using. It is a great employee scheduling platform that simplifies day-to-day workforce management processes and improves shift schedule creation by up to eighty percent.
With the TCP Humanity Scheduling tool, organizations of all sizes can receive excellent insight into their operations with actionable data that optimizes the workplace based on employee skill set, time-off/leave management, and worker availability. This tool can be provided as SaaS and deployed as a stand-alone solution in the cloud or integrated into popular HCM platforms and payroll systems.
Paylocity is another powerful Connecteam alternative. This all-in-one software platform offers HR professionals a way to easily manage daily tasks in payroll, talent, benefits, and workforce management. In addition, Paylocity works with its clients to provide them with the best solution that suits their business needs.
Their solution is focused on relieving you of the stress of managing your HR tasks so you can concentrate on other issues that concerns your employees.
One of the best employee times tracking solutions is QuickBooks Time, formerly TSheets. QuickBooks Time is an employee time tracking and scheduling software businesses use to save time and money. Also, QuickBooks Time is the only time-tracking system embedded inside QuickBooks. As a result, you can review and approve employee time cards to run payroll, do job costing, or create invoices without leaving QuickBooks.
With accurate employee hours from QuickBooks Time, you're always ready to run payroll—you won't have any need to enter data manually. Instead, you can monitor billable time against customers, jobs, service items, projects or jobs, and classes. In addition, you can create great job costing estimates and faster invoicing with these accurate hours.
Is QuickBooks Time better than Connecteam?
QuickBooks Time is not just a time tracker. It records every time a working clock is in, changes jobs, and clocks out. And if workers are on the clock, admins and managers can see where they are working and who's closest to the next job site. In addition, the timecard audit log can help your business easily resolve labor disputes and comply with labor laws. This is one distinct feature of this tool that you might want to check out.
With the QuickBooks Time Geofencing feature, when a staff using the QuickBooks Time mobile app enters or leaves a job site, the app will notify them to clock in or out. QuickBooks Time captures clock-in and clock-out times when the employee enters and leaves the pre-set geofence. That shows that there would be fewer timesheet edits and more accurate payroll.
The QuickBooks Time Projects feature lets you track your project in real-time. It is perfect for project managers to take advantage of. They can use it to estimate projects upfront, then monitor them and adjust as they go. In addition, you can view estimated versus actual hours worked to know where and how workers spend time on each project. With this feature, you can see the state of all your projects.
They have a great customer support team you can reach by phone or online. QuickBooks Time has one of the best customer support in the industry. In addition, they have fast response times.
Connecteam Review Conclusions
Connecteam offers a powerful, all-in-one mobile employee scheduling app that is easy to install and use. Companies can use the app within 10 minutes of signing up without training.
The app includes all the basic, must-have internal communication and collaboration features — like newsfeeds, polls, and files — and advanced features like project management, time clock, forms, and scheduling. All of these are fully customizable and brandable. The Connecteam app is also highly affordable. It is one of the best value solutions in the market. It is easy to use and has an intuitive interface, making it a good choice from a usability standpoint.
Connecteam's main drawback is its limited integrations with external systems like CRM or finance platforms. However, because it has an open API, it can be integrated with virtually any system via tools like Zapier. It's also possible to build custom integrations with the help of developers. Overall, Connecteam is a great tool for small businesses who want an all-in-one team app that they can use right out of the box without technical skills or assistance from developers.
Connecteam Related Insights