HoneyBook Pricing
HoneyBook pricing is rather expensive, costing $39 per month. However, you can also get it for $390 annually, saving %17. It's pricey compared to the other CRMs in this roundup, but remember that HoneyBook is more than just a CRM. This tool is designed to handle most of the business functions of solo information workers, including many that other companies use separate (and separately priced) applications for, particularly project management or billing.
HoneyBook Plans
Unlimited Monthly
Monthly
Access to all features
No limit on transactions
Unlimited concierge support
Add unlimited team members
Unlimited Annual
Yearly
Access to all features
No limit on transactions
Unlimited concierge support
Add unlimited team members
See All Features
See Less Features
Let's dive deeper into HoneyBook pricing plans.
Additionally, HoneyBook works hard to take care of its subscribers. Each subscription includes a White glove account setup service, access to weekly product webinars, and a help center. In addition, HoneyBook has an integrated payment processor with competitive processing fees (3 percent for credit card transactions or 1.5 percent for ACH transfers). Also included is access to various templates used for brochures, invoices, contracts, and quotes. In addition, HoneyBook subscribers get unlimited projects in their pipeline, unlimited contacts, unlimited team members, and unlimited template creation opportunities.
Website users can create custom contact forms inserted into their HTML code and direct leads to HoneyBook.
Starting with HoneyBook
Starting with HoneyBook is quick and easy. During your trial period, you have direct access to a product specialist who can help you understand its features and set it up quickly. If you have your invoice or contract templates, this specialist can help you import them into the system. Next, HoneyBook's back-end team will create them for you.
A selection of pre-configured workflow automation is also available that can help maintain a 24/7 customer contact and response solution. Once configured, these automatons can automatically send emails at specific times or respond to specific customer triggers. You can keep accounts, generate reports, create to-do lists, and manage calendars, and you quickly have a handy multi-tool for sole proprietors.
As you can see, Honeybook pricing is quite intuitive, leaving no room for doubts. However, you can contact their customer support team if you still have questions.
Can I use HoneyBook Free?
There is no free version available. However, you can try HoneyBook Free with its 7-day free trial. You will have access to the full features list with no required credit card.
After your 7-day free trial, you'll still be able to log in and access your settings and projects, but you won't be able to send new files or start new projects. However, you'll be able to accept payments on any projects you send during your trial.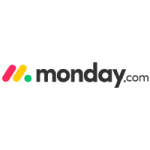 The Work OS that lets you shape workflows your way.
Powerful CRM, Sales & Marketing Automation.