Leadpages Reviews
& Product Details
What is Leadpages?
Leadpages is one of the leading digital platforms used to find new customers and increase sales and revenues. The landing page software enables entrepreneurs and marketers to generate leads quickly, publish web pages, and consistently convert prospects into customers. Whether landing pages or social media campaign ads, Leadpages helps you attract the right customers to your business and make them stick around for an extended period.
Even though a total newbie can hop on Leadpages and create a landing page, the software offers premium tech support to help place your business on the internet. In addition, Leadpages work hard to ensure your campaign gets the proper engagement to scale up.
The landing page plugin uses multiple strategies to improve customer interaction and trust in your services. The techniques include social media platforms, websites, emails, reviews, and more. Furthermore, it helps monitor and manage your campaigns, ensuring everything goes smoothly. Finally, it points out where to improve to get the desired results. Its simple interface design is also a feature that will help you drive organic traffic to your web page.
Found in these Categories
Best For
Easily build websites, landing pages, pop-ups, alert bars & more.
StartUps

Freelancers

Small Business

Medium Business

Large Enterprise

Non-profit Organization

Personal
Cloud, SaaS, Web-Based

Mobile - Android

Mobile - iPhone

Mobile - iPad

Desktop - Mac

Desktop - Windows

Desktop - Linux

Desktop - Chromebook

On-Premise - Windows

On-Premise - Linux
Company Name

Leadpages

Located In

United States

Website

leadpages.net
Starting from:
$37 /month
Pricing Model: Subscription
Pricing Details:
Leadpages pricing is divided into three plans: Standard, Pro, and Advanced. The Standard plan costs $49/month or $37/month when billed annually. The Pro plan costs $99/month & $74/month - annual billing. The Advanced plan pricing is available upon request. A Leadpages Free 14-day trial is available for both Standard & Pro plans.
See Leadpages Coupons
A/B Testing

Drag and Drop

Form Builder

Real Time Editing

Responsive Design

SEO Management

Templates
Additional Features
Reporting/Analytics

Data Import/Export

Pre-build Templates

Landing Pages/Web Forms

Customizable Templates

Online Booking Tools

Online Store Builder
Leadpages help you create the most suitable landing pages to influence your web visitors. With high-converting landing pages, you can easily convert prospects to customers without much influence.
Leadpages plugin allows you to develop your business by offering a complete template for landing pages and websites. The landing page platform requires no technical skills before building the perfect landing page to boost your business brand. Its drag-and-drop tools and features allow you to create a professional-looking land page without help. For instance, you can add a video player, countdown timer, reservation, Calendly schedule, widget, and many more to enhance the quality of your sales pages. Leadpages review shows that the landing pages are well-customized and responsive. Furthermore, the software offers both free and paid plans.
Leadpages – Landing Page Software
It is not enough to make customers visit your page. They must be willing to stick around before deciding to increase your revenue. To increase your conversion rate and attract the right customers, you should consider Leadpages software.
Leadpages allow you to stand out among several landing pages on the internet. Its intuitive and straightforward interface attracts customers and increases their trust in your product and services. In addition, the templates are built with only essential features to boost your business. That will prevent clients from feeling overwhelmed and leaving your webpage as soon as they log in. In addition, Leadpages software functions with all devices. As more and more users use smartphones, it's crucial to reach all customers to increase your revenues. Leadpages understands this and ensures the intuitive templates are mobile and website friendly.
What is Leadpages used for?
Leadpages platform is used for marketing by small business owners. The landing page plugin helps drive traffic to your page through intuitive and standard landing pages. Whether holiday campaigns or event registration landing pages, Leadpages has a responsive platform and customizable features to achieve your business desire. With Leadpages, you don't have to worry about glitches or wasting time when building your landing pages. Instead, all you need is to take inspiration from Leadpage's already-made templates and create a fitting landing page for your campaign. You can be a professional builder using Leadpages tools and features even without technical skills. Its drag-and-drop operations make it easy to customize and edit elements to suit your business needs.
Feedback from your existing and old customers can make a massive difference in the purchasing power of new customers. However, running after customers for these reviews can sometimes be time-consuming. That's where Leadpages reviews come in handy. Leadpages help you garner reviews from your customers by encouraging them to leave some compliments after every purchase. These increase new prospects' trust in your products and services.
How it works
Leadpages works by optimizing every web page to gather leads and close sales. You don't need coding skills, and there are no limits to the number of pages you create or leads you to generate. Also, it takes half the time to create a new landing page from the beginning and gets it running in no time.
The templates are infused with many features and resources to draw up landing and sales pages. These include direct and straightforward copy, contact form, pop-up boxes, countdown, schedule, and captivating visuals. In addition, users can access hundreds of landing page templates with the option to modify them using the easy-to-use "drag and drop" editor.
In conclusion, if you make Leadpages your go-to landing page platform, you will get a substantial ROI on your marketing investment.
How to Use Leadpages
To create a landing page with Leadpages, log into your Leadpages account. You can use the 14-day trial version to get a glimpse of their feature or jump straight to their paid versions. As stated earlier, you don't need any skills as Leadpages already has several templates for you.
Start by choosing any landing page template that suits your business brand and needs. You can either generate leads, make sales, or do other things. Next, click on any of the options based on your purpose. After this, you will see many opportunities for your visitors, such as free guides, consultations, webinars, discounts, coupon offers, giveaways, or contest entries. After clicking on the incentive you want, the software presents you with potential templates based on your choice of marketing incentive.
Fully customizable
First, you can click on any template and name your landing page for easy and quick identification. Second, customization of your web page with your branding and content is available. Third, you can edit the page layouts, add widgets and page tracking, and define your page style. For instance, the page layouts allow you to add different sections or customize an existing section. You can add, duplicate, delete or make any section visible and invincible. In addition, you can customize the background, padding, height, timing control, arrow border, and more. Besides, you can add elements such as headlines, images, videos, countdown, an icon bar, a progress bar, an image with text, social shares, social likes, space, form, and so on.
Click on any element, hold and drag to the right place in your design to add a feature. Also, you can place your cursor above any existing element on the page layout to edit it from the toolbar. For instance, you can edit a selected text, duplicate it or drag it to another location.
Leadpages enables you to preview your page for multiple device sizes so you can reach all types of customers. After this, you can publish your page and watch your leads roll in exponentially.
Details of Leadpages Features
Leadpages is unique from other landing page software because its many features give users the best.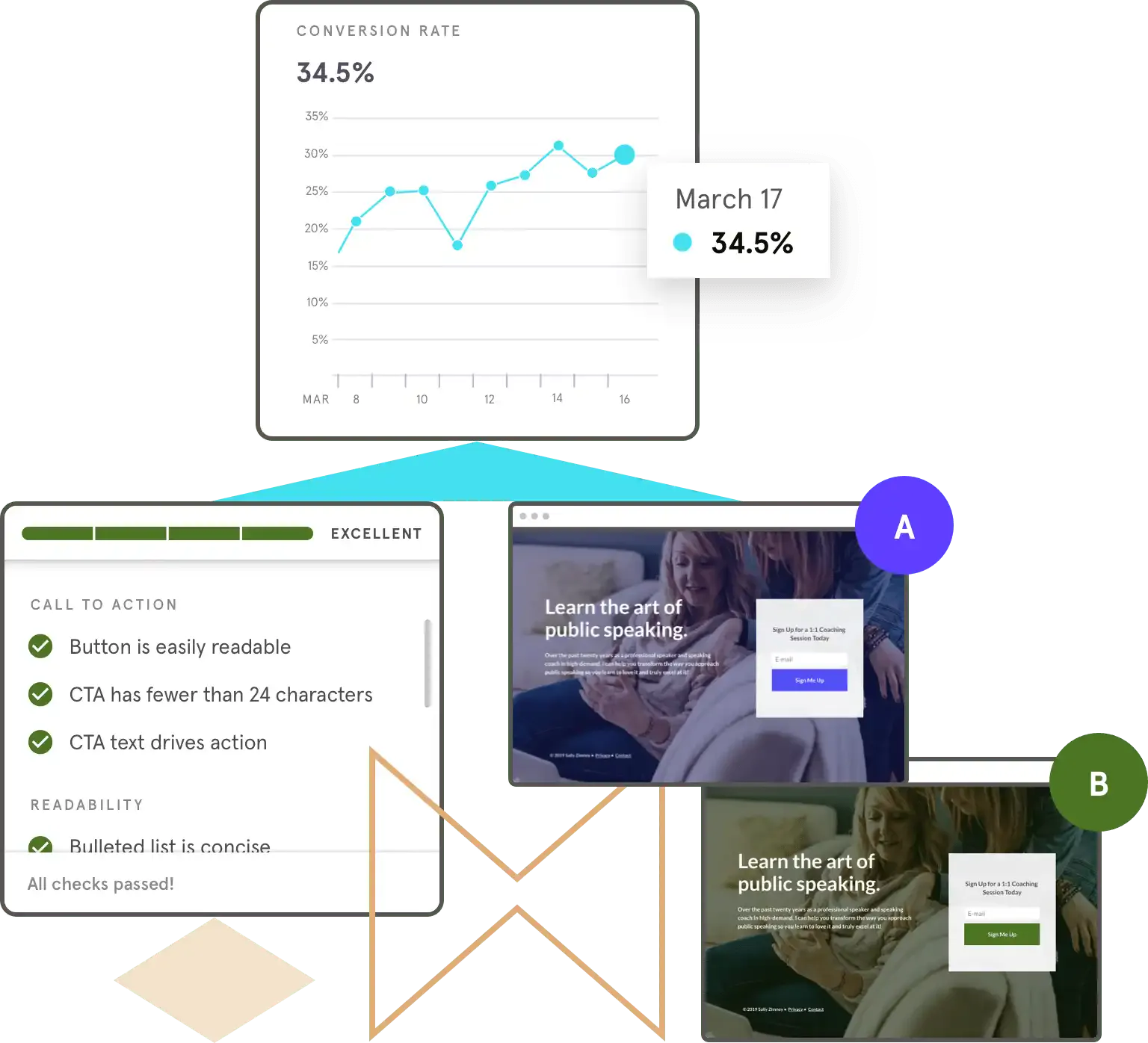 They include:
Intuitive drag-and-drop interface
Leadpages save you lots of time required in creating landing pages. Once you identify the template of your choice and elements, click on the features, hold and gently drag, and drop to your desired location on the web page layout.
Suppose you have a particular design or style in mind. Leadpages allows you to customize your landing page, website, and opt-in forms to your taste. You don't need any tech skills but click on the place you wish to edit, add, or delete. Likewise, you can save time by duplicating, copying, and switching text locations to appear more presentable.
With so many competitors doing what your business is doing, it can be challenging to hold customers' attention. However, one thing that can help you is the speed of your landing page. Leadpages landing page templates increase conversions and improve user experience with enhanced load speeds that place you above your competitors.
Even when there is a sudden downtime of your integration, you rest assured that Leadpages has your back. The software system saves a backup of all opt-in data so you can easily download a CSV file of collected leads.
Another great feature of Leadpages is that it drives organic traffic to your landing and sales pages without effort. In addition, all Leadpages templates are SEO-friendly, making you rank higher on search engines. For example, the software offers easy-to-edit metadata, headlines, captivating copies, and call-to-action fields.
Leadpages Integrations Detailed
Leadpages allows you to connect the app with several popular marketing and sales apps to automate your work and save time for other essential parts of your business. For example, you can easily sync Leadpages with apps, such as:
Google Analytics
Hotjar
Google Tag Manager
Contactually
SalesForce
Zoho CRM
Facebook
Twitter
Instagram
Google Ads
Shopify
ActiveCampaign
Gmail
Mailchimp
HubSpot
Google Maps
Calendly
and more
LeadPages Review Conclusion
Leadpages allow small business owners to improve their conversion rates and lead generation. The landing page plugin offers ready-made and expert landing page templates for different niches and fields. In addition, its easy drag-and-drop tools make it seamless to edit, add, duplicate, delete, drag, and drop any elements to your desired location.
Moreover, you can have endless customization of your web page and landing page to suit your business purpose and brand. All Leadpages templates are SEO-friendly and created with the user in mind. Also, they are intuitive and load at a fast speed. That way, customers can stay longer on your page and make the right decision.
From subscription to download or event registration, Leadpages help you drive organic traffic to your webpage. Furthermore, the software offers a 14-day trial for new users and paid pricing plans. In conclusion, the Leadpages landing page software is the best option for small business owners to increase sales and maintain a large customer base.
Leadpages Related Insights