Swipe Pages Reviews
& Product Details
What is Swipe Pages?
Swipe Pages is a modern and reliable landing page builder that lets you create a mobile-optimized, fast landing page using a powerful drag-and-drop builder. The builder offers 25+ elements and 80+ pre-built blocks. It also comes with a form builder that lets you modern forms.
It also provides access to completely customizable 40+ ROI-focused templates for easy landing page creation. Additionally, it also offers hosting features that let you serve landing pages to your custom domain.
Swipe Pages' other key features include analytics, AMP support, lead management, and excellent integration options.
Found in these Categories
Best For
Build high converting landing pages in minutes
StartUps

Freelancers

Small Business

Medium Business

Large Enterprise

Non-profit Organization

Personal
Cloud, SaaS, Web-Based

Mobile - Android

Mobile - iPhone

Mobile - iPad

Desktop - Mac

Desktop - Windows

Desktop - Linux

Desktop - Chromebook

On-Premise - Windows

On-Premise - Linux
Company Name

Swipe Pages

Located In

Singapore

Website

swipepages.com
Starting from:
$39 /month
Pricing Model: Subscription
Pricing Details:
Swipe Pages offers three pricing plans: Startup at $39/month, Marketer at $89/month (most popular), and Agency at $199/month. They provide a 14-day free trial with full access to all features, and no credit card is required. Discounts of up to 40% are available for annual plans.
A/B Testing

Drag and Drop

Builder

Form Builder

Forms Management

Lead Capture

Lead Management

Real Time Editing

Responsive Design

Templates

SEO Management

Web Analytics
Additional Features
API

Campaign Analytics

Campaign Management

Conversion Tracking

Customizable Branding

Customizable Fields

Landing Pages/Web Forms

Customizable Templates

Customization

Publishing Options

Reporting/Analytics

Template Management

Third Party Integrations
How can e-stores benefit from a landing page?
Landing pages are actionable web pages that contain web copy to sell a service or a product. eCommerce sites regularly create landing pages for products and services to improve sales. Also, it brings in a better user experience. The whole landing page provides factual information about the product and makes it easy to make buying decisions.
Businesses use re-directs to send potential customers to the landing page. They share a concise and clear web copy making it as effective as possible, along with a call to action(CTA), social proof, high-quality images, and customer reviews. Moreover, landing pages are known to improve conversion rates, generate leads, and create a seamless marketing effort. Most businesses use landing page builders such as SwipePages to simplify creating and maintaining landing pages.
The key benefits of using landing pages for e-stores are as below:
Improved return of investment (ROI)
Lets eCommerce and businesses target specific customer segments
More leads – very helpful during the initial product launch window
Extra A/B testing opportunities
Better customer engagement and improved customer response
A better understanding of the market and what customers want
As an e-store, you can use the following tips when developing landing pages:
Keep it simple
Be consistent
Improve and analyze your CTA
Use great copy, hire a copywriter or landing page expert
Optimize for mobile
Use high-quality videos or images
Swipe Pages Landing Page Builder
Swipe Pages is one of the new entries in the landing page product marketplace. Swami, with WordPress experience, started Swipe Pages. Their motive is to provide a clutter-free experience for creating landing pages targeted toward entrepreneurs, agencies, and marketers. It is powered by a powerful drag-and-drop builder that offers access to useful 25+ elements.
Landing pages created using SwipePages are mobile-first and AMP optimized. In addition, the drag-and-drop editor is accompanied by a Form Builder, which lets you create design-friendly forms and customize them according to the business requirements. Let's explore more about Swipe Pages below.
What is Swipe Pages software?
Swipe Pages is a modern landing page platform that lets marketers, agencies, and entrepreneurs create ROI-focused landing pages that are mobile-first. As a result, you can improve your leads, increase ROI and improve your ad campaigns. In addition, it is designed to fast-track landing page creation. Generally, creating a landing page can take days if done manually using a developer. But, with the tool, people can create a high-quality landing page within hours.
To facilitate the landing page creation, you get access to a drag-and-drop landing page builder with excellent features, including multistep forms, pricing tables, device visibility, a countdown timer, etc.! Additionally, you get access to the form builder.
For businesses, using Swipe Pages brings in many benefits as they can improve how they manage landing page creation. Also, it offers good integration options to directly send your leads to your preferred application, including Zoho, Contrast Contact, and HubSpot.
How to use Swipe Pages landing page solution
Creating landing pages using Swipe Pages is easy, especially for people with no-designer skills. First, you need to create an account and log in using it. Once done, open up the drag-and-drop editor and create a New Page under Landing Pages once done.
Once you create the landing page, it automatically grants itself some key features, such as AMP and complete responsiveness. Thus, you do not have to worry about these while creating your landing page.
Next, you need to enter page info and page type and choose a template. All the templates are 100% responsive and ROI-optimized for best returns. You can also select a blank canvas if you intend to create it from scratch.
The editor will now open up with the template of your choice. On the left-hand side, you will get the list of all the elements which you can drag and drop. All the changes you made will be showcased on the right side and instantly updated. Moreover, each of the widgets is draggable and completely customizable.
You need to edit the landing page according to your requirements. Later on, you can connect it to other platforms for data saving or serve the landing page to your custom domain.
That's it! Best of luck with creating a landing page using SwipePages.
Details of Swipe Pages Features
Swipe Pages is a modern and reliable landing page builder that lets you create a mobile-optimized and fast landing page without writing a single line of code. Furthermore, it features a powerful drag-and-drop builder consisting of 80+ pre-built blocks. Additionally, you can also create a mobile-optimized landing page from the onset and the ability to choose from templates to kick start your project.
This section will take a closer look at important Swipe Pages features. Let's get started.
Drag and Drop Landing Page Builder
With Swipe Pages, you do not have to write code to create landing pages. Hence, Swipe Pages come with a dedicated drag-and-drop builder, which lets you seamlessly create landing pages for your business.
The builder gives you access to 25+ elements, including multistep forms, pricing tables, carousels, and more! Moreover, these modules are advanced enough to create a feature-rich landing page without writing code. Also, the drag & drop editor lets you create tables where you can easily show information in a structured format. Additionally, you also get access to the following features:
Keyboard Shortcuts
Cut, Copy, and Paste
Countdown Timer
Galleries and Carousels
Device Visibility
Multi-select and Edit
Clone/Duplicate Pages
With Form Builder, you can integrate forms without writing a single line of code. As a result, embedding forms improve conversion rate and help you enable customers to interact with you through feedback, query, or simply placing an order.
Additionally, the Forms are extensively customizable, as you can add/remove form fields, headings, containers, and text. They are also design-friendly, as you can change the colors for the CTAs, and change font size and formatting – to match your business branding. In addition, you can also add other effects, including shadows and animations. To make sure that your form fits your landing page, you can add the necessary margins and borders. You also get the option to create multi-step forms.
Landing pages give you a way to showcase the important aspect of your product or service while making sure it has the best user experience and design. For starters, you get access to 40+ templates that you can use to start your project quickly. All these templates are conversion optimizes, so all you need to do is edit them according to your requirement. Additionally, you also get access to 80+ prebuilt blocks that can help you further improve your landing page-building experience. Furthermore, using the pre-built blocks allows you to quickly create a landing page and integrate them into your campaign.
Apart from that, you also get the following design features:
1000+ Google Fonts
Font Styles
Font size: PX, EM, REM
Responsive Typography
Gradient Colors
Color Swatches
Parallax Effect
SVG support
Icon Library
Blend Modes
Video Background
Lightbox Support
Animations
Retina Images
Full-Screen Sections
Favicon
Swipe Pages also let businesses host landing pages using a custom domain. The landing page URLs remain consistent with the brand's URL. Swipe Pages serve the landing page via SSL-encrypted HTTPS to ensure complete protection. Thus, this helps you to build visitors' trust. For performance, it uses powerful cloud servers powered by Digital Oceana and Amazon AWS to make sure that the landing pages load up faster with complete reliability. Also, Swipe Pages uses a backup server with Geo DNS to improve reliability.
Additionally, your landing page is automatically optimized when you hit publish button with 30+ optimization tasks.
In summary, the key Swipe Pages hosting features include:
Publish landing pages with a custom domain for consistency
30+ performance optimization tasks
57t651Backup servers with Geo DNS
Powerful cloud providers such as Amazon AWS and Digital Ocean
Free SSL
40+ CDN servers for optimizing landing page loading speed
Swipe Pages offer access to 40+ landing page templates. These professionally-designed templates are fully responsive and conversion-optimized. The templates are categorized into:
Clickthrough
SaaS
Lead Generation
E-commerce
Finance
Affiliate
Education
Real Estate
Health and Medical
Events
Technology
Automobile
Also, the templates are AMP optimized. The templates also come with forms and popups capable of capturing leads that can later be sent to your preferred application. Consequently, to ensure proper storage, Swipe Pages also come with a lead magnet feature that you can use to store and deliver magnets when a form is successfully submitted.
To know which of your landing pages are performing better, you can set up A/B testing with Swipe Pages. A/B testing takes care of the traffic and splits them into different variations of the same landing page. Hence, you can find out which landing page offers more conversions. Also, you can see which one gives you insight into what needs to be changed. Swipe Pages A/B testing means a better conversion rate and learning what works best.
You also get dynamic text replacement, where you can dynamically place text to improve visibility and conversion rate.
Swipe Pages also support AMP page technology that lets you instantly load your landing pages. Google recommends AMP pages and recommends them to users due to their usefulness. In addition, another benefit of AMP pages is better ROI and improved conversion rates.
Lead management is a big part of Swipe Pages. With Lead Magnet, you can easily store and deliver those magnets to your preferred application. Thus, the process starts when a user successfully submits a form. For example, you can set up the form to store the leads directly into solutions/services such as:
ConvertKit
Zoho
Constant Contact
MailChimp
Campaign Monitor
You can also use Zapier integration to send leads to 1000+ unsupported apps.
The other Swipe Pages leads include:
Lead notification email
Export leads as CSV
Lead Bypass
Delete unwanted leads
Webhooks (soon)
Swipe Pages come with good management skills as well. For example, agencies can manage multiple clients by creating client sub-accounts. They can also onboard teams and give them different permissions such as Admin, Manager, Viewer, or Author. Moreover, Swipe Pages supports Google SSO to protect accounts, which gives you the ability to log in without passwords.
The key Swipe pages management features include:
Client sub-accounts
Teams management
Google SSO
Campaigns & Groups(Soon)
Swipe Pages let you learn about your leads with detailed analytics. First, you need to assign a goal and let Swipe Pages collect all key performance indicators. Then, for analysis, you get to choose date range filters which give you an idea of how the landing page performed during a certain period. So, if you are using A/B testing, you can also find out variant performance.
You can also add script managers to the landing page to track different metrics.
The key Swipe Pages features include:
Key performance indicators
Google Analytics and Facebook Pixel supported
Variant Performance
Script Manager
Date Range Filters
Additionally, Swipe Pages offers live chat support and email support. You can access live chat support for five days with 12 hours each day for normal plans. Yet, Only Agency plan users get access to 365 days of priority support.
The Swipe Pages in-app knowledge base is also excellent, as you can get quick answers to your questions.
Swipe Pages Cost
Swipe Pages has a simple pricing model. Currently, they offer three pricing plans:
You save up to 40% if you choose the annual plan. They also offer a fully-featured 14-day free trial, and you do not need a credit card to access it.
Alternatives to Swipe Pages
The Landing page builder market is crowded and dominated by big players such as ClickFunnels, Unbounce, Wix, and HubSpot. In contrast, Swipe Pages are relatively new and have a low market share compared to other big players. So, if you are not impressed by Swipe Pages, you can always try out its alternatives. Let's list alternatives to Swipe Pages below:
Unbounce
HubSpot Marketing Hub
GetResponse
AWeber
WiX
ClickFunnels
Leadpages
Instapage
Now, let's compare Swipe Pages with popular alternatives.
Swipe Pages vs. Clickfunnels
Clickfunnels is one of the popular sales funnel solutions that also houses a powerful landing page builder. With Clickfunnels, you can create an end-to-end sales funnel that is highly converting and is best suited for businesses of all sizes, including eCommerce. However, big companies best use it with many things to do!
So, with ClickFunnels, you can create a landing page, connect it to a sales page, do 1-Click Upsells, and connect it to a membership area. Unlike Swipe Pages, ClickFunnels comes with a Drag and Drop Webpage Editor, which can create web pages, standalone pages, and more.
As ClickFunnels is more feature-rich, it also costs more, with prices at $97 per month compared to just $29 per month for Swipe Pages. However, one thing that sets both of them apart is the automation part. ClickFunnels supports heavy automation, compared to none for Swipe Pages. A/B testing is also detailed in the case of ClickFunnels.
In summary, choose ClickFunnels if you are looking for a more feature-rich and dedicated sales campaign manager with leading page features; otherwise, Swipe Pages is more than enough for your needs.
Swipe Pages vs. WiX
In the same way, WiX is a feature-rich website builder solution that enables businesses to showcase their online presence without knowing to code. Wix offers excellent freedom for developing, managing, and creating websites. Moreover, you can get started for free with no credit card required.
At the core, Swipe Pages differ drastically from WiX as the former is focused on landing page creation while WiX is focused on website creation. However, WiX's wider coverage means that it can also be used to create landing pages. Similarly, the WiX editor gives access to enough elements for landing page creation. You also get to choose a template to kick-start template creation.
In summary, WiX is a complete package for businesses that not only want to create landing pages but also complete websites. Pricing-wise, WiX is cheaper compared to Swipe Pages. However, if you are looking for a dedicated landing page builder, Swipe Pages is the better choice.
Swipe Pages vs. Unbounce
Unbounce is a dedicated landing page builder that lets you create modern and smarter landing pages with great ROI. Apart from landing page creation, it also lets you optimize your campaign using its proprietary Conversion Intelligence. Conversion Intelligence utilizes machine learning to optimize the campaign and landing pages for the best possible ROI.
The extensive use of technology makes Unbounce an excellent choice for business to improve their campaign success. Indeed, Unbounce offers two products: Smart Builder+ and Smart Copy. Smart Builder+ is an AI-powered page creation solution, whereas Smart Copy is an AI-powered copywriting assistant.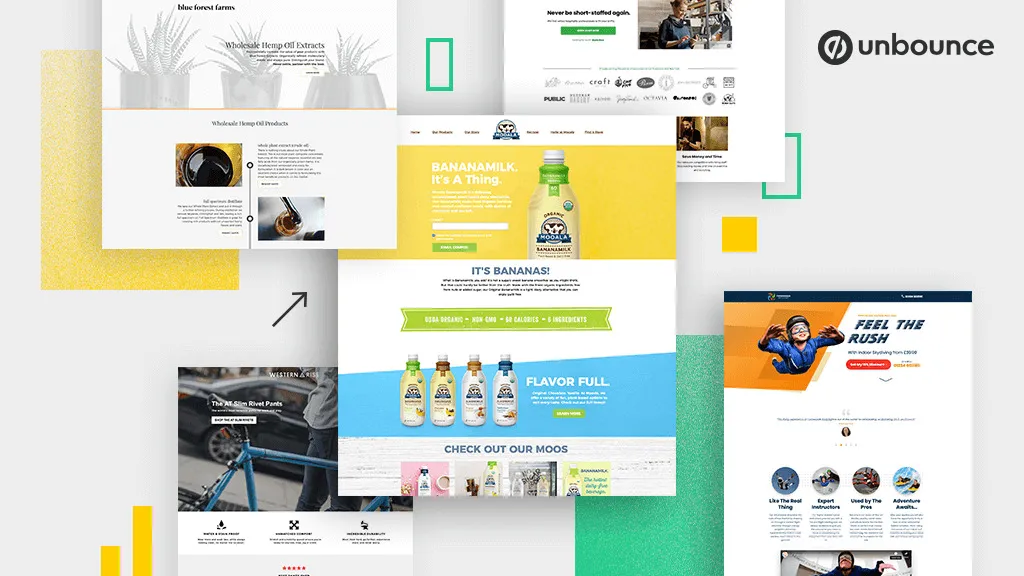 Swipe Pages takes a much more simplistic approach as it doesn't utilize conversion techniques, automation, or algorithms to improve ROI. However, it does come with a fully-featured drag & drop builder with elements. It also comes with pre-built ROI-optimized templates and excellent features like AMP pages, A/B testing, leads management, etc. Swipe Pages is cheaper as it starts at $29 per month, whereas Unbounce starts at $90 per month.
Swipe Pages vs. HubSpot
HubSpot is a well-known CRM provider with many tools at its disposal. However, its free plan is more than enough for many businesses to get started. Indeed, they currently offer a Marketing plan that offers a landing page builder – a free one! With the free landing page, you can create functional and beautiful landing pages that let you improve sales and generate leads.
Furthermore, it is a drag-and-drop builder and does not require the user to know any coding. HubSpot landing page has a built-in library where each landing page is completely responsive. Also, its other key features include analysis, A/B testing, and much more!
The biggest advantage of using HubSpot is that it offers other solutions that work with landing pages, including email, marketing automation, lead management, analytics, etc. Additionally, HubSpot is mostly free, but you need to get one of its paid plans with time, starting at $45 per user per month. On the other hand, Swipe Pages is a dedicated landing page builder and has less to offer when compared to HubSpot.
Swipe Pages Review Conclusions
Swipe Pages is an excellent landing page software new to the market. It offers a wide range of features and support for AMP and responsive design. At its core, you get access to a drag-and-drop landing page builder capable of creating landing pages that can be used for lead generation or boosting sales portals. However, it is not as feature-rich as other players in the market, including Unbounce and HubSpot. Also, if you want to create a website landing page, there are other options, such as WiX. ClickFunnels is also a great option, as it offers a funnel builder packaged with a highly-functional landing page builder.
So, why choose Swipe Pages? Well, Swipe Pages is a dedicated landing page builder that lets you create responsive and ROI-focused landing pages that you can use to boost your digital marketing efforts. It is also priced cheaper compared to the alternatives.
Is Swipe Pages an effective landing page solution?
Yes, Swipe Pages is an effective landing page solution. Hence, a dedicated drag-and-drop builder lets you create ROI-focused landing pages. The tool also offers ROI-efficient landing page templates with 25+ elements and an accessible form builder to help further refine the landing page.
Swipe Pages Related Insights