Rev Reviews
& Product Details
What is Rev.com?
Rev is a premier online platform offering transcription, captioning, and translation services, catering to a diverse clientele ranging from professionals to content creators.
With a vast network of expert freelancers, Rev guarantees high-quality, accurate, and fast turnarounds for audio and video files. Their transcription service is renowned for its precision, making it a go-to choice for many seeking written records of meetings, interviews, or lectures. Additionally, Rev's captioning service enhances video accessibility, ensuring content reaches a broader audience, including the hearing-impaired.
Their translation services break language barriers, making content globally comprehensible.
With a straightforward pricing model and an easy-to-use interface, Rev has positioned itself as a leader in the industry, ensuring that communication remains clear, accessible, and inclusive for all.
Found in these Categories
Best For
Speech-to-text services for businesses.
StartUps

Freelancers

Small Business

Medium Business

Large Enterprise

Non-profit Organization

Personal
Cloud, SaaS, Web-Based

Mobile - Android

Mobile - iPhone

Mobile - iPad

Desktop - Mac

Desktop - Windows

Desktop - Linux

Desktop - Chromebook

On-Premise - Windows

On-Premise - Linux
Company Name

Rev

Located In

United States

Website

rev.com
Starting from:
$0.25 /minute
Pricing Model: Subscription
Pricing Details:
Rev offers diverse transcription and captioning services, including free automated transcription, human transcription at $1.43/min, and global subtitles from $4.75-$11.40/min. Their Rev Max Subscription at $29.99/month post-trial provides added benefits and discounts. For extensive needs, Rev for Business offers volume discounts and advanced features.
Multi-Language Support

Artificial Intelligence

Audio/Video Upload

Automatic Transcription

Collaborative Editing

Full Text Search

File Sharing

Natural Language Processing (NLP)

Speech Recognition

Subtitles

Text Editing

Timecoding

Annotations
Additional Features
99% accurate

15 global languages

ADA & FCC compliant

Audio File Management

Collaboration Tools

Voice Capture

Voice Recognition
Many individuals have come to rely on speech-to-text technologies in recent years. Rev.com is one of the most widely used transcribing software programs nowadays. Transcription software can handle everything from personal voice recordings to emphasizing a key quote from an interview or a speech. Unfortunately, these tasks are time-consuming, difficult, and occasionally erroneous if performed by a single person.
These handy software solutions need you to submit an audio or video clip, after which they provide you with a useful transcript with a single tap of your finger. Transcription software does the grunt work for you, from transcribing online classes, interviews, and meetings to transcribing long speeches, journalism, and podcasts. So, without further ado, let us dig into the detailed review.
Rev.com: Speech-to-text Service
Rev provides professional transcription, closed captioning, and foreign subtitling services on demand, both manually and automatically. The speech-to-text app has over 170,000 customers, ranging from independent journalists to multinational organizations. Rev can grow to suit any customer's needs and process more audio/video than any other service.
Pricing is basic, with automatic speech-to-text services at $0.25 per audio/video minute and human speech-to-text services at $1.25 per minute with 99 percent accuracy. Rev.ai is a voice recognition engine that corporations may use if they ask for it.
Meeting notes, phone conversations, interviews, film production and screenplay editing, lectures, and more may all be captured using Rev Automated Transcription. The following are some of the key advantages:
Play and modify transcripts while listening to or watching audio or video and change the playback speed to go at one's leisure.
With color confidence scores, users may see exactly where the voice recognition engine may not have properly transcribed anything, allowing them to focus on editing.
Customize time stamps for no additional charge.
Easily distinguish between various speakers and alter their names.
Rev's desktop program allows you to search, comment on, organize, and share transcripts.
Final drafts can be saved as Word, TXT, PDF, SRT, or VT files.
Is Rev a good tool?
Rev created a marketplace that instantly links people in need of services with a network of 40,000 experienced freelancers. As a result, Rev is uniquely positioned to generate amazing remote employment by developing software that streamlines operations and facilitates collaboration.
Rev offers video and audio transcription, captioning, and subtitling services. Its solutions can help you do more than only make your videos more interesting and inclusive; they can also help you:
Streamline the post-production process, uncover new insights, and reach non-English markets more readily. It has more than simply artificial intelligence-powered speech-to-text software. It also has a Revvers army of over 70,000 freelancers. They've all been fully verified and are natural English speakers.
This Austin-based startup, founded by five MIT classmates, has been in the game since 2010. It has transcribed and captioned a large number of audio and video recordings for clients, such as:
Amazon
NBC is on Google.
BuzzFeed
Rev offers a variety of price options to meet the demands of various sorts of content providers. It also features unique offers for businesses and developers.
What can Rev be used for?
Rev.com caters to a wide range of clientele, including academics, journalists, corporations, and law enforcement officers. The following are some of its most common applications:
Transcription services (by a human or AI)
First draughts (by machine)
Captions
Subtitles in another language
Zoom captions in real-time
Rev has a variety of different applications. To begin, if you're a content provider, you might utilize Rev to obtain a transcription of a podcast recording that doesn't require any editing and then post it with your show. Second, you might utilize Rev to receive a transcription of a well-written article or a draught of a book chapter. Finally, it may be used to obtain transcriptions for online courses and interviews.
Rev.com Dashboard: How to Use It?
You may give access to your business's team members so they can make orders on your behalf.
Rev handles a wide range of file types, including:
Files with audio, and YouTube Recordings using their mobile app, for example, contain video files with links.
You may also give team members in your company access so they can make orders and update transcriptions on your behalf.
Details of the Rev Features
Let's take a look at each of Rev's services and how they work:
Rev combines the strength of its AI-powered speech-to-text technologies with the expertise of Revvers to produce transcripts that are 99 percent accurate.
This transcribing service provider is well-versed in a variety of industry terminology. As a result, you should anticipate near-perfect output even if your recording includes numerous speakers with significantly varied accents. You may also provide Rev. with a dictionary of words and a list of the speakers' names.
It is a type of transcription that is performed automatically. As a result, you may put everything into Rev's AI for a speedier delivery time at a lower cost.
If you opt not to hire any pros, keep in mind that the quality of your material will suffer. You may anticipate at least 90% accuracy with the auto-transcribing approach. Descripts automated transcribing technology, on the other hand, offers a 95% accuracy rate.
As a result, you'll have your transcription in minutes rather than hours. Furthermore, you may reduce the cost per minute by more than 80%. You can also use the transcript editor to fine-tune your text before publishing it.
If your audio quality is good, you should utilize this service. However, even if your recordings aren't great, you can still make an automatic transcribing request.
You may change the formatting and alter the results using the Rev.com editor. It's simple to send Rev. a voice recording of any kind. You may use a voice recorder on your computer or phone to record your voice, then upload the audio file for transcription and add notes on your accent and style guide. It also accepts links to audio or video recordings, such as those found on YouTube, Vimeo, and other sites.
The Rev.com mobile app is my favorite method of working. It's compatible with both iOS and Android devices. You may talk into the app, submit your request, and pay for your transcription.
After a few hours, I generally received an email stating that my transcription was ready for review. Over the years, I've sent hundreds of files to Rev.com. Since I first started using it, they've enhanced the UI. Furthermore, you can organize your audio recordings into folders, archive old ones, and then copy and paste the results into a writing program.
Changing the formatting and altering the results is also possible using the Rev.com editor. You may also navigate to certain places in the manuscripts and listen to the audio recording to see whether the transcription is accurate. If you're working with an assistant or editor cleaning up the results, this option comes in useful.
Rev guarantees transcriptions within 24 hours or less. If you want them to transcribe your data faster, you can pay more. I received audio files between three and ten minutes in an hour or two when I sent them. I sent podcasts and interviews that were generally 30-40 minutes long. After many hours, I received these transcriptions.
Zoom captions in real-time
You may add auto-captions to your Zoom meetings using Rev's English speech-to-text engine. They can appear in real-time with minimum latency if they are timed to live dialogues. Even though no specialists are engaged, you can anticipate the live captioning to be at least 90% correct. Unfortunately, Rev.com does not support international languages for this service. As a result, it cannot caption terms that are not available in the English lexicon.
How to use it?
To get started, you must be the owner or administrator of a Zoom account that is not Basic. To put it another way, you'll need a paid Zoom Pro, Business, Enterprise, or Education license.
You must also have a Rev account. Otherwise, you won't be able to link the two apps and install Live Captions for Zoom. After setting up the two accounts, go to Zoom and turn on Closed Captioning and Custom Live Streaming Service. After that, you may provide Rev Live Captions access to any user in your account.
Rev.com can caption your video meetings indefinitely for a fixed charge. After each session, you may download a free transcript. You won't have to worry about your costs, and you'll be able to keep track of everything.
A word of caution: the manufacturer promotes it as a visual help for non-English speakers, which is incorrect. It even has a Show Subtitles option on its Zoom button. So don't make this marketing blunder by confusing captions with subtitles.
Rev's support desk is available by email 24 hours a day, seven days a week. I submitted two tickets and received good responses in each case in around 20 minutes.
Meanwhile, the company's chatbot is limited to searching the company's knowledge base. It's a quick and easy method to obtain answers to your Rev.com billing, account management, and other inquiries. The problem is that this bot may return articles that aren't relevant.
It won't connect you to any agents if you can't locate what you're looking for.
Rev may be found on Facebook, Twitter, YouTube, and Instagram, among other social media platforms. Rev also features a FAQ section on essential sites, such as checkout. It not only has a blog but also offers how-to articles, eBooks, and webinars. It also offers a large archive of full transcripts of interviews, speeches, and other events from various notable people.
Bonus applications and tools are available from this speech-to-text software firm. They may be used not just to polish your outputs but also to create and modify raw audio and video files. The Rev.com voice recorder and an audio trimmer and cutter are included in its toolbox.
Many third-party apps are compatible with Rev. It can also be directly integrated with at least 10 of the programs on its website.
If you're a developer, you can use the company's APIs and create with their Automatic Speech Recognition model. Unfortunately, it requires money to develop asynchronous streaming, transcription, and captioning capabilities with Rev. However, you may read its documents for free.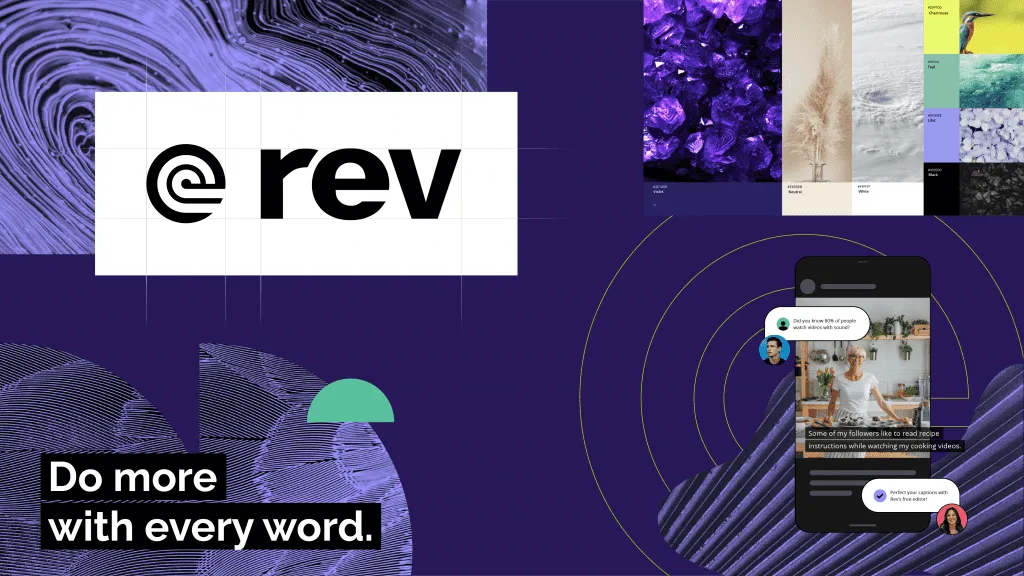 Rev's Accuracy: How Accurate Is It?
I uploaded the identical 16-minute recording to each transcription service to see how accurate they were. An Olympus VN-722PC dedicated voice recorder was used to record the original recording of a three-person conference call. Although the recording is not simple, all voices are heard, and there is minimal, if any, overlapping of voices.
Rev completed the transcript in 1 hour and 16 minutes, far faster than Scribie's time. Although, to be fair, Scribie did deliver the transcription within the agreed timeline after a delay of more than a day. So instead of comparing the full transcript, I picked three paragraphs from each of the call's speakers.
Wherever there was a missing or excess word in any clip of the transcription, I highlighted it as an error. The overall error rate was obtained by dividing the total number of errors by the total amount of words across all sections (in this case, 201 words). Again, Rev performed an outstanding job on this test, with only a 3% mistake rate.
Rev tips & tricks
I'd propose giving a full-time assistant or part-time team member access to Rev. They'll be able to check the quality of transcripts and submit them wherever they're needed. For longer recordings, it's also good to include notes for the transcriptionist concerning accents and spellings.
Create an outline of your work if you want to get the most out of Rev as a dictation service.
A few bullet points summarizing the main topics should be sufficient. Then, use the Rev mobile app to narrate the article based on these bullet points. This may be done while walking.
Don't stop editing yourself; simply keep dictating until the article or chapter is finished. Then, if you're content with your current situation, submit it. My first dictation is a little rough around the edges most of the time. As a result, I'll dictate again. This allows me to clarify my sentences while also receiving a more polished and useable document from transcriptionists, which I won't have to spend as much time correcting.
If this sounds time-consuming, keep in mind that it only takes three or four minutes to dictate over 1000 words and less than ten minutes to dictate a decent draught. That's faster, regardless of how quickly you type!
Rev Review Conclusions
Given the company's age, it's a mystery why Rev's speech-to-text software remains one-dimensional. As a result, it would never be as flexible as other applications until it could auto-transcribe recordings in other languages.
The hyper accuracy of its results, on the other hand, is impressive. Its free tools and applications might also be beneficial. The automatic transcribing free trial's email address requirement might be inconvenient. However, I have no objections to its various price alternatives.
Hopefully, the business will provide live chat in the future. For the time being, though, you might be able to get by with their extremely responsive email service. So long as your content is written in English, I'm sure you'll like Rev as much as I did!