Best 7 graphic design tools to use for a small business
If you are a small business that's sure of the quality of its services and products, learn that this isn't enough for building customers' trust. Trust has a lot to do with the image you create in people's minds. A visually appealing business will always gain attention and be perceived as professional. There are reliable solutions to make up for your lack of design skills in the modern world. Using graphic design tools is the best option to create content that will eventually attract potential clients. 
Graphic design tools ideal for a small business
The best apps for graphic design welcome small businesses with many features and creative tools that make your company stand out. We have summed up a list that includes all the graphic design apps you can use to make your small enterprise thrive. 
DesignEvo
We will start with DesignEvo because it is mainly a logo design app. The first thing a customer will see about your business is the brand logo. This graphic symbol has the power to convince potential customers to hit the road with it. Thus, DesignEvo provides users with plenty of editing features and a vast templates library. This way, every beginner can professionally create a business logo. 
Viewst
Viewst, an online banner maker, is a great tool to create beautiful visuals and social media ads for online marketing campaigns. Thus, if you work in an advertising agency and have little to no knowledge about graphic design, you can create a wide range of projects thanks to the predefined templates. For example, it is an easy-to-use tool that helps you create a banner design, content for a client, logos, ad campaigns, and so on. You can edit texts fonds, play with the image size, and even create call-to-action buttons for banners.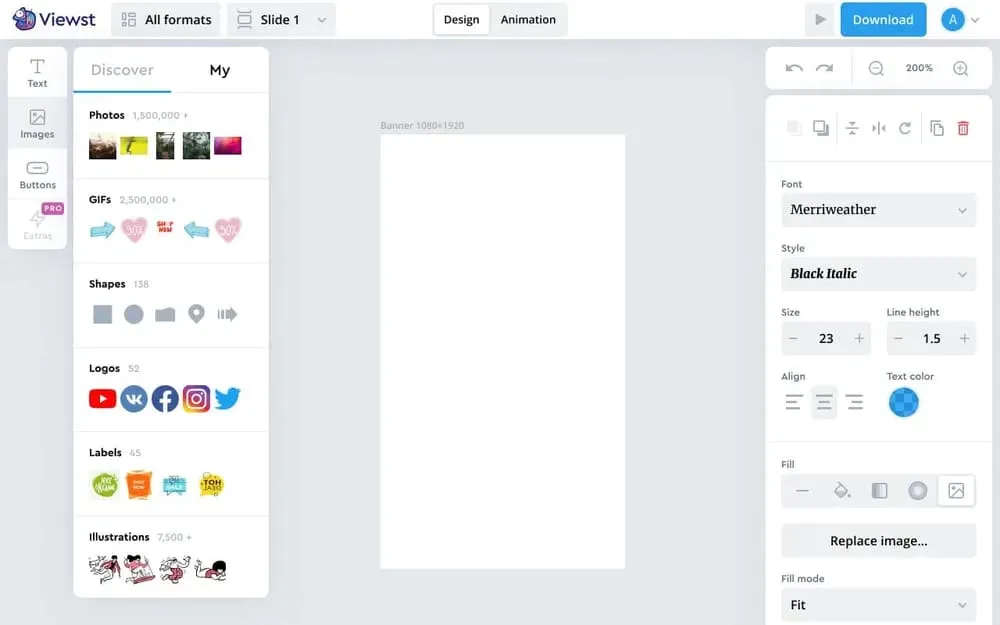 Creatopy
Image manipulation is not a stranger thing to Creatopy. With its pre-designed templates, you can create a successful and relevant social media branding strategy in no time. This is an all-in-one graphic design tool. Create animations without coding experience, banners, and other content formats. Moreover, besides being one of the most popular visual marketing tools, it is also a content management tool that improves the creative workflow. It also offers reporting and analytics features to collect statistics and demographic data about people who interact with the website.
RelayThat
RelayThat seems to be a graphic design tool like no other. It is based on automation technology that helps content creators complete their design work. This image creator software understands what you're doing and presents you with suitable design suggestions according to your direction. In addition, this smart app offers you the possibility to employ image SEO automation and produce headlines for online posts. With RelayThat, users have full control over their content due to the great customization of layouts and templates. 
Canva
Perhaps Canva is the biggest winner of the online graphic design tools range. A wide array of capabilities and a free plan make using Canva an experience hard to compete with. Non-designers have this user-friendly tool to create aesthetic pictures, business cards, presentations, or social media posts. Canva templates convey many visual content formats, including flyers, banners, invoices. Moreover, you can use the Canva logo maker to build brand identity. 
Moqups
You surely want to grab some visibility, public attention and generate interest in customers as a small business. How you make your own website is essential to how you'll be perceived. Thus, Moqups is a quick landing page creator that assists your plan, strategy, and web page design to value your website. All in all, what Moqups does best is help teams collaborate and create useful prototypes for creating websites and designing mobile apps. 
Adobe Creative Cloud
Adobe Creative Cloud suite is a real living world. It consists of over 20 Adobe photo editing tools and content creation tools such as Behance, Adobe Fonts, Creative Cloud Library, and Creative Cloud Market. All of these apps are available via subscription. The quick 4-question quiz helps users not get lost somewhere in the vast landscape of Adobe graphic design tools. Thus, the platform determines if you need a photo, video, design, or illustration app.
Small businesses don't have to reach for a specialist anymore, thanks to graphic design tools for beginners. Instead, they can save lots of money and test their creative skills. Whether it is about creating a brand logo, an ad banner, or social media posts, businesses need to be aware of the importance of a visually appealing brand identity.