Appy Pie Reviews
& Product Details
What is Appy Pie?
Appy Pie is a popular no-code platform for businesses who want to create their next app or website. You can create a basic mobile app for Android or iOS through Appy Pie App Maker.
For website creation, this app offers a Website Builder that enables businesses to create a simple website without writing code skills. Apart from these, Appy Pie also offers NFT, Task automation, Chatbot builder, and Graphics creation through their specialized solutions. Appy serves more than 10 million businesses worldwide at the time of writing.
Found in these Categories
Best For
No-code development and workflow automation platform.
StartUps

Freelancers

Small Business

Medium Business

Large Enterprise

Non-profit Organization

Personal
Cloud, SaaS, Web-Based

Mobile - Android

Mobile - iPhone

Mobile - iPad

Desktop - Mac

Desktop - Windows

Desktop - Linux

Desktop - Chromebook

On-Premise - Windows

On-Premise - Linux
Company Name

Appy Pie LLP

Located In

United States

Website

appypie.com
Starting from:
$16 /app/month
Pricing Model: Subscription
Pricing Details:
Appy Pie pricing plans include Basic, Gold, and Premium. All the plans offer unlimited bandwidth and hosting and unlimited app editing. As for support, the Platinum plan gets customer support through email, chat, and call - whereas the other plans contain email and chat support. However, if you want to remove Appy Pie Branding, you must pay 2x of the current app plan price.
Data Import/Export

Drag & Drop

No-Code

Pre-built Templates
Additional Features
Visual Modeling

Change Management

Collaboration Tools

Design Management

App Management

Compliance Management

Reporting/Analytics

Access Controls/Permissions

Compatibility Testing

Data Modeling

Debugging

Deployment Management

Source Control

Mobile Development

Software Development

Web App Development
Appy Pie is a modern no-code development platform that lets you create simple apps and websites with the help of a drag-and-drop builder. It offers both basic and advanced features for easy monetization and deployment. Appy Pie recently introduced Appy Pie NFT, which lets you create NFTs. As for features, it focuses on providing an easy creation process, publishing help, testing, and automating. It offers a seven-day trial with paid options starting at $16 per app monthly.
Appy Pie – Website Builder
Are you looking for a no-code platform to create your next website or mobile app? If you do, meet Appy Pie – a no-code development platform that lets you do just that. Ten million+ customers and businesses trust it. Our Appy Pie review will look at what Appy Pie tools offer and see their features, how to make an app using it, integrations, and other aspects. Let's get started.
What is Appy Pie used for?
Appy Pie is a no-code app builder that people can use for creating many things, including:
Mobile application development – supports both Android and iOS platforms
Website — create a simple business website with the help of drag and drop editor, templates, and customization tools.
NFT: Create the next-generation NFTs
Task Automation: Appy Pie connect offers more than 300+ integrations and enable businesses to do task automation
Chatbot: Create an eCommerce chatbot for your business
Graphics: Do basic graphics tasks
How to create an app with Appy Pie
Appy offers a seven-day free trial which you can use to learn about the app. We got you covered if you wonder how to create an app with Appy Pie. First, you must register for an account and then do an Appy Pie login. Then, as they do not offer a free plan, you need to buy any of their paid plans which start at $16 per app monthly. However, you can also use their 7-day free trial to test it.
Once logged in, you will see a clean dashboard with the "Create New" button. Then, click on it to get started. Next, it will ask you what you want to create. It will give you two options:
Create your native mobile app
Create your website
Select "Create New Mobile App" to proceed with app creation.
Next, it will redirect you to a new page asking questions, including your business name and a category that fits your industry. Next, it will ask you to pick a color scheme, broadly divided into Light and Dark, offering six color schemes. So, for example, you get the option for Techno Grey in both Light and Dark.
Once you answer these questions and select some basic options, you will be asked which device you want to test your app on – Android or iOS. Here, you must select the mobile OS you want to work on.
It will then show you a preview of your app and include basic things you can change before saving and Continuing.
Create Appy Pie apps with a free 7-day trial
Next, it will redirect you to the payment option if you have not bought any plan. Consequently, you can proceed to pay for a plan of your choice. If you opt to close it or move your mouse away, it will allow you to try 7-day free trial without any credit card requirement.
Selecting the free trial will ask you for basic information, including your name and contact number. Now, you should be able to edit your app.
Click on Start Editing to get started with your editing process.
As you can see, it has two tabs at the top: My Features and Design Customization, along with App Previewer on the right side of the page.
Here, you can edit and customize each element. Also, it offers access to other elements, including Social, Multimedia, Contact, Commerce, Information, etc. So check out the elements and edit accordingly. Moreover, you can customize the app layout in design customization, including changing fonts, colors, and text.
Once you have made all the changes, it will then progress to generate your app. Finally, it will ask you to download the app for further changes. If you download the app, you can test it out.
Lastly, you need to publish your app. Next, you need to create a developer account on the app store of your choice, where you have to pay fees to get started. From there, all you need to do is promote your app.
Does Appy Pie work offline?
Appy Pie introduced offline mode in their Snappy 2.0 update, released in Sep 2019.
Is Appy Pie legit?
Yes, Appy Pie is legit. However, you may find them to promise more than they currently offer. This website app maker is a great place for new users to explore an app-building experience without writing a single line of code. However, if you want to develop a complex app, website, or solution, you may want to go for other service providers or try to custom-build it. This web app builder relies heavily on third-party to provide complex features.
Details of Appy Pie Features
Appy Pie is a no-code platform that enables anyone to build an app, website, NFT, chat graphics, and task automation. In addition, its wide ability to do multiple things makes it super-rich in features. However, at its core, Appy Pie is well-known for mobile app and website creation, and that's where you will find most of its features.
Additionally, they also offer task automation, chatbot creations, and graphics creation, such as:
Blog banner
Brochure
Card
Facebook Cover
LinkedIn Banner
For this reason, we have covered Task automation in the integrations section.
Appy Pie App Maker lets you create apps without the need to code. It has more than ten million+ customers with exciting features backing it up. Some of the well-known App Maker features include:
Intuitive Android and iOS App Builder
The web app builder is intuitive and easy to use. It lets you create dynamic mobile apps without writing a single line of code. The process requires you to enter some basic information, such as your business name, and make a selection, including category, perfect color scheme, and the device of your choice. Next, you can edit the app, add or remove features, and publish your app.
Build Native Apps With Offline Capabilities
Moreover, Appy Pie App Maker lets you create native access apps with offline capabilities. This means the apps will work even when there is no internet connectivity. It also comes with real-time updates that let the users customize apps hassle-free.
You can also test your app before publishing it. To test your app, you need to download it to your mobile and make changes accordingly. In addition, you can change the app interface using the app builder and see those changes in real time.
Built-in App Stores Publishing
Additionally, Appy Pie offers publishing services through their skilled and talented professionals. They work closely with the user to ensure that everything works as intended and that you can publish your app without any issues.
The Appy Pie App Maker also offers detailed analytics with comprehensive app performance and user engagement data. As a builder, you can use the data to know the bottlenecks and improve the app accordingly.
Like Appy Pie App Builder, their Website Builder has also garnered much attention from the end-users. The Website Builder lets you quickly create a website with as few steps as possible. All you need to do is enter the site's name, add features of your choice, customize the look and feel and publish the website!
Here, you also get a website builder. Hence it does not require you to write any code. It gives you a process to follow, which you can use to create the website. You can create a safe, secure, lightweight, and offline capabilities website with it.
This Website Builder currently has 200+ powerful features. Additionally, it also supports custom domains, the ability to convert a website to a mobile app, access to design tools, Google Workspace, etc.
Other features that you get with Appy Pie Website Builder include:
Use Chatbots to deliver personalized service
Enable live chat on your site for users to connect
Free email from Google Workspace
Free Domain
24/7 customer care
Remove Appy Pie ads
Free SSL
Unlimited hosting and bandwidth
As for customization, you can change many aspects of your site during the setup process. The customization options include the following:
Website logo
Web Background
Web Splash Screen
Business Name
Website Layout
Mobile view
Color theme
Fonts and color customization
Once the website setup is done, you need to connect the domain, and you are good to go!
Furthermore, this app has recently added a new NFT Generator that lets you create NFTs(non-fungible tokens).
Their Design Pro Premium plan offers some exciting ways to explore NFT. With it, you get the following features:
Auto metadata generation
1000 unique NFT combinations
Attribute and Layer Rarity
Unlimited fonts and images
3000+ icons and 5000+ design templates
1 GB storage
NFT collections generate
JPG, PNG, and PDF formats
24/7 support
To create an NFT, you need to use their in-built creator to change different aspects of the image, including the background. You can add layers to create complex NFTs.
With Appy Pie Chatbot, you can create your chatbot without coding. Chatbots are integral to the business, and you can create a chatbot using Appy Pie. To create a chatbot, you need to name it, customize it, and add the Chabot to your mobile app or website.
The key features of Appy Pie Chatbot include:
No coding required
Multiple chatbots and live chat
Multi-language support
Contacts and leads management
Bot analytics
Email tracking
App integrations
They also offer different types of chatbot creation with options including:
Agent transfer bot
Inquiry bot
Appointment bot
Answer bot
Item ordering bot
Recruitment bot
Course enrollment bot
Webinar registration bot
The chatbot is easy to configure as it utilizes node-based flow. Here, you get an editor where you can easily connect different nodes and pre-defined actions for the user's action. In addition, Appy Pie's Chatbot creator gives you an install preview on the side, which is beneficial for quick development.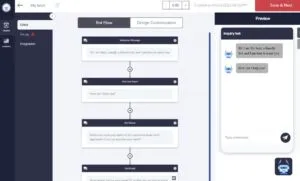 You can make your chatbot live using their managed service or the self-service option by connecting it to a third-party CMS, a custom site, a messaging platform, or a social media platform.
Appy Pie Integrations detailed
This app maker relies heavily on integrations. Appy offers its integration through Connect – an all-in-one tool with many integration options. Thus, integrations can improve your business flow and enable app automation.
You do not need to code to integrate your apps and services. The Appy Pie Connect offers hassle-free setups that are easy to work with. Currently, it offers integration and automation on more than 300 apps. Some of the well-known connectors include:
Discord
Zoom
AWS
WooCommerce
Zoom
Telegram
HubSpot
MailChimp
Slack
Additionally, Appy Pie Connect is EU-GDRP Compliant and SOC-1 & SOC2-2 Compliant – making it enterprise-class security ready.
Mailchimp Integration
Additionally, Appy Pie offers two Mailchimp integration: MailChimp Ecommerce and MailChimp. Both are premium integrations, and you require a subscription to use them.
With MailChimp eCommerce and MailChimp, you can connect your MailChimp account and get full visibility on accounts, teams, campaigns, and other vital information.
Hubspot Integration
Right now, Appy Pie offers two HubSpot connectors. They are:
HubSpot CRM Integrations
HubSpot Integrations
Slack Integration
As for Slack, they offer Slack Team integration which lets you integrate communications directly into your app solution.
Appy Pie Review Conclusions
Appy Pie is great for businesses with minimal requirements who want a no-code platform to make their site or app. So, if you are a new business that needs a simple app requirement and does not want to spend much money on it, then Appy Pie is all you need.
You can try out the tool with its seven-day trial and see if it fits your bill by getting paid subscription. However, before you proceed with them, you should know that you will lose access to the app if you stop paying your subscription. Likewise, another disadvantage is that it relies heavily on the third-party service provider for advanced features.
As for the user interface – it needs an overhaul. Currently, the UI and UX are outdated. However, pricing-wise, this software is cheap and provides value for the features it has to offer. If you are looking for a more fine-tuned and tailored experience based on your requirement, you can use Wix or WordPress for website building or Android Studio or Bubble for app creation. However, with time, we expect Appy Pie to update its offering and become more appealing to medium and large-scale businesses.
The good thing is that you don't have to be a computer programmer to use the no-code app developing software.
Is Appy Pie a good software?
Yes, Appy Pie is good software. However, it would be best if you did not fall for its huge claims of offering a platform where you can create solutions, such as Airbnb, Tinder, or Uber. But you can surely make the best use of it if you are a small business and want to create a simple website or app.