Visual Brilliance: How Graphic Design Apps Empower Small Businesses
Today's digital world is highly competitive, and small business owners must stay ahead of the game and attract customers. One of the most effective ways to do so is by enhancing their online presence through visually stunning content. By leveraging eye-catching graphics and engaging videos, small businesses can captivate their target audience and increase their chances of success. One key strategy is harnessing the potential of graphic design apps. This article delves into graphic design tools and how they can benefit small businesses, from web design to captivating vector graphics.
If you are a small business sure of the quality of its services and products, learn that this isn't enough to build customers' trust. Trust has much to do with the image you create in people's minds. A visually appealing business will always gain attention and be perceived as professional. There are reliable solutions to compensate for your lack of design skills in the modern world. Using graphic design software is the best option to create content that will eventually attract potential clients. 
Web Design Excellence
Small business owners often wear multiple hats, and one of those hats is web design. Your website is your digital storefront and needs to impress visitors from the moment they land on your page. Graphic design apps offer a range of features that empower small business owners to create stunning websites without the need for extensive coding or design skills. With user-friendly interfaces and customizable templates, these tools enable you to craft a website that reflects your brand's personality and professionalism.
The Power of Visual Content
Visual content is king in the digital landscape. Engaging images, infographics, and videos can communicate your message effectively and leave a lasting impression on your audience. Graphic design apps provide the means to create eye-catching visuals tailored to your brand's identity. Whether crafting social media posts, designing marketing materials, or developing compelling blog graphics, these tools equip small business owners to stand out in a crowded online space.
Unleashing Your Creativity
As a small business owner, you may have a unique vision for your brand's visual identity. Graphic design apps offer the flexibility to turn your creative ideas into reality. You can bring your imagination to life with features like drag-and-drop functionality, a vast library of design elements, and the ability to work with vector graphics. Whether you're designing a logo, promotional materials, or product packaging, these apps provide the creative canvas you need to make your brand shine.
A World of Possibilities
When it comes to graphic design tools, the options are vast. Small business owners can choose from various software tailored to their needs. From vector graphics software tools for precise and scalable designs to comprehensive design suites that cover every aspect of visual content creation, there's a tool for every business.
Finding the right graphic design app for your small business
Selecting the perfect graphic design app for your small business can be daunting, but it's a crucial decision. Consider your design needs, budget, and the learning curve associated with each tool. Some options cater to beginners, while others offer advanced features for seasoned designers. To get you started on the right track, here are seven of the best graphic design apps for small business owners:
DesignEvo
DesignEvo is a logo design app focused on creating logos for businesses. Your brand logo is the first thing a potential customer sees, and it can be the deciding factor in whether they choose your business or not. DesignEvo's extensive template library and editing features make it easy for both beginners and professionals to create a professional-looking logo for their brand. With DesignEvo, you can rest assured that your logo will stand out and make a great impression on your customers. If you're looking for an efficient and reliable logo design app, DesignEvo is the perfect choice.
Viewst
Viewst, an online banner maker, is a great tool for creating beautiful visuals and social media ads for online marketing campaigns. Thus, if you work in an advertising agency and have little to no knowledge about graphic design, you can create a wide range of projects thanks to the predefined templates. For example, it is an easy-to-use tool that helps you create a banner design, content for a client, logos, ad campaigns, and so on. You can edit text fonds, play with the image size, and even create call-to-action buttons for banners.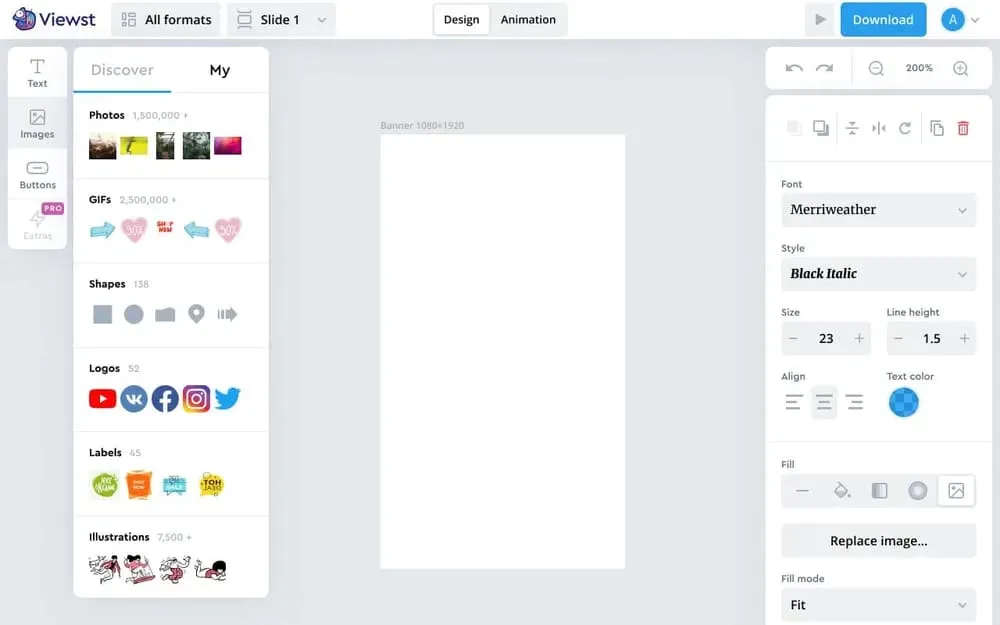 Creatopy
Image manipulation is not a strange thing to Creatopy. With its pre-designed templates, you can create a successful and relevant social media branding strategy quickly. This is an all-in-one graphic design tool. Create animations without coding experience, banners, and other content formats. Moreover, besides being one of the most popular visual marketing tools, it is also a content management tool that improves the creative workflow. It also offers reporting and analytics features to collect statistics and demographic data about people who interact with the website.
RelayThat
RelayThat seems to be a graphic design tool like no other. It is based on automation technology that helps content creators complete their design work. This image creator software understands what you're doing and presents you with suitable design suggestions according to your direction. In addition, this smart app allows you to employ image SEO automation and produce headlines for online posts. With RelayThat, users have full control over their content due to the great customization of layouts and templates. 
Canva
Perhaps Canva is the biggest winner of the online graphic design tools range. A wide array of capabilities and a free plan make using Canva an experience hard to compete with. Non-designers have this user-friendly tool to create aesthetic pictures, business cards, presentations, or social media posts. Canva templates convey many visual content formats, including flyers, banners, invoices. Moreover, you can use the Canva logo maker to build brand identity. 
Moqups
You surely want to grab some visibility, public attention and generate interest in customers as a small business. How you make your website is essential to your perception. Thus, Moqups is a quick landing page creator that assists your plan, strategy, and web page design to value your website. All in all, what Moqups does best is help teams collaborate and create useful prototypes for creating websites and designing mobile apps. 
Adobe Creative Cloud
Adobe Creative Cloud suite is a real living world. It comprises over 20 Adobe photo editing tools and content creation tools such as Behance, Adobe Fonts, Creative Cloud Library, and Creative Cloud Market. All of these apps are available via subscription. The quick 4-question quiz helps users not get lost somewhere in the vast landscape of Adobe graphic design tools. Thus, the platform determines if you need a photo, video, design, or illustration app.
Achieving Visual Excellence
Small businesses often struggle to compete with larger corporations regarding resources and marketing budgets. However, graphic design apps level the playing field by offering affordable solutions that pack a punch. Let's explore further how these apps can help you achieve visual excellence and make a lasting impact on your audience.
Crafting a Unique Brand Identity
Your brand identity is more than just a logo; it's the essence of your business. Graphic design apps empower you to craft a unique and memorable brand identity that resonates with your target audience. With the ability to create custom logos, color schemes, and visual elements, you can establish a brand presence that sets you apart from competitors.
Boosting Engagement
Engagement is the name of the game in today's digital world. Whether on social media, your website, or email marketing campaigns, capturing your audience's attention is paramount. Graphic design apps provide you with the tools to create engaging visuals that drive user interaction. From attention-grabbing social media graphics to interactive infographics, you can increase engagement and keep your audience returning for more.
Converting Leads into Customers
Effective graphic design isn't just about aesthetics; it's also about conversion. Your website and marketing materials should not only look good but also guide visitors toward taking action. Graphic design apps allow you to design compelling call-to-action buttons, landing pages, and product images that encourage leads to become loyal customers.
Staying Consistent
Consistency is key in branding. You want your audience to instantly recognize your brand, whether they encounter it on your website, social media, or printed materials. Graphic design apps enable you to create branded templates that maintain consistency across all your marketing channels. This ensures that your brand messaging remains uniform and memorable.
Measuring Success
In the world of digital marketing, tracking and analyzing data is crucial. Many graphic design apps come with built-in analytics features that help you understand the performance of your visual content. You can see which designs resonate the most with your audience, allowing you to refine your strategies for even better results.
Making the Right Choice on your Graphic Design App
As you embark on your journey to harness the power of graphic design apps, you must make the right choice for your specific needs. Consider the following factors:
Budget: Determine how much you're willing to invest in graphic design tools. Some apps are free or offer affordable subscription plans, while others may have a higher price tag.
Ease of Use: If you're new to graphic design, opt for user-friendly apps like Canva or Snappa. More experienced designers might prefer the advanced features of Adobe Illustrator or Figma.
Collaboration: If you work with a team, choose an app that facilitates collaboration. Figma, for example, allows multiple users to work on the same project in real time.
Scalability: Consider your future needs. Will the chosen app accommodate your growing design requirements as your small business expands?
Learning Curve: Evaluate how quickly you can get up to speed with the app. Some tools offer extensive tutorials and resources to help you master their features.
Final thoughts
The secret ingredient to unlocking online success is graphic design apps for small businesses. From web design to captivating visual content, these tools provide the means to stand out in the digital landscape. So, don't wait any longer; start harnessing the power of graphic design apps and watch your small business flourish. If you found this article helpful, share it with fellow small business owners looking to enhance their online presence through design excellence. Together, we can empower small businesses to thrive in the digital age.