Great 4 must-have tools for eCommerce businesses
Share on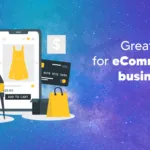 Many entrepreneurs have found a suitable environment to apply their business ideas in online sales. And for a good reason. Living in a world overtopped by digital technology, online businesses have great chances to flourish quickly. However, it is a highly competitive and challenging environment. You have to be different from the rest and still do your best to convince people of your worth. Thankfully, eCommerce tools are a gold mine for every online seller. 
Before hitting the road of eCommerce business, your company's success relies largely on being well-equipped with marketing automation tools, SEO software, lead generation tools, survey tools, and other pieces of software. Of course, choosing specific software is a matter of your business' field of activity. But, everything you do is to attract clients and make them happy. And when digital tools can help you achieve it, the initiative is more than welcome. 
Best eCommerce tools for scaling your business in 2022
Supposing you're over the dilemma of 'how does eCommerce work,' it is likely to head to the next important question. What can an eCommerce owner do to improve the quality of their business? Luckily, we have prepared some answers for you. As per usual, we compiled a list of some of the most useful eCommerce analytics tools to scale your business. 
Klaviyo
Email marketing campaigns are still one of the best methods to keep in touch with customers and potential clients. Klaviyo is an email automation software that reaches people right in their inboxes. Users who opt for this digital marketing software offer their customers a personalized experience. The app can deliver personalized newsletters, automated emails for abandoned carts, thank you letters, and order follow-ups. And the good news continues: the wide spectrum of templates preloaded in your account have your back, so you don't have to build messages from scratch. At the same time, you are free to do it if you want to customize templates or design your own. 
Besides this, this app provides marketers with valuable analytic tools that help them understand their audience better. Klaviyo integrates seamlessly with Shopify, Magento, and BigCommerce and synchronizes Facebook leads. Moreover, Klaviyo features an eCommerce CRM so that you can gather customers' and subscribers' data in a single place. 
Diib
Keeping track of everything that's going on on your website helps eCommerce businesses grow quickly and surely. Diib offers a detailed overview of your website's performance due to its SEO capabilities. This SEO software provides users with a dashboard to see website ranking, health score, growth opportunities, and analytics reports. So, you don't have to be an SEO specialist to do SEO. Diib not only acts like one, but it is a reliable SEO tool. 
You can run scans of your website, and Diib will give you suggestions and plans to grow your page based on your actual content. In addition, this SEO software gives you insights into the most popular websites. The Diib ranking tool allows you to check keyword ranking for website. It also gives keywords and content ideas based on current trends. 
Leadfeeder

 
You know how important your website visitors are and how valuable their information and data are. As its name puts it, Leadfeeder is a lead tracking software that delivers insights about your visitors. This lead generator tells you exactly who your visitors are so that you will know whom to convert as a customer.  Furthermore, Leadfeeder is one of the best B2B lead generation tools showing you which companies present interest for your business. It is a sales tool that allows you to turn online leads into long-lasting clients. 
SurveyMonkey
Feedback, opinions, and suggestions from your clients or the general public are always welcomed, and you should be grateful for each. And also for the existence of Survey Monkey, an online survey tool that helps you get the most useful insights about your customers. SurveyMonkey offers over 230 survey templates suitable for beginners ad advanced-level designers. Survey designers can change chart displays, create free-form responses, and customize many more elements. So, ask and you shall receive!
Chosen thoroughly, eCommerce business software can make the best out of your online shop. You only have to listen closely, analyze, and use carefully the insights eCommerce tools provide.