7Shifts Alternatives & Competitors
7Shifts app has many interesting alternatives that you should check out. Here are some 7Shifts alternatives:
Calendly is a remarkable 7shifts alternative. It is scheduling software created to enhance sales, save time, and enhance service quality. It has an intuitive interface that you will love. You don't need to have previous knowledge of how scheduling software works before you can use it.
With Calendly, prospective customers can immediately log in to ensure that their employees do not lose them via phone tags and email. In addition, users are free to configure their features and permit more guests to plan the same space, which is great for tours, webinars, workshops, and courses. And then,  invitees are free to include appointments very fast without registration.
Premium subscribers of Calendly enjoy quick email support during office hours. You can integrate Calendly into Office 365, Google, and Outlook and see all calendars to prevent double-booking conflicts. New calendars will automatically be included. Also, Calendly allows you to automatically send reminders and customized confirmations to guests for maximum retention.
Calendly is perfectly optimized for tablets, phones, and desktops. It ensures that guests do not experience compatibility challenges when running the software on their devices. Also, with this software, you can avoid nighttime meetings, set up intervals between meetings, and create a private event for enhanced control and privacy.
This great appointment scheduling solution enables businesses to handle virtual appointments simply. It can monitor user attendance, send SMS, email, and telephonic reminders to clients, report no-shows, and create data on staff performance. 10to8 has integrations with other tools such as Office 365, iCal, Google Calendar, Exchange, and Outlook. 10to8 makes it quite easy for users to monitor appointments remotely.
It has 10to8 excellent security protocols and is fully compliant with all HIPAA, GDPR, and CCPA regulations. In addition, users can build a personal appointment page, including their logos and brandings, with the aid of available in-built customizations. Also, 10to8 can integrate with Zoom Video conferencing and Salesforce, thus ensuring multiple videos to connect options.
Users can use 10to8 to create smart reminders for appointments based on the work at hand and monitor whether users checked them. There is no form of appointment that 10to8 is not suitable for.
This is another great 7Shifts alternative. It is a mobile appointment scheduling tool. It contains all you need to book online, promote your reputation, and handle your clients, employees, and brand. There is no limit to the type of organization that can use Genbook. It can be used by beauty, wellness, health, and professional local service providers such as photographers, spas, medical, tax, barbers, salons, massage, skin care, acupuncturists, chiropractors, eyelash, medical, tanning, and others.
Another 7Shifts that is awesome is Timely. It simplifies the process of reminding, scheduling, and conforming events, tasks, and activities to save time and increase revenue. Timely aids B2B companies and revenue teams enhance their conversion rates, customer satisfaction, and high productivity levels.
Timely uses advanced rules to distribute and qualify leads to the right representatives in real-time. It aids the growth of your organization by simply making your service great. Timely allows you to easily generate automated schedules, book appointments, and manage payment processing.
Also, Timely permits multi-location appointment booking so you can offer a user-friendly experience to your customers. Timely is a perfect app to manage your meeting room bookings, calendar, and online scheduling. This software provides a free trial version to test and try its features aside from different premium plans to suit any requirement and budget.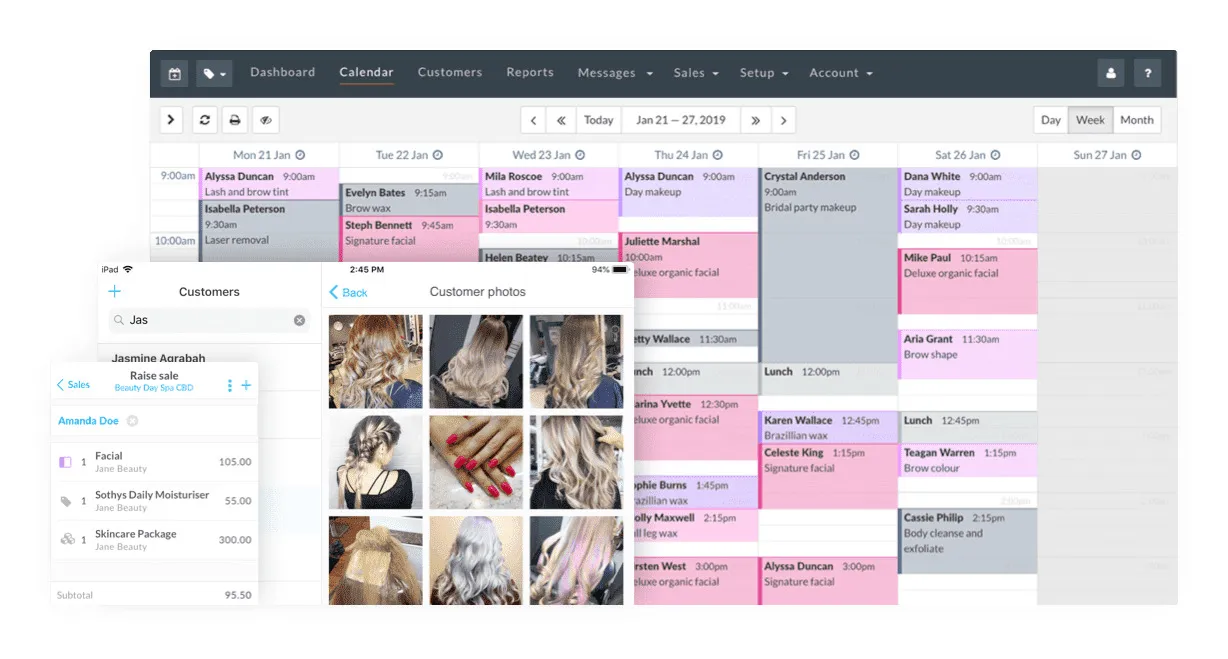 This online scheduling software helps users manage their time more efficiently and effectively. In addition, this tool allows users to remind and confirm appointments with their customers by sending them personalized notifications via emails and SMS that people can customize.
They can also manage the database of their customers by storing and managing their profiles, checking the customer history, capturing customer notes, and creating tags to identify clients easily. In addition, a user can design a book page for his brand by personalizing the colors, themes, and fonts of BookStream via the software.
This software lets users sync all their bookings in a central place to keep the business functioning very easily. As a user, you can customize the way clients view your class calendar or schedule, and you can also modify this feature by changing the view to either a list view or a calendar.
Communicate, manage, and train your non-desk employees.
Manage your business & back&forth with customers from one place.
Online appointment scheduling software.