AdGuard VPN Reviews
& Product Details
What is AdGuard VPN?
AdGuard VPN is a VPN service that offers a free ad-blocking feature. One unique thing about this VPN service is that it has no ads, so you will never have to worry about encountering advertisements while using it.
This VPN app has a browser extension and an app for Windows, macOS, Android, iOS, and even Linux. Based on our AdGuard VPN review, it is one of the fastest VPN services in the market, with no data caps or bandwidth limits.
They do not store any logs related to your browsing activity or other personal data that could be used for tracking purposes or surveillance.
Moreover, it is a free and open-source virtual private network that helps you browse the internet anonymously and protect your privacy. It blocks ads, trackers, malware, pages with adult content, and more.
The app is available for Windows, macOS, and Linux. Thanks to its cloud-based system, you can install it on multiple devices, which will work similarly on all of them.
AdGuard VPN protects your data by encrypting it before sending it over the internet. This way, even if someone manages to intercept your traffic, they won't be able to read it because it's encrypted with strong AES-256-bit military-grade encryption.
You can also turn on an optional kill switch that will block your internet connection if the VPN connection gets interrupted (for example, when switching from Wi-Fi to 4G).
Found in these Categories
Best For
For your privacy & Security. Browse like a ninja.
StartUps

Freelancers

Small Business

Medium Business

Large Enterprise

Non-profit Organization

Personal
Cloud, SaaS, Web-Based

Mobile - Android

Mobile - iPhone

Mobile - iPad

Desktop - Mac

Desktop - Windows

Desktop - Linux

Desktop - Chromebook

On-Premise - Windows

On-Premise - Linux
Company Name

Adguard

Located In

Cyprus

Website

adguard-vpn.com
Starting from:
$2.99 /month/ billed biannually
Pricing Model: Subscription
Pricing Details:
30-days-money back guarantee and unlimited VPN access with any of the paid plans
See AdGuard VPN Coupons
Access Controls/Permissions

DNS Leak Protection

Static IP

Router Support

Policy Management

Remote Access Control

Anonymous Browsing

Integrated Kill Switch

Web Inspection

Peer-to-Peer

Cross-Platform App Availability
Additional Features
Free GBs

Proprietary secure protocol

Website exclusion

App exclusion
Why is using VPN software important?
The use of VPN software is important for many reasons. To begin with, it is a safe way to browse the internet and protect your privacy from prying eyes.
Secondly, VPN software allows you to access geo-restricted websites and apps blocked in your area.
Even though many free VPN services are available on the web, not all provide sufficient protection against hackers and other malicious elements lurking on the internet.
The best thing about subscribing to a paid VPN service is that it offers top-of-the-line security features that ensure your data stays secure.
Consequently, if you want to protect yourself from cyber threats while browsing the internet, an excellent solution would be to subscribe to a paid VPN service.
Your computer will be protected by strong encryption protocols and advanced malware detection tools, ensuring no harmful files get inside your system without your knowledge.
Another major benefit of using VPN software is that it encrypts all your data traffic so nobody can intercept it while traveling through public networks such as the internet or Wi-Fi hotspots at cafes or airports. This means that even if someone manages to break into your device, they won't be able to access any of your sensitive personal data.
AdGuard – VPN service
AdGuard VPN is one of the best VPN services available in the market. It is a secure and efficient service with over 3 million active users. Moreover, AdGuard VPN is a popular option for users who want to unblock content and protect their privacy.
AdGuard can also block other unwanted content like online gambling websites or torrents. In addition, some people use AdGuard to speed up their internet connection by blocking unnecessary data transfers.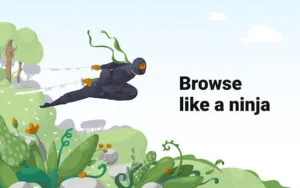 How to use AdGuard VPN?
You need to download the AdGuard VPN app to get started. Here are the steps:
Download and install AdGuard for Android on your device.
Launch the app and tap on the Get Started button.
Set up a new account with your email address and password (or use your existing Google Play account). After that, tap on the 'Sign In' button to enter your account.
After installation, start the application. You will be asked to allow access to your data which you should allow. The next step is to select a location where you want to connect to the internet. This can be done by tapping on the globe icon in the top right corner of your screen:
This will open a list of available locations, and you can choose one that suits you best. After selecting a location, tap on it and press "Connect."
Once you install the extension, it will automatically hide all your IP addresses.
Why should you use AdGuard VPN?
AdGuard VPN app can be used by anyone that wants to prevent DNS server leaks and protect their data online. There are many benefits of using this VPN service that assures you of premium security. Here are some of the benefits:
Hides your IP address and location from trackers and hackers to prevent tracking of web browsing activity through your ISP (and all other parties)
Allows you to have access to blocked websites in your country or government. Your ISP will only see an anonymous proxy server somewhere in the world.
It protects you from cyber-attacks with built-in anti-malware protection. This feature is included in all plans except the free plan.
Unblocks social media sites and apps like Facebook, Twitter, YouTube, Google+, Instagram, etc., which schools, companies, or countries often ban.
Bypasses censorship filters installed on the network level block access to certain sites (e.g., at work).
Blocks ads and trackers.
Protects your privacy against malvertising, tracking, and other threats.
Details of AdGuard VPN Features
Here are some of the key features of AdGuard VPN:
AdGuard uses a wide range of filters to block ads before reaching your device – including ads on Facebook Messenger or WhatsApp messages. There are also options for blocking pop-ups and banners on websites and video ads in apps like YouTube or Netflix.
Malware protection is another important feature in this AdGuard VPN review. It can protect you from viruses, trojans, and other threats that reroute your traffic to malicious sites or steal information from your device. In addition, the app scans downloaded files before they're opened on your device to ensure they're safe and malware-free (which isn't always the case).
The core functionality of AdGuard for Android is content filtering. You can choose what kind of content (ads or adults) should be blocked by the application. In addition, there are also some other categories, like malware/phishing protection, etc.
You can enjoy a private and anonymous connection without worrying about being tracked by third parties. You are safe from government surveillance, hackers, advertisers, and anyone else trying to spy on you online.
AdGuard does not slow down your Internet connection. Unlike other VPN service providers, AdGuard does not throttle bandwidth or compromise on speed to keep it secure. In addition, they do not compress traffic or make any other changes that could affect your Internet speed.
AdGuard VPN Review Conclusions
Our AdGuard VPN review found that the service is a very good choice for people concerned about their online security and want to protect themselves from online threats like adware, trackers, and malware. This fast VPN is easy to use, even by less experienced users, because of its simple interface and intuitive design.
However, some things could be done better. For instance, you cannot stop the AdGuard VPN app from running in the background. Also, there should be an option to select a location manually instead of only using one predefined location.
Overall, we think the AdGuard VPN app is a great choice if you want to protect yourself from online threats while browsing the internet without worrying about your privacy being compromised.
Is AdGuard VPN good?
Based on our AdGuard VPN review, this VPN app is one of the best products in the market. It offers users many useful features to protect their data online and stay anonymous on the internet.
This secure VPN doesn't slow down your computer and provides excellent protection against viruses and phishing attempts. Moreover, it's also worth mentioning that this software is suitable for desktop computers and mobile devices such as smartphones or tablets.
Plus, AdGuard has an incredibly simple interface that makes it easy for anyone to use this VPN without fuss. In addition, the software automatically connects to the fastest server available, so there's no need to worry about switching servers or trying different locations.