iProVPN Reviews
& Product Details
What is iProVPN?
iProVPN has become increasingly popular amongst privacy experts. In terms of what is available, iProVPN delivers a solid number of features and abilities, including over 250 servers across more than 20 countries. You also get ten multi-connections, and the VPN is very good at unblocking region-locked services like Netflix.
Getting started with iProVPN and then using the service is easy. This newer VPN software seems to have been built with usability firmly in mind. So whether you are a seasoned VPN user or a complete novice, you will have no trouble using iProVPN.
Creating an account takes minutes, allowing you to use the software with minimum fuss. You are given a slick UI with a menu left sidebar and the main window once you have a paid account (sadly, iProVPN does not have a free version). The Dashboard is your central hub, where you can toggle the VPN on and off.
The locations section allows you to pick a server from over 20 countries. Some locations have multiple servers in the same region, such as the United States and the United Kingdom. Once you connect to a location, the VPN will channel your traffic through your chosen remote server.
Found in these Categories
Best For
A VPN that has several privacy and security features at its core.
StartUps

Freelancers

Small Business

Medium Business

Large Enterprise

Non-profit Organization

Personal
Cloud, SaaS, Web-Based

Mobile - Android

Mobile - iPhone

Mobile - iPad

Desktop - Mac

Desktop - Windows

Desktop - Linux

Desktop - Chromebook

On-Premise - Windows

On-Premise - Linux
Company Name

iProVPN

Located In

United States

Website

iprovpn.com
Starting from:
$10 /month
Pricing Model: Subscription
Pricing Details:
There is no free version of iProVPN. Instead, they offer a free 7-Day Trial for the One Year plan. The pricing options are - a 1-Month plan, 1-Year plan, and 3-Year plan.
See iProVPN Coupons
Access Controls/Permissions

Anonymous Browsing

Cross-Platform App Availability

DNS Leak Protection

Integrated Kill Switch

Multi-language

Multi-protocol

Peer-to-Peer

Remote Access Control

No Log Policy

Router Support
Additional Features
Ad Blocker

Malware Protection

AES 256-bit

Global VPN Servers

Unlimited Bandwidth

Unlimited Server Switching

Split Tunneling

Smart Connect

P2P Optimization

Fast Buffering

Torrent Freely

Prevent Bandwidth Throttling
The VPN software market has many options, including well-established solutions that have been available for years. So, when a new option like iProVPN becomes available, we want to see if it can match up to its more illustrious rivals. Our iProVPN review found this new VPN software provides innovative security, standout performance, and an affordable price.
iProVPN – VPN Software
It is not easy to select a VPN. There are many to choose from; deciding which VPN software to choose and avoid is challenging. However, that is where our reviews can help, connecting you with the best VPN tools and helping you avoid the less available services. And that brings us to iProVPN, an affordable VPN new on the market, having launched in 2020.
So, is this a VPN platform you should consider or one you should dismiss? The following iProVPN review will answer those questions and provide an in-depth look at the security, technology, connections, servers, and more of iProVPN.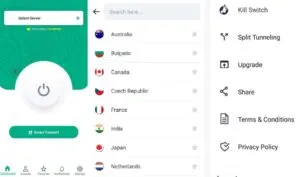 We mostly agree on the excellent reception because this VPN software does a lot correctly. However, some bugs need to be ironed out, which is perhaps no surprise, considering this is new software.
What is a VPN?
If you are new to VPNs and are wondering what they do and why they are helpful, let's take a close look. A virtual private network (VPN) provides an encrypted channel between your device/network and a remote server operated by a VPN provider. All internet traffic travels through the channel when the VPN is on.
This is important because it means your existing network is invisible, and you connect anonymously. All your data is secure and cannot be seen by any third party. This includes hiding your IP address so no one knows your location or identity.
VPN software offers value across a wide range of scenarios. Perhaps the most significant benefit of a service like iProVPN is its ability to keep you secure when connecting to an unsecured network. For example, public Wi-Fi networks are available at airports or coffee shops. These open networks are soft targets for threat actors who can easily infiltrate devices through an unsecured connection.
Why do you need one?
A VPN can prevent anyone from spying on your traffic and protect your device and software from attack. That's great, and people cannot underestimate a VPN's usefulness as a security tool. However, we guess most people coming to VPN software have a different purpose in mind.
Yes, we are talking about using the VPN's ability to hide your location to access streaming services in other countries. Netflix is a notable example because the platform has different content across different regions and countries. So, for example, "Movie A" will be available in the United States but not in Australia.
By using a VPN, you can access Netflix and other streaming services in any country. However, it is worth noting some VPN software does a better job of masking your location than others. In the following iProVPN review, we will examine how it holds up for connecting to Netflix.
iProVPN Features Detailed
Because iProVPN is a full VPN software, it has many features that help you connect freely and securely to servers worldwide. Below we will cover the most important features and abilities of iProVPN:
We were happy to see iProVPN has a severe attitude towards privacy. While this should be normal for any VPN software, you would be surprised how many have security holes. Not iProVPN, which has one of the complete no-logs policies we have seen. Notably, the service is very clear about what data it does collect and what information is kept private. In terms of data, iProVPN does not store; the following are included:
DNS requests
IP addresses
Connection duration
Connection timestamps
Looking at what the platform does collect, iProVPN stores some information regarding your account. That means your payment details and email address.
Providing security to users is at the core of any VPN software, and iProVPN is no different. While this is not a complete security suite we have seen, it is very capable of keeping you safe across a broad range of scenarios. For example, when acceding public Wi-Fi, tapping into a remote network, or joining an unknown service.
Encryption underpins the secure connection iProVPN provides, with enterprise-grade AES 256-bit encryption. This is the best-of-the-best encryption technology used by banks and is virtually uncrackable. There are five tunneling options available, so you can customize the security of your connection depending on what you need:
OpenVPN (TCP/UDP)
IKEv2
L2TP
PPTP
For some reason, the IKEv2 protocol did not work on my devices. That is a little frustrating because this is the default protocol on iProVPN. I am not sure why this was happening but switch to another if you have the same issue.
Elsewhere in the security features on iProVPN, we were eager to see how the software stacks up to rivals regarding data leakage. As noted above, this VPN software comes with DNS leak protection and an automatic kill switch.
Running on a server in the US, we found zero IP address leaks were coming from iProVPN (testing on IPLeak.Net). In other words, you do not worry about your privacy at all when using iProVPN.
While security is paramount when using VPN software, you also need good performance and quick network connections. It is no point in having a security system if the connection is slow or keeps dropping. This is fundamental for VPN services that connect to servers far away from the user's device.
Interestingly, iProVPN does very well in this aspect. It is one of the quicker VPN software solutions we have tested, especially on local servers. So users who tap into a server in the same country will enjoy immediate VPN benefits on networks.
When we went to servers in other countries and continents, the dips in performance were more noticeable. Of course, it is still possible to do all the tasks you usually do, including streaming, but it is best to minimize system resources as best as possible.
And that leads conveniently to streaming. Because iProVPN has stellar anti-data leak features, you rarely need to worry about a streaming service discovering where you are. Some VPN services require you to jump around between servers, while streaming apps will often block users even with a VPN.
A few top-tier VPN software solutions avoid these issues, and we can now put iProVPN among them. Like NordVPN or ExpressVPN, if you stream on Netflix, Disney+, Hulu, or other apps, iProVPN is an excellent choice.
This is an area where iProVPN cannot match some of its more established rivals. It is not bad by any means but also not impressive. You can have up to 10 connections simultaneously, which is not enough. However, you can pay extra for more connections (not ideal, but at least the option is available).
In terms of servers, you will find 30 available servers located across 20 countries. That is solid but not spectacular. You will not have as many servers as other VPN software solutions in busy countries like the US or UK.
Alternatives to iProVPN
The VPN software market is very compatible, with literally dozens of top solutions available. These range from free VPNs to paid software. Some free VPN tools we recommend include Hotspot Shield and ProtonVPN. However, because iProVPN is a paid service, we think comparing it to free software is unfair. Here are some of its alternatives:
NordVPN
ExpressVPN
OpenVPN
iProVPN Review Conclusions
Considering iProVPN is a newcomer to the VPN software market, it has immediately positioned itself as an excellent option. It has rich security measures in place and provides smooth performance even on distant remote services. While it may not be as robust as NordVPN or ExpressVPN, the overall package of iProVPN and its affordable price make it a VPN we recommend.
Is iProVPN Trustworthy?
Yes, iProVPN is one of the safest options you can choose if you want to use a virtual private network. It has the best encryption and security measures, meaning you can connect to open Wi-Fi networks without worrying about losing data, suffering cyberattacks, or having third parties spy on you.