Hotspot Shield Reviews
& Product Details
What is Hotspot Shield VPN?
Hotspot Shield VPN offers high-quality services and offers an impressive number of benefits for regular users. For example, it is useful for unblocking Netflix or other streaming platforms and supports torrenting. In addition, users can take advantage of the free version of the VPN and install it on Windows, macOS, Android, and iOS devices or even get a dedicated browser extension.
Additionally, this VPN uses Catapult Hydra's proprietary protocol to achieve the best performance results. In 2019, the company even won Ookla's Speed test badge, indicating that Hotspot Shield VPN can deliver speed to its users.
In addition to the high quality of basic VPN services, it should be remembered that users also get other useful benefits. For example, the premium subscription plan includes 1Password manager, Aura antivirus, and a scam call blocker for maximum PC security.
Found in these Categories
Best For
Stay private and access worldwide content.
StartUps

Freelancers

Small Business

Medium Business

Large Enterprise

Non-profit Organization

Personal
Cloud, SaaS, Web-Based

Mobile - Android

Mobile - iPhone

Mobile - iPad

Desktop - Mac

Desktop - Windows

Desktop - Linux

Desktop - Chromebook

On-Premise - Windows

On-Premise - Linux
Company Name

Pango Group

Located In

United States

Website

pango.co
Starting from:
$12.99 /month
Pricing Model: Subscription
Pricing Details:
Three Hotshop Shield VPN Pricing plans are available: Basic, Premium, and Premium Family. The Free plan gives you access to most of the features available. However, it is limited to one user and one device. A 7-Day free trial is also available, with no credit card required. Also, all purchases are protected by the 45-day money-back guarantee.
See Hotspot Shield Coupons
Anonymous Browsing

Cross-Platform App Availability

DNS Leak Protection

Integrated Kill Switch

Remote Access Control

Router Support

No Log Policy

Static IP

Web Inspection
Additional Features
Patented Hydra Protocol

Unlimited Bandwidth

24/7 Live Tech Support
When you hear the word VPN, what is the first thing that comes to mind? Security? Performance? Support? Choosing the right VPN for yourself or your organization can be challenging. One of the main reasons is that so many of them are available on the market, each designed to cater to different needs. It's only by looking under the hood that the differences become apparent. In this Hotspot Shield review, we hope to accomplish that goal. We'll cover all the important aspects of the service – its features, performance, pricing, customer support, and apps. In addition, we'll examine how it compares to its competitors, so without further ado, let's begin.
Hotspot Shield VPN
Hotspot Shield is a popular VPN service with over 650 million users and multiple servers in over 110 countries. In addition, the website claims to be the #1 earning app for productivity in the US App Store. (When we checked the App Store source, it is listed as number 8, which is still an impressive ranking.)
Is Hotspot Shield as fast as the seller claims? 
We put  VPN through our toughest tests to see how the service performs in each category. We found that Hotspot Shield provided fast speeds and unblocked the most popular streaming sites. Its other main strengths include intuitive, dedicated apps, P2P support, and responsive 24/7 live chat support. Hotspot Shield offers two VPN services: a free VPN and a premium VPN, being one of the largest VPN services in the world, boasting over 650 million users.
Hotspot Shield Free has a daily data limit of 500MB and is an ad-sponsored VPN. With a paid version, you can remove ads and get unlimited bandwidth, access to servers in eighty countries, and a range of bundled security features.
During this review, we put each free and paid VPN through our strict testing method to visualize how they performed for speed, security, streaming, and more. For example, Hotspot Shield has the quickest connection speeds we've seen because of Hydra VPN, its proprietary encryption protocol. Also, all the apps are easy and allow P2P and torrenting traffic on all servers.
How private is Hotspot Shield? 
Unlike most other VPNs, Hotspot Shield uses its protocol, called Catapult Hydra. Although Hotspot Shield now also offers IKEv2 support, you won't be able to use OpenVPN on anything other than routers. While the changes in Catapult Hydra are likely on the performance side, some users may prefer the inherent security of an open-source platform available for review. On the other hand, the Catapult Hydra protocol is used by Bitdefender, McAfee, Telefonica, and many other reputable brands, which goes a long way in proving its reputation in the cybersecurity community.
In addition to the protocols themselves, Hotspot Shield offers additional security through its other features. The automatic kill switch worked consistently throughout our tests, ensuring our IP address was not reachable in the event of a VPN failure. Even stopping local client TCP connections was not enough to bypass the kill switch or cause other problems. Another plus is that Hotspot Shield didn't leak our IP address when changing location within the app – an extremely common issue.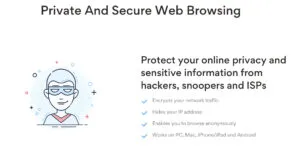 How to set up Hotspot Shield VPN? 
Installing Hotspot Shield on your device is as simple as downloading the VPN software through the Hotspot Shield website or an official app store. Then, follow the installation instructions (easy to follow) and log in with your email and password. It's that easy. All in all, Hotspot Shield has created a great user experience with its native apps. However, one of the main problems is the lack of advanced settings, especially in non-Windows versions. For example, macOS users will have only the option of enabling push notifications and auto-connect.
Details of Hotspot Shield VPN Features 
The list of features that makes Hotspot Shield VPN one of the excellent software available in the market are listed down below:
Privacy Policies
To learn about a VPN's security, it is usually necessary to examine its protocol support, encryption, and authentication features. Although it can be difficult, seeing that a service supports a secure protocol like OpenVPN may be reassuring. The services from Hotspot Shield are more difficult to evaluate because, although they now support the standard IKEv2 protocol, they are mainly based on their proprietary Catapult Hydra technology. Despite what some may think, this is not a serious problem. With Catapult Hydra, performance is prioritized, and all encryption aspects follow the same standards.
Data protection is not just about simple formalities. The client implementation is also important, especially when blocking DNS and WebRTC leaks that could reveal the true identity. Fortunately, testing Hotspot Shield's clients and browser extensions in IPLeak and DNSLeakTest did not reveal any issues, and the service kept us safe from snoopers at all times.
Server and Server Locations
Virtual servers, which are software-defined servers, are used by many VPN services. You could host multiple virtual servers on a single machine. On the other hand, a virtual location is a server configured to appear in a location other than its physical location. Neither is inherently problematic, but they prefer to be upfront about their infrastructure and location. If your data is routed through a specific country, it may be subject to its laws or surveillance regulations.
Hotspot Shield tells me that it is based on hardware servers only. That said, it was a virtual place and said that only 90% of its fleet was physically isolated where it seemed to be. Hotspot Shield VPN has been white-labeled in the past, so it's not surprising that it shares storage space with sister companies. The company measures to protect its infrastructure but does not own all its servers, which is not uncommon.
Uninterrupted Performance
We measured Hotspot Shield's performance when connected to servers in countries worldwide. So if you want to stream video content from another country, Hotspot Shield's connection speeds will easily get the job done. This impressive performance is attributed to the company's proprietary connection protocol, Hydra VPN. According to this technology, other encryption protocols, such as OpenVPN, have latency issues. You won't automatically connect to the closest or fastest VPN server when launching Hotspot Shield. Always choose a US server. We recommend choosing a server closer to your physical location for the best speeds.
Streaming Services
When you use a VPN, you can bypass all kinds of website restrictions, including content blocks on streaming websites in certain countries and country-specific blocks in places such as China. Measuring a VPN's unblocking abilities is difficult as many factors are involved. Still, we tried to estimate ​​its effectiveness by testing how the service compares with BBC iPlayer, Netflix, Amazon Prime Video, and Disney Plus works. Hotspot Shield offers specialized streaming servers, which should make this easier (so you don't have to try five different US servers to find one that will serve you  Netflix). Still, we test each service with three separate logins and IP addresses to confirm that this works reliably.
The BBC iPlayer uses technology to detect and block many VPNs, but Hotspot Shield got around this for our test logins, allowing us to stream all needed content. Unfortunately, Netflix is one of the most difficult streaming sites to access via VPN, and Hotspot Shield appears to have gone too far. As a result, we could not access US Netflix from any of our test locations. However, there was better news in our last two tests, as Hotspot Shield gave us Disney Plus and Prime Video access.
Browser Extensions
Hotspot Shield provides browser proxy extensions for Google Chrome and Mozilla Firefox users. These extensions can spoof your location, block ads, cookies, and trackers, and protect you from malware. They also include Auto-Protect and Bypass lists, which tell Hotspot Shield to turn on or off automatically when you try to access certain websites.
These two features are useful for websites that don't work with a VPN or services that need to see your real location. However, these features are quite difficult to find – you must click on "browser settings" in the extension. The main settings menu opens a navigation tab. There is also a WebRTC blocking feature to prevent unwanted IP address leaks, which is disabled by default on both extensions. In addition, the Firefox plugin filters WebRTC requests even when the function is activated.
Application Support
Moreover, Hotspot Shield is compatible with most major platforms and devices. With the paid plan, you can simultaneously use the VPN on up to five devices. This is an industry-standard device limit. However, we recently reviewed IPVanish and are now running an unlimited device limit. This is the full list of native Hotspot Shield apps:
Microsoft Windows
Apple macOS
iOS
Google Android
Linux
Amazon Fire TV Stick
Android TV
Mobile App
The Hotspot Shield Android app has a clean and simple interface, similar to desktop apps. Once you launch the app and click connect, your virtual location will appear below. The Settings menu also follows a similar pattern to the Windows client, with settings for automatically connecting when your device turns on or when you connect to certain types of networks. There is no auto-off setting, but you can turn off the VPN when your device is idle, which can help conserve battery life.
Likewise, the iOS app is just as easy as the other clients. It shows a large connect button, a list of locations, and very few advanced settings. The iOS app looks great and is easy to use but has no configuration. It's pretty common for iOS VPN apps to fail, but Hotspot Shield is particularly easy.
Customer Support
Hotspot Shield's 24/7 live chat support is by far the best way to resolve your questions and issues. However, before using live chat, you must sign up for a Hotspot Shield Elite account. This makes asking simple questions before purchasing a subscription a little more difficult than expected. There's email support, but it's fairly limited, and even then, some requests are limited to premium subscribers.
Hotspot Shield Review Conclusions
Overall, we liked the speed of Hotspot Shield and that there's a free option that's ad-only on Android. It's fast, works smoothly, and allows us to watch movies from Netflix and torrent. However, we didn't like the privacy policy, especially the collected amount. It also didn't help that the company is based in the US and governed by the laws of the International Surveillance Alliance. We'll break it down further.
Hotspot Shield could be the VPN for you if you want to:
Access Netflix: Hotspot Shield works with Netflix and other video streaming services.
Speed: Hotspot Shield worked at lightning speed on Mac and Windows computers.
Highly Rated App – Android and iOS users rated the Hotspot Shield app four stars.
So start with the free version today!
Hotspot Shield Related Insights