AVG Ultimate Reviews
& Product Details
What is AVG Ultimate antivirus?
AVG Ultimate is one of the best security suites offered by AVG. It offers protection for up to 10 devices where you can access four key products, including AVG Internet Security, AVG Secure VPN software, AVG TuneUp, and AVG AntiTrack. With the bundle, you get complete protection from malware, ransomware, and other computer threats, including zero-day attacks. The inclusion of the VPN and enhanced firewall further improves how you are protected. Additionally, you also get a network inspector and webcam protection. With AVG Ultimate, you can provide ultimate security for protecting multiple devices at your home.
Found in these Categories
Best For
Best-in-class antivirus, VPN, tune-up, and anti-track tools.
StartUps

Freelancers

Small Business

Medium Business

Large Enterprise

Non-profit Organization

Personal
Cloud, SaaS, Web-Based

Mobile - Android

Mobile - iPhone

Mobile - iPad

Desktop - Mac

Desktop - Windows

Desktop - Linux

Desktop - Chromebook

On-Premise - Windows

On-Premise - Linux
Company Name

Avast

Located In

Czech Republic

Website

avast.com
Starting from:
$6.67 /month
Pricing Model: Subscription
Pricing Details:
AVG Ultimate doesn't offer a Free Trial. However, you can try all premium products within AVG Ultimate with a free trial: 30-day AVG Internet Security Free Trial, 60-day Secure VPN Trial, and 7-day AVG TuneUp Free Trial. AVG Ultimate pricing starts at $6.67 per month for the first year. Afterward, it costs $10.83 per month. It is available for Windows, Mac, iOS, and Android. They also offer a 30-day money-back guarantee.
See AVG Ultimate Coupons
Automatic Updates

Automated Remediation

Backups

Firewall

Incident Reports

Malware Detection

Risk Alerts

Threat Response

VPN

Web Control
Additional Features
Battery Profiles

Device Lock

Startup Optimizer

Payment Protection

Software Updater

Smart Photo Cleaner

Browser & Disk Cleaner

Sensitive Data Shield

Anti-Theft

Automatic Maintenance
Is it necessary to use antivirus software?
It's 2022, and you may be thinking, do you need antivirus software? After all, your modern operating system already comes with the latest protection, such as Firewall and malware protection. However, they provide basic protection but are insufficient to give you complete protection. That's particularly true when you have multiple devices to project at your home or business.
The consensus on antivirus protection is that you do not need it for iPhones, but if you use it on devices running Androids, macOS, and Windows, you need proper antivirus software such as AVG. Antivirus software such as AVG antivirus gives you overall better protection.
Looking at the statistics, the necessity of antivirus software becomes more clear. According to AV-Test Institute, almost 350K new malware and potentially unwanted applications(PUA ) are released daily!
Antivirus protects you from various threats, including malware, ransomware, and trojan horses. If you want to be completely safe while browsing the internet or opening files downloaded from other sources, an Antivirus solution is necessary.
Antivirus solutions excel at identifying and removing malware using different methods, including Heuristics, malware detection, sandboxing, and machine learning. On top of that, you can also get additional features from almost every Antivirus solution provider out there. These additional features are bundled in other solutions like Internet Security or Ultimate products like AVG antivirus. In addition, you get access to web protection, password managers, firewalls, parental controls, encrypted storage, and much more!
AVG Ultimate Internet Security
AVG is a well-known security entity in the market. It offers antivirus bundling solutions, including AVG Ultimate and Avast One.
AVG Ultimate bundle is one of the finest products from AVG. It includes four core products, but the main product offering the most features is Internet Security. Internet Security comprises the much-necessary AVG antivirus capable of warding off malware or other known malicious threats. You can think of AVG Ultimate as an antivirus with a VPN solution.
The AVG Internet Security also includes excellent ransomware protection, where you can protect your files by adding a locker. On the other hand, the Enhanced Firewall ensures that no malicious actor can connect to your device or steal your data. Of course, you can always configure the Firewall to suit your requirements.
Apart from that, you also get Data Shredder, which lets you get rid of sensitive personal or professional information with no chance of it retrieving even with the best data retrieval software.
AVG Ultimate is a great bundle where you get everything to protect your digital well-being and privacy. Let's explore more in our AVG Ultimate review.
AVG Ultimate doesn't come with its version of antivirus. The AVG Ultimate antivirus is the same as the Free AVG Antivirus solution. It ranks very highly in the independent test lab results.
With AVG Ultimate, you get many other impressive features that work well with AVG antivirus. For example, you also get enhanced Firewall and ransomware protection. In addition, if you are working with sensitive data, you can use AVG SecureVPN. On the other hand, the Data Shredder lets you remove confidential data permanently.
Overall, you get a complete package with AVG Ultimate, including a world-class antivirus solution, enhanced Firewall, secure VPN, and much more!
Advantages of using AVG Ultimate
There are many advantages of using AVG Ultimate. Some of them are as below:
You get a complete package of protection. This means you do not have to go and install other solutions to protect your devices.
You can protect up to 10 devices — giving you peace of mind for all your home devices.
It has world-class AVG antivirus, which scores highly in the independent test results.
AVG Ultimate is priced competitively, which means you get the best value for money if you care for it.
The Data Shredder lets you delete your files without worrying about them being retrieved safely.
You can speed up and optimize your device using AVG TuneUp.
The AVG SecureVPN lets you enjoy the internet without worrying about losing your privacy.
AVG AntiTrack blocks all ad companies and ensures that your data is safe.
You also get AVG for MAC if you want to protect your mac-powered devices.
How to install AVG Ultimate?
If you have made up your mind and want to try AVG Ultimate, then you need to install AVG Ultimate on your machine.
Before you begin the installation process, it is good to look at the AVG Ultimate system requirements. To help you in the process, let's quickly list the requirements below:
PC: Windows 7 or above with 2 GB free space and 1 GB RAM.
Android: Android 6.0 or above.
Mac: macOS 1.12 or above with at least 500 MB of hard disk space.
iOS: Apple iOS 13.0 or above.
If your device meets the basic requirement, you can download and install AVG Ultimate.
The steps are as below:
First, you must visit the official AVG website and choose the version based on your device. For example, if you use Windows, go to the PC tab. Also, you need to buy it before you can download it — as there is no free trial version.
Once downloaded, you must double-click the installer file for the installation to begin. The installer will install AVG Zen.
The AVG Zen will ask you to put your email address and password for your account that has the purchase.
Once logged in, you will see your email address on the top right.
The AVG Zen will automatically identify your subscription, download it, and install it.
If you do not log in to AVG Zen, you must connect to the existing Zen network during activation. If you finish the steps correctly, you should be able to get into the AVG app.
What products does AVG Ultimate include?
AVG Ultimate lets you activate it on ten devices. It also comes with a wide variety of products. However, not every AVG Ultimate version has access to all the products.
The core four products are:
AVG Internet Security: AVG Internet Security is their top-tier product. It offers antivirus protection and lets you safely browse the internet.
AVG Secure VPN: The Secure VPN uses a private line to protect your browsing data.
AVG TuneUp: AVG TuneUp is a performance software. It improves your device performance by removing junk.
AVG AntiTrack: Stop companies from tracking your online activities.
If you are using Windows and MAC, you get access to four products:
AVG Internet Security
TuneUp
AntiTrack
Secure VPN
For Android, you only get access to the following:
Antivirus Pro
Cleaner Pro
Secure VPN
Lastly, iOS only offers access to two products:
AVG Secure VPN
AVG Mobile Security Pro
Is it worth paying for AVG?
AVG offers world-class products and charges a lot compared to other players in the market. Even so, AVG is worth considering the protection it provides. AVG Ultimate, for example, offers access to four feature-rich programs, including AVG Internet Security, AVG AntiTrack, AVG Secure VPN, and AVG AntiTrack. On top of that, you can install it across ten devices. Their first-year plans also offer decent discounts, improving their value for money, especially if you are a new customer.
Details of AVG Ultimate Features
The AVG Ultimate package consists of four core products: AVG Internet Security, AVG Secure VPN, AVG TuneUP, and AVG AntiTrack. Let's go through each of these core products and learn about their features to get a better picture. Let's get started.
AVG Internet Security aims to provide complete protection from online threats with real-time threat detection, remote access shield, ransomware protection, webcam protection, and a powerful firewall. At its core, you also get access to the AVG Antivirus, which offers high-grade protection against malware, viruses, and trojan horses.
With AVG Internet Security, you get the following type of protection:
Computer protection
Web and email protection
Privacy protection
Hacker protection
Payments protection
Here, you also get mobile security, including support for Android and iOS. This means you can protect your portable devices.
The key AVG Internet Security features include:
PUA Scanner: The Potentially Unwanted App scanner ensures that no unwanted apps are stored on your PC and hog resources.
Do not disturb Mode: You can stop app notifications in this mode.
Silent mode: The silent mode signals the AVG software to postpone the updates, scans, and popups.
Email shield: The email shield ensures that you do not download malicious email attachments and become a phishing victim.
Toolbar Remover: Remove any malicious or unwanted toolbar from your browsers.
Wi-Fi Guard: With Wi-Fi Guard, you can protect your computer by allowing the AVG to alert you if you connect to an unsafe Wi-Fi network.
Password Protection: Protect your password from getting leaked by ensuring that blocked apps do not have access to them.
Fake Website Shield: Instantly get alerted if you visit a fake website that can potentially steal your data.
Link Scanner: The Link scanner scans the links and enables you to avoid dangerous websites.
Web Shield: Checks the files you download for malware before downloading them.
Remote Access Shield: You can block unwanted remote connections with a remote access shield.
With the Internet Security package, you get AVG antivirus. It is one of the finest antivirus solutions with excellent protection scores from independent testing platforms. In our AVG antivirus review, we explore AVG Antivirus in-depth.
We discussed Lab Scores, including their high score of 17.5 in 18 in the AV-Test Institute report.
Some of the well-known AVG Antivirus features include:
Real-time updates: AVG Antivirus is constantly updated with new security updates, features, and bug fixes to provide the best possible protection.
Turbo Scan: The Turbo scan reduces the scanning time by skipping well-known safe files.
Simple to use: AVG is simple to use with an excellent user interface
Apart from that, you get seamless scanning options, including Deep Scan, File or Folder scan, Boot-time Scan, USB/DVD Scan, and Performance Scan. In addition, the behavioral shield alerts you if there is any suspicious activity on the PC. It also utilizes AI Detection, which proactively checks malware samples to identify new threats. Additionally, you also get CyberCapture which blocks new threats. Finally, it uploads the threats to the antivirus analysis and provides a great protection layer across all the devices protected by AVG Antivirus.
AVG Internet Security also comes with excellent ransomware protection. Here, you can protect your important files and folders, so they do not get locked out or deleted in case of ransomware protection. To use it, you must go to Computer Protection > Ransomware Protection and select Protect New Folder.
The Network Inspector lets you find any vulnerabilities in your local network based on its type. You can run scans on your networks(private or public), and then the scanner will show if your device has any vulnerabilities. You can think of it as a simple and easy-to-use "Network Security Software."
The enhanced Firewall is another vital component of AVG Internet Security. It protects your network devices from hackers who want to control your computer. The Enhanced Firewall provides:
Leak protection: Ensure that no sensitive information is leaked via the network.
Port Scan Alerts: Alerts you if an open port is accessible to hackers.
ARP Spoofing alerts: The ARP Spoofing alerts warns the user if a hacker is trying to do ARP spoofing.
Apart from that, you can also individually block apps from accessing the internet.
Lastly, you can also see logs and change network settings to put them in the trust zone.
If you are working in an industry with sensitive data, you can find Data Shredder. It lets you permanently delete files that the data recovery software cannot recover. When you delete your data, the operating system only deletes the registry, not the actual data. The data is only overwritten when you copy data to that drive. Even so, there are solutions that are capable of restoring the data.
AVG Data Shredder does multiple passes of randomly generated data to ensure that the data is impossible to recover.
Webcam protection ensures that no unauthorized application can access the webcam. Instead, it ensures that only authorized applications have access to the webcam.
AVG Secure VPN lets you browse your internet securely using a secure private connection. It is included within AVG Ultimate. With Virtual Private Network (VPN), you can secure your complete internet connection with 256-bit AES military-grade strong encryption. The encrypted connection also means that no one can know what you are working on or working with. Everything is encrypted, and you are protected from your ISP, hackers, and the government.
Like other VPNs, AVG Secure VPN can also be used to gain worldwide access to the content of your choice. In addition, you can unblock popular streaming platforms, including Netflix, Amazon Prime, BBC iPlayer, and so on.
The key AVG VPN features include:
Use it seamlessly on up to 10 devices.
Uses 256 bit AES encryption standard
Easy to use
Access to 50+ streaming servers
The AVG Secure VPN also comes with SwitchSecure, which lets you change the location on the fly. It also hides your IP address and lets you browse the internet anonymously.
As for VPN Protocols, it comes with the support of OpenVPN for Android and Windows. However, for iOS and macOS, you need to use the IKEv2 protocol. OpenVPN is an open-source protocol that is better than the IKEv2 protocol regarding security. However, IKEv2 is the way to go if you are looking for speed. On the downside, AVG Secure VPN is yet to support WireGuard — a new and upcoming protocol that is secure and fast!
Currently, AVG Secure VPN has 700 non-virtual locations.
Lastly, should you get AVG Ultimate to unlock Netflix? In other words, is it the "VPN for Netflix"? The answer is no, as there are plenty of other good options if you are looking for a VPN for streaming.
AVG TuneUP focuses on improving your devices by boosting them in different ways. It lets you free up storage by removing junk, keeping programs updated, and boosting battery life. With AVG TuneUP, you can do the following:
Get 24/7 automatic maintenance.
Uninstall software
Speed up Windows using PC tuneup
Remove junk files
Updates your programs automatically
Clean your registry
Many AVG TuneUp features are automated, ensuring that you do not need to do anything once it is activated. The AVG TuneUP also optimizes your PC when it is in sleep mode. You can wake it up instantly and make it ready when needed. Moreover, you can also boost and clean your modern browsers, including MS Edge, Chrome, Firefox, and others.
In the end, you can use AVG TuneUp to make the system fast and remove any related bloatware.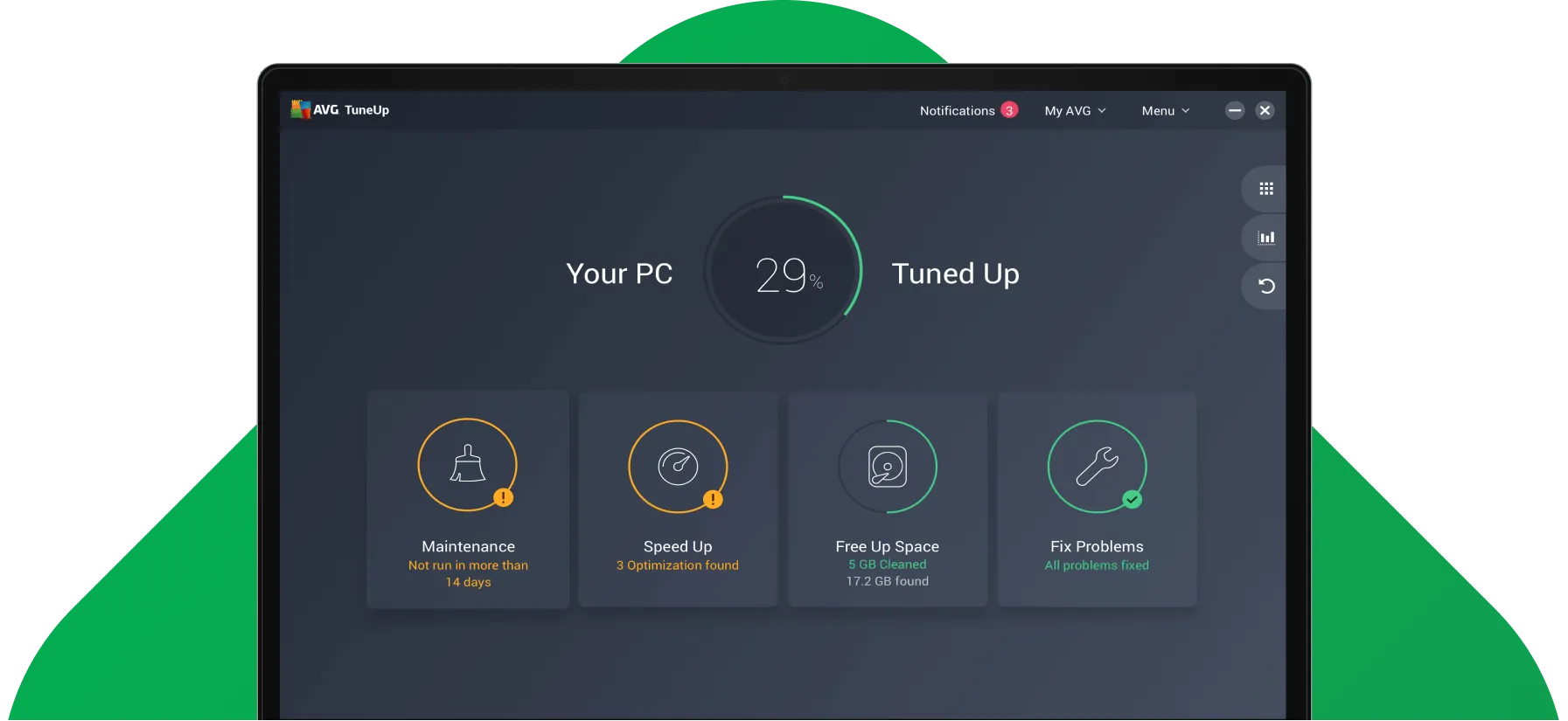 The AVG AntiTrack ensures you can browse the internet without leaving your digital footprint. It protects your privacy and ensures that companies cannot track you. The app shows you how you are tracked and how you are protected.
Other Generalized Features
There are plenty of other amazing AVG Ultimate features. These features include:
Faster Performance: AVG Ultimate makes your system faster with the help of AVG Tuneup. You can work 30% faster with better startups. It also offers cleanup and optimization options.
Powerful 256-bit encryption: The 256-bit encryption via the VPN ensures you are always secured. The powerful military-grade encryption lets you browse the internet anonymously.
Up to 10 devices: You can install and use AVG Ultimate on ten devices simultaneously.
Battery Profiles: If you use a portable device, you can benefit from different battery profiles.
Device Lock: You can do a device lock to protect your device from access by others.
Smart Photo Cleaner: Free up space by removing duplicate photos. You can also use it to remove poor-quality images.
Anti-Theft: You can protect your devices by GPS tracking by enabling anti-theft.
With AVG Ultimate, you also get a mobile package where you can protect your Android device. With it, you can protect your data and provide an anti-theft and powerful antivirus scanner.
Alternatives to AVG Ultimate
AVG Ultimate, as a whole, is an excellent package. It offers you complete Internet Security with top-tier Antivirus solutions bundled with a fast VPN solution, TuneUp Utilities, and AntiTrack. However, it is not the only bundled online protection solution out there. With many big names already working in the industry for the past two decades, you get plenty of options. Let's go through the AVG Ultimate alternatives below.
Panda Dome Premium
Panda Dome Premium is a Panda product that offers advanced antivirus and firewall access. It is available for Windows, Mac, and Android and provides real-time protection. Just like AVG Ultimate, it also includes an unlimited VPN.
You can benefit from it by using it for vital tasks such as banking and securing other personal websites or information. Additionally, you also get parental control for Windows, making it easy to monitor children's activity and restrict them from accessing harmful websites. You also get CleanUp to improve system speed, an Update Manager to update your system instantly, and a strong password generator.
Norton 360
Norton 360 is the latest offering by Norton. It builds upon the other Norton products, including Norton Internet Security and Norton Security. As a package, you get access to many products, including Smart Firewall, PC Cloud Backup, Secure VPN, Password Manager, PC SafeCam, Parental Control, and Antivirus solution.
Norton 360 can also be installed on tablets, laptops, and smartphones. The Norton protection is top-tier and uses multi-layered protection such as Intrusion Prevention systems (IPS), Behavioral Protection, Reputation Protection, Machine Learning, and Power erasers.
Avast Ultimate
Avast Ultimate provides similar features to AVG Ultimate, considering Avast bought AVG in 2017. Here, you get four key products: Avast Premium Security, Avast SecureLine VPN, Avast Cleanup Premium, and Avast AntiTrack. Unlike AVG, they offer the option to buy their Ultimate protection for single or multiple devices. Their package also comes with a 30-day money-back guarantee.
McAfee Total Protection
McAfee Total Protection aims to give its users complete personal and private protection. It includes premium McAfee antivirus and VPN solutions, identity monitoring, and safe browsing solutions. Currently, it is available on four main platforms: Windows, Android, macOS, and iOS, which means you can install it on laptops, tablets, and smartphones.
McAfee Total Protection is also easy to use and provides automated privacy with the help of a VPN. You can purchase licenses for single or multiple devices, with five licenses limited for Secure VPN. Apart from that, you get access to File Shredder, Web protection, and a powerful firewall.
ESET PROTECT Advanced
ESET PROTECT Advanced is an endpoint protection solution that works best against zero-day threats and ransomware. They utilize powerful data security with components such as a management console, file server security, endpoint protection, advanced threat defense, and full disk encryption. The ESET PROTECT Advanced is aimed at businesses with complete end-to-end protection.
AVG Ultimate vs. Norton 360
If you have to choose AVG Ultimate and Norton 360, which one should you choose? Both are excellent bundles and offer tons of features. And, if you have to choose a winner, the choice would be tough.
However, unlike AVG, Norton seems to provide a more polished and high-quality protection plan. In addition, Norton comes with parental control, which can help you fine-tune your family protection. Apart from that, there is not much difference, considering that both provide excellent protection, validated through third-party independent labs.
Choose Norton if you want strong malware protection with a good VPN, webcam protection, and parental control. AVG Ultimate is best picked if you are looking for good protection, password protection, and a data shredder. Also, Norton doesn't offer apps automatic updates and identity theft protection.
AVG Ultimate vs. Avast Ultimate
Before starting the AVG Ultimate vs. Avast Ultimate comparison, it is important to know that Avast has bought AVG and is part of the same corporate structure. However, both are independent products, so that you can buy any of them based on your liking.
In terms of protection, both provide excellent results. For example, in the independent tests of AV-Test, AV-Comparatives, and SE Labs, both AVG and Avast antivirus protection scored equally at Top Product, Advanced+, and AAA, respectively.
How about features?
As for features, Avast lacks payment protection, whereas AVG offers one. However, they have well-known features such as a Startup optimizer, Software updater, Data Shredder, Registry Cleaner, Tuneup utilities, and VPN.
Finally, we have the pricing. Here, you get AVG cheaper compared to Avast. If you are on a tight budget, it is best to go with AVG as it offers similar features to Avast.
AVG Ultimate vs. McAfee Total Protection
Next comes AVG and McAfee. They are two of the best security providers out there. In the case of features, you get more with AVG Ultimate, including VPN, Ransomware protection, and Network Attack Protection. On the other hand, McAfee provides access to features such as Parental Control, Encrypted Storage, and Performance optimization.
McAfee Total Protection is a good pick if you do not require a VPN for privacy. Otherwise, you can go with AVG Ultimate. Pricing-wise, AVG is cheaper.
Antivirus protection is also great for both AVG and McAfee.McAfee scored 98.9 percent, compared to 99.7 for AVG, when analyzing 700 antivirus threats. AV-Comparatives do this test from Feb to May 2020. However, McAfee scored 100 percent on the AV-Test compared to 98.9 percent for AVG.
Overall, you can not go wrong with any of them — both offer almost similar features without a few features here and there.
What to choose between AVG Ultimate and AVG Internet Security?
AVG is well-known for providing value to its consumers. They offer two different bundles for their customers: AVG Ultimate and AVG Internet Security.
As a consumer, you now need to decide which one to pick. Of course, the first thing you need to decide is to know your requirements. So, what are you looking for? Keeping that in mind, let's discuss which one you should pick between AVG Ultimate and AVG Internet Security.
It all starts with AVG Free Antivirus, which offers free protection for those who do not want to invest. It is available for both Windows and macOS. The free Antivirus gives you basic protection against malware, ransomware, and also against phishing sites.
Which one is better?
But, it doesn't offer advanced protection, and you may want to upgrade your protection to get features such as enhanced Firewall, webcam protection, and other advanced features. You need to shift to AVG Internet Security to access them, which provides overall better protection.
It provides advanced protection against data theft and hackers and helps you protect your privacy. It builds on top of the free offering, ensures that you are protected, and lets you optimize your computer for speed. The Internet Security pricing starts at $69.99 per year for one device and $89.99 for ten devices.
Next comes the AVG Ultimate bundle, the best protection you can take when using the internet. In addition to Internet Security, you get AVG TuneUp and AVG SecureVPN. The addition of a VPN means better privacy. AVG TuneUp, on the other hand, lets you optimize your device. AVG Ultimate pricing starts at $4.99 per month for the first year, with $10.67 per month after it.
So, if you require VPN and TuneUp, you may want to go with AVG Ultimate. Otherwise, AVG Internet Security is more than enough.
AVG Ultimate Review Conclusions
AVG Ultimate is a great product by AVG. It solves problems for consumers who want the best protection. The AVG Ultimate bundle does just that and provides access to one of the best Antivirus protection, coupled with an enhanced firewall. On the other hand, the VPN completes the package and ensures that your privacy is protected at all times with military-grade protection. Additionally, with up to 10 devices supported, you are set to protect all of your devices.
Other features such as Data Shredder, Network Inspector, and Webcam Protector provide value and help you further strengthen your security. You are getting great value for the AVG Ultimate bundle, protecting your digital well-being and privacy.
Is AVG antivirus safe?
AVG Antivirus is a well-known entity in the antivirus market. It is also a highly-ranked antivirus solution ranked by independent players. AVG antivirus is completely safe and provides solid protection against malware, spyware, viruses, ransomware, and email phishing threats.
You can get started with AVG Free Antivirus, where you do not have to pay anything. They also offer AVG Internet Security and AVG Ultimate, starting at just $4.99 per month.
Is AVG a good antivirus?
AVG is ranked highly in independent lab tests, including AV-Test, where it scored 6 out of 6.