HubSpot Marketing Hub Reviews
& Product Details
What is HubSpot Marketing Hub?
HubSpot Marketing Hub is a set of marketing tools that allows you to:
generate leads (find potential customers)
automate your marketing (sift through leads without getting bogged down)
do analytics (see what works and why)
The jargon doesn't do justice to how much creative work can be done in marketing. Each audience member is a potential adventurer, idling by in the dreary routine. However, marketing can become a call to adventure, a beacon leading to exciting sights and delightful experiences.
HubSpot Marketing Hub exists as a free version and a paid one. Signing up for the free version is done through a Google login or email address. After the HubSpot login, you will choose a niche, such as aviation or computer games, and a role, such as Growth Marketer. Next, type in the company name and some other details, verify your email address, and you're ready to build your first landing page.
The landing page builder is a drag&drop module-based affair. Various element placeholders are easily added to the work area, with details customizable on the fly. Finish the tutorial, and you'll land on the dashboard. The controls are simple, and it feels like anyone can use the Marketing Hub.
Found in these Categories
Best For
All your marketing tools and data — all under one roof.
StartUps

Freelancers

Small Business

Medium Business

Large Enterprise

Non-profit Organization

Personal
Cloud, SaaS, Web-Based

Mobile - Android

Mobile - iPhone

Mobile - iPad

Desktop - Mac

Desktop - Windows

Desktop - Linux

Desktop - Chromebook

On-Premise - Windows

On-Premise - Linux
Company Name

Hubspot

Located In

United States

Website

hubspot.com
Starting from:
$50 /month
Pricing Model: Subscription
Pricing Details:
Hubspot Marketing Hub pricing has three packages: Starter, Professional, and Enterprise. The pricing starts from $50/month for 1,000 contacts. In addition, you can commit to annual payments and save 10%. Hubspot Free Marketing Hub gives you access to many features, providing website lead capture and tracking for solopreneurs and beginner marketers. Furthermore, HubSpot offers discount pricing for eligible startups and nonprofits through the ​HubSpot for Startups and HubSpot for Nonprofits programs.
See HubSpot Marketing Hub Coupons
AB Testing

Campaign Management

Contact Management

Drag & Drop

Data Import/ Export

Email Marketing

Landing Pages/Web Forms

Lead Management

ROI Tracking

Website Visitors Tracking
Additional Features
AB Testing

Automated Publishing

Campaign Analytics

Campaign Management

Collaboration Tools

Contact Database

Content Management

Conversion Tracking

CRM

Dashboard

Dynamic Content

Event-Triggered Actions

List Management

Lead Nurturing

Lead Qualification

Multi-Account Management

Marketing Automation

Multi-Campaign

Multi-Channel Attribution

Post Scheduling

Multi-Channel Marketing

Reporting/Analytics

ROI Tracking

Search/Filter

Social Marketing

Social Media Integration

Website Analytics

Social Media Monitoring
the They say the definition of marketing is repeating the same thing hoping for a different result. Wait, that's insanity! Marketers employ time-tested marketing strategies, such as outrageous claims and nudity, no matter the costs. Convincing them to try something new, such as HubSpot inbound marketing, takes a lot of effort. So how does HubSpot do it, and are the results comparable? What do HubSpot's marketing tools look like? Read our HubSpot Marketing Hub review and learn about the magic of marketing automation.
HubSpot — digital marketing
We all know about ads. They are on billboards, before movies in the cinema, and even buying products. They aim to catch our attention and make us think about the brand. However, an ad can overdo it to breed resentment and active avoidance. Marketing shouldn't come down to spamming ads. There are countless ways to reach potential customers and groove the relationship before and after purchasing the product or service. All of it, including ads, is called "marketing."
Digital marketing is creating snippets of digital content woven into other digital content. The subtler the weave, the more effective the marketing. If you can notice an ad online, it has less of an impact than the one that worms its way into your life through your peripheral vision.
Finely tuned marketing makes the audience recommend the brand to friends and family, which is the most effective way to grow your business. So how do you finely tune your marketing campaign on a budget? Use HubSpot digital marketing.
What does HubSpot do for marketing?
HubSpot makes it easy for marketers to get involved with digital marketing and try a new marketing strategy. HubSpot's selling point is that you can step away from traditional marketing tactics and find affordable, scalable ways to catch attention and foster goodwill with your audience.
Details of HubSpot Marketing Features
In the dashboard, there are seven categories denoted by dropdown menus. From left to right, they are:
Contacts
Conversations
Marketing
Sales
Service
Automation
Reports
Organize and manage details on people, companies, and your conversation history. Users can add contacts to lists based on their properties and combine them using booleans. For example, you can have a list of contacts with a contract value higher than $10,000 AND who became customers after a specified date, OR where no associated ticket is in the billing category.
Once you set up filters for a list and save it, HubSpot will process it, though this took a lot of time. The listed processing took around a minute, even with two sample contacts. To be fair, the feature was in beta at the moment of testing.
Contact management
The contact management options are rich, layered, and richly layered. It's hard to overstate just how powerful they are. Each contact can have a company, deal, product, attachment, or marketing activity associated with it. You can connect Gmail, Office 365, or other email accounts through IMAP. Google Calendar and Drive are integrated if you connect your Gmail account. Activity history showcases messages and events like "the contact opened your email message."
From here, you can schedule tasks, calls, and meetings. For voice calls, you can record and analyze them, with the option to attach a transcription. In addition, the Conversation Intelligence feature helps managers coach the staff on having meaningful, pleasant conversations with customers.
It just keeps going — the more I explore these options, the more I am impressed with how much you can do. Even the simplest action has been thought through and seamlessly integrated into the marketing hub. I am tempted to recommend the HubSpot Marketing Hub to everyone involved in any business just for the ease of managing conversations and activities. Contacts can be imported and exported as .XSLX and. CSV files or by syncing data with other apps. 
The inbox displays messages from the following channels:
email
live chat
forms
Facebook Messenger
Inbox Settings let you fine-tune who can access which inbox. You can assign bots to chats, including Facebook Messenger. The Channels page overviews all communication streams and shows a fallback email address hosted by HubSpot.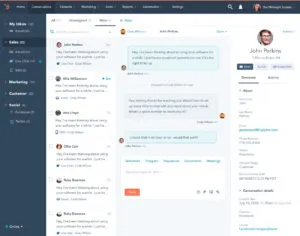 Tie up to two ad accounts with HubSpot to track its matches with expenses, revenue, and visitor conversion. The primary goal of this section is to help you have efficient advertising that won't clash with your branding. Clicking "See a quick demo" walks you through the process, including making HubSpot ads. You can choose target demographics based on location, age, and interests. There's an ROI calculator as well. You have a real-time overview of impressions, clicks, and contacts as the ad campaign run.
Details of people who provide them through the ad are automatically added to your contacts under "leads." If your team members need help converting leads, you can create playbooks, scripts, and how-to sales guides. These playbooks are accessible from the contact page. The supported ad platforms are Facebook, Google Ads, and LinkedIn.
Conceptualize the perfect deal and chart a customer's journey from indifference to enthusiasm and long-term loyalty. Bulk management of deals data is supported, with possible import options covering .CSV and .XSLX files and third-party apps. In addition, leads can be automatically scored and assigned to team members on a rotating basis.
The way deals are managed is similar to Trello's board system. Deals are represented by cards dragged and dropped into different columns representing the deal stage. People can assign each column a 0–100% chance, representing the probability of landing a deal at that stage. These numbers are used to fill out the Deal Forecast.
The Tasks dashboard shows task queues. They are to-do lists, except HubSpot puts some frills on the concept. For example, you can sync Google and Outlook calendars with Tasks to have HubSpot send all the info.
In the Scheduling section, you have the option to offer a calendar to let the contact choose the most appropriate time, which will be automatically added to HubSpot. The Quotes section is where you can create professional offers for clients. Finally, the Payments section syncs up payment gateways. It is supported only for HubSpot users in the US; everyone else can use plugins. You pay 2.9% of any transaction done through a credit or debit card.
The support system is more about supporting the client as he goes through various emotions rather than fixing his problem. But, unfortunately, the HubSpot ticket system lets you do just that.
You can search through tickets by ID, subject, or name. If there are any trends in tickets, you'll spot them right away. In addition, you can create tickets automatically by using certain triggers during enrollment.
Automation Automate follow-up actions, in particular emails. HubSpot marketing automation is fairly simple and consists of sequences and workflows, which are two sides of the same coin. Sequences are a chain of events and responses, such as "recent conversion → send automated email #1, schedule a phone call".
There are placeholder elements in these emails, such as "FILE #1", letting you swap out files according to the audience and still reuse the email templates. Workflows are the same thing but for your HubSpot employees. Automate notifications and tasks such as lead assignments. Those that do not perform as expected are marked "unhealthy" and put in a separate category for you to review.
Analyze sales and sales content, traffic, contacts, and contact behavior. This section aims to provide you with data-based feedback to improve your team steadily. Everything is broken into categories such as "tasks completed" and "deals created." All data can be represented as a chart through the custom report feature — click "Actions" and "Edit in the builder" to make your chart.
A template will load based on the topic you choose. You have icons and images to customize the template on the left. The one you drop in the work area docks to the rest based on the highlighted border. However, there are limits to how crowded a page can be. I made a row of 11 icons but couldn't add the 12th. The landing page builder errored out, stating, "There was an error adding your new module," and asking me to refresh.
The problem appears with how the page builder calculates spacing between elements. There could be a solution in tweaking the default resolution in the page settings.
Up top, you have three other tabs: Settings, Optimize, and Publishing Options. They let you fine-tune your landing page's metadata and tweak the content, so it's more mobile-friendly. Once done, click the top-left "Exit" or the top-right "Publish" button.
You will presumably be spending a lot of time editing your landing pages. There is no dark mode, but you can change the background to black to make it easier for your eyes. Click the space in the work area, click "Background," and type in six zeroes in the "Background color" field.
Moving a row or column of modules or doing edits on several modules at once is impossible. In short, the landing page builder is not designed for experimentation. Instead, make a design in another program and replicate it in HubSpot. You can also change fonts for your texts, as Hubspot supports all Google fonts.
Have you ever wondered why so many websites immediately pop up in a chat window? It turns out the vast majority of people arrive on a website, glance over its content, feel overwhelmed, and bounce off, even if what they're looking for is a click away. The live chat window provides immediate assistance and keeps visitors engaged until they get their bearings.
Pop-up windows, such as those offering to subscribe to a newsletter, serve a similar function, except they can also harvest email addresses. Pinterest took the "sign up to see more of this content" nag pop-up and turned it into a science, boosting the sign-up rate significantly.
Other popular features
Free Meeting Scheduler App
Social Media Tools
Email Tracking Software
Sales Email Automation
Ads Software
Email Marketing Software
Lead Management Software
Pipeline Management Tools
Sales Email Templates
Help Desk Software
Free Online Form Builder
Chatbot Builder
Live Chat Software
Marketing Analytics
Free Landing Page Builder
HubSpot Marketing Integrations
All HubSpot users have an access level to a certain feature. Those with super-admin access to an account can integrate various tools for everyone using that account and set their access levels. These integrations are most commonly done by adding plugins from the App Marketplace. Click the cog in the top right corner of the dashboard and find the "Integrations" heading in the sidebar.
There are five features:
Connected Apps
Private Apps
Ecommerce
API Key
Email service provider
Connected apps
Connected Apps lets you add plugins for third-party services by clicking the "Visit App Marketplace" button. Service owners or HubSpot mostly make the plugins, enhancing compatibility.
Clicking any plugin thumbnail opens the related page that provides more info. Some plugins require paying extra to a third party; the Outlook plugin requires a paid Outlook subscription.
Private apps
Private Apps enable you to make API calls to your HubSpot account to fetch certain data automatically. According to the HubSpot Developers help article, each private app generates an access token, and you can have up to 20 apps tied to your HubSpot account. You can change what each private app can do with the data in the HubSpot account. If you make a public app, you can list it on the App Marketplace.
Hubspot limits the number of API calls you can make per second and per day by your pricing plan. The API add-on goes up to 1,000,000 per account per day. Finally, the tool keeps all API calls on record for 30 days.
Ecommerce is HubSpot's interface for your online store. The benefit is that you can keep an eye on your online store and follow up with your customers without leaving HubSpot. This feature uses Ecommerce Bridge, a data-syncing API.
API Key displays your current HubSpot API key and gives you two options — rotate or deactivate it.
Integration with MailChimp
The email service provider supports only MailChimp. The idea is that HubSpot will automatically add contacts who enter their information in form fields to MailChimp. In addition, MailChimp contact activities will appear in HubSpot under certain conditions.
Salesforce
Salesforce integration is another nifty booster of HubSpot's marketing prowess. The connector package joins HubSpot with any Salesforce edition that has API access. This includes Salesforce Government Cloud but excludes Salesforce Group Edition.
Multiple HubSpot accounts can tie in with a single Salesforce environment for some connector versions. Read the fine print before connecting your Salesforce and HubSpot accounts. However, due to differing property tags, some contacts and their properties may not merge correctly.
Slack
Slack integration is there as well, letting you receive notifications to and respond from your Slack channel. In the HubSpot dashboard, click "Conversations," click "Inbox settings," and click "Channels." Then, scroll down and click "Connect Slack."
Zoom
People can integrate zoom to hold video conferences, add Zoom links to scheduling pages, add workflow users to a webinar, and review Zoom cloud conversations through HubSpot contact timelines. However, only one Zoom account can tie in with a HubSpot account. This favors corporate Zoom accounts since they can host multiple users. Finally, HubSpot and Zoom email addresses must match for the integration to work.
Zapier
Zapier is a middleman for HubSpot and over 1,400 other apps, acting when triggered. HubSpot will always work with Zapier, but some Zaps may require a paid Zapier subscription. Also, you can integrate your call provider with HubSpot.
HubSpot Marketing Review Conclusions
Successful marketers always stay the course, but they might be tempted to change it for HubSpot Marketing Hub. It is by far the most comprehensive marketing platform I've seen, covering aspects of marketing from landing pages to email marketing. All tools on the platform are optimized for efficiency and have a plethora of options for fine-tuning. In conclusion, much effort and love went into HubSpot, and therein lies the rub.
There is no way a typical marketer could hack his way through the jungle of HubSpot tools and options. It would take a gaggle of them to set up inbound marketing, let alone a simple plugin, and that's if everything works as expected. However, if something breaks, the entire operation grinds to a halt.
That's the nature of digital platforms — they need a lot of dedication and know-how to operate and maintain, and that's when you have 24/7 support. In conclusion, this also implies HubSpot Marketing Hub is best suited for enterprises and corporations, not single users.
If you become a full-time HubSpot user, expect to learn and maintain a lot. If you are eager to learn how platforms work and why they break, you'll get a lot of mileage from HubSpot. Otherwise, find something less involved or hire a maintenance team.