Bill.com Reviews
& Product Details
What is Bill.com?
Bill.com is a comprehensive financial operations platform designed to streamline and automate various financial tasks for businesses. It offers a suite of solutions, including Accounts Payable (AP) and Accounts Receivable (AR) automation, Spend & Expense management, and a dedicated platform for accounting firms.
The AP automation feature allows businesses to save time on payments, streamline the entire AP process, and easily sync with accounting software.
The Spend & Expense feature provides access to credit lines and helps optimize cash flow through spend control. Additionally, Bill.com enables businesses to create professional invoices, receive payments directly to bank accounts, and manage financial operations with simple integration into the tech stack.
The platform also offers a partner program for accountants to streamline clients' financial operations and grow their firms.
With a focus on efficiency, control, and visibility, Bill.com transforms the financial operations of thousands of businesses, offering an integrated approach to managing AP, AR, spend, and expenses.
Found in these Categories
Best For
Financial operations platform for Business.
StartUps

Freelancers

Small Business

Medium Business

Large Enterprise

Non-profit Organization

Personal
Cloud, SaaS, Web-Based

Mobile - Android

Mobile - iPhone

Mobile - iPad

Desktop - Mac

Desktop - Windows

Desktop - Linux

Desktop - Chromebook

On-Premise - Windows

On-Premise - Linux
Company Name

Bill Ltd, Co.

Located In

United States

Website

bill.com
Starting from:
$45 /user/month
Pricing Model: Subscription
Pricing Details:
Bill.com features diverse pricing plans tailored for businesses, accountants, and nonprofits, starting at $45/user/month, with specialized and free options available. The platform imposes transaction fees, including a 2.9% credit card fee. Users can explore its extensive features through a free version and a 30-day trial.
Tax Management

Accounts Receivable

Multi-Currency

Activity Dashboard

ACH Payment Processing

Account Reconciliation

Accounts Payable

Approval Process Control

Billing & Invoicing

Budgeting/Forecasting

Cash Flow Management

Compliance Management

Contact Database

Core Accounting

Electronic Payments

Forecasting

Fraud Detection

Invoice Management

Mobile Access

Online Payments

Purchasing & Receiving

Recurring/Subscription Billing

Self Service Portal

Workflow Management
Additional Features
Billing Portal

Reminders

Accounting

Customizable Invoices

Project Billing

Accounting Integration

PO Reconciliation

For Small Businesses

Electronic Signature

Receivables Ledger

API

Time & Expense Tracking

Overpayment Processing

Invoice Processing

Multiple Payment Options

Mobile App

Projections

Mobile Payments

Invoice History

Client Portal

Status Tracking

Recurring Invoicing

Online Invoicing

Contingency Billing

Third Party Integrations

Credit Card Processing

Partial Payments

General Ledger

Customer Statements

Check Writing

Alerts/Notifications

Vendor Management

Check Processing

Data Import/Export

Revenue Recognition

Fixed Asset Management

Real Time Data

Payment Processing

Access Controls/Permissions

Debit/Credit Card Processing

Recurring Payments

Tax Calculation

Payment Collection

Email Management

PCI Compliance

Email Reminders

Bank Reconciliation

Data Security

Document Management

Cash Management

Financial Reporting

Invoice Creation

Duplicate Payment Alert

Spend Management

Electronic Funds Transfer
Bill.com is a software company based in the United States and is preferred by most of the top 100 accounting companies in the country. The company's mission is to free SMEs from the burden of manual processing.
Bill.com is a cloud-based software that automates accounts payable and accounts receivables processes. However, the company defines it as an intelligent digital business platform that enables easy and efficient collaboration between providers, suppliers, and clients.
With its AI-powered automation system, this solution provides more than just basic AP/AR tools. It streamlines the entire workflow, making it faster and more accurate.
How can Bill com help you?
Are you tired of spending hours on tedious tasks? Bill.com can help you automate those tasks and reduce your time spent on account payables by 50%. Their main goal is to help small and medium-sized businesses save time by providing them with useful tools.
Bill.com integrates with other software like Quickbooks, Xero, and Oracle NetSuite to streamline your workflow. In addition, the Bill.com app for Apple and Android allows you to approve and pay bills on the go.
Read on for our review of Bill.com, including information on setting up the software, its initial features, and monthly costs.
How does Bill.com work?
Bill.com is a user-friendly accounting software that is easy to set up and use. To get started, you just need to register an account on their website, add your company information, and connect your bank account/accounts. Once you've completed these steps, Bill.com automatically integrates with your existing accounting software and registers your transactions on your behalf.
It's a hassle-free way to manage your finances and keep your books up-to-date.
Is Bill.com Safe?
Yes, all bills paid through Bill.com are FDIC-insured. Additionally, the company undergoes regular SOC 1, and Type 2 audits to ensure that their processes maintain industry-controlled criteria for security, confidentiality, and transaction processing integrity.
As your business grows, you may want to separate the accounting and payments sides to protect against fraud, and Bill.com offers this option through its separation of duties feature. This allows you to delegate tasks and increase security while freeing up some of your time.
You can even assign an approval role to a designated person for review before any transactions are made.
Overall, Bill.com provides a secure and reliable platform for all your business's payment needs.
Details of Bill.com Features
Moving on with the Bill.com review to the features section to see what this software can do. As with any review, we advise you to take this with "a grain of salt."
Accounts Payable
If you have experience with accounting software like Xero, NetSuite, etc., you would know that most of them already cover a significant portion of accounts payable. However, with specialized accounts payable software like Bill.com, you can streamline your accounting process and keep track of all your payments without having to enter the data twice.
By integrating Bill.com with your existing accounting software, you can avoid any errors in accounting and keep your bills organized and up-to-date consistently. With its automation and segmentation of payments, you can easily delegate bills to certain parties or automate them completely.
Automating bill payments can save up to 50% of your time and ensure that you never miss paying your bills. However, if you are not fully comfortable with automating the process, you can still enjoy the benefits of being notified when bills are due and setting a level of permissions.
Accounts Receivable
Bill.com takes a comprehensive approach to managing receivables. First, the tool provides a customizable invoicing template to create and personalize invoices directly in the accounts receivable software.
Second, the platform allows you to send and track invoices, including through US post.
Third, you can send payment reminders to customers to ensure timely payments.
Fourth, customers can choose from a variety of payment options, including direct withdrawals from their bank accounts, enabling faster payments.
Finally, Bill.com reconciles your accounting system with the AP/AR software, ensuring seamless integration.
International Payments
Send international payments as easily as you send domestic payments.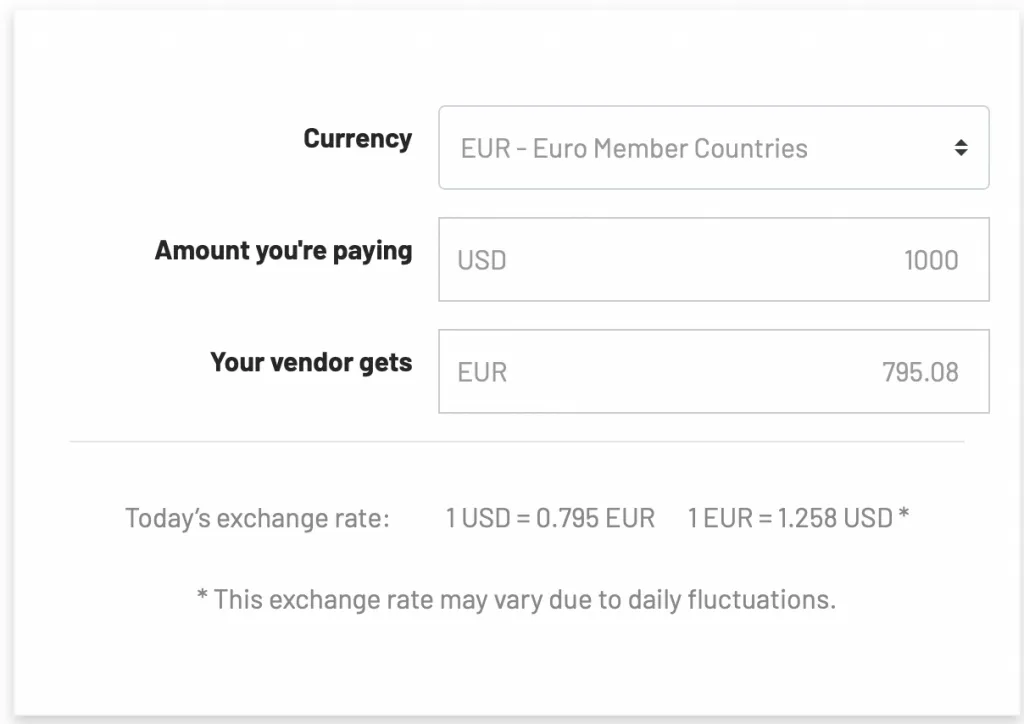 Let's review what Bill.com means by this. Thus, to be more specific, the company offers the option to send as easily as in the domestic market payments through two:
$0 wire transfer fee in local currencies
International transfers in dollars at $9.99 per transfer
Automatic Check Payments
These two features function similarly. However, one of the main advantages of using Bill.com is its ability to automate checks and ACH Payments. You may be surprised to know that checks are still a commonly used payment method in the US, despite the prevalence of electronic payments.
Vendors often prefer checks for one of two reasons: they may prefer paper records, or they wish to avoid credit card fees. For example, your landlord may require check payments, which can be a time-consuming process. Bill.com can simplify this process.
Now, let's take a look at how automated check payments work.
There are multiple ways to accomplish this task. Let's review them one by one. One of the greatest advantages of using Bill.com is that once you have all your data in one place, you can input it manually or import it from your accounting system. For instance, you can take a picture of the bill using the Bill.com app, or if you have a scanned or PDF file, you can drag and drop it into the system.
Once you submit the bill, the software will automatically fill in the information and present you with the option to approve the check as is or make changes before approving.
The software will automatically withdraw the money from your bank account, generate and print the check, put it in the envelope, and mail it for you, simplifying the process.
The software allows you to track the payment. See when it was sent and when it was checked
Finally, after going through all the steps, you will check what happened with the transaction and avoid the mess that spins around check payments.
ACH Payments
ACH is a method of transferring money electronically between banks in the United States. However, it is not as commonly used as other methods because vendors need to share their bank account information to enable it.
Bill.com offers a solution to this issue by facilitating ACH Payments in a similar way that it does with checks. Additionally, you can invite vendors to set up payments, connect with them, and use Bill.com to transfer the money securely and easily.
Keep in mind that, against an extra cost, Bill.com gives you the option to speed up the process.
Same-day – $9.99
Next day – $9.99
2- 5 days – $0.49
1099 Contractor Payments
Bill.com integrates with Tax1099 and optimizes this through it. The software lets you import all the information through CSV. files if you do not use the list.
Customer Service
Although the Bill.com tutorials are helpful and well thought through, some customers may need more than just a video to set up the software. Unfortunately, Bill.com does not offer phone support, which can be frustrating for those who do not have the patience to wait for email replies.
While the tool is simple, we believe that their customer support service could be better. It's important to note that if you have a product that integrates with Bill.com, you may be able to get some support through that integration.
Ultimately, it's the final customer's experience that matters, and phone support should be considered as an option to improve customer satisfaction.
Bill.com App
The software offers the option of approving bills or sending invoices on the go from the Bill.com app. The apps offer the full functionality of the cloud version with the extra mobility associated with the applications. Please leave us your Bill.com reviews and let us know your opinion about the application.
Bill.com Integrations detailed
Bill com comes with two types of integration Auto-sync and Data Integrations.
Automatic Sync Integrations
QuickBooks
Xero
Oracle NetSuit
Sage Intacct
Microsoft Dynamics
Data Integrations
SAP
Sage
Microsoft
FreshBooks
Yardi
Thomson Reuters
Bill.com Review Conclusion
In conclusion, our review of Bill.com has led us to confidently say that it is easy to use. While it may lack customer service, it certainly makes up for it with its automation and time-saving features.
Additionally, Bill.com has an impressive range of integrations that make it accessible to 80% of small and medium-sized businesses. We would love to hear your personal review of Bill.com, including what you love and what you don't.
Bill.com Related Insights