Salesloop Reviews
& Product Details
What is Salesloop.io?
Salesloop is a  lead generation software launched at the beginning of 2020 that helps B2B sellers access contact information. Moreover, the cloud-based software aims to solve lead generation problems by automating processes on LinkedIn for sales and recruiters. The Saas is easy to use and takes excellent care of your LinkedIn profile by limiting your reach daily. It comes with several third-party integrations that will make your work easier and more efficient and the possibility to hire a specialist to design the reach-out campaign together with you.
Found in these Categories
Best For
Helping B2B sellers avoid hours of manual effort.
StartUps

Freelancers

Small Business

Medium Business

Large Enterprise

Non-profit Organization

Personal
Cloud, SaaS, Web-Based

Mobile - Android

Mobile - iPhone

Mobile - iPad

Desktop - Mac

Desktop - Windows

Desktop - Linux

Desktop - Chromebook

On-Premise - Windows

On-Premise - Linux
Company Name

Salesloop

Located In

United States

Website

salesloop.io
Starting from:
$49 /month
Pricing Model: Subscription
Personalization

Messaging

Reporting & Statistics

Prospecting Tools

Import/Export

Customizable Branding

Contact Database

Connections

Browser Extension
Let's begin our Salesloop review and talk about the "new kid in town" in the LinkedIn automation field. More poetically, Salesloop is an advanced LinkedIn cloud-based automation tool that cannot only save you tons of time in manual labor but also connect you more effectively with possible clients.
In our opinion, the Saas product would come in handy to any salesperson that naturally seeks new sales leads daily. Furthermore, as a cloud-based solution, it is easily accessible from anywhere and compatible with any computer.
You pretty much managed to hire the assistance that needs no break and enjoys doing all the manual labor for you. Now, let us continue the Saleloop review and figure out in detail what this software is all about.
Let's take a look together at the Salesloop review, features, pricing, and alternatives and see in-depth what it can do for us.
How does Salesloop work?
First of all, using Salesloop does not require a Premium LinkedIn account. It will work equally well with your free account. Second, the Salesloop automation tool works with LinkedIn Sales Navigator & Recruiter. Now, if you are wondering what Sales Navigator and LinkedIn Recruiter are, the answer is simple. They are premium LinkedIn accounts that offer social selling and recruiting features
Essentially what Salesloop.io  does is use search results from your account to fin leads. However, even if it essentially can do the same with any account, the information you get for the standard LinkedIn account and the Sales Navigator or Recruiter is different. The Navigator and Recruiter licenses allow the user to access more detailed information on their ideal customers. Thus, this will automatically allow you to send more messages and access more profiles a day.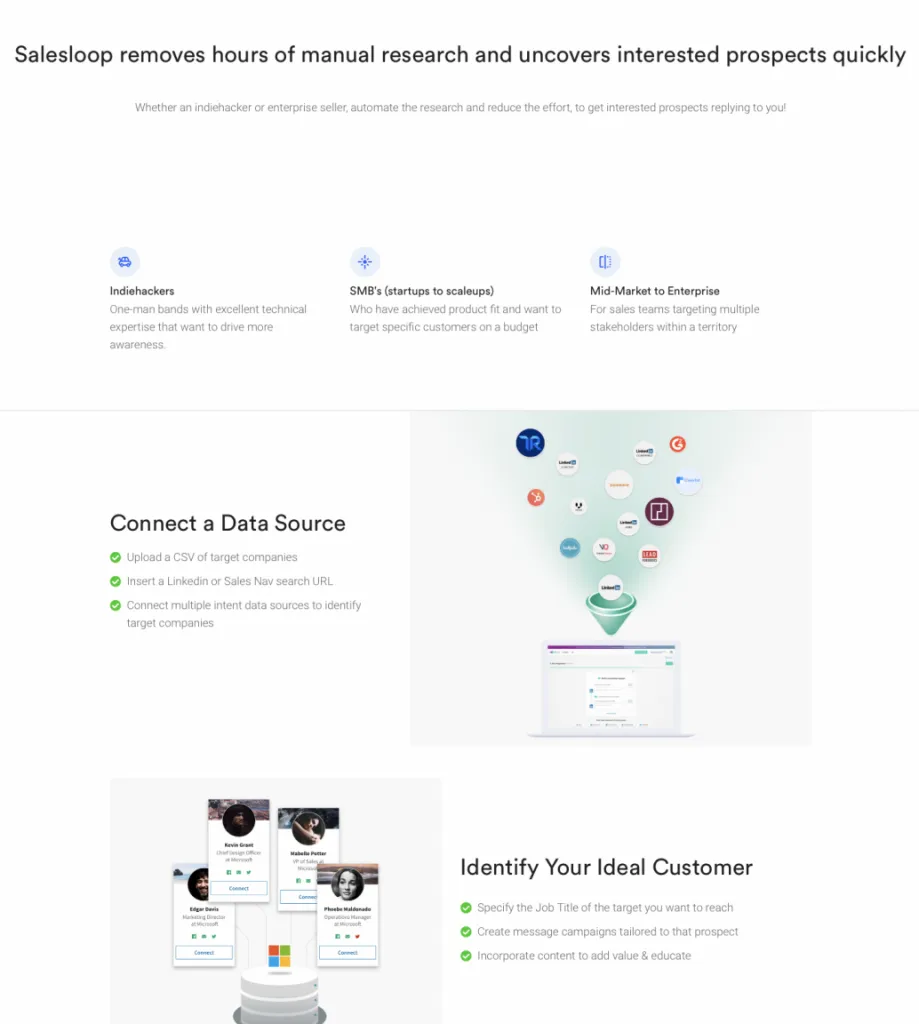 Furthermore, Salesloop.io's features ensure that invites will be ignored for the ones already pending. Thus, you do not have to worry about annoying your potential customers.
The contact will only receive messages for the campaign they were accepted for follow-up messages, even if they were included in multiple ones.
Also, Your connection requests will be sent only to contacts with that you are not connected.
To sum things up, the Salesloop software is an automation tool that will simplify your life, especially if you are working with sales and requiting. The software can be used with a free LinkedIn account, but keep in mind that  LinkedIn and not the tool will limit the number of messages you can send. Thus, if you look for better results, go for a Sales Navigator or Recruiter license on the social media platform.
How do I connect Salesloop to my LinkedIn account?
Well, it's a piece of cake. After you join, you will be brought to a page on Salesloop.io, which alerts you that there is no account connected yet, and that you need to login into an account to create a campaign. Click on the right corner -Connect to your LinkedIn account- Type in your credentials and log in to your LinkedIn account. Then select the country you are most interested in users being connected to. Lastly, click connect, and a validation message will appear on your screen.
Keep in mind that Salesloop cannot be connected to accounts when two-factor authentication or multiple-factor authentication is activated. However, it is only necessary to disable them during the account validation, and you can turn them back on right after.
See, it's not that hard after all.
Is Salesloop.io safe?
Yes. This seems to be one of the main concerns users of lead automation software have.
In terms of security, Salesloop chose to reach for the sky. Thus, they opted for several security measures to keep your account safe. They are easy to spot right from the beginning when you insert your credentials, where it notifies you that Salesloop uses Ips to ensure your account's safety.
Also, as many of us became more concerned with our accounts' security, it is worth underlining that Salesloop never gets access to your password. It comes in an encrypted manner to ensure the user's highest level of protection.
Who is Salesloop?
Salesloop was founded back in 2020 by a team of automation enthusiasts. The cloud-based automation software has the main purpose of saving you time in building leads on LinkedIn.
Moreover, as a new company that is new to the market, Salesloop came with a top-notch IP security system to protect all your LinkedIn account information. The tool also comes with integrations which will come in handy if you are running a B2B business that seeks more leads. The combination between the integrations and Sales loop will let you reach out through LinkedIn to the 98% of the customers that visit your website but never actually contact you.
The lucky company behind the Salesloop cloud-based lead automation tool is Salesloop Ltd. The company was founded in 2020 and had the opportunity to look at all the mistakes their competitors made and turned the tables to its advantage.
So, what does it do? Well, it's simple. The integrations will deliver the contact information of the customers that visited but did not take action. Then with Salesloop's help will give you the best matching accounts according to your previous search pattern on LinkedIn.
So, let's take a closer look at who are the lucky guys behind this software.
What company lies behind the software?
Moving ahead to the big mystery behind the lead generation software. The great company that developed the tool with so much focus on details is Salesloop Ltd. So, let's all give them a round of applause for the great job they did developing this tool.
Above all, if you are looking for more details on the features, integration, pricing plans, and alternatives of the tool, continue reading our Salesloop review.
What are the best Salesloop Features?
Now, let's essentially look at what you can do with the tool and how you can do it. Some of the main features Salesloop offers are:
Connect a Data Source
Identify Your Ideal Customer
Schedule and Launch your Outreach Sequence
Connect a Data Source
A useful feature if you are looking for target leads. Thus, in our opinion, something is meant for salespeople or entrepreneurs looking for new leads.
To achieve the targeted leads or contact you are looking for, Salesloop requires a thing or two from you. First, a CSV upload of the target companies; second, LinkedIn or LinkedIn Sales Navigator search URL.  And last, connect multiple intent data sources with the purpose of correctly identifying your target companies.
Identify Your Ideal Customer
A dream come true for recruiters and not only. On the one hand, the feature helps recruiters reach out to possible candidates, and on the other hand, companies reach individuals through their job titles. Among the general features of reaching your target customers,  it also has an exciting perk of educating and adding extra value to your audience.
Outreach Sequence
Outreach Seq allows you to create messages for your target group across LinkedIn. In addition, it will enable you to create automation and personalize for individual personas. Therefore, the feature will continue sending messages once you create the campaign, and the most fantastic part is that it does not even require you to keep your computer open. So, if you are now wondering how many requests it can send a day, let's take a look.
How many connections can go out per day with Salesloop.io?
It depends on the type of account you have on LinkedIn. For paid versions such as the Sales Navigator and the LinkedIn Premium, it varies from 80 respectively 100/day and with a standard between 40-50 connection requests a day.
What are the best Salesloop Integrations?
Currently, Salesloop does not support integration with any CRM applications but is currently integrating with Zapier. However, let's continue our Salesloop review and take a look at the useful integration it does support.
VisitorQueue
This is a fantastic integration as it helps you quickly identify the companies that visit your website. Now, let's look at Visitor Queue as a self-standing software and then dive deeper into the Saleloop VisitorQueue integration.
What is VisitorQueue?
Visitor Queue is a B2B lead generation software that identifies contact data from the businesses visiting your website. Thus, it gives you the possibility to follow up on the 98% of the users to whom you can rarely reach out.
Now, moving back to the Visitor Queue integration to Salesloop. The integration practically allows companies to automate a LinkedIn Automation Request to the best matching LinkedIn profile. Please find out more about VisitorQueue from its review.
How to integrate VisitorQueue and Salesloop?
All you have to do to enjoy the full benefits of this integration are the following steps:
Connect Visitor Queue to Salesloop

Add the job of your ideal customer.

Salesloop.io will combine all the data provided to send a request to the member you would most likely contact

Automation of this behavior so Salesloop can send automatic requests and follow-up messages.
To sum up, the Salesloop integration into Visitor Queue is undoubtedly a breath of fresh air for sales representatives looking for new hot leads.
Leadfeeder
Pretty much at this point, we concluded that while Salesloop doesn't yet have too many integrations with them being a new cloud-automation service, they have some top-notch ones. So, if you haven't already heard of Leadfeeder, let's take a look at it together.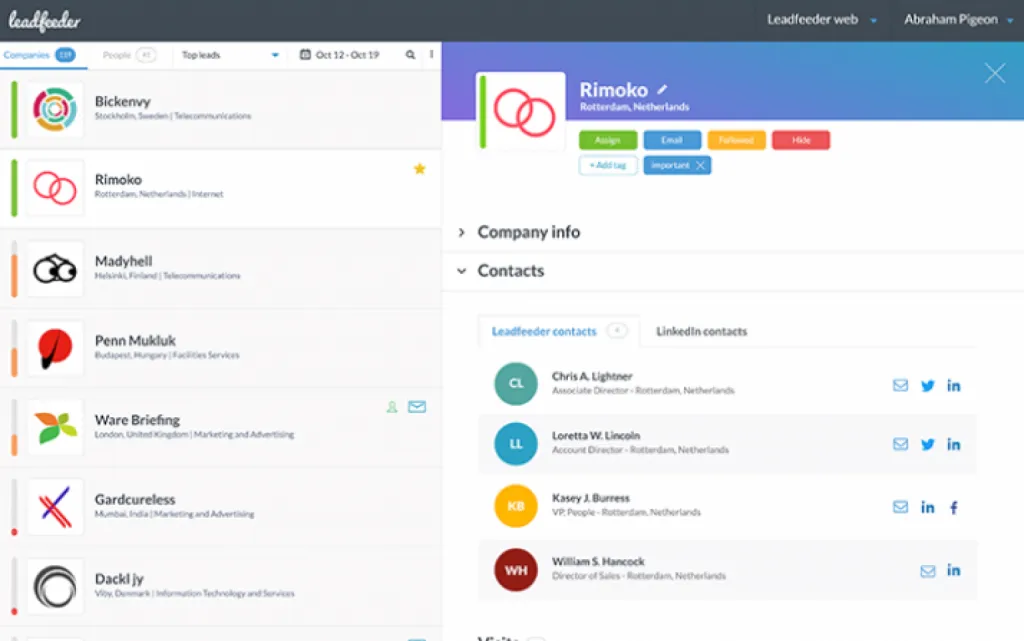 What is Leadfeeder?
It is a system that helps you keep track of the companies visiting your website, how they found you and what they're interested in.
Salesloop.io comes into the picture through the automation process of sending connection requests to ideal buyer personas for the companies that visited your website.
Like all tools on the market these days, Salesloop.io comes with a free trial of 14 days. The trial version offers you a taste of what the automation software can do for you through a long-term license.
Salesloop Review Conclusion
In conclusion, after the Salesloop review, we can say with certitude that we enjoyed the tool, and it has a lot to promise.
First, the software comes with top-notch security to protect your LinkedIn account, which we were happy about as it seems to be the number one concern amongst users. Second, it has a small number of integrations now, but still, we admire their choice and look forward to what is coming. Third, Salesloop comes with an amazing UI/UX that makes it extremely intuitive and easy to use and implement.
Finally, given all the above, the tool seems somewhat pricy, but they compensate with how intuitive and user-friendly the whole setup is.
The cloud-based automation software has impressed us so far with all the things considered, and we are looking forwards to seeing what new features and integration they will come up with in the future.
Salesloop Related Insights