Snov.io Reviews
& Product Details
What is Snov.io?
Snov.io is a platform for lead generation. It allows you to find emails from prospects and manage your email campaigns. Also, this CRM software is designed for those who want to increase their revenue. Snov.io provides all the tools for outreach automation: email verification, drip campaigns, the ability to send emails, and track opens and clicks. In addition, it allows you to find emails by domain, get insights on potential leads, check email addresses using a validator, verify email deliverability, and compare domains of different companies.
As I said above, Snovio offers lead generation for salespeople, prospecting for marketers, and recruitment for HR managers. It lets you turn leads into conversions by finding contact details and verifying them through email automation.
Snovio helps you find emails of LinkedIn contact numbers one at a time or in bulk, check the validity of found email addresses, send bulk emails from your account, and create custom email templates with a merge tag. In addition, this email tracker tool is much cheaper than similar services like Hunter.io or LeadGibbon, making it an excellent option for small businesses that don't have huge marketing budgets.
Snov is a solid investment as it offers many great tools that can help you build your business with little to no effort while saving you a lot of money compared to other Snov alternatives.
This email finder tool consists of 3 main parts: the search tool, the email verifier, and the chrome extension. The search tool allows you to search for email addresses by domain names or full names and job positions in combination with the domain name of a specific company. The email verifier checks your lists of emails to see if they exist and removes non-working ones. And finally, the chrome extension allows you to collect emails directly through your browser while browsing.
Found in these Categories
Best For
Scale your business & engage leads, sales toolbox & CRM platform.
StartUps

Freelancers

Small Business

Medium Business

Large Enterprise

Non-profit Organization

Personal
Cloud, SaaS, Web-Based

Mobile - Android

Mobile - iPhone

Mobile - iPad

Desktop - Mac

Desktop - Windows

Desktop - Linux

Desktop - Chromebook

On-Premise - Windows

On-Premise - Linux
Company Name

Snovio

Located In

Ukraine

Website

snov.io
Starting from:
$30 /month
Pricing Model: Subscription
Pricing Details:
Snov.io has several pricing plans depending on the number of credits and contacts reached.
See Snov.io Coupons
Contact Database

User, Role, and Access Management

Reporting & Statistics

Search

Pipeline Management

Personalization

Connections

Lead Validation

Lead Segmentation

Lead Quality

Lead Builder

Prospecting Tools

Lead Analysis

Import/Export

Messaging

Customizable Branding
Snov.io – lead generation & automation
Next, we will review the product and discuss its benefits in our full Snov.io review. Thus, stay with us. Snovio is a lead generation and email outreach tool that helps you verify and search your prospects' email addresses. It has a chrome extension with an option to use it as a web app. Based on our Snov review, this email tracker tool was created in February 2017. The name of its founder is Oleksii Kratko. They are based in Delaware, USA.
With this CRM software, you can search for emails on LinkedIn, CrunchBase, and more using only your target contact's first and last names. You can also use Domain search, which will help you find all the emails associated with some company's domain. Also, Snov has an email verifier that allows you to clean up the list from bounces and check the quality of the email addresses in your list.
Plus, Snovio enables you to track the results of your campaigns by opening rates or website visits as soon as prospects open your email. You can reach out to them again as soon as they visit your website or click on any link.
How to use Snov
The Snovio extension is an indispensable tool that you can use to generate leads, search email, verify email addresses and enrich your existing contact database through the power of big data.
Here is how to install the Snovio extension:
Go to the Snovio Extension page in Store and click the "Add to Chrome" button
Click on the new icon in the upper right corner of your browser
Click on "Log In." You can register on their website if you don't have an account.

 
After you sign up, you will be able to use different features such as finding emails, sending messages, and managing your lists.
To collect leads for your business. Here are the steps to follow: 
First, sign up with your email.
Next, open the project and click "Find emails."
Find the email addresses of your potential target audience.
Go to the Sent folder and click "Send campaign," or compose a personal email letter and send it to a specific person.
Organize all the responses you get in one Google Sheet.
Send follow-ups to those who didn't reply to your first letter.
Repeat steps 4-6 until you collect enough leads for your business.
Snov.io Detailed Features
Based on our Snov review, here are some of the features of Snovio:
Email search
This feature allows you to search for emails by the person's first name, last name, and domain. In addition, the results will show you each person's social media profiles and email addresses you searched for.
Domain search
This feature enables you to search for emails by domain rather than a person's name. So, for example, you can use this feature to find the contact information of people at companies instead of just one individual.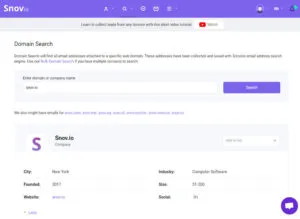 Email verifier
This feature verifies whether an email address is working and removes invalid ones from your database so that you aren't wasting time on non-working emails. In addition, it checks emails as they are uploaded and lets you know if they are valid or not.
Email tracker
If someone hasn't opened your email yet, but you know they've received it, the email tracker can send them a follow-up notification letting them know that you're trying to connect with them. It also gives you information about how many times each email was opened and when it was opened so you can see if any emails weren't even opened.
User-friendly interface
It is extremely easy for new users to start with Snovio and for experienced ones to reach even more automation in their workflows. This is because they have done everything to make using their lead generation tools as easy and intuitive as possible.
Chrome plugin
With this feature, you can quickly collect leads from LinkedIn, Twitter, Facebook, and other websites with the help of the Snovio extension for the Chrome browser.
This Snovio extension allows you to search for emails and phone numbers right in your browser without leaving a webpage you are currently working on or switching back and forth between tabs. In addition, all the domain search results will be displayed right in your Google Spreadsheets or CRM system, so you don't have to copy-paste them manually anymore, which saves a lot of time and effort.
Snov Pricing
Snov's pricing model is subscription-based, and they offer a free plan.  They provide a forever-free, renewable plan with fifty monthly credits and one hundred drip campaign recipients for you to try out all the features and tools. If you buy an annual plan, you will get free for two months. Below are the other pricing plans that Snov has:
Alternatives to Snov.io
There are many Snov alternatives but here are just a few of them:
It combines automated lead generation and email finder with sales prospecting tools for effective outbound selling. It's also known as the best alternative to Dux-Soup and LinkedIn Sales Navigator, which is great for generating leads but not ideal for sending bulk emails.
This is another powerful Snov alternative. It is a tool that finds email addresses by domain or person's name. You can find emails of your target audience, verify them, and send cold emails directly from their platform (up to one thousand emails per month). It has a great user experience and many features to search email and local business details.
This all-in-one lead generation platform for sales reps helps you build your professional lead lists in seconds. In addition, companies can target their products and marketing to their potential clients with this tool, thus generating more sales.
Hunter is one of the most popular tools for finding email addresses online. It offers a free monthly plan to retrieve up to one hundred email addresses.
Snov Review Conclusions
We're not going to beat around the bush. Based on our Snov review, this email accelerator tool is good for finding emails. Its pricing is very affordable, plus it's got some nice features (like an email verifier), and it remembers your searches. On the other hand, we didn't like the interface, which is clunky and slow to use. But if you need something to find emails without spending much money quickly, Snov.io is a good choice!