Linked Helper 2 Reviews
& Product Details
What is Linked Helper 2?
Linked Helper is a dynamic automation tool designed to enhance and streamline activities on LinkedIn. Catering to a diverse range of professionals, it offers specialized functionalities for sellers, marketers, and recruiters.
For sellers, Linked Helper acts as a catalyst, driving lead generation and facilitating relationship-building with potential clients. Marketers benefit from its ability to automate connection requests, messages, and endorsements, ensuring a broader reach and engagement. Recruiters, on the other hand, can leverage the platform to source potential candidates, automate follow-ups, and manage relationships seamlessly.
Beyond these specific roles, Linked Helper's core strength lies in its ability to automate repetitive tasks, manage campaigns, and extract crucial data from LinkedIn, making it an indispensable tool for anyone looking to maximize their LinkedIn experience.
In essence, Linked Helper transforms LinkedIn from a networking platform into a powerful business tool.
Found in these Categories
Best For
LinkedIn lead generation tool businesses use to find clients.
StartUps

Freelancers

Small Business

Medium Business

Large Enterprise

Non-profit Organization

Personal
Cloud, SaaS, Web-Based

Mobile - Android

Mobile - iPhone

Mobile - iPad

Desktop - Mac

Desktop - Windows

Desktop - Linux

Desktop - Chromebook

On-Premise - Windows

On-Premise - Linux
Company Name

Linked Helper LLC

Located In

United States

Website

linkedhelper.com
Starting from:
$15 /month
Pricing Model: Subscription
Pricing Details:
LinkedIn Helper offers a 14-day trial, and then the pricing starts from $15 per month. The paid plans are Standard & Pro. You can also opt for monthly 3-months, six months, or one-year subscriptions. You have included all features for all subscriptions, but you can't use one license on two LinkedIn accounts. Still, you can switch between accounts at any moment.
Contact Database

Import/Export

Lead Quality

Lead Segmentation

Search

Prospecting Tools

Messaging
Additional Features
Custom Campaign Builder

CSV Export

CRM

Bulk Engagement

Third-Party Integrations
Are you searching for a tool designed to automate the LinkedIn process? It becomes pretty hard to maintain connections alive if you have either a personal or business account and many followers. That's why you need Linked Helper 2 – an automation software that does all the tasks in your place. Of course, it's one of the tools. There are so many on the market, but maybe after this review, you'll know which one is your tool.
Linked Helper 2 Review, Features, Pricing, and Alternatives
LinkedIn has become a popular platform in the business industry and beyond. To easily stay connected with your community, automation software can be used. Linked Helper version 2.0 is an independent application, unlike the previous version, which was a Chrome extension. This review will show that it is much simpler to use and offers a wider range of features.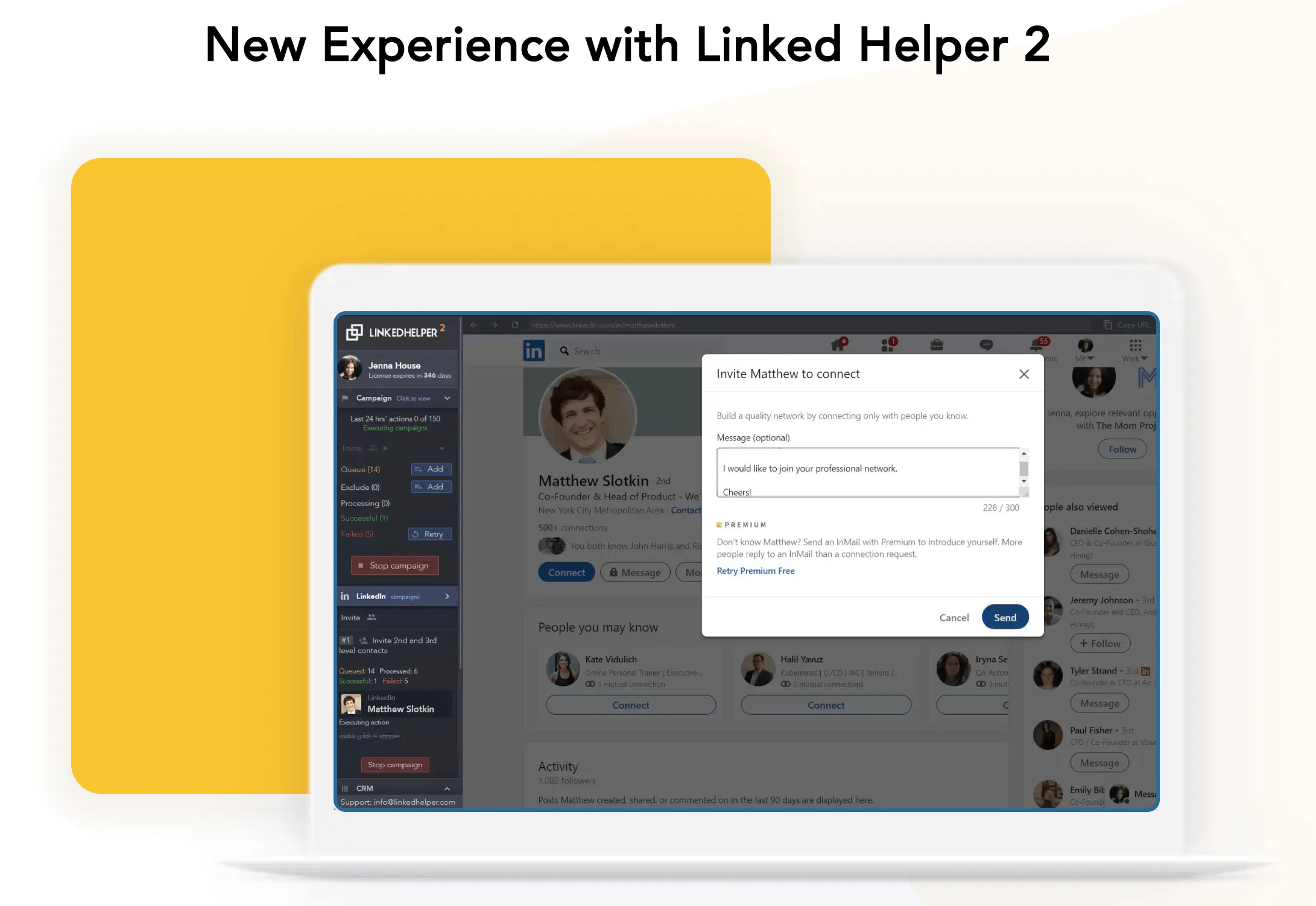 About Linked Helper
Do you want to save time and energy while still growing your LinkedIn connections and achieving your business goals? Look no further than Linked Helper 2. This tool automates your LinkedIn marketing and lead generation process, making it easy to bring in thousands of contacts with just one click.
Plus, you can send them messages automatically and even endorse your contacts. It's perfect for personal and professional use, whether you're an individual, a company, or a recruiter. And the best part? You can use Linked Helper with the free versions of LinkedIn, including Sales Navigator and Recruiter.
With Linked Helper, you can sit back and watch as your business aims are achieved on autopilot.
Auto Invite
Autoresponder
Auto Mailing System
Group Message
Invite 1st Connections
Build a Mailing List
Auto Visiting
Is Linked Helper legal?
There have been some issues surrounding this subject. Using third-party software like Linked Helper to automate LinkedIn tasks violates the LinkedIn user agreement, but it's not illegal. The tool simply automates tasks that can be performed manually, so it's not a scam.
However, using such a tool comes with a certain level of risk. On the other hand, it provides some benefits that you may find useful.
Why do you need automation software?
Just think you have to send 300 messages, and you're looking to expand your community by contacting other people. Can you imagine the amount of time consumed on these manual tasks? Why do this manually when you can automate the process? Automation software is designed to take your repeatable tasks from you and reduce your intervention by doing them in your place. It can accelerate the process of growing your business or taking care of more important tasks.
Details of Linked Helper Features
Now that you've understood that it is a tool working for you and accomplishing your place's tasks with no human implication, let me tell you about some great features that will help you decide if Linked Helper is your tool.
Automation
Built-in CRM
Build smart message chains
LinkedIn lead generation
Now, let's see what each feature can do for your LinkedIn account.
This is its main feature, which also describes what this tool does for you. So, Linked Helper is designed to help you automate many of your tasks, like profile following or unfollowing, to get more engagement. For example, you can automatically visit a selection of LinkedIn profiles one or several times to show your interest and get views in return, compose and send emails to 2nd & 3rd level contacts.
Are you struggling to manage your LinkedIn account and contacts? Linked Helper can make your life easier. With Linked Helper, you can easily remove old contacts to make space for new ones and add or remove tags to keep track of your contacts' status as they progress through your LH campaign. Linked Helper can even respond to those contacts with personalized messages on your behalf.
Linked Helper mimics real human behavior by clicking buttons and typing for you without needing any code input from you. This makes it a great tool for lead generation, as it can automatically collect connections for you.
If you work in HR and need to search for thousands of candidates, Linked Helper can help you save time and energy by working with LinkedIn Recruiter. With Linked Helper, you can find desired candidates based on keywords and profiles, send personalized messages to all, and automate the entire process.
Linked Helper is a problem solver for all your marketing tasks, making it a valuable tool for generating leads and growing your social network.
First, CRM is customer relationship management, which means that Linked Helper has an internal tool that will help you get contact information and export that information to a CSV file to help you build a targeted mailing list.
When you are extracting those profiles, you can apply different filters. How will it help you with this feature? You can collect all these profiles into a campaign by adding them to the CRM and then use them for your LinkedIn marketing campaigns. All of this automatically, based on targeted lists, without doing all the tiresome process.
Build smart message chains
Besides doing the tasks automatically in your place, the other main reason you should have LinkedIn 2 is to create smart message chains. This feature allows you to build campaigns of follow-up messages in specific time intervals with reply detection using your CRM profiles.
Moreover, you can personalize your templates in Linked Helper by using your variables in LH Template Editor. Then, upload them from a CSV file or insert them manually via LH CRM profile card.
Having many great features and tools, Linked Helper will make your dream possible and help you in the lead generation process. In other words, Linked Helper will do in your place what you are trying to do with an entire team manually.
Also, you can use it with Free LinkedIn, LinkedIn Premium, Sales Navigator, and Recruiter. As a result, you will get thousands of possible clients, customers, and desired people to your LinkedIn community, all with one tool designed to ease your lead generation process.
I will probably need days to tell in this Linked Helper review what this great tool is doing for you, step-by-step, feature with a feature. To better understand, you'll have to try it to see how it works for your LinkedIn account and community. The simple fact is taking all the boring stuff from you and leaving you doing business.
As you can see in our honest Linked Helper 2 Review, the software has plenty of useful features suitable for individuals, small teams, and organizations.
About Linked Helper Integrations
You can integrate Linked Helper 2 with Zapier Webhooks, and you can use it to transfer data from Linked Helper to any app that supports Zapier. In addition, you can integrate Linked Helper 2 with apps like Gmail, Google Sheets, and many more. They also put a user manual at your disposal where you can find everything you need to know about Linked Helper 2. Or if you want an answer to a specific question.
Linker Helper 2 Review Conclusion
What is left to say? Maybe a recap for this Linked Helper 2 review and summarize what this tool can do for you. Therefore, Linked Helper 2 is now a standalone application, not a Chrome extension like before, and is coming with many improvements. Its primary goal is to help you with the lead generation process and automate your tasks.
Linked Helper 2 will invite people, respond, create an automated mailing system, visit targeted profiles, and many more. Yes, I'm saying that Linked Helper will do that because this is what this tool is doing. Automate the process and let you do the business. It has a fair price, and you can try it for free for 14 days to see with your own eyes how this world of technology is evolving, and the central role is to help you get rid of the recurring and tedious tasks. Isn't it amazing?