Melio Reviews
& Product Details
What is Melio?
Melio is a comprehensive payment platform that simplifies invoice payments and enhances cash flow for businesses. It offers flexible payment options for vendors, allowing them to receive checks or bank transfers without needing to sign up.
With Melio, businesses can pay all their expenses and invoices online, choosing between free ACH bank transfers or card payments. The platform provides features like accounting software sync, approval workflows, easy bill capture, credit card rewards, international payments, and more.
Melio caters to various business types and offers capabilities such as integrations, team management, international payments, approval workflows, and easy bill capture. It also provides a user-friendly interface and personalized payment options, ensuring convenience and security in payment processes.
Found in these Categories
Best For
Pay vendors, suppliers, and contractors exactly the way you want.
StartUps

Freelancers

Small Business

Medium Business

Large Enterprise

Non-profit Organization

Personal
Cloud, SaaS, Web-Based

Mobile - Android

Mobile - iPhone

Mobile - iPad

Desktop - Mac

Desktop - Windows

Desktop - Linux

Desktop - Chromebook

On-Premise - Windows

On-Premise - Linux
Company Name

Melio

Located In

United States

Website

meliopayments.com
Starting from:
$FREE 2.9% fees for payments
Pricing Model: Subscription
Pricing Details:
Melio offers free ACH bank transfers with no subscription fees. Additional fees apply for paying by card, international bank transfers, and sending checks to vendors. Faster payment options have associated fees. The platform itself is free to use, providing features like unlimited users, accounting software sync, approval workflows, and easy bill capture.
ACH Payment Processing

Accounting Integration

Billing & Invoicing

Debit/Credit Card Processing

Activity Dashboard

Data Security

Electronic Payments

Payment Fraud Prevention

Invoice Management

Invoice Processing

Multiple Payment Options

Online Payments

PCI Compliance

Partial Payments

Payment Processing

Recuring/Subscription Billing

Reporting/Analytics

Search/Filter

Self Service Portal

Third Party Integrations

Transaction History
Additional Features
1099 Preparation

Accounts Payable

Accounts Receivable

Approval Process Control

Approval Workflow

Bank Reconciliation

Billing Portal

Bookkeeping Services Integration

Cash Management

Check Processing

Check Writing

Client Management

Contact Database

Customer Statements

Customizable Invoices

Deferred Billing

Document Management

Due Date Tracking

Dunning Management

Duplicate Payment Alert

Electronic Funds Transfer

Expense Tracking

Fraud Detection

Invoice Creation

Invoice History

Mobile Payments

Multi-Period Recurring Billing

Online Invoicing

Project Billing

QuickBooks Integration

Receivables Ledger

Recurring Invoicing

Recurring Payments

Remote Access/Control

Task Management

Vendor Management
Do you have a small business needing help with your payments or invoices? Have you tried using an accounting software product? Dealing with bills has never been easy if you own a business or are an entrepreneur. That's why today, I want to show you a great solution for all your payments and cash flow. Next, let's learn about Melio payments and how you can use this fintech solution to manage all your payments.
Melio is a simple U.S.-based solution for you to pay your contractors or get paid. It works both ways and is a free customized pay page for receiving business payments digitally. So, instead of spending too much time accounting and using traditional checks, you can try Melio Payments and see how it works. Melios is designed to be a great solution for multiple case studies like:
Vendors & Contractors
Businesses
Accounts
Moreover, this is what you can do with Melio:
Pay your bills online, print receipts, and get paid
Payroll processing and automatic invoice uploading
Automated payment processing with minimal human interaction
Melio is the simplest way to pay vendors and contractors. With Melio, you can transfer and receive payments faster and more efficiently than traditional methods like checks. It is a great service for small businesses and entrepreneurs if you don't want to complicate your life with accounts or other complex tools. What I like about this service is that it is so easy to use and intuitive. In addition, you won't have to spend all your business money on one complex service to pay vendors or contractors. Thus, if you need a U.S.-based accounts payable solution, Melio is the one you need to try.
Melio Payments
Melio was founded in 2018 in New York and is a fintech company. Their product is meant to help small businesses and entrepreneurs find a great solution to manage their payments, invoices, or bills. Besides this, with Melio, you'll save time to focus on the customers and your business, but it will significantly improve your cash flow. But don't go anywhere. So let's find out what Melio is exactly and how you can use the product to keep your business in business.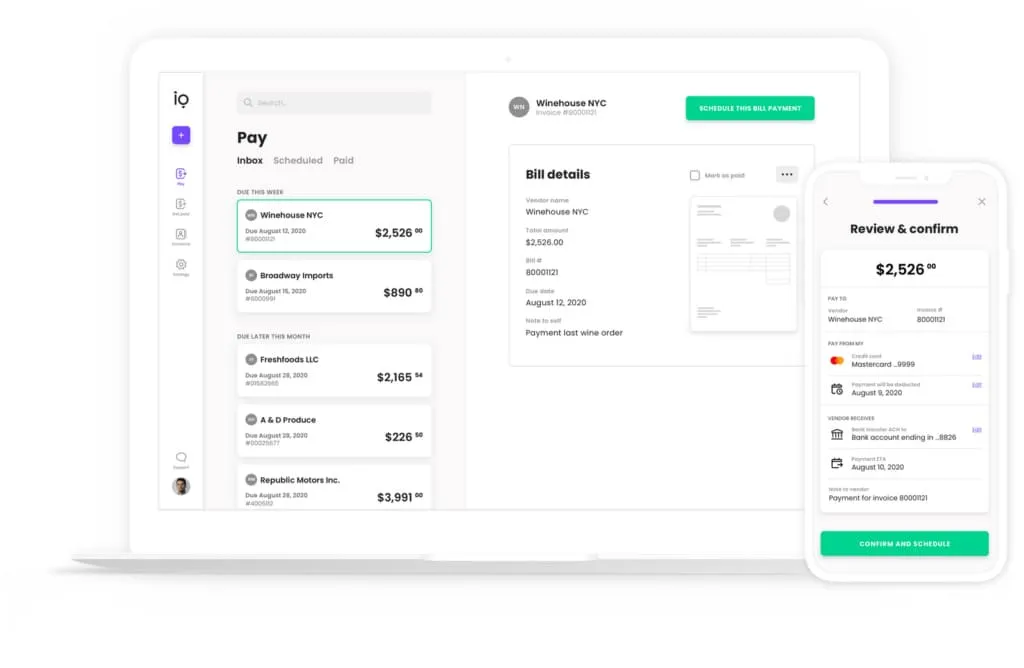 How does Melio work?
Do you know what is great about this tool? You don't have to watch thousands of tutorials to understand how it works. Or how you can get started. First, you must know that Melio is web-based, so as long as you have a laptop with an internet connection, you can start working with Melio. Secondly, currently, Melio only supports payments from one US business to another US business. However, no payments outside the US are supported, and only U.S.-based credit cards are accepted.
Add vendor and build details using their secure service
You can enter the invoice manually, upload a file, take a photo using your phone, or even sync your QuickBooks online account
How to pay by credit card or bank transfer payments with Melio?
Regardless of your vendor's payment methods, you can decide what's most convenient. Then schedule when your payment will be deducted from your account. That way, you'll always pay on time. From there, Melio will take care of sending the payment to your vendor on your behalf. They don't even need to sign up to Melio, making the process fast and straightforward.
Is that simple! Not to mention that Melio is free; you will be charged only a transaction fee every time you receive or send money. In addition, Melio allows you to track your payments and make decisions based on real-time information by using your credit card to make your payments and improve your cash flow.
Details of Melio Features
The platform offers a lot of great features for each user. So, let's dive into them and discover how many things you can automatize regarding payments.
ACH payment processing
Billing & invoicing
Approval process control
Online payment processing
Check to process
Debit/credit card processing
Duplicate payment alert
Fraud detection
Melio Payments Benefits
With Melio, you have several payment options. These include bank transfers (ACH), debit cards, and credit cards. Payments made via bank transfers are free, while credit card payments will have a 2.9% transaction fee. Moreover, you can use your credit card for vendors or stores that do not accept card payments. Vendors do not need to have a Melio account to receive your payment.
With this payment scheduling feature, you can avoid late payments and penalties. This is especially important when paying utilities, insurance, taxes, or rent/lease. You will also better manage your cash flow, ensuring that you don't pay too early and that all your suppliers or vendors are happy when they receive their payments on time.
Melio enables your customers or clients to pay you by bank transfer or card at no cost. You sign up to get your payment link, which your customers will use to send payments without needing your bank details. Your customer pays using their bank or card. They do not need to have a Melio account to send their payment. Payments are deposited directly into your bank account in two business days without charges or fees.
Specially created with small businesses and freelancers in mind, Melio offers its accounts payable platform for free. No monthly subscription fees can take a significant chunk of your budget, and no delivery fees when you send vendor checks.
Melio Integrations detailed
And this is not all. Melio can still amaze you. First, the service can be integrated with some US banks and Quickbooks. Then, once you've connected Melio with QuickBooks, the platform will extract vendor information from QuickBooks. As a result, this will smooth your workflow, so you don't have to enter vendor details. All you have to do is select one from a list or start typing and have vendors auto-completed. Then, once you've completed a bill payment in Melio, your QuickBooks account is updated with the payment details.
Melio Payments Review Conclusion
In conclusion of the Melio Payments review, I can say that it's worth trying, especially since it is free. It's a great fintech service for small businesses, freelancers, and accountants. The last ones can manage all clients from one platform and automatize their invoices or payments by integrating Melio with Quickbooks. Moreover, the tax forms are also handled by Melio. Thus, if you find it hard for you or your business to keep up with your payments, even if there are one-time or recurrent payments, Melio could be the easiest solution for you.