PayKickStart Reviews
& Product Details
What is PayKickStart?
Above all, it is a modern-day shopping cart and affiliate platform designed to revolutionize how we do things by offering the means, flexibility, and fulfilling the automation subscription-based business's needs. To be more specific, PayKickStart is making your life easier if you're selling a subscription-based product and not only. For example, if you are selling email automation software. In addition, the SaaS product is available in 25 languages for a better customer experience all the way.
Found in these Categories
Best For
Subscription billing, revenue retention, and customer experience.
StartUps

Freelancers

Small Business

Medium Business

Large Enterprise

Non-profit Organization

Personal
Cloud, SaaS, Web-Based

Mobile - Android

Mobile - iPhone

Mobile - iPad

Desktop - Mac

Desktop - Windows

Desktop - Linux

Desktop - Chromebook

On-Premise - Windows

On-Premise - Linux
Company Name

PayKickstart

Located In

United States

Website

paykickstart.com
Starting from:
$99 /month
Pricing Model: Subscription
Pricing Details:
Three PayKickstart pricing plans are available: Starter, Growth, and Scale. By choosing annual billing, you will get two months free. In addition, all plans include a 14-day Free Trial.
Action Tracking

Affiliate Coupon Tracking

Analytics & Reporting

Audience Targeting

Commissions & Payouts Management

Conversion Tracking

Custom Links

Customer Value Tracking

Fraud Detection

Lead Engagement

Payments

Promotional Tools

Referral Templates

Rewards Management

ROI Measurement
Additional Features
Payment Integrations

Multiple Pricing Options

Checkout Templates

Subscription Management

Sales Conversion Tools

Third-Party Integrations

Dunning Management

API
About PayKickStart
Let us begin our Paykickstart review by looking into what it is and what this software product does for its users. Furthermore, it will include details about the features, integrations, pricing, and alternative products.
PayKickStart was co-founded back in 2014 by Mark Thompson to bring some innovation to the field, and so it did. Since then, the company became a leader in the industry and a very appreciated software product on both ends, marketers, and affiliates.
Where is PayKickStart located?
Pay kickstart was co-founded back in 2014 by two software enthusiasts by Mark Thompson and Matt Callen. But, more importantly, ever since the company expanded, and has had two locations in the USA, one in Raleigh, North Carolina, and one in Indianapolis, Indiana. With the more technical side of things apparently in Raleigh.
Now that we found out what the software does, let's continue by looking at features and their benefits to your business.
Details of PayKickStart Features
The software tool comes with a multitude of features meant to make, above all, your life easier when dealing with essential business tasks and decisions. Important to mention is that what it lacks in features, it more than covers with integrations. So, stay tuned to find out all about the Paykickstart review of features and the multitude of integrations Paykickstart comes with.
Accepting payments
The Pay kickstart accepting payments feature offers customers a worldwide, seamless checkout experience. How?
First, by offering you the possibility to integrate your favorite payment gateway with one of their integration partners, for example, Stripe or Paypal.
Second, depending on the gateway you get, it can support various payment options such as Credit/Debit cards, Paypal, Wire transfer, etc. Soon payment options such as GPay and ApplePay will also be available.
Third, let's talk about check-out design and the way customers pay. So, your customers have numerous possibilities to pay online, in-person, or mobile by using the PayKickStart app.
Last, Pay kickstart offers broad, customizable checkout forms through templates, pop-ups, embeddable checkout forms, and Custome APIs. So, you can create a check-out experience that best fits your branding strategy.
In conclusion, Paykickstart is a very flexible service so far, with high customization options available to satisfy any fussy customer you might have.
Subscription Management
All we can say is get as creative as you can with your subscription model, as PayKickStart has it all.
You can choose from not only a one-time payment model but also a subscription or trial model. Meaning you can always choose one, two, or even better all of the above PayKickStart payment models. However, each one of these options comes with a recommendation for which company it suits best. Thus, let's take a look and find out what will fit your company like a glove.
Billing model
Suitable for companies that offer/charge
One-time payment
A product or a service lifetime & charge only one fee
Subscriptions
Monthly, yearly, or quarterly fees such as most Saas products these days
Trial offers
A free trial period
Setup Fees
A startup fee upfront that after can become a recurring fee
Usage-Based Pricing
Based on usage
Hybrid Pricing
Mix recurring non-recurring product
Freemium
Basic services to try for an extended period but charge for more features
Payment Plans
Customers the possibility to break up their higher ticket product
Proration
Various plans & want clients to have the option to prorate their subscription based on the price difference amongst plans
Custom Pricing
Offers complete control for companies that have complex pricing plans
To wrap up, the Pay KickStart feature also has Customer billing portals that make it easy for customers to access their previous purchases, download invoices, and manage their billing. Now, isn't that awesome!?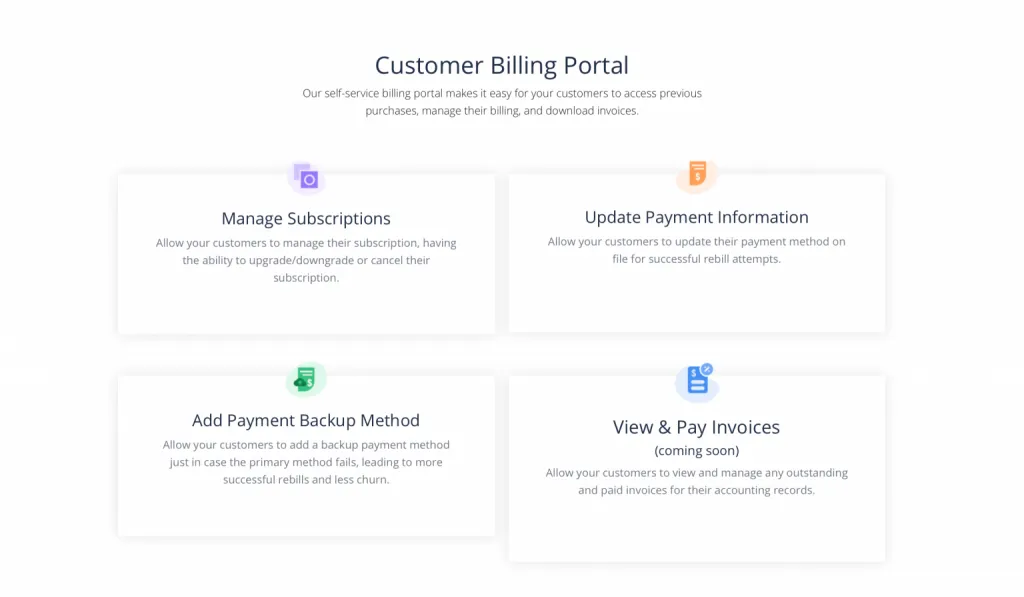 Revenue Boosters
An exciting feature created by Paykickstart to maximize your sales is made by a mix of discounts related to actions, intuitive forms, intelligent conversion, and exit prevention. Let us take them one by one and see what they stand for exactly.
Hook Prices & Offers
An interactive revenue booster directly interacts with your customers to encourage particular behavior such as purchasing complementary products, discounts to encourage comebacks, and the ability to make immediate purchases. The exact features we are talking about are:
1-Click Upsell
Coupon code
Order Bumps
Above all, these are all too familiar to us with an e-commerce store and, as customers, the so-called "victims" of such tactics. Surely, this doesn't come as a surprise to you. Even as familiar and old as these physiological tricks are, they are still effective even if they are not proprietary to Pay kickstart. You know what they say, why break something that works?
Intuitive Forms
PayKickStar's intuitive forms relate to the software's ability to autofill addresses and prefilled check-out pages. Meaning that once you start filling in your addresses, Pay KickStart will intuitively give you a few options to amend your address and prefill your check-out based on a previous order.
Intelligent Forms
PayKickStart also has a series of intuitive forms available for its users, anticipating a user's intent and retargeting it once he visits your webshop. Such intelligent mechanisms are:
Exit-intent Popups
Retargeting
Tracking pixels
Revenue Retention PayKickStart Features
In short, it is a lifecycle approach to revenue management. Meaning that it helps you increase customers' lifetime returns, increase retention, and minimize churn. Moreover, these PayKickStart features fall under the following categories:
Dunning Management
Email Sequence
Cancelation Rules
Billing Methods Updates
In-app Notifications
If you are like you and us are wondering what dunning is, well, it is a process of communicating with risky and delinquent customers to ensure follow through with the payment and contract.
Customer Communication
Subscription Renewal Reminders
Trial Ending Reminders
Credit Card Expiring Reminders
To sum up, all we can say is that they are a good practice measure that ensures that you won't forget the essential things. Furthermore, we hope that so far, this PayKickStart review helped us have a better understanding of the shopping cart tool.
Affiliate Management
Promote your business through affiliate marketing straight from your PayKickstart platform.
First, affiliate marketing is probably the cheapest and best advertising you can get out there if you wonder if it's worth it. Second, if you've been looking into this type of traffic source, you know that both you and your partner need to track the traffic and the clients coming your way. That's precisely what the PayKickStart affiliate management platform does for you:
Tracks all the traffic that comes in instantly
Tracks all the commissions that you have to pay, both total and individual
It gives you several options on how to pay the commission and many more.
Built-in marketing materials for your partners
Finally, a significant aspect is that you can directly hold your partners' legitimacy records into Paykickstart. What type of information, might you wonder? Well, all from tax details, address, and payment information.
Benefits of using an affiliate management tool
So, if you were wondering if you need this, the answer is yes, and the cool part is you can have a Paykickstart affiliate together with all the benefits a shopping cart can offer.
Above all, remember that an affiliate program brings you traffic and lets you control how much you want to share with the affiliate (20%, 30%) from each paying customer they bring.
Furthermore, build your sales funnel by choosing products that you would like to promote through your army of affiliate partners. You can also allocate different commission percentages, cost per acquisition, cost per lead, or hybrid for specific products you offer. Finally, add banners, text, and coupons to incentivize affiliate partners to sell your products.
We are moving on with the PayKickStart review to the billing and accounting feature used in paying partners and receiving payments from clients.
Billing and Accounting
Moving on to the billing and accounting side of PayKickStart. Other than all the billing and accounting aspects we mention in the affiliate management section, Pay KickStart comes with all the benefits a shopping cart offers. Meaning that you can see detailed sales reports, subscription reports, affiliate reports, funnel reports, traffic reports, and create invoices, all without having to leave the software. Moreover, you can also count on Pay kickstart for accurate tax management and compliance globally, not just in the US. If that did not yet sweep you off your feet, hold on PayKickStart also integrates with Taxamo.
PayKickStart Reporting and Analytics
As with accounting, you can do it all; you name the report, and PayKickStart will deliver it: a subscription report, sales report, affiliate report, and funnel report. To top that all up, you also have an activity log that will show you who made changes in the campaigns, products, funnels, etc.
Security and Compliance
Probably one of the most common concerns we all have these days with any software that helps you handle sensitive personal data that you collect from your customers. So, let us run a Paykickstart review on the security measures it takes to keep you out of trouble.
First, let's review what PayKickStart is compliant with:
PCI DSS Level 3 Compliant

– meaning that the software is PCI certified, and even though the billing information is never stored on their servers, they hold an enterprise-level of security

SCA Compliant

– PayKickStart is fully compliant with the new authenticating process instated in the EU back in September 2019

GDPR Compliant

– the software is fully compliant with all the data compliance directives in the EU

SOC-1 & SOC-2 Compliant

– meaning that you can accept payments that are also subject to SCA or the second Payment Service Directive
Second, PayKickStart also has as a standard feature a series of security measures like two-factor authentication, single sign-on, user management, and permission, fraud detection tools, and 99.99% uptime and data.
Now, let's continue the PayKickStart review with all the security and compliance.
The two-factor authentication
Now, two-factor authentication tightens up the security level in things like changing passwords, logging in, and updating personal information like payment methods.
Single sign-on
On the other hand, single sign-on is focused more on your employees and protecting your customer data when handling it. The feature offers PayKickStart employees a streamlined login experience.
Management & Permissions
User Management and Permissions help allocate the right person to campaigns. As an advanced user, you have the credentials to create sub-users with predefined roles depending on the level of permission you want to provide.
Fraud detection tools
Moreover, PayKickStart has managed to prevent fraud by developing a state-of-the-art fraud detection tool aside from the ones provided by their payment gateway partners.
99.99% Uptime
With 99.99% uptime and data for the less technical of us the feature literally ensure that we'll have an uneventful experience with the software. Thus, PayKickStart offers server redundancy, real-time monitoring, DDoS protection, and many more for more technical ones.
Data Portability
PayKickStart strongly believes that the data that you collect belongs to you and not them. Therefore, you can at any time import all your customers' credit card data using an API to import the secure token and transaction details if you want to change providers.
To wrap things up, you can fully count on the data security and transparency with your data that PayKickStart has. We think they show a great deal of fair play by giving you full access to your data even when deciding to part ways with them. To that, all we have to say is that they gained our respect.
Customer experience
PayKickStart has a lifecycle approach to your customers, pleading for an all-around experience commencing from the signup process and ending with the automated invoicing system after the process.
Mobile Applications
PayKickStart comes with a fully functioning app available both in the Apple App Store and in Google Play. Above all, the PayKickStart app allows you to do nearly as much as you would from your computer but on the go.
You will be able to monitor everything that is going on with your business from wherever you are. But more importantly, you will get real-time alerts, accept payments, manage subscriptions, monitor affiliates and get reports from your mobile devices.
In conclusion, go ahead and download the PayKickStart app for real-time information about your business, and you'll never miss a thing.
PayKickStart Integrations detailed
As the founders of the company publicly stated, it is impossible to be good at everything. Therefore they decided to develop the number one software for shopping cart and affiliate management for the rest; they just partnered up with the best in the other fields. Furthermore, Paykickstart offers full integration with over 60 apps, from payment gateways to CRM and webinar services. Amongst some of the most familiar apps that integrate with the software are:
Mailchimp
GetResponse
Drip
ClickFunnels
Demio
Google Analytics
PayPal
Slack
Zoom
Zapier
Stripe
Klaviyo
Above all, keep in mind that PayKickStart keeps an open mind regarding integrations, so feel free to contact them for any requests for other software integrations.
Alternatives to PayKickStart
There isn't much software that can do what PayKickStart does; however, there are a few that you and we guys see as possible competitors for them. Let's take a look at who they might be.
Thrivecart

Ultracart

Partnerstack

Omnisend

Keap
PayKickStart Review Conclusion
In conclusion, Pay KickStart is a software tool with a lifecycle approach to customers. The tool offers you a complete set of services in the shopping cart and affiliate spectrum, starting from acquisitions and boosting security and mobility techniques. Furthermore, PayKickStart comes with more than 60 integrations and is available in 25 languages making it easier to comment with other software. The language variety makes it easy to understand the information in the application for both you and your customers.
PayKickStart Related Insights