SurveySparrow Reviews
& Product Details
Feedback is important. But the feedback from your customers is crucial for the business. So how can you get these Insights from them? Survey sparrow is one of the right answers for your business. There are many online survey platforms, yet today I'm going to tell more in this review about Survey Sparrow and how you can use this platform to get the wanted feedback from your customers. Thus, let's find out from this review its benefits, pricing plans, and why you should think about giving it a try!
Found in these Categories
Recommended For
StartUps

Freelancers

Small Business

Medium Business

Large Enterprise

Non-profit Organization

Personal
Deployment
Cloud, SaaS, Web-Based

Mobile - Android

Mobile - iPhone

Mobile - iPad

Desktop - Mac

Desktop - Windows

Desktop - Linux

Desktop - Chromebook

On-Premise - Windows

On-Premise - Linux
SurveySparrow Pricing
Pricing Model: Subscription
SurveySparrow Features
Features list not provided by SurveySparrow.
SurveySparrow Alternatives
SurveySparrow – Omni-channel Experience Management Platform
Learning new things about your customer can bring significant value to your business. Therefore, that information can help companies create a better product for their customers and know valuable insights. And fully understand how people see your brand and its products. Why? Because you need to know what you have to change. How can you learn all these insights from your customers?  The simple way to do that is to use customer experience software!
Survey Sparrow is one of these tools that can change the game in your relationship between your brand and your customers. Let's find from this review what Survey Sparrow is precise. Moreover, I want to show how you can improve your customer experience with your brand!
What is SurveySparrow?
If you own a business, you probably know how important feedback from your clients is. To get those feedbacks from them, I recommend using a tool that can help you. SurveySparrow is a survey and feedback management platform that will help your business design and send surveys for your customers.
And not only can you create these surveys for your employees also. This great software allows users to create surveys naturally and send them answers, comments, and opinions. But what it's really got my attention is its quite user-friendly interface. This benefit allows you not to be intrusive with your customers. Additionally, you can easily customize it for each audience.
Thus, SurveySparrow is a nice tool if you want to create nice surveys in a breeze for your customers, employees, or if you want to know more about your product. Furthermore, the tool allows you to distribute these surveys via multiple channels and help you reach your audience easily.
Moreover, SurveySparrow can help your company create a better relationship with your employees. For example, you can find out if they are happy with their workplace. Or if they are satisfied by the conditions your company is offering. Or maybe, find out what they need to work better.
Furthermore, for your customers, SurveySparrow allows you to engage with them and discover the flaws of your products and services. In addition, you can collect feedback from your clients on how you can further improve them. Moreover, you can determine what they like or dislike about your products and brand through these surveys.
To sum up, here's what SurveySparrow can do for you.
SurveySparrow Use-Cases
Optimize every touch-point across your customer journey.
Customer Effort Score (CES)
Customer Satisfaction Score (CSAT)
Net Promoter Score ® (NPS)
Customer Exit Surveys
Engage your employees, & enhance productivity. Develop a high-performing culture.
Recruitment & Pre-hire
Employee 360 Assessment
Employee Check-in
Exit Interview Surveys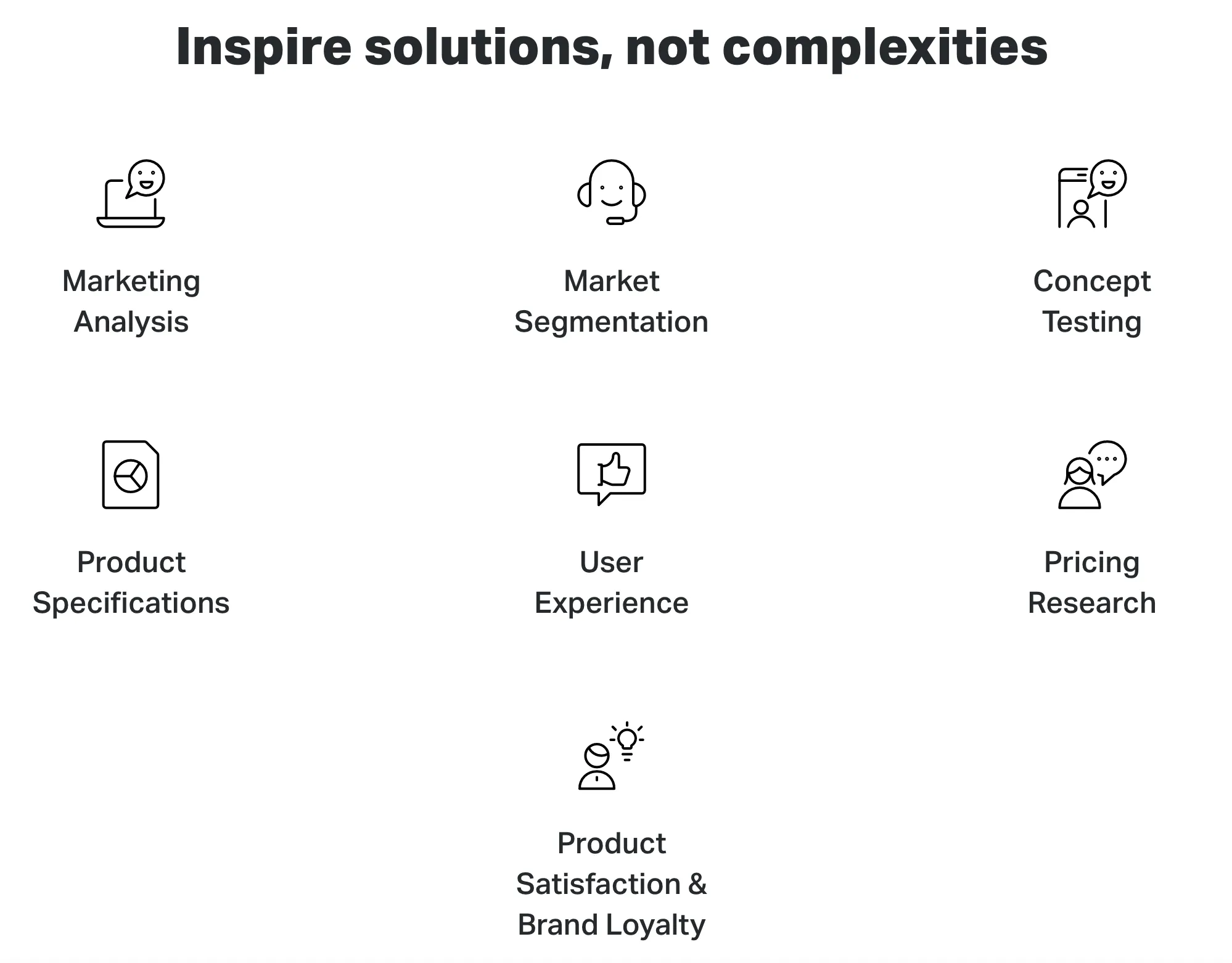 Develop solutions, drive usage, & build loyalty. Deliver superior product experiences.
Market Research Analysis
Product-market Fit
User Experience Feedback
Product loyalty & satisfaction
SurveySparrow Products
Depending on needs, SurveySparrow has designed different kinds of products that will help everyone.
Enterprise Survey Software
With this product from SurveySparrow, you can perform in-depth data analysis and easily create beautiful surveys. Moreover, you have a lot of great features to use.
NPS Software
This product will help you grow your business with a continuous feedback loop. NPS is one of the finest customer loyalty barometers that companies are using around the world. Also, station feedback silos at all touchpoints, track and improve your Net Promoter Score, and enrich customer loyalty.
Offline Survey
For all the digital things we need an internet connection. Yet, SurveySparrow offers a product that allows you to create surveys offline. Once you have a connection, it will sync all the data to your database.
360 Assessment
With this 360 feedback product, you can have the bigger picture and increase the productivity of your employees.
Chatbot for website
A chatbot for a website is a computer program that acts as a virtual assistant and guides users via text messages or voice-based conversations. Thus, it is a fully automated system that simulates real-life-like conversations through applications, table apps, or websites.
Panel
This product will allow you to get a custom-profiled audience from diverse demographics to suit the nature of your survey and many more.
SurveySparrow Features
Thus, now that you've found something about this tool and what it can do for your business, let's see what great features SurveySparrow offers.
Craft Beautiful Surveys
Share Surveys
Gain Rich Insights
Recurring Surveys
White Label Surveys
Embedded Surveys
Conversational Forms
Mobile-first Surveys
Sentiment Analysis (New)
Journey Chart (New)
Audience Management
Smart Surveys
Video Surveys
Secure Surveys
API, Webhooks, Integrations
Survey Themes
Accept Payments
Custom Workflows
Randomize Rank (New)
Multiple File Upload (Coming)
SurveySparrow Pricing
So, yes, this is a beneficial feedback software. So the next thing we will address in this SurveySparrow review is the costs.
Their pricing plans are divided into four categories: Personal, Business, NPS, and 360 Assessments.
Starting From: $19/Month (Monthly Plan)
Pricing Model: Subscription
Free Trial: Yes, and free version
The 14-Day Free Trial does not require a Credit Card submission.
SurveySparrow Integrations
For this tool to be complete and for you to get the best of it, SurveySparrow offers many great integrations that will help you do more things than you can imagine. From automation software, CRM, marketing, productivity, social media, and eCommerce to accounting and email marketing, SurveySparrow can be integrated with many apps available on the market. For example, you can integrate SurveySparrow with:
Shopify
Mailchimp
Stripe
Twitter
WordPress
Zapier (New)
Power BI (New)
SurveySparrow Alternatives
Predictably, SurveySparrow has, as well, its competitors. Unfortunately, the software market is competitive, so we will always encourage you, our user, to check the alternatives, compare the tools, and always make an informed decision. This being said, here are the Best SurveySparrow Alternatives:
SurveyGizmo
Alchemer
Formstack
SurveySparrow Review Conclusion
SurveySparrow aims to help both, providing users with a crystal clear picture of their target audience's sentiments and harnessing the power of feedback to steer their business towards a better, more profitable direction. In other words, it is a great tool to have if you want to take the pulse of your customers or even find what your employees need.
It has many great features that will help you create and do more than simple survey forms. For example, with a tool like this, you can boost your employees' productivity. Or improve their work environment. On the other hand, with SurveySparrow, you can find out what your customers think about your product or service.