SurveySparrow Reviews
& Product Details
What is SurveySparrow?
SurveySparrow is an all-in-one experience management platform that offers a wide range of features to help businesses of all sizes collect feedback, assess performance, and drive customer loyalty. With conversational surveys and various survey types available, it aims to increase response rates and provide quality data.
The platform allows for personalized and smart surveys with conditional logic branching and white-labeling options. It supports omnichannel feedback collection and provides real-time reports and analysis for data insights.
Additionally, SurveySparrow offers automation capabilities, data security measures, audience management features, and integration options. It caters to diverse needs, from NPS tracking to 360 reviews, and provides tools for employee productivity enhancement.
Found in these Categories
Best For
Omnichannel Experience Management Platform.
StartUps

Freelancers

Small Business

Medium Business

Large Enterprise

Non-profit Organization

Personal
Cloud, SaaS, Web-Based

Mobile - Android

Mobile - iPhone

Mobile - iPad

Desktop - Mac

Desktop - Windows

Desktop - Linux

Desktop - Chromebook

On-Premise - Windows

On-Premise - Linux
Company Name

SurveySparrow Inc.

Located In

United States

Website

surveysparrow.com
Pricing Model: Subscription
Pricing Details:
SurveySparrow has several pricing plans suitable for any organization, with costs depending on the number of respondents. Their pricing plans are divided into four categories: Survey, NPS + CX Suite, 360 Assessments, and Full Suite. The survey tool comes with a 14-day free trial.
Analytics

Templates

Response Management

Email Distribution

Question Conditions

Mobility

Multimedia

Skip Logic

Answer Conditions

Offline Response Collection

Questions Library

Drag & Drop Builder

Scoring
Additional Features
360 Degree Feedback

Anonymous Feedback

Benchmarking

Chat/Messaging

Customer Experience Management

Customer Segmentation

Data Analysis Tools

Data Import/Export

Feedback Management

Data Visualization

Knowledge Management

Mobile Survey

Multi-Channel Data Collection

Multi-Channel Distribution

NPS Survey Structure

Negative Feedback Management

Panel Management

Paper-Based

Performance Metrics

Progress Tracking

Pulse Surveys

Question Branching

Question Library

Randomization

Question Piping

Rater Selection

Reminders

Reporting & Statistics

Response Quotas

Response Validation

Site Intercept Survey

Skip Logic

Statistical Analysis

Support Audio/Images/Video

Survey Builder

Survey Sample Management

Template Management

Survey/Poll Management

Surveys & Feedback

Text Analysis

Text Fields

Third Party Integrations

URL Customization

Visual Analytics
If you own a business, you probably know how important feedback from your clients is. I recommend using a tool that can help you to get their feedback. SurveySparrow is a survey and feedback management platform that will help your business design and send surveys to your customers.
And not only can you create these surveys for your employees also. This great software allows users to create surveys naturally and send them answers, comments, and opinions. But what it's got my attention is its quite user-friendly interface. This benefit allows you not to be intrusive with your customers. Additionally, you can easily customize it for each audience.
Furthermore, feedback is important. However, the feedback from your customers is crucial for the business. So how can you get these Insights from them? Survey Sparrow is one of the right answers for your business. There are many online survey platforms, yet today I'm going to tell more in this review about Survey Sparrow and how you can use this platform to get the wanted feedback from your customers. Thus, let's find out from this review its benefits, pricing plans, and why you should try it!
SurveySparrow – Omni-channel Experience Management Platform
Learning new things about your customers can bring significant value to your business. Therefore, that information can help companies create a better product for their customers and gain valuable insights. And fully understand how people see your brand and its products. Why? Because you need to know what you have to change. How can you learn all these insights from your customers? The simple way to do that is to use customer experience software!
Survey Sparrow is one of these tools that can change the game in the relationship between your brand and your customers. Let's find from this review what Survey Sparrow is precise. Moreover, I want to show how you can improve your customer experience with your brand!
Thus, SurveySparrow is a nice tool to create nice surveys in a breeze for your customers and employees or to know more about your product. Furthermore, the tool allows you to distribute these surveys via multiple channels and help you reach your audience easily.
Moreover, SurveySparrow can help your company create a better relationship with your employees. For example, you can determine if they are happy with their workplace. Or if they are satisfied by the conditions your company is offering. Or maybe, find out what they need to work better.
Furthermore, for your customers, SurveySparrow allows you to engage with them and discover the flaws of your products and services. In addition, you can collect feedback from your clients on further improving them. Moreover, surveys allow you to determine what they like or dislike about your products and brand.
To sum up, here's what SurveySparrow can do for you.
SurveySparrow Use-Cases
Optimize every touchpoint across your customer journey.
Customer Effort Score (CES)
Customer Satisfaction Score (CSAT)
Net Promoter Score ® (NPS)
Customer Exit Surveys
Engage your employees, & enhance productivity. Develop a high-performing culture.
Recruitment & Pre-hire
Employee 360 Assessment
Employee Check-in
Exit Interview Surveys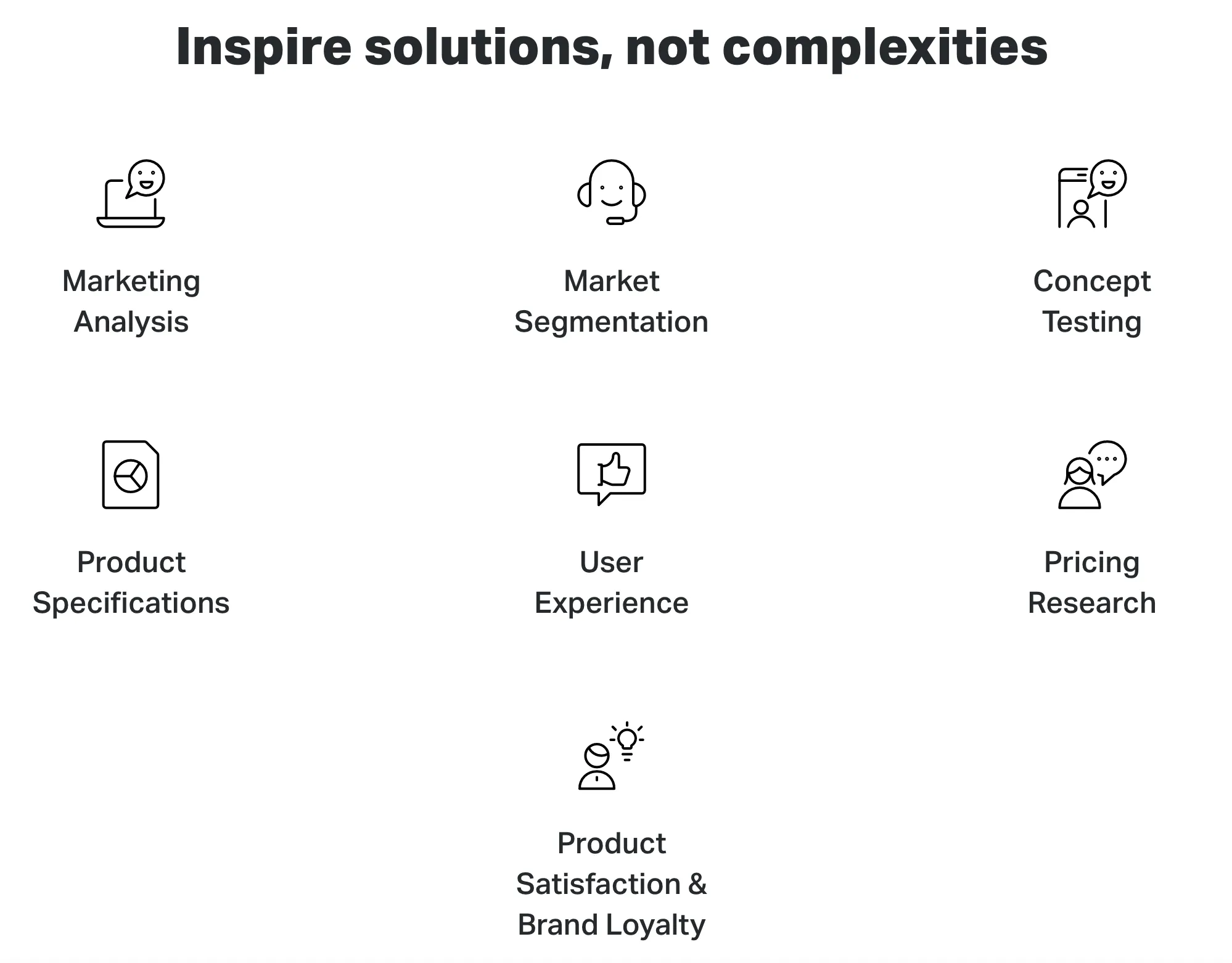 Develop solutions, drive usage, & build loyalty. Deliver superior product experiences.
Market Research Analysis
Product-market Fit
User Experience Feedback
Product loyalty & satisfaction
SurveySparrow Products
Depending on needs, SurveySparrow has designed different kinds of products that will help everyone.
Enterprise Survey Software
With this product from SurveySparrow, you can perform in-depth data analysis and easily create beautiful surveys. Moreover, you have a lot of great features to use.
NPS Software
This product will help you grow your business with a continuous feedback loop. NPS is one of the finest customer loyalty barometers that companies are using around the world. Also, station feedback silos at all touchpoints, track and improve your Net Promoter Score, and enrich customer loyalty.
Offline Survey
For all the digital things, we need an internet connection. Yet, SurveySparrow offers a product that allows you to create surveys offline. Once you connect, it will sync all the data to your database.
360 Assessment
With this 360 feedback product, you can have the bigger picture and increase the productivity of your employees.
Chatbot for website
A chatbot for a website is a computer program that acts as a virtual assistant and guides users via text messages or voice-based conversations. Thus, it is a fully automated system that simulates real-life-like conversations through applications, table apps, or websites.
Panel
This product will allow you to get a custom-profiled audience from diverse demographics to suit the nature of your survey and many more.
SurveySparrow Features Detailed
Thus, now that you've found something about this tool and what it can do for your business, let's see what great features SurveySparrow offers.
Craft Beautiful Surveys
Share Surveys
Gain Rich Insights
Recurring Surveys
White Label Surveys
Embedded Surveys
Conversational Forms
Mobile-first Surveys
Sentiment Analysis (New)
Journey Chart (New)
Audience Management
Smart Surveys
Video Surveys
Secure Surveys
API, Webhooks, Integrations
Survey Themes
Accept Payments
Custom Workflows
Randomize Rank (New)
Multiple File Upload (Coming)
SurveySparrow Detailed Integrations
For this tool to be complete and get the best of it, SurveySparrow offers many great integrations that will help you do more than you can imagine. From automation software, CRM, marketing, productivity, social media, and eCommerce to accounting and email marketing, SurveySparrow can be integrated with many available apps. For example, you can integrate SurveySparrow with:
WooCommerce
Shopify
Mailchimp
Monday.com
Stripe
Twitter
WordPress
Zapier (New)
Power BI (New)
SurveySparrow Review Conclusion
SurveySparrow aims to help both by providing users with a crystal clear picture of their target audience's sentiments and harnessing the power of feedback to steer their business toward a better, more promising direction. In other words, it is a great tool to have if you want to take the pulse of your customers or even find what your employees need.
It has many great features that will help you create and do more than simple survey forms. For example, you can boost your employees' productivity with a tool like this. Or improve their work environment. On the other hand, with SurveySparrow, you can find out what your customers think about your product or service.