Outgrow Reviews
& Product Details
What is Outgrow?
Outgrow is an online survey tool that allows you to create surveys easily across various platforms. With Outgrow templates, you can launch surveys in minutes and collect customer insights, measure opinions, and generate leads. The software makes it easy to transfer lead data to over a thousand CRM and marketing software integrations. Outgrow also enhances your customer experience by making it visually appealing.
Outgrow provides end-to-end analytics and complete funnel visualization, offering users insight into unique visits, engagements, leads generated, referrals, and more. The platform offers numerous survey tools, such as embedding like and follow buttons in calculators to increase social following, and adding share buttons for LinkedIn, Twitter, and Facebook.
Outgrow is ideal for use in various industries such as finance, healthcare, fitness, real estate, SaaS, e-commerce, insurance, marketing agencies, and health companies.
Found in these Categories
Best For
Lead generation with interactive calculators & quizzes
StartUps

Freelancers

Small Business

Medium Business

Large Enterprise

Non-profit Organization

Personal
Cloud, SaaS, Web-Based

Mobile - Android

Mobile - iPhone

Mobile - iPad

Desktop - Mac

Desktop - Windows

Desktop - Linux

Desktop - Chromebook

On-Premise - Windows

On-Premise - Linux
Company Name

Outgrow

Located In

United States

Website

outgrow.co
Starting from:
$22 /month
Pricing Model: Subscription
Pricing Details:
The Outgrow pricing is quite affordable. Yet, they don't have a free version but offer a limited free trial. Still, like almost all the tools in the market, if you want premium features, you'll have to upgrade your subscription to a premium one. The four pricing plans are Freelancer Limited, Freelancer, Essentials, and Business.
See Outgrow Coupons
Skip Logic

Drag & Drop Builder

Multilingual Support

Multimedia

Questions Library

Email Distribution

Answer Conditions

Analytics

Response Management

Templates
Additional Features
Third Party Integrations

Engagement Tracking

Lead Nurturing

API

Visual Analytics

Template Management

Multi-Campaign

Search/Filter

Feedback Management

Multi-Channel Distribution

Prospecting Tools

Conversion Tracking

Real Time Analytics

Landing Pages/Web Forms

Question Branching

Survey Builder

Response Quotas

Lead Qualification

Customizable Templates

Event Triggered Actions

Data Analysis Tools

Lead Segmentation

Customizable Branding

Mobile Survey

Question Piping

Auto-Responders

Social Media Integration

Campaign Analytics

URL Customization

Filtering

Randomization

Multi-Channel Campaigns

Campaign Management

Email Marketing

Customer Segmentation

Data Import/Export

Response Validation

Content Management

Web Forms

Real Time Reporting

Support Audio/Images/Video

Pulse Surveys

Customizable Fields

Audience Targeting

Social Media Monitoring

Real Time Notifications

Campaign Segmentation

Email Reminders

Chat/Messaging

Customizable Questions

Customizable Reports

Real Time Data

Contact Database

Data Visualization

Activity Dashboard

Forms Management

Lead Capture

Access Controls/Permissions

Site Intercept Survey

Social Promotion

Categorization/Grouping

Reporting & Statistics

Campaign Planning

SEO Management

Alerts/Notifications

Email Management
Content is a key component for everyone, both individuals and businesses. However, as a business owner, how can you enhance your content and customer experience? The industry provides numerous tools, each with a unique role, to help people and businesses upgrade their workflow.
So, how can you create more personalized and interactive content to generate more leads and boost your conversion rate? The answer lies in the Outgrow review, which will help you understand how survey software can improve your business. Let's find out more about Outgrow and how survey software can benefit your business.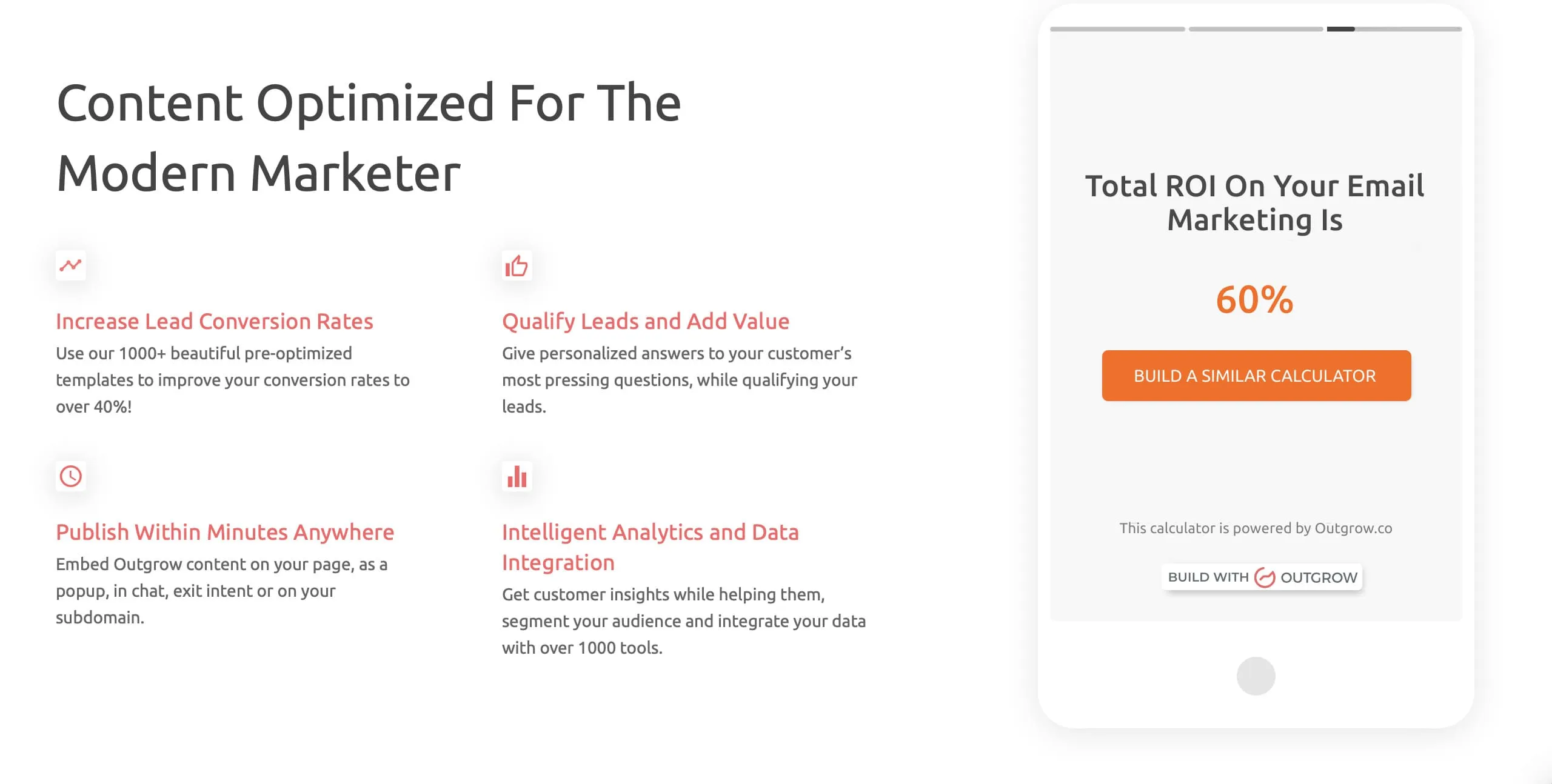 About Outgrow
Initially, I mentioned Outgrow, and you might be wondering what it is. Outgrow is a digital marketing tool that helps businesses grow. It is an online survey and marketing software that allows you to create interactive content, quizzes, and calculators. With Outgrow, you can enhance your customer experience, and their customer service team is always available to respond promptly to your queries.
The survey software comes with responsive templates that can be customized with your brand colors, logos, and assets. Additionally, you can embed the Outgrow calculators in your full-screen pages, pop-ups, blogs, and websites.
What can you do with this tool?
Now that I have shed some light on Outgrow, let's find what you can create using this tool.
Customer education
Lead generation
Lead segmentation
User Engagement
Building a buyer persona
Finding partners, affiliates, referrals
Increasing traffic
Improving SEO
Display ads
Product research
Customer support
Human resource
Customer retention & satisfaction
Market research
ABM (Account-Based Marketing)
Brand research
A/B testing
Marketing Analytics
Social media marketing
Demand generation
Lead nurturing
If you need further assistance, there's more to offer. Outgrow allows you to create a variety of intricate formulas using mathematical and logical operators to calculate metrics such as Return On Investment (ROI), savings, discounts, percentages, and more. Additionally, you can customize the templates with your own branding, logos, and assets, and perform A/B tests to optimize them.
How to use Outgrow?
Before using Outgrow, you need to install the software on your device and log in with your credentials. The interface is user-friendly, so you won't have any trouble using it. Outgrow has multiple features, but we'll focus on how to use it to create interactive content.
After logging in, you'll be directed to the dashboard where you can see various content types available, such as numerical calculator, outcome quiz, assessment, poll, e-commerce recommendation, chatbot, giveaway, and form/survey. Each of these types has different templates that you can choose from.
For example, if you select the numerical calculator content type, you can choose from different templates related to finance, registration, health and fitness, technology, influencers, festivals, trending, marketing, and others. Once you've chosen a template, you can edit it according to your requirements.
Details of Outgrow Features
Now that you have the big picture of this tool understand better what it can do for your business with its features.
With this feature, you can add custom branding like logos, colors, assets, fonts, and style. In addition, to the A/B tested, optimized templates are available on Outgrow.
On Outgrow, your survey results can be displayed in real time in a single view. You can also generate dynamic charts and visualize the whole user funnel. You can analyze your real-time efforts to know what you can improve in your next campaigns.
If you're running out of ideas, you don't have to worry anymore. Outgrow got you covered with its custom templates. You can choose from over 1000 interactive templates to boost your influence and stand out from the crowd. Moreover, you can search on the platform regarding the industry you're working for. Here's what you can create with this tool:
Calculators
Recommendations
Quizzes
Chatbots
Assessments
Forms/Surveys
Giveaways/Contests
Polls
You can also use Outgrow to create a lot of complex formulas, using mathematical and logical operators to calculate Return On Investment (ROI), discounts, savings, discounts, percentages, and others.
With this tool, you can generate leads on any aspect of the quiz or calculator, and built-in email validation ensures that every lead generated is genuine.
Another great thing about this platform is integrating it with your email marketing tools to build your list of subscribers. For me is the perfect combo between traditional and modern marketing ways.
Other Features
Mobile Survey
Multi-Channel Campaigns
Prospecting Tools
Question Branching
Question Library
SEO Management
Skip Logic
Support Audio/Images/Video
URL Customization
Video Management
Alternatives to Outgrow
Maybe you're not amazed by what this tool can do for your business. Even if you're looking for something else, the price may not be that affordable for you. There is always another alternative for each tool. That's why it is better for you to inform before buying or even spending time trying a specific tool. Thus, here are some of the Outgrow alternatives that you can choose from:
Rock Content created Ion. Ion is a content experience software that enables marketers to engage, target, and convert higher-quality leads using a data-driven, code-free solution. In addition, many brands use Ion to launch interactive infographics, assessments, ROI calculators, quizzes, and other interactive formats within a few hours.
You can also use Ion to build brand awareness, increase conversions, and lead generation enriching your contact database with declared, high-intent data. Moreover, they offer four pricing plans – Starter, Growth, Pro, and Enterprise. But you need to contact them for the cost of each of the plans.
SurveySparrow is created to help users create and share highly engaging, mobile-first surveys that provide a chat-like experience. Also is one of the most popular survey software. But here are some of the features that SurveySparrow offers:
Workflows to automate recurring tasks and increase action efficiency.
Custom CSS to add your personal touch to every survey.
Efficient integrations to avoid the hassle of using multiple software.
Survey sharing across a plethora of channels with the easiest sharing options.
Survey automation with recurring mode to gauge customer or employee pulse regularly.
 IP Restriction to restrict account access only to trusted locations and networks.
Single Sign-On to log in to our platform with just a single click.
Sub Accounts to manage surveys independently under one parent account.
White labeling to customize every element of your survey.
Efficient user management to optimize your workflow.
Click-free dashboard and highly advanced report filters for generating insightful reports.
Moreover, Survey Sparrow offers six pricing plans, one of which is free. It has a Basic plan that costs $19, a Premium plan that costs $49, a Business plan that costs $149, and an Enterprise plan that costs $499. Also, you will need to contact an Elite plan to know how much you will pay.
You can use Typeform to create professional and beautiful surveys and online forms that people will like. You can also use it to gather feedback, sign people up for events, receive job applications, take payments, and create engaging quizzes or interactive stories. In addition, it offers four pricing plans. A free plan, a Basic plan that costs $29 monthly, a Plus plan that costs $59 monthly, and a Business plan that costs $99s monthly.
Businesses use ActiveCampaign to engage with their customers. The software gives brands access to more than 500 pre-built automations that combine email marketing, marketing automation, and CRM for powerful segmentation and personalization across social, email, messaging, chat, and text. In addition, it has more than 850 integrations with different apps. Here are some of the things you can do with ActiveCampaign:
Replicate the 1-1 personal experience for each customer, no matter how big your business gets.
Develop customized campaigns with little effort, then improve your send strategy based on real-time customer behaviors.
Use data from the complete customer lifecycle to select each customer's best content, send time, and delivery channel.
Customize sends based on almost any parameter, so your messages are always targeted at the right audience.
Monitor buyer preferences, behavior, and customs attributes across the entire customer lifecycle for deeper segmentation and more effective outreach.
Automate personalized experiences across all your customer touchpoints.
The tool provides four pricing plans. The Lite plan costs $9, the Plus plan costs $49, the Professional plan costs $129, and the Enterprise plan costs $229.
Autopilot is easy and visual marketing software for automating the customer journey. Marketers use Autopilot to acquire, nurture, and grow leads into customers with personalized email, in-app messages, SMS, and postcards. It supports only the English language. It has three pricing plans: The Campaign plan costs $29, the Pro plan costs $99, and the Business plan costs $299.
Outgrow Review Conclusions
To summarize our Outgrow review, it is an online survey tool that businesses can use to create customizable lead forms and calls to action for their websites. Outgrow allows you to create interactive content such as quizzes with custom questions. You can also use widgets to calculate Return On Investment (ROI), savings, percentages, and discounts. Moreover, you can integrate these widgets into your pop-ups, websites, or blogs.
Additionally, Outgrow has charts and graphs, funnel visualizations, and lead management features. It also enables you to send personalized marketing emails through the tool. The platform offers integrations with over 1000 sales and marketing tools such as Pardot, Hubspot, Marketo, and MailChimp.
Ultimately, the decision to use Outgrow depends on your business needs. If you are looking for a tool to create modern marketing campaigns for your customers, you can try their free trial and see how it goes. However, if Outgrow does not meet your requirements, you can always explore other alternatives in the market. The key is to find the right tool that suits your business needs.