Crowdfire Reviews
& Product Details
What is Crowdfire?
Crowdfire is a social media management software that will help you with content creation and automatize the process of post publishing. Moreover, you can even benefit from some analytics to measure and track your ROI (investment). So, if I may say, Crowdfire is a smart solution for individuals, businesses of any scale, and any entrepreneur that wants to grow their online presence in a breeze.
Crowdfire is not only a platform. They offer an app too, which makes it a powerful tool for attracting followers. With Crowdfire, you can manage multiple accounts, and people can use the tool for multiple channels. Even for Tik-Tok, which is growing fast and increasingly used by people and brands.
Found in these Categories
Best For
Manage all your social accounts from one place.
StartUps

Freelancers

Small Business

Medium Business

Large Enterprise

Non-profit Organization

Personal
Cloud, SaaS, Web-Based

Mobile - Android

Mobile - iPhone

Mobile - iPad

Desktop - Mac

Desktop - Windows

Desktop - Linux

Desktop - Chromebook

On-Premise - Windows

On-Premise - Linux
Company Name

Crowdfire

Located In

India

Website

crowdfireapp.com
Starting from:
$9.99 /month
Pricing Model: Subscription
Pricing Details:
Crowdfire is a freemium software offering free and three other premium plans: Plus, Premium, and VIP. Each plan is designed to offer a solution for many categories: content creators, solopreneurs, small businesses, medium businesses, agencies, and larger businesses. For the free plan, you know it is free, so $0. For the Plus plan, you will have to pay $9.99 /per month. You'll have to pay $49.99/mo if you want the Premium plan. And for the VIP plan, $99.99/mo.
See Crowdfire Coupons
Analytics/Reporting

Automated Publishing

Content Management

Customer Engagement

Multiple Users

Post Scheduling

Social Media Monitoring

Chrome Extension

Bulk Upload

Calendar

Collaboration Tools

Mobile App
Additional Features
Content Curation

Customizable RSS Feed

Custom Best times

Queue Meter

Report Builder

Competitor Analysis

Mentions Tracking
It doesn't matter if you own a small business, an enterprise, or a content creator. Social Media is an essential element in your strategy. Nowadays, social platforms are the main channels to connect with your customers and engage in a better relationship with your targeted audience. Since the advent of social platforms, people have been trying to understand the algorithms and how they work to boost their business or brand.
But sometimes, you need a specialist to help you manage your social accounts. We know a better social media manager, and it is called Crowdfire. If you wonder who Crowdfire is, devour this review, and I'm sure that by the end of it, you'll understand better the necessity of a tool like Crowdfire in your company/agency/personal branding.
Crowdfire – Your social media management software
Did you know that more than three billion people worldwide are using social media every month? This number tells me that online presence on social media channels is essential for brands and content creators. Social media has become the common playground where companies meet their customers, engage with them and understand their needs. Nowadays, every brand/business/product/person has one or more social media accounts. But what is the secret of creating an engaging account that people will follow and convert into customers?
Some people focus on better understanding social media algorithms and becoming specialized in managing social media accounts. Yet, a person like this can cost some good money. In this review, I want to show you how Crowdfire can help you create engaging content for your audience, schedule post-publishing, and do many other great things. Even if you still have a person who manages social media accounts, you can still purchase this tool to ease the workflow and focus on better strategies.
Thus, I will say no more and let this Crowdfire review speak for itself. But I'll ensure you understand what you can do with Crowdfire and how to use it to get more followers and save time and money while growing your brand awareness.
What is Crowdfire used for?
If you've got until here, you know you could use some help. For example, maybe you want to learn how to manage your social media account. Or how to make your presence online felt or get more followers. To succeed in social media, you must understand its algorithms to get your message/product to your targeted audience.
Many tools on the market can help you grow your social media presence, but what can Crowdfire do for you? First, Crowdfire can optimize your social media account and bring more followers, working great, especially for Twitter and Instagram. Here's a list of some of the benefits of using the Crowdfire app:
Automated Publishing
Content Managemen
Multi-Account Management
Post Scheduling
Brand Tracking
Customer Engagement
Multi-User Collaboration
Reporting/Analytics
Thus, I will detail more in the feature sections what you can get if you choose this tool, but I can say that it is only to help you organize and manage all your social media accounts and create content or curate. To sum up, Crowdfire grows your online presence with an accent on scheduling content across your social channels at the most suitable times. In addition, it adds social listening and competitor analysis at its higher subscription levels.
Moreover, users can use the Crowdfire app to track who is following their social media accounts and who's not. On the left side of the screen, you'll see several options in the menu: Non Followers, Fans, Recent Unfollowers, and Recent Followers. Non Followers are accounts you follow but don't follow you. Fans are the ones that follow you, but you don't follow. And the other two are exactly what they sound like. You'll get an avatar, a username, a bio, and a following/follower summary on each one. Finally, on the right side of the screen, you'll see the option to either follow or unfollow each account.
Details of Crowdfire Features
To deeply understand a software product and what it can do for your business, you must consider its features. Most SaaS products offer a free version, but it's just a taste of what the tool can do. That's why you'll have to purchase a premium one. Yet, some of the features can also come with the free plan. But let's see what Crowdfire features are and what you can do with them. This tool covers four big features, and each one has its dedicated features.
Content
Publish
Analytics
Mentions
As I said before, Crowdfire is not just a social media management software; you can also create and improve your content for posts. With Crowdfire, you can do content curation. Before going further, I want to detail a little about content curation. This topic defines the process of finding and collecting online content and using the best pieces for your campaigns.
Using a tool like Crowdfire does not involve creating your content but researching and sharing information created by other people that your audience will appreciate and respond to. Like all other aspects of marketing, content curation adds value to your brand and creates lasting relationships with your customers. This way, you'll be able to focus on the strategy rather than create engaging content. Moreover, this feature will allow you to do more than content curation like:
Customize RSS Feed
Add any RSS feed that you want to start curating articles right on your dashboard. Then, type in the feed name, pick a feed and sit back.
Image Curation
Crowdfire is the only social media management tool that offers you image recommendations that you can use for your Instagram accounts. In addition, the creators approve all the images, which can be shared automatically with proper credits.
Relevant articles
Enter the topics you want to curate for and get relevant articles and images to post—no need to hop across the web in search of content.
Curate from your blog or e-commerce store
Connect your Shopify or Etsy account, WordPress or Medium blog, and even your Youtube account to schedule product updates, a new blog or video announcements, and directly from Crowdfire. Save hours with this simple feature.
After having your content ready for your social media accounts, you must publish them, which may take some time. But, with Crowdfire, you can save that time and focus on other things with their easy scheduling feature and publishing to all your social media accounts. In addition, this feature will help you get the big picture of your posts and improve your workflow. So, let's see what else this feature can do for your business:
Publish everywhere
Schedule and publish content to Twitter, Instagram, Facebook Pages, Linked In, and Pinterest from one place.
Schedule in advance
Pick a date and time and schedule content to be published later. Then, schedule for the week and sit back.
Tailored Posts with Preview
The tool will automatically tailor each post for each social network. What's more- you can preview the posts before publishing.
Automatic + Custom Best Times to Post
Customize the best times to post every day, or use our automatic best time to post a recommendation for each of your accounts.
Queue Meter
Ensure that you have enough content scheduled for the week with the queue meter. The queue meter indicates whether your timeline will look active for the next seven days.
Another great thing you can do with Crowdfire is measure, track, and understand your ROI (return on costs). For example, when investing in social media posts, you need to know if your investment is profitable. Moreover, this feature lets you better understand your customer/follower behavior and important data about your audience. It's the only sure way to access insights you can use to optimize your marketing efforts and product strategy. Crowdfire offers you this big picture and many other benefits:
Report Builder
With this feature, you can build and share custom professional reports with the data points you want to highlight.
Add all the social networks of your choice in a single report
A predefined template for all your reporting needs
Pick and choose the data points that matter to you
Download presentation-ready PPT and PDF reports
Schedule weekly/monthly report exports directly to your email
Advanced Analytics
Deep dive into analytics to understand your #ROI and refine your strategies.
Take a closer look at what's happening on your Socials
Customize your reports with data points of your choice
Find detailed insights on each of your post
Download your reports in PDF and PPT format
Competitor Analysis
Compare where you stand against your competitors and improve.
Find their top posts
Understand what's working for them
Get an overview of their performance
Analytics Overview
Quickly glance at the numbers daily to ensure you're on track.
Check the number of posts shared
Keep track of your engagement
Keep an eye on your followers and fans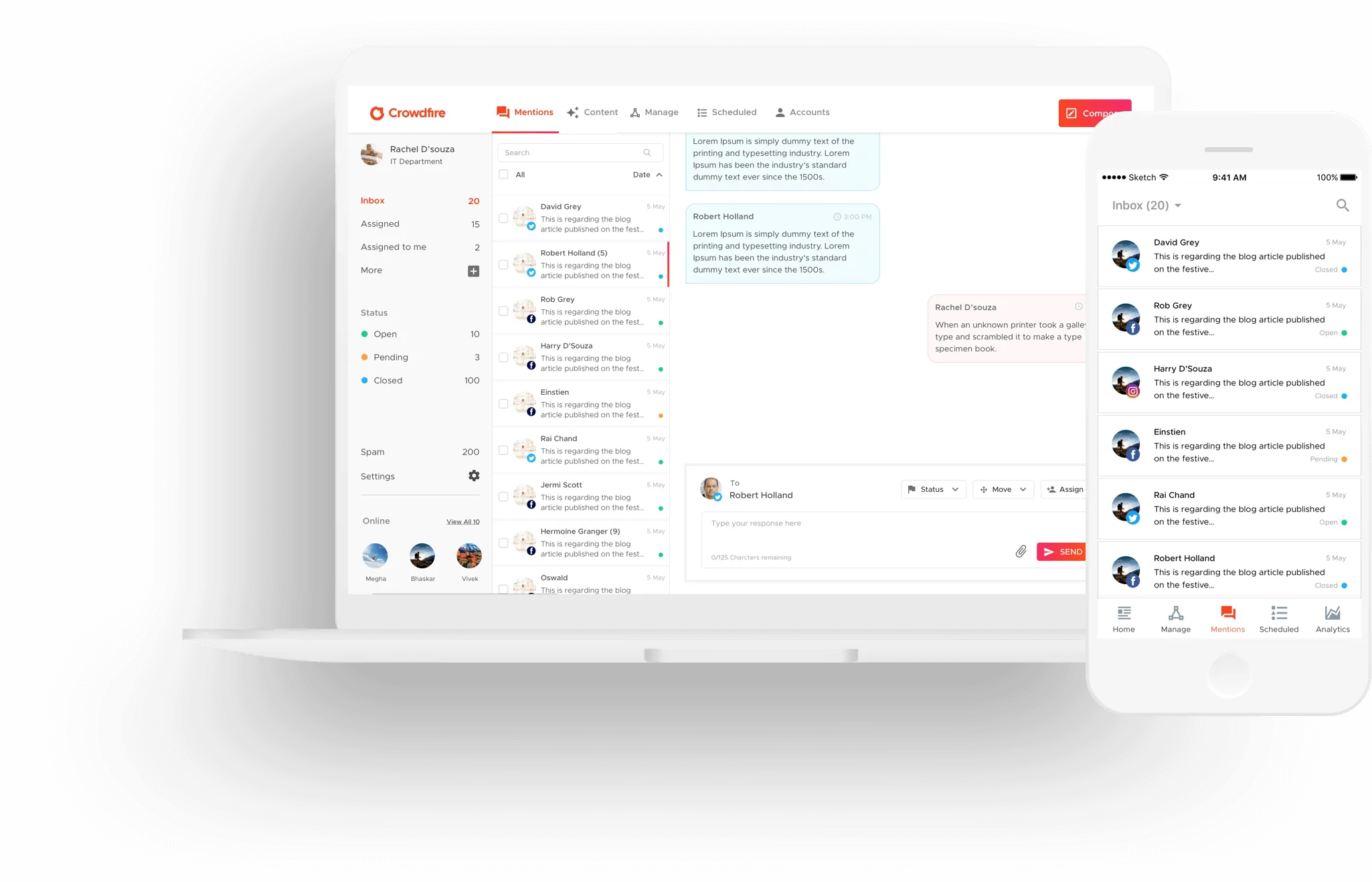 With this special feature, you can track all your brand/account mentions and engage with those people. Additionally, Crowdfire lets you stay on top of all your social media accounts and monitor the posts and replies. So your social media team will never miss a single mention; they can track them, comment, and even reply. Moreover, you can send replies to all mentions with images, videos, or even gifs. And you can do that better by using the Crowdfire app.
To sum up, with the Crowdfire app or platform, you can manage all your social media accounts to grow your online presence, and these features will help you understand and analyze your audience behavior. Moreover, instead of losing time publishing posts for each social media account, you can automize the process using the Crowdfire Publish feature. Also, if your team is out of ideas, you can use the Content Curation feature, and the tool will deliver suitable content for your brand.
Alternatives to Crowdfire
If you're looking for a good alternative to Crowdfire, you're in the right place. I've always supported the idea of researching and keeping your options open until you've reached the ideal tool for your needs. Crowdfire may be what you need or not. Maybe it is the price, its features, or something else.
Ultimately, it is all about choosing the right social media management software to help your business grow and improve its communication with users. But most of all, you need a tool to help you publish and create posts for your social media accounts by automatizing them because it can be time-consuming. Although, after reviewing this, I can say that Crowdfire can be a great help. Yet, if you wish for something else, here are my proposals:
SocialPilot
Hootsuite
Sprout Social
Zoho Social
Crowdfire Review Conclusion
I hope this review has clarified the importance of social media and why you should invest in a software product that can automate some processes and help you understand how to grow your online presence. Taking care of your social media accounts is not that difficult, yet more time-consuming. The Crowdfire app not only helps you automate some processes, like publishing and scheduling, but it also helps you create the right content for your brand on social media. Moreover, Crowdfire offers you some analytics features that can allow you to see the big picture of your social media accounts. As a result, you can better understand your audience's behavior and extract good insights that your team can use for your next marketing campaigns.
How good is Crowdfire?
To sum up, Crowdfire offers some interesting features that are nice to have for your social media team, a good price for what it can do, and the platform or the app is user-friendly and intuitive. A social media management software product is a must-have tool when each brand and content creator exists online. Moreover, Crowdfire is suitable for businesses that want to grow their awareness online and engage with their followers and content creators who want to improve their social media profiles by posting regular and good content.
Crowdfire Related Insights