Why you need a sales toolbox to scale your business and engage leads better | Ivan Mamonov - Snov.io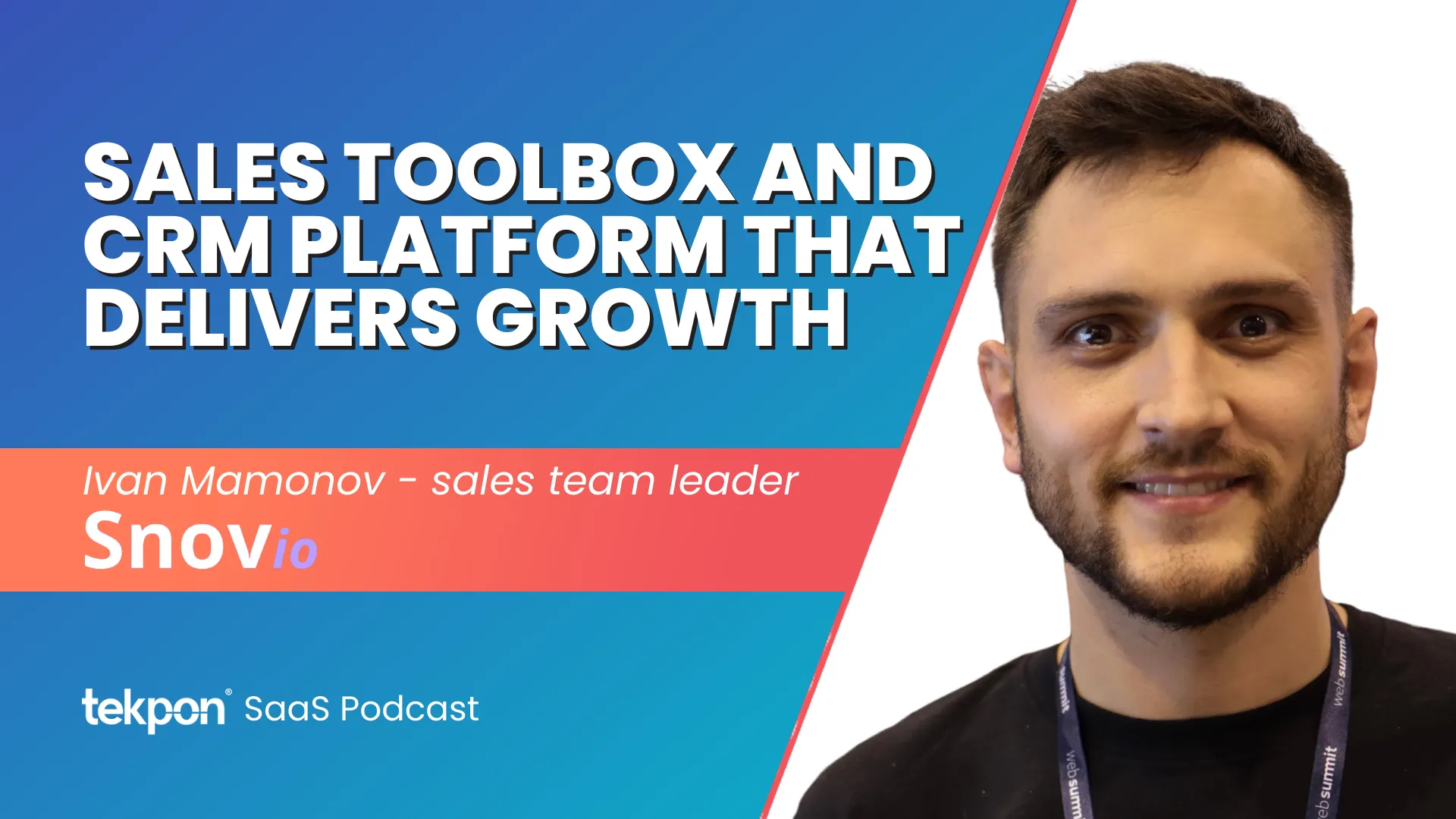 About Snov.io
Ivan: Snov.io is a sales automation platform that comes with must-have sales tools these days – lead generation, email outreach tool, email warmup, and many more. We fill your pipeline with quality leads and help you reach your target through our email drip campaigns.
Snov.io best features
Ivan: There are several features that Snov.io has to offer. The first one is email extraction from such sources as LinkedIn, or it can be premium LinkedIn accounts such as Sales Navigator, which works perfectly well. It can import your list of domains, full names, and domains, and now we can get the business emails of your audience. The second thing is email verification. Let's say you've got many emails in your database in the US area, and you'd like to verify those, and you can definitely do it with our tool. The email warmup these days is essential to ensure all your emails get into inbox folders. Within our tool, you'll be able to increase your deliverability and reputation to ensure you land in inbox folders. Last but not least, we've got an email drip campaign. It's an email outreach automation solution that can automate your correspondence.
LinkedIn extension
Ivan: You can easily extract business emails from LinkedIn profiles with a few clicks. All you have to do is just simply launch LinkedIn, hit the extension, and get those emails in your scenario account.
Snov.io pricing plans
Ivan: Snov.io features some packages depending on your requirements and business objectives. Since we are using credit base system, our prices may vary depending on the number of credits, from $39 all the way to $739. We have monthly packages and annual plans, and I'm sure we will find the right fit for that.
Snov.io featured integrations
Ivan: With Snov.io, we have some native integrations with pretty handy tools like HubSpot, Salesforce, Pipedrive, Asana, Slack, MailChimp, Google Forms, etc. We also integrate with 2000-plus solutions as we have Zapier integrations.
What are the use cases of Snov.io?
Sure. The most common use case is a sales rep struggling to reach his monthly quota. He gets the subscription with Snov.io, receives several leads, qualifies them, and puts in the email drip campaign to achieve his percentage. The second one is commonly used for marketing, which works really well when generating a list of leads and then selling them to the sales teams. And the last button list is the recruiter case. You know how hard it is to find the right candidate these days. You can simply go on LinkedIn, hit the extension button, get some emails for those candidates, and then just send them job offers or job opportunities.
How do you differentiate from your competitors?
Ivan: I would say the scenario really stands out from a whole bunch of other tools in the market these days its by multifunction. Snov.io it's an all-in-one tool. You can find emails, verify emails, warmup emails, and send email campaigns. We are really famous for the customer care that we provide, and we got an exceptional support team. These guys always handle all your needs and inquiries, so they'll always be happy to assist you with your assist.
Do you have any pieces of advice for starting salespeople?
Ivan: Absolutely, I would say that it's a learning process. There is no chance of staying in the same place. It's always an improvement; you must keep learning and constantly pushing yourself. Sales are just numbers, and you can always make more. It all requires just a bit of effort, knowledge, and maybe a little bit of luck.
What's your favorite software apart from Snov.io?
Ivan: We eat our own dog food in this scenario, we use our own solution for all our purposes. It does an excellent job for us because we have tons of demos booked daily, right? We need proper calendars and great scheduling software to process that volume. I would say Calendly works pretty well, and Trello is a good one too.
Connect with Ivan
Snov: snov.io
LinkedIn: linkedin.com/in/ivan-mamonov