NationBuilder Reviews
& Product Details
What is NationBuilder?
Is it important for your organization, campaign, or cause to build and maintain a strong base of supporters? Are you attempting to persuade your supporters to become advocates, voters, volunteers, members, or donors? If that's the case, NationBuilder is a fantastic platform for you!
The NB platform is focused on assisting you in attracting new supporters, engaging them, and motivating them to act. It has comprehensive tools for managing your website, donors and volunteers, database segmentation, email communication, and finances.
Are you frequently short on personnel to manage your organizing and marketing efforts? Do you only have a limited number of technical resources at your disposal? Then, NationBuilder was created specifically for you.
To power your website, NationBuilder provides prebuilt website page kinds. For example, you may build a new event that collects RSVPs, a fundraising campaign where people can give by credit card, a page to recruit new volunteers, or a petition to gather online signatures with a few clicks.
Found in these Categories
Best For
Designed for every community & organization, no matter the goals.
StartUps

Freelancers

Small Business

Medium Business

Large Enterprise

Non-profit Organization

Personal
Cloud, SaaS, Web-Based

Mobile - Android

Mobile - iPhone

Mobile - iPad

Desktop - Mac

Desktop - Windows

Desktop - Linux

Desktop - Chromebook

On-Premise - Windows

On-Premise - Linux
Company Name

NationBuilder

Located In

United States

Website

nationbuilder.com
Starting from:
$41 /month
Pricing Model: Subscription
Pricing Details:
NationBuilder pricing plans are flexible to fit every mission. The Starter plan costs $41/month or $34/month with annual billing. The Pro Plan costs $179/month and $160 monthly with annual billing. For the Enterprise plan, you will have to contact sales. A 14-day Free Trial is available for you to try all premium features.
Campaign Management

Email Marketing
Additional Features
Contact Database

Volunteer Management

Donor Management

Donor Targeting

Event Management

For Democrats

For Republicans

Fundraising Management

Online Payments

Advocate Management

Forms Management

Engagement Tracking

Event-Triggered Actions

Nonprofit Advocacy
NationBuilder is a web-based campaign management system designed for political campaigns and non-profits. It has integrated content and membership management tools that enable customers to reach their target audiences and interact with supporters. It is ideal for SMBs and corporations and serves customers in various industries, including NGOs, advocacy, education, and government. Amnesty International, Airbnb, DMO, United Way, New Jersey Democratic State Committee, and the Republican Party of Florida are its clients. Let us review this software in detail.
NationBuilder: Campaigns Management Software
NationBuilder, a privately held online firm founded in 2009, provides a software platform that assists leaders in developing and organizing their communities. Organizations may use NationBuilder to develop a custom website, track their progress, receive donations without paying transaction costs, send limitless emails, and more. 
Leaders may use the platform to create dynamic profiles based on people's social media accounts, contact information, and website activity.
What does NationBuilder provide?
NationBuilder provides business solutions, live demos, online courses, training, webinars, publications, a free U.S. voter file, a database of elected positions, and its main software package. Amnesty International, Airbnb, United Way of Greater Los Angeles, the United Nations, the City of Boston, and the Peace Corps, to mention a few, are among the more than 9000 clients NationBuilder services in 112 countries across the world. 
NationBuilder has been featured in several high-profile publications, including The Atlantic, Fast Company, The New York Times, Forbes, and Politico, to name a few. NationBuilder is a hybrid of a content management system and a customer relationship management (CRM) platform, but that's because its membership management platform is more focused on enticing individuals to engage with your cause than managing them as a group. 
The benefits of NationBuilder
Intelligent communication technologies may help you identify the correct audience, offer customized messages, and simplify text sign-ups. For example, you can schedule messages and measure KPIs like openings, clicks, donations, spam complaints, and unsubscriptions through an automated email module.
Database Management: In a centralized hub, access donor data such as origin places, previous interactions, and demographics. Make educated judgments based on real-time data updated immediately after each contact. Use advanced filtering, issue-based categorization, segmentation, privacy settings, and customization options to get the most out of your data.
Action Pages: Use preset templates for events, volunteers, petitions, and contributions to create campaign-specific pages. Increase engagement by using social media and call-to-actions.
Crowdfunding: You may increase revenue and grow your network by involving volunteers. Add role-based customizations to the control panel to create supporter-specific pages.
Website Management: Use pre-made themes and templates to create customized, dynamic, and mobile-friendly websites. Includes petition pages, tickets, polls, and social sharing options, allowing seamless data sync without using any code.
Integrations: Connect with other platforms like Zapier, ZillionInfo, UCanvass, Thankster, Strive Digital, and more to automate processes, gain insights, and streamline interaction.
Management of Fundraising: Using online fundraising tools, plan and host events, sell tickets, and track RSVPs. Multiple contribution choices allow for direct transfer to selected accounts.
Who can use NationBuilder?
Political groups may use NationBuilder to map the geographic locations of their supporters and construct custom lists to manage supporter information for effective targeting. In addition, it aids in the collection of contact information for both individuals and organizations and links that information to various social media platforms such as Facebook, LinkedIn, and Twitter to communicate with supporters.

 

Clients may also create personalized websites to communicate with supporters and use a real-time dashboard to track the engagement's overall progress.
Non-profit organizations may utilize NationBuilder to engage with volunteers and contributors and promote fundraising events across several web channels. Email blasting is a feature of the solution that allows customers to send tailored emails to individuals, groups, or whole membership groups. In addition, with online leaderboards, organizations may establish personal fundraising sites and engage supporters in recruiting and fundraising efforts.

 

Users may also use leaderboards to track top fundraisers or recruits and reward them for their efforts. The solution also aids in the creation of personalized routes that lead users through a series of stages or instructions to achieve certain goals.
Brand managers may utilize NationBuilder to promote their brands across numerous digital channels. For example, organizations can run online campaigns or communicate with end-users via postings, tweets, emails, or text messages and collect thoughts and comments about the campaign. The solution may also be utilized when users must keep track of customer information and focus on customer interaction.
What can NationBuilder be used for?
NB can be used for a variety of things. Some of them are listed below:
With preset templates, you can create pages in minutes. Inspire your fans, collect information, and monitor behaviors across your site with ease, all while encouraging social sharing.
Use real-time data to target your supporters: Create dynamically updating lists, filters, and tags in a database with every supporter interaction.
Send the appropriate emails and SMS at the appropriate times: Personalize your supporters' email, text, and field outreach based on their interests and previous interactions with your campaign.
With built-in payment processing, you can raise more money: Maximize campaign contributions and minimize work, collect, and handle one-time and recurring donations easily.
Templates for action pages ready to use: Create petitions, events, contributions, and sign-up pages quickly and easily that connect with your database.
Send the correct email to the right people at the right time: Segment and customize email blasts depending on how previous supporters interacted.
Streamline social sharing: Use the built-in social media sharing prompts on your action pages to expand your reach.
Details of NationBuilder Features
The list of features that makes NationBuilder stand out among its competitors is discussed below:
Concentrate on people and place them at the center of your efforts
NationBuilder was developed to help users become better leaders who can understand and communicate with people from all walks of life in the most effective way possible. Whether starting a political campaign and running for office, organizing volunteer activities, lobbying for community concerns or recruiting more supporters for their organization or brand, NationBuilder can help them focus on the people who make their campaigns successful. They may use the program to place these people at the heart of their efforts, helping them to form stronger bonds.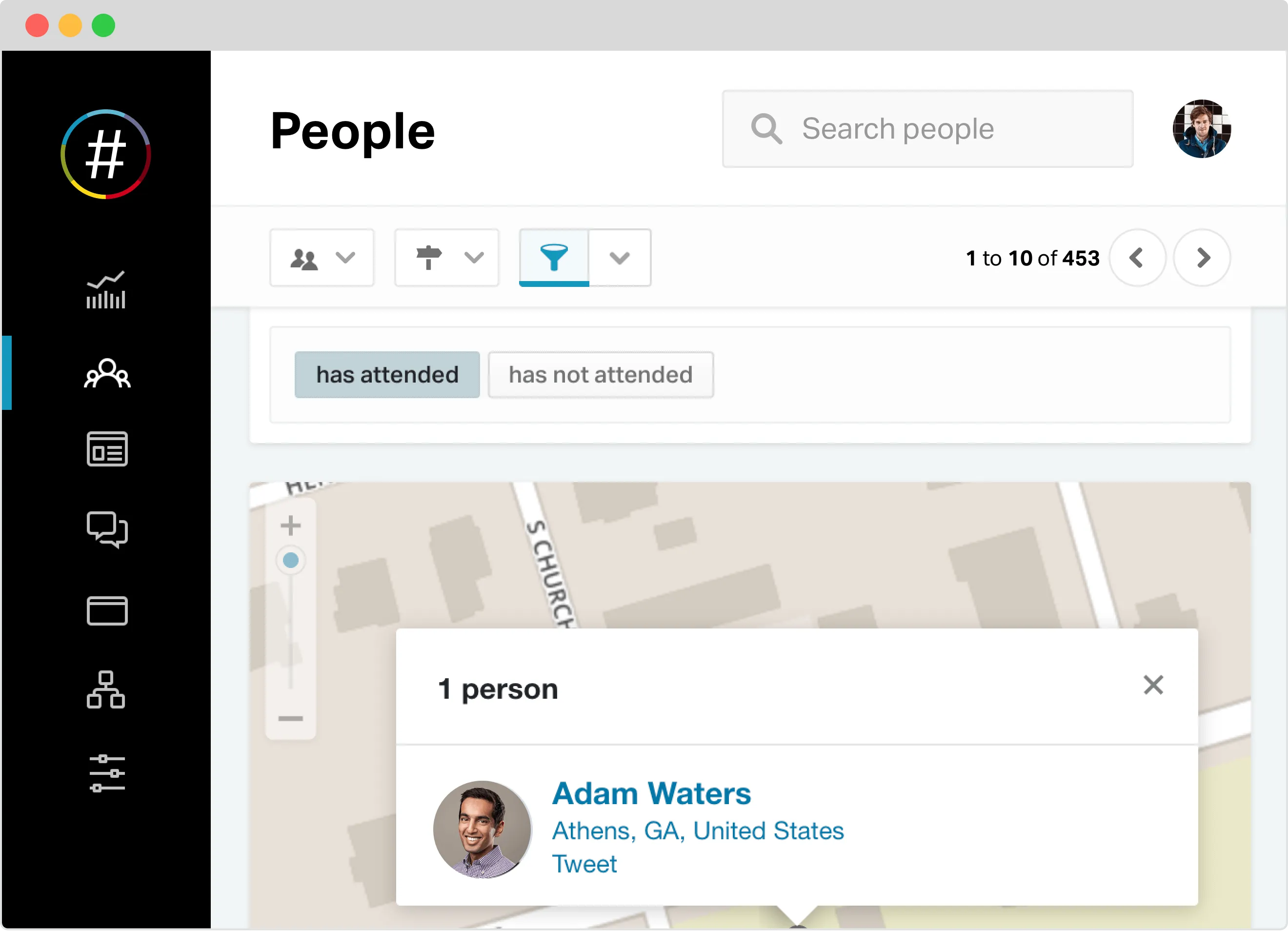 Compile a list of your supporters' names and contact information
NationBuilder, a people-centric solution, has capabilities that enable leaders to identify and understand their followers completely and dynamically. They will be able to collect information about supporters and generate supporter profiles using NationBuilder. Contact information, site activity, and engagements with the organization are all included in this data. The program stores all of the supporter information in a single database.
Feature of Social Matching
Leaders and their teams may use NationBuilder to uncover publicly accessible social profiles of their supporters. They can link email addresses to these public social accounts using the software's capability. They'll be able to reach out to the appropriate supporters with the proper email addresses, making organizing supporters easier.
Access the right supporter information and start creating personalized engagements
Leaders may engage their supporters in a customized way using Nation Builder. This is due to a feature in the program that allows them to quickly locate the specific information they require about their supporters and launch targeted interactions and messages based on that information. For example, they may tag supporter information, build lists, and use filters to track pertinent supporter information and send tailored communications to supporters.
Create a Website That Is Both Interactive And Responsive
Leaders may construct their dynamic and adaptable website using campaign management and community-building tools, which can improve how they engage with supporters. Firstly, they may customize the website they create using themes and designs and have it hosted on a custom domain. 
Secondly, they can also include pages for specialized purposes like event advertising, fundraising, online registration, etc. Finally, they may gather information from supporters using these sites, and the tool will immediately update its database with the most recent information entered. Furthermore, NationBuilder has a staff of website developers and designers that may assist customers in quickly constructing their website.
NationBuilder includes tools to help leaders organize their followers, encouraging them to act and actively participate in expanding the organization's reach. For example, supporters can advertise contribution pages and accept money directly on such pages. 
Leaders may also use the platform to combine their current communication tools, making reaching out to funders easier and maintaining track of supporters' activities. In addition, supporters can share links with their relatives and friends to urge them to attend events, engage in campaigns, or join the community as new members.
Social media management is crucial to a NationBuilder site's success. The platform integrates social media sharing on Facebook, Twitter, LinkedIn, and other sites. In addition, you may utilize your NationBuilder control panel to communicate with members on social media sites like Facebook and Twitter and create RSVPs for Facebook events. 
Your users' social accounts are synced with their database records, giving you access to images, biographies, and friends lists. This is closely related to the Paths feature, which allows you to link membership objectives to specific social media behaviors.
Integration with 123FormBuilder
123FormBuilder is a third-party application that connects to your country. You may use the software to create elaborate registration forms and even contribution pages that you can embed on your website. Contact information, custom fields, and tags collected from these forms will be synchronized to your country. However, please remember that 123FormBuilder will not be able to assign your supporters to a path or trigger additional actions.
To connect 123FormBuilder and your country, follow these steps:
Begin by creating a new form. Then, fill in all of the required fields.
Go to Applications under the Settings tab of your form, then link with your nation by following these procedures, and then designate how you'd like data put into your form fields to be delivered to NationBuilder.
Use the embed code as a plugin or embed the published form on your website.
The base package is free and includes NationBuilder integration assistance. To discover more, go to their website.
A public API is available for NationBuilder. Consider developing an API integration if you have a developer on staff. This is a personal link between your country and a third-party website. Visit Nation Builder's API documentation, Developer Blog, and API quick start guide to learn more. Contact one of Nation Builder's certified developers if you'd like to hire a developer for this project.
It is possible to set up a procedure that involves exporting data from a third-party system and importing it into your own country. However, before adopting this option, there are a few things to think about:
Firstly, verify that you can receive a ".csv" file containing the data you wish to import.
Secondly, e familiar with the exported fields from the external system. Then, plan how to match them to the fields accessible for import in your country.
Thirdly, gain a better understanding of how to properly set up an import in your country.
Alternatives to NationBuilder
Here are the top alternatives that are available in the market to NationBuilder:
MemberPlanet
Ecanvasser
Congress Plus Advocacy
Qomon
CiviCRM
EveryAction
Keela
DonorPerfect
Optimy
Gesture
What sets NationBuilder apart from EveryAction (VAN)?
EveryAction is a charity software platform with online fundraising, advocacy, and email marketing features. The platform has widgets for connecting with your website, but no CMS capabilities exist. Thus organizations must construct and manage their website in addition to EveryAction. 
As a result, EveryAction often necessitates a significant amount of integration work to perform in tandem with your existing or separate website. To summarize, EveryAction can be far more expensive than the advertised price. If the costs of operating a separate site and the unique integrations necessary are factored in.
Is NationBuilder better?
NationBuilder, on the other hand, is the world's first leadership software, with everything you need to lead your organization already built in. Firstly, NationBuilder comes with a website, a database, communication tools (email, social media, and text), and the financial tools you'll need to collect donations and raise revenue. 
Next, the NationBuilder database is also best-in-class. It is completely linked with social media, dynamically updating with all site activities and having powerful geocoding and filtering to target and engage individuals based on their actions with you or demographic criteria. Then, NationBuilder also contains new elements to assist you in leading. For example, NationBuilder routes are designed to boost your supporters' involvement with your organization and objectives, which may help you encourage your team and achieve greater impact.
In conclusion, having all of these tools integrated into one platform isn't only handy. It's the difference between keeping and losing your fans. It's the difference between winning and losing for many of our consumers. NationBuilder increases your understanding of the influence you're making and allows you to act on that understanding right from the tool. It was created to assist you in attracting, engaging, and retaining more readers, supporters, funders, votes, or consumers.
NationBuilder Review Conclusions
To summarize, Nation Builder focuses on acquiring members rather than managing them within a company or group. You receive a powerful membership marketing tool for a single monthly cost with several social media-focused features. Try it out today!