Pabbly Email Marketing Reviews
& Product Details
What is Pabbly?
Pabbly is one of the most reliable email marketing plugins on the internet. It allows you to send emails through the inbuilt Simple Mail Transfer Protocol (SMTP). If you wish, you can use other external SMTP servers, like Amazon SES and Sendinblue with Pabbly Connect, to deliver your email to your target audience.
The app is quite easy to set up as you will get a detailed step-by-step guide to ready your campaign in ten minutes. With Pabbly, you don't need to create your emails from scratch. Instead, its drag-and-drop email builder helps you create captivating and valuable emails that influence the right call-to-action from your customers.
Found in these Categories
Best For
Email Marketing Software to Grow Your Business, Not Your Bills.
StartUps

Freelancers

Small Business

Medium Business

Large Enterprise

Non-profit Organization

Personal
Cloud, SaaS, Web-Based

Mobile - Android

Mobile - iPhone

Mobile - iPad

Desktop - Mac

Desktop - Windows

Desktop - Linux

Desktop - Chromebook

On-Premise - Windows

On-Premise - Linux
Company Name

Pabbly Subscriptions

Located In

India

Website

pabbly.com
Starting from:
$29 /month
Pricing Model: Subscription
Pricing Details:
Moving on to another category of major interest from this Pabbly email marketing review, pricing plans. They are in four categories - Free, Rookie, Pro, and Advance. Aside from the free plan, which has restricted features, all other Pabbly subscriptions offer all essential features without limitations. Thus, the plans differ in the number of subscribers, forms, customers, credits, and functions at each level. Each plan also has a 20% discount if you pay yearly.
Activity Dashboard

Automated Email Responses

Building and Personalizing Emails

Campaign Management

CAN SPAM Compliance

Contact Database

Customer Segmentation

Customizable Templates

Drag & Drop

Event Triggered Actions

WYSIWYG Editor

Real-Time Analytics

Lead Capture

A/B Testing

Import & Host Mailing List

Verify Emails

Drip Campaigns

List Management
Additional Features
Automation Workflows

Subscription Form

Developer API Integration

Plain Text/HTML Editor

Suppression List

Filter

Webform

Add CTAs

Bulk Import Contacts

Mobile Responsive

1-Click Resend

Add Delivery Server

Connect External SMTPs

Marketing Automation

Auto-Followup

MX Cleaner

Email Tracking

Custom Fields

Throttle Emails
Pabbly Email Marketing
Boosting your business branding requires a large customer base. One strategy you can use is direct email marketing. That's because it is a way to get in touch with customers directly.
Luckily for business owners, the Pabbly marketing platform allows you to optimize your emails and get more engagement. Pabbly provides a lasting marketing solution for marketers who hardly get the right response when they send their emails. It boasts a 99% inbox delivery rate when you send bulk emails by connecting with an SMTP.
You don't need to create forms from scratch for your campaigns and advertisements. The Pabbly form builder provides a convenient drag and drops editor to create stunning forms, such as payment forms, contact forms, event registration, account sign-up, etc.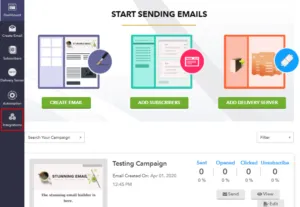 Advantages of using Pabbly
Suppose you are busy now; Pabbly email marketing allows you to schedule your marketing campaigns. Its time-zone email scheduling helps you improve your deliverability rates. Even when you have recipients who don't open their emails, Pabbly ensures they get the message by sending follow-up emails in a non-bugging manner.
You can use Pabbly subscriptions to send advertisements, and promotions, request business, solicit sales or donations and set up webinars. Pabbly email builder makes it easy to send any message quickly. That allows you to build trust, loyalty, and your business brand without compromise. Furthermore, Pabbly Lifetime deals allow unlimited workflows to automate all your integrations.
Pabbly Email marketing makes it seamless to gather information about your recipients through its form builder. You can use the insights from your customers' responses to make important decisions about your business and improve your customer service. You can also track and measure the effectiveness of your campaign.
About Pabbly
Pabbly is an easy email marketing platform marketers use to send and track emails. It provides reliable inbox delivery, subscriber segmentation, autoresponder emails, and much more. Pabbly Email marketing helps you manage your entire online business by taking care of your marketing, sales & marketing needs.
It also saves you from using multiple applications simultaneously by integrating them with multiple apps. Pabbly Connect allows you to automate your workflow and transfer data seamlessly. The marketing platform is an all-in-one solution for subscription management, payment billing, and marketing automation. It employs various tools, such as form builder, subscription billing, several integrations, and email marketing, to improve your sales.
When you use Pabbly, your emails have a higher chance of getting to your target recipients' inboxes rather than the spam box. Its built-in server makes this possible, ensuring your emails are safe and trustworthy.
Pabbly Subscriptions enables users to create multiple subscription plans for products and set up several payment gateways like credit cards and ACH. In addition, you can test out the payment gateway to see the transaction process and billing cycle before launching.
In addition, the marketing solution supports the creation of multiple invoices with custom branding. Users have a central dashboard providing information on new subscriptions, refunds, canceled subscriptions, and more. Also, Pabbly offers users unlimited access to add coupons, promo codes, products, and customers.
What is Pabbly used for?
Pabbly is used for creating and sending emails and forms and collecting leads for your business. Essentially, it is used for marketing that involves sending emails to customers' direct inboxes. In addition, emails help you reach and create a personal relationships with clients.
However, customers are beginning to filter messages they get daily and sending some to their spam inboxes. That way, they won't get to be bombarded with several messages at the same time. Pabbly understands this fact and creates a solution that suits the seller, marketer, and consumer.
How to use Pabbly?
The marketing platform allows the marketer to easily create simple and valuable forms or emails through drag-and-drop features. At the same time, the consumers get valuable emails they can't ignore directly in their inboxes.
Aside from sending emails, you can track the progress with Pabbly in connection with Google analytics. That means it monitors your email campaigns, collects necessary data, and tells you if your emails get enough engagement. Also, you get to know when the recipient opens your mail. If otherwise, you can make Pabbly send a follow-up email.
Another thing that Pabbly is most used for is list cleaning. To maintain your consumers' and recipients' trust, you must ensure your email list is clog-free and updated. Irrelevant data can hurt your email marketing and affect your overall sales.
How to send emails with Pabbly email marketing?
Email list cleaning is the process of removing inactive and inaccurate subscribers' data from your email database. Cleaning your email ensures your IP's security, stability, and reputation are intact. In other words, you avoid the risk of sending bulk emails that bounce or go directly to spam.
Pabbly works by scrubbing your most active emails and cleaning duplicate emails. It then finds spammy emails and users who have unsubscribed and removes them. It also corrects any typos or errors found. Pabbly does all of these in a way that doesn't affect your conversion rates.
Furthermore, many marketers use Pabbly for subscriber segmentation. Subscriber segmentation allows you to divide your subscribers into categories based on the information they provide. As a business owner, there is no better way to increase engagement than sending only relevant content to your users. That way, your emails reach those who need them the most and are ready to take action.
Pabbly helps you achieve this by sending targeted emails to different groups of your subscribers. For instance, you can send emails to your subscribers based on their age, geographic location, skills level, birth month, inactive subscribers, incentive type, and more. Using Pabbly to segment your subscribers increases the chance of higher open, deliverability, conversion, and sales rates.
Now, let's continue the Pabbly email marketing review with an in-depth analysis of the features this tool brings to the table for all its users.
Details of Pabbly Features
Key features of Pabbly marketing email:
Email Tracking and Marketing Automation
With its powerful Email Tracking feature, Pabbly enables you to monitor your outgoing email open rates, click-throughs, bounce rates, unsubscribed users, and more. In addition, its marketing automation feature helps you create systemized workflows.
You can pre-scheduling emails or email campaigns, set automatic welcome emails for every new subscriber, and so on. You can also use your website's API-supported and embedded subscription form templates to enhance lead generation.
Drag & Drop Email Builder
This tool allows you to create forms and emails with an in-built email builder quickly. It requires no technical skill or support. All you need to do is use the drag-and-drop button to click on your desired element and place it in the right location on the form. Also, you can customize, add, or remove any block you want to create your form.
Sending emails to invalid email addresses does not look good on you as a marketer. It does not only a waste of time but also increases your bounce rate. However, you won't have to worry about this when you use Pabbly. Pabbly's Email Verification software assists marketers in authenticating subscribers' email addresses before sending emails.
Pabbly follows a "slow" verification process of sending ping requests to the recipient's email address. So, once the email server receives the ping request, it informs you whether the email address is authentic or not. That way, Pabbly avoids request denial from the mail servers of certain subscribers.
Pabbly does a thorough scrubbing of your subscribers list to identify threatening emails. For instance, Pabbly sanitizes your email list by removing missing or wrong email syntax, duplicate emails, and inactive domains. That allows you to focus on the most relevant and active subscribers.
Pabbly's Subscription Billing feature is a subscription management and recurring billing software. It helps you manage billing, recurring payments, consumer subscriptions, failed payments, invoices, coupons, discounts, trials, clients portal, affiliate management system, and more in one location. For example, you can create subscription and billing forms, and add custom checkout pages and customer data.
In addition, the billing management software allows smooth customer payment collection through different payment gateway platforms, including Stripe, PayPal, and Razorpay. Pabbly includes subscription billing features that accommodate currencies, like USD and Euro, to avoid complications with payment processing.
This tool enables you to send emails to different groups of subscribers based on their similar information. For example, the tool allows you to send certain emails to new subscribers, old subscribers, users with the same birth months, users in the same location, etc. That way, each of your subscribers gets relevant and valuable content, increasing your conversion rates.
Moreover, Pabbly allows you to connect more than 200 apps on its platform to automate your marketing and sales operations. From different social media platforms, gateway payments, and video conferencing apps to CRMs, there is no limit to the app you can sync with Pabbly. Common apps compatible with Pabbly include Google Analytics, Facebook, SalesForce, and Google Drive.
Pabbly Email Marketing Integrations detailed
As stated earlier, Pabbly permits maximum work automation. It integrates with over 500 applications and software. Even if your integration is not on their list, you can request it from the Pabbly team. The integrations only require a few clicks:
Select and authorize the apps you want to sync with Pabbly.
Customize your sync by adding actions, filters, and field mappings.
Sync.
Some popular apps Pabbly integrates with include Zapier, PayStack, Quickbooks, Salesforce, Shopify, ChargeBee, Ecwid, Google Analytics, Instapage, Twitter, Facebook Ads, Online Live Support, Tapfiliate, and so on.
Pabbly Email Marketing Review Conclusion
So, the Pabbly email marketing review undoubtedly, shows that the software makes email marketing easy with its tools and features. Small and mid-size business owners use the marketing platform to send mass emails to their subscribers.
Moreover, it is also used to increase engagement and conversion rates. It tracks your emails and ensures they get to your target recipients. Pabbly drag-and-drop features make it easy to build up any form quickly and get it across to consumers. Aside from email marketing, Pabbly helps you declutter your subscribers' list, segment them, and authenticate each email address before publishing.
Last, Pabbly can be described as an open book as it connects with over 700 applications and software. That provides enhanced automation that makes your work faster. The platform also allows you to connect external and multiple SMTPs to increase your email deliverability rates. Pabbly is software that helps businesses generate more revenues, sales, and leads. It is an affordable option for email marketers to engage with customers in the best possible way.
Pabbly Email Marketing Related Insights