Campaign Monitor Reviews
& Product Details
What is Campaign Monitor?
Campaign Monitor is one of the most popular email marketing platforms out there. As I've mentioned, it is a powerful email marketing tool for small e-commerce businesses. It offers a complete set of email marketing tools to help you grow your business, like detailed reporting, autoresponders, and a pre-built email template.
Campaign Monitor email software is perfect for freelancers and small businesses who want to send out email campaigns with ease and style. Any product, service, or cause to promote can use Campaign Monitor. In addition, they offer plans for larger companies that want to send thousands of emails per month or have more advanced features like API integration or email automation.
What sets Campaign Monitor apart from other email service providers (ESPs) is its easy customization — it offers an API that lets you build your apps on top of the platform to meet your specific needs. This makes it a great choice for developers and large enterprises with many users.
Found in these Categories
Best For
Email marketing software with drag-and-drop simplicity.
StartUps

Freelancers

Small Business

Medium Business

Large Enterprise

Non-profit Organization

Personal
Cloud, SaaS, Web-Based

Mobile - Android

Mobile - iPhone

Mobile - iPad

Desktop - Mac

Desktop - Windows

Desktop - Linux

Desktop - Chromebook

On-Premise - Windows

On-Premise - Linux
Company Name

Campaign Monitor

Located In

United States

Website

campaignmonitor.com
Pricing Model: Subscription
Pricing Details:
First, it's free to create an account. With this free account, you can send a campaign to five subscribers. If you need more, you'll have to upgrade your subscription. The paid plans are Basic, Unlimited, and Premier. The cost is tiered based on the number of contacts. It starts at $9/month and goes up to $989/month for 50,000 contacts.
A/B Testing

Activity Dashboard

Automated Email Responses

Building and Personalizing Emails

CAN SPAM Compliance

Drag & Drop

Drip Campaigns

Event Triggered Actions

High-Volume Sending

List Management

WYSIWYG Editor
Additional Features
Mobile Optimized Emails

Landing Pages/Web Forms

Template Management

Dynamic Content

Reporting/Analytics

Subscriber Management
Campaign Monitor is an email marketing platform with many email marketing tools to help you engage and retain your customers and grow your business. In addition, it can help you create beautiful, responsive emails that look great on any device. Moreover, Campaign Monitor helps you track who is opening and clicking on links in your emails and allows you to send targeted messages based on behavior, location, and more. The service includes a drag-and-drop email designer to create professional-looking emails without technical know-how.
If you need free email marketing software to help you manage your emails perfectly, you should consider using Campaign Monitor. This Campaign Monitor review will review its pricing and features and the pros and cons of using it for your e-commerce shop's email marketing needs.
Email marketing campaigns for businesses
Campaign Monitor is one of the best email marketing tools that small and medium-sized businesses can use to create, send, and optimize your email advertising campaign. Also, with the Campaign Monitor email platform, you can create powerful and beautiful email campaigns to manage your entire list of subscribers. Or track the performance of your marketing strategy and campaigns. You can also set up automated emails to be sent out when people subscribe or act on your website. Businesses use this email software to send mass mailouts, program autoresponders and analyze the results.
How to use Campaign Monitor
You can use Campaign Monitor to do so many things. First, you must enter your login details to create an email builder template on Campaign Monitor. Next, click your profile photo at the top right, then choose My templates when logged in. Finally, if you have already saved templates on your account, click Create a template to view your options for getting started.
You will see four options you can choose from:
Begin from scratch — This is the "blank slate" option, free from preset styles, layouts, or other customizations.
Select a design — This collection of predesigned emails containing photos and placeholder text provide a starting point for your template.
Select from your current emails — It's easy to create an email template from a former email that includes content sections you can regularly use, making it easy to create new campaigns. This option is only available for email builder templates. It isn't available for custom-coded email templates.
Upload your HTML — This option is not related to email builder templates. But you can select this option to upload custom-coded email templates.
Customize your email template
The template customization tools are similar to those in the email builder. Still, it lacks email settings that you can use to apply default styles for font sizes, fonts, and different template element colors.
Use a saved template
After you set up your email builder template, you can create campaigns, smart transactional emails, and journey emails in the email builder. When prompted, on the "Choose a starting point" page, click My templates to choose from your saved templates.
Details of Campaign Monitor Features
Here are some Campaign Monitor features:
Campaign Monitor templates
One notable thing about Campaign Monitor email software is the numerous templates. There are over eighty-five Campaign Monitor templates you can use to create emails. These templates look beautiful, and you can easily use them. In addition, the templates will permit you to use great web fonts. You can use the drag-and-drop editor to edit any template you want. It's very easy to use.
Importing and exporting subscribers
You can easily import data into Campaign Monitor. It's not so difficult. You can import from almost any type of database format. Some formats you can import from include ZIP, TXT (tab-delimited), CSV, XLSX, and XLS.
Users are free to copy and paste the content of any of these file types directly into Campaign Monitor. But there are specific requirements that Campaign Monitor has concerning what you can import —you may have issues importing lists that have not been mailed in a long while, rented or bought databases, and data associated with gambling or pharmaceutical products.
Many other email marketing platforms have these restrictions. These restrictions minimize the risk of you or Campaign Monitor getting blacklisted by email providers for spammy activity. You can also easily export your data. For example, you can export the entire lists or segments to CSV format.
Another amazing feature that Campaign Monitor has is its flexibility around data segmentation. You can easily create segments on this platform because of the intuitive interface. In addition, with Campaign Monitor, you can send emails to different segments or lists simultaneously – other email marketing platforms won't permit you to do this. If your business currently has complex requirements concerning data segmentation, the  Campaign Monitor is a tool you should consider using.
Autoresponders is another amazing feature that Campaign Monitor has. We mean automated 'drip' emails that you program into your system by autoresponders. Each time a user joins a mailing list, they can automatically receive a series of pre-programmed emails–Campaign Monitor calls it 'subscriber journeys.' You can easily set these subscriber journeys on Campaign Monitor because the steps are well laid out.
Sign-up forms and landing pages
You can easily set up and implement the sign-up forms on Campaign Monitor. Moreover, you are also free to create embeddable forms, standalone forms, or pop-ups, which you can include on your site via links or code. Finally, you can also use Campaign Monitor to create landing pages.
One of the very amazing things about Campaign Monitor is its interface. The developers took their time creating an intuitive and clutter-free interface. As a result, it is one of the most user-friendly e-marketing tools.
Split testing in Campaign Monitor
Another amazing feature that Campaign Monitor has is the split testing feature. Although the split testing option is very basic – you can test only two variables against each other. So, it is limited in a way.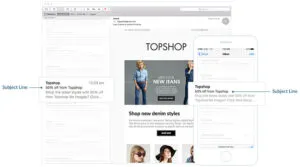 The white-label feature on Campaign Monitor also helps it stand out among other email marketing tools. With the white label option, you can rebrand your product and provide your clients with a login. In addition, they usually offer discounts to agencies who qualify to use the product in this manner; this effectively allows agencies to make money due to hosting their clients' lists on it.
Integrations
Campaign Monitor has pre-built integrations that you can easily customize to suit your company's unique needs. Here are the applications that Campaign Monitor has integrations with:
Salesforce
WordPress
Unbounce
Intercom
OptinMonster
Rungopher
Facebook leads ads
Adroll
Red Arc
GrowSurf
Outgrow
QuickBooks Online
Alternatives to Campaign Monitor
This product is not the only email marketing tool you can use. There are many Campaign Monitor alternatives that you should explore. Here are some of them:
Constant Contact is a fantastic Campaign Monitor alternative you should consider trying. Nonprofits and small businesses use Constant Contact to drive results with online marketing. This tool can build a reputable online presence, attract customers, and sell more online—helping you grow your business.
The tool provides all the features and tools you need to increase the number of your customers, sell more products, or share your brand with the world. This tool has amazing features: Email & automation, e-commerce integrations, websites & online stores, and social media marketing. A lot of businesses have been using Constant Contact for over twenty years. Constant Contact has two pricing plans. The Core plan costs $9.99, while the Plus plan costs $45. It also has a free trial.
GetResponse is a web-based email marketing software that enables business owners to build permission-based mailing lists, maximize conversion ratios, build customer confidence, and increase lead generation and profitability. With GetResponse, you can grow your audience, engage with customers, and enhance online sales. It has a free plan. A basic plan costs $19.00. A Plus plan costs $59.00. The Professional plan costs $119.00. For the MAX and MAX², you will need to contact them to determine the pricing.
With MailChimp, you can design and share campaigns across different email and ad channels, integrate with different apps and monitor your results. As a result, Mailchimp's all-in-one marketing platform enables small businesses to market smarter so they can easily grow. You can use this tool to send marketing emails and automated messages, build landing pages, create targeted ad campaigns, send postcards, and sell online. In addition, Mailchimp has a free plan. The Essentials plan starts from $9.99 per month. 
Campaign Monitor vs. Constant Contact
Campaign Monitor and Constant Contact are quite different and similar in different ways.
Customer Support
Constant Contact customer support is available by live chat and phone from Monday to Thursday, 8 am-10 pm, and Friday, 8 am-9 pm EST. In addition, they have limited support at night and during the weekend. Campaign Monitor provides live support seven days a week and 24-hour support from Monday to Thursday.
Email that adds value
Constant Contact is best for small nonprofits that need an all-in-one solution. It has excellent features that can specifically enhance your fundraising strategy. And they provide a discount for nonprofit organizations. But Campaign Monitor is suitable for any organization. People in travel, hospitality, universities, retail, media, and publishing using this tool. Even nonprofits use it.
Design capabilities that support your big ideas
Constant Contact offers email templates to give customers a starting point for their unique designs. But these templates are quite difficult for you to customize. But Campaign Monitor prides itself on providing designer-quality designs without compromising usability. It has an easy-to-use drag-and-drop interface that you can use without extensive design knowledge.
How do you know which is best for you?
Constant Contact is the best option if you have a small business new to email marketing. This is because it has many tutorials you can follow to learn how to use this tool. But if you are an email marketer looking for ways of scaling your growth and offering your customers a memorable customer journey, then Campaign Monitor is a great option.
Campaign Monitor Review Conclusions
Campaign Monitor is an email platform that helps you send email newsletters and other marketing messages and track their performance. Based on our review, it is an email marketing service that caters to small businesses. It allows you to create attractive emails with an easy-to-use email template editor, track their performance, and manage your lists.
This email marketing has many features and templates you would like to explore. Thus, this is a great email marketing software, but some people don't use it because it is quite pricey, especially compared with its alternatives. But the most important factor is if it's working for you, give it a try!
Campaign Monitor Related Insights