signNow Reviews
& Product Details
What is signNow?
signNow is a cloud-based solution that provides an excellent option for businesses to move their eSign needs online. To simplify the process, they offer an end-to-end solution to businesses to manage their eSignature. This way, they can set up the PDF for eSign, and send it to the recipient, which the recipient can send back after the document signing. signNow comes with tons of features, including export options, two-factor authentications, email notifications, built-in templates, and much more.
To make it easy for businesses, signNow comes with built-in templates. These templates offer access to features that make it easy to set up the document and then customize it accordingly. If needed, the creator can see the changes and revert to the previous state with revision history and audit log. You can access signNow through their web app or mobile apps for iOS and Android.
signNow also comes with advanced features such as the date of signing IP addresses of the device to ensure that everything is logged properly. As for businesses, they can do custom branding, send bulk documents, and so on. In addition, it integrates well with other popular solutions, including Office 365, Salesforce, Google Drive, and Office 365.
With signNow, you get the following features:
Create eSignature workflows
Generate agreements
Negotiate contracts
Send documents for signing
Automate business process
Accept payments
Easily add a legally-binding signature
API integration
Conditional documents supported
Team collaboration
Data protection
Add branding
Found in these Categories
Best For
Drive productivity with eSignatures.
StartUps

Freelancers

Small Business

Medium Business

Large Enterprise

Non-profit Organization

Personal
Cloud, SaaS, Web-Based

Mobile - Android

Mobile - iPhone

Mobile - iPad

Desktop - Mac

Desktop - Windows

Desktop - Linux

Desktop - Chromebook

On-Premise - Windows

On-Premise - Linux
Company Name

airSlate

Located In

United States

Website

airslate.com
Starting from:
$20 /month
Pricing Model: Subscription
Pricing Details:
signNow pricing comes with 4 distinct pricing packages suitable for businesses of any size. Be aware that by making an annual commitment to the product, you can save up to 60%; moreover, you can test signNow through the free trial.
See signNow Coupons
Access Controls/Permissions

Secure Data Storage

Reminders

Signature Document Creation

Signature Workflow

User Management

Version Control

Workflow Management

Activity Dashboard

Audit Trail

Autofill

Bulk Digital Signatures

Client Portal

Compliance Management

Contract/License Management

Customizable Branding

Data Security

Document Analytics

Document Management

Customizable Templates

Document Signing

Document Storage

Document Templates
signNow – eSign documents
With digitization taking over paperwork, it is no surprise that organizations are now digitizing the way they hire people or close contracts. However, closing deals or onboarding people to the organization requires parties to sign documents, and that's where the problem arises when you have to work at scale. First, you need to invest the effort to get people to sign documents, and then you have to take further actions to organize the documents. That's where the eSign document solutions come in.
signNow is an electronic signature solution provider that enables individuals, freelancers, businesses, and enterprises to manage their electronic papers in an organized way. It lets hiring managers easily ask candidates to sign a pdf when onboarding. Companies can quickly set up their deal by signing deals digitally and do not have to wait a longer period for the process to complete.
signNow is one of the best solutions to e-sign and has shown significant promise recently. It is available on different devices and platforms, including Android and iOS. You can also access it from anywhere using their web app. Let's explore more about the digital signature solution signNow in our signNow review.
signNow Products
signNow has a lot to offer. Apart from cloud eSignature solutions, they also offer other products to improve business process workflow. These products include the following:
eSignature
Document Generation
Payments
PDF Editing
Workflow automation
Contract Negotiation
Contract Management
WebForms
Robotic Process Automation
Online Surveys
Additionally, they also offer solutions to improve and manage complex eSignature workflows. They offer it by use, by industry, and by integration. You need to contact them for a demo to know more about the solutions.
How can you use signNow?
signNow is a popular eSignature cloud-based provider founded in 2011. Currently, it serves more than 45K customers all over the world. Businesses can edit documents and then send them to the recipient for digital signature. This way, companies can manage complex contracts workflow and improve efficiency in working. signNow is also affordable with good scalability and security compliance, including GDRP, ISO, and HIPPA. It also offers great team collaboration features where teams can use templates to optimize workflow. Lastly, signNow is easily accessible with mobile application support.
Using signNow is easy. First, you need to register for your free account using their trial option. Once done, you need to do a signNow login, and it will redirect you to the onboarding wizard, which will ask you about your interests. You can choose all of them or the ones that fit your needs. Next, it will redirect you to the dashboard.
The dashboard is where you can access all the features. For example, you can create a document, add elements such as signature and then send the document. Below is the screenshot of what sending a document looks like.
signNow Detailed Features
signNow is a feature-rich cloud-based eSignature solution provider. Let's go through the key features below.
Standard eSignature tools
signNow offers excellent eSignature tools features. These features let you easily configure the document and send them for signature. Moreover, you can also allow signature forwarding and bulk invite candidates to sign the pdf. Apart from that, you also get to set completion notifications, customize signing invites, add carbon copy receipts, or set document expiration dates.
Users signing the document can sign using the automated sign generated by the tool or use hand-drawn signatures. The users can also decline to sign, and the receipt will get a notification.
The key standard eSignature features include:
Set a document expiration date
Set reminders
Decline to sign
Set completion notifications
Send documents for signing
Bulk invite
Allow signature forwarding
Bulk invite
Create a document signing link
Require signers to draw signature
Customize signing invite
Add carbon copy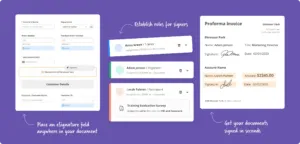 With documents and templates, you improve managing, organizing, and creating the templates and documents. It all starts with easy word document importing, which you can then edit and send out for signing. You can also create a team document if you are working with a team and want all the team members to work on the document and easily track the changes. Apart from that, people can also edit documents, and new data can be added using fill forms before sending out of signing.
Businesses can also create templates and save them for later use, improving their work efficiency as they can later be used to create documents. signNow also offers document groups for templates for easy organization. You can also share the document folders with the team for collaboration.
As for sending, you can create document groups which makes it easier for you to send the document to a group of individuals for signature. Lastly, you can display a document preview before sending or renaming the document via the signing link.
The key document and templates feature includes:
Merge documents
Rename documents via the signing link
Display document preview
Create document groups
Shared document folders
Create document groups for templates
Make template
Fill forms
Create team document
Import word document
signNow team collaboration feature enables teams to easily collaborate by inviting people to the team, sharing documents, and tracking team members' activities. As a business, you can easily create teams with signNow by inviting them to the group.
Moreover, it is also easy to set advanced options for teams by doing different team management controls such as adding or removing members, transferring documents, keeping document tracks, and managing access to documents. Lastly, you can also create shared templates that can help you streamline the team workflow and manage them better.
The team collaboration features include:
Create teams
Set advanced options for teams
Create shared templates
Documents, once imported in signNow, can be edited based on your requirements. You can interact with the documents and treat them as a fillable form by adding new elements. You need to drag and drop the fields and customize them before sending them to the recipient. The key fillable field features that you get include:
Add text fields
Calculated fields
Checkbox fields
Add fields from the Edit & Sign Panel
Smart fields
Magic fields
Text tags to a Word doc
Add radio buttons
Import fields
Insert fields
Add Date/Time fields
Add Anchor Tags to a Word Doc
Enable field snapping
Add drop-down fields
Initials Fields
Stamp Fields
signNow is also available on Android and iOS. This means that recipients can sign documents from anywhere they want, either remotely or in person. The key features that make it possible include:
signNow for Android
Kiosk mode on iPhone
Use background fetch
signNow for iOS
Upload a document on Android
Create multiple teams and create signing links on iOS
Template support on Android
Edit signatures
Print from iPhone
Change Images to black and white
Upload documents
Import documents from email and camera
Sign documents and collect signatures from the mobile devices
Security and Authentication
signNow offers excellent security and authentication. After all, electronic signature service providers need to be as secure as possible while managing security and legal compliance. Currently, signNow provides:
SSL encryption.
Secure Document Storage with SoC2 Type II support.
ESIGN complain.
Two Factor Authentication.
HIPPA Compliant.
Audit Report Feature.
International Law Complaint.
The audit report is an excellent feature as it enables the manager to check the changes and activities on the document quickly. In short, you get the following signNow security and authentication features:
Unique document ID for each document
Phone call authentication
Set up dual-factor authentication
Set document password
Double-factor authentication on iOS
Private cloud solutions
Support PKI security protocol for the best security
Admins are in complete control over the signNow account. They can create an account, change settings, or edit account information. This way, they can keep track of all the documents and manage the process well. In addition, businesses can create Super Admin positions that have complete control over the documents.
The admin console also gives you full control over the documents from where you can easily check the status of the document and create templates. Lastly, it also offers the ability to check document count. In summary, signNow account management features include:
Track all documents
Super admin position for complete control
Create templates
Edit account information
Change settings
Check document count
Advanced eSignature tools
signNow also offers access to advanced eSignature tools, which lets you manage eSignature better in a complex environment. For example, you can add multiple signers in a document or setup up multiple roles to manage complex signature workflows. In addition, you may want to replace the signer in more advanced requirements, which can also be done using signNow advanced eSignature tools. The advanced eSignature tools you get include:
Delete roles
Set up multiple roles
Replace signer
Add multiple signers
Add signer
View your recent signers
signNow integrations and API
signNow offers excellent integrations with popular services and apps. With these, you can set up your workflow with popular solutions such as CRMs, cloud storage services, or productivity apps. Some of the notable integrations include:
Salesforce
Box
Dynamics 365
Gmail
BIM 360
Gmail
With API, you can integrate signNow to custom solutions based on your requirements.
The airState Business Cloud offers more features for businesses who want to get the most out of signNow. The key business cloud features include:
Document generation: Use data sources to create pre-filled documents.
Workflow automation: Improve workflow by automating, deploying, and managing complex workflows
Web forms: Use workflows to create interactive and powerful web forms native to mobile.
Robotic process automation: This enables you to configure airSlate bots without coding them. These bots can automate repetitive tasks.
Contract management lets you manage your contacts by generating contracts, tracking contract execution, and receiving payments.
Contract negotiations: Do contract negotiations using pre-filled templates. 
signNow Cost
signNow pricing plans include four plans – Business, Business Premium, Enterprise, and airSlate Business Cloud. All the plans come with monthly and yearly billing, where you can save up to 60% if you go with the yearly plan. Also, you can try each of their plans by signNow a free trial which gives you access to seven days trial period. Let's go through each of the plans below.
Alternatives to signNow
signNow is a next-generation cloud-based eSignature solution provider. However, it is not the perfect one. It offers good workflow management for businesses but can also be limiting for certain businesses. That's where the signNow alternatives come in. This section will list a few signNow alternatives and compare signNow with DocuSign and HelloSign — two popular alternatives to signNow.
DocuSign is one of the popular signNow alternatives. It is a trusted player in the eSignature market. It offers a clean eSignature and contract procedure – making it easy to use. For businesses, it means getting things done faster. It is also supported on different devices, making it easy to use anytime, anywhere using any device. Moreover, it also works well with popular apps, including Salesforce, Apple, Google, etc.. DocuSign can be used by individuals, small & medium businesses, and enterprises.
HelloSign is another great signNow alternative. It lets you manage your electronic signature in an organized way. By using HelloSign, businesses can get their documents signed securely with a fast turnaround. It also offers an easier way to deploy and integrate your favorite app. It is also easier to administer and set up with more valuable features. Their pricing plans are also good and start at $15 per month for a yearly plan.
 EverSign is aimed at small, medium, and large businesses. It is a cloud-based solution to create contracts in a secure environment. It offers good functionality at an affordable price. Moreover, the tool offers a free version with paid pricing plans starting at $9.99 per month.
Some of its well-known features include the easy-to-sign process. It is easy to document preparation, electronic signatures, and manage the accounts' contracts with proper document management and security. It also offers legal validity and compliance, a document editor, electronic signatures, in-person signing, templates team management, and more!
Other notable signNow alternatives include:
Email
OneSpan Sign
GetAccept
Adobe Sign
PandaDoc
Contact book
signNow vs. DocuSign
signNow and DocuSign are two big players in the eSignature market. Both of them are excellent picks, and you cannot go wrong with any of them. However, as a business, you need to learn about their differences to make the right choice based on your requirement. To do so, let's compare both of them according to the following parameters.
Pricing: When it comes to pricing, signNow offers cheaper pricing than DocuSign. signNow is $8/user/mo compared to $10 per month. signNow also offers more price flexibility than DocuSign, as you can send unlimited signature requests with their plans.
Scalability: Both signNow and DocuSign offer good scalability when it comes to scalability. However, signNow offer more scalability option compared to DocuSign. In most cases, signNow does not need to scale. If you want a cloud solution, signNow offers an airSlate Business cloud package. However, it is slightly costly compared to DocuSign's Business Pro plan.
Features: As for features, DocuSign offers more features compared to signNow. However, you can expect standard features, including basic field routing, an eSignature solution, and mobile support. The common features include payments, templates, bulk recipients, data validation, basic field, comment, draft watermark, and draft watermarks. But, DocuSign offers more features, including smart sections, auto navigational, document visibility, and so on.
Security: Both signNow and DocuSign offer extensive security compliance, including SOC2 Type II, PCI DSS, ISO 27001, and HIPAA. Apart from that, both also support GDPR.
signNow vs. HelloSign
HelloSign is another excellent signNow alternative. But how does it compare to signNow? Let's go through the points below.
Pricing: SignNow is cheaper compared to HelloSign. With signNow, you get the plan as cheap as $8 per month per user. As for HelloSign, here, you need to spend $15 per month.
Scalability: For scalability, you can rely on both of the services. signNow seems to offer good scalability from the start. As for HelloSign, you can go for Dropbox Professional + eSign, which gives you access to 3 TB of storage and costs $24.99 per month. 
Features: Feature-wise, both HelloSign, and signNow are comparable as they offer basic eSignature features. They provide excellent document editing features with proper team management for businesses. However, if you need to choose a winner, signNow offers more features than HelloSign.
Security: Security-wise, both services are at the top of the game with support for significant security compliances, including HIPAA, ISO, GDPR, and so on.
signNow Review Conclusions
In our signNow review, we found signNow to be a great eSignature provider. signNow is a new entrant in the eSignature market. Right now, it is serving more than 45K customers worldwide with tough competition from the likes of DocuSign and HelloSign. However, it stands firmly in the market with affordable solutions and good scalability. The feature set is also extensive and matches with the other competitors. In short, it is a worthy investment for your business if you are looking for a digital signature solution.