Streak Reviews
& Product Details
What is Streak CRM?
Streak CRM for Gmail is a fully embedded customer relationship management (CRM) software that integrates directly with your Gmail. Streak helps you organize and manage your customer data in your inbox. You can have all your customers' data in one centralized location and update it anytime with Streak CRM.
Besides customer and prospects data, you can use Streak to manage projects, sales, and inventory processes. Retail, banking, hotels, financial services, insurance companies, and agricultural and insurance corporations use Streak CRM, and these are industries that deal with customers regularly. Streak CRM lets you achieve your business goals and satisfy customers more efficiently and seamlessly.
A streak is a cloud-based software that uses a sales email tracking tool for Gmail. Streak CRM for Gmail runs directly from your inbox to manage all your business processes in one place. Managing your business relationship with customers can be overwhelming, sometimes with millions of other things to do. CRM Streak offers a seamless way to integrate all data without moving entirely from your Gmail. In addition, it is a reliable solution that explores great options to automate your workflows.
Streak CRM features functional email tools to simplify your business operation. For example, these tools include view tracking info, snooze, email schedule or send later, mail merge, snooze, snippets, and thread splitter. Streak is not solely for email communications with customers and prospects. Instead, it prioritizes emails based on the different stages they are in. It is called CRM for Gmail because it is primarily designed for Gmail users.
The CRM platform is perfect for small businesses and freelancers. However, prominent corporations use it to send bulk emails to their subscribers, track email views, schedule emails, and create unique email threads.
Found in these Categories
StartUps

Freelancers

Small Business

Medium Business

Large Enterprise

Non-profit Organization

Personal
Cloud, SaaS, Web-Based

Mobile - Android

Mobile - iPhone

Mobile - iPad

Desktop - Mac

Desktop - Windows

Desktop - Linux

Desktop - Chromebook

On-Premise - Windows

On-Premise - Linux
Company Name

Streak

Located In

United States

Website

streak.com
Starting from:
$15 /user/month
Pricing Model: Subscription
Pricing Details:
Streak CRM pricing is reasonable when compared to other app plans. First, they offer first-time users a free trial that allows them to access basic CRM 500, 50 email merges, and exclusive email tracking. All these are without any payment or request for a credit card. Their upgraded plans are in three categories: Solo, Pro, and Enterprise.
See Streak Coupons
Activity Tracking

Cataloging/Categorization

Workflow Management

Task Management

Lead Management

Lead Segmentation

Calendar/Reminder System

Lead Qualification

Lead Nurturing

Lead Generation

Lead Distribution

Lead Capture

Dashboard

Activity Dashboard

Sales Pipeline Management

Reporting & Statistics
Streak CRM for Gmail
Streak CRM for Gmail allows you to synchronize your customers' data and manage it all in your Gmail. Instead of moving back and forth from one app to another, you can carry different functions out from your Gmail inbox. For example, you can use Streak for CRM, email support, sales tracking, hiring process, event planning, product management, fundraising, and more.
Streak CRM Gmail takes charge of all your CRM to make your business run smoothly. Furthermore, according to Streak CRM review, the app boasts powerful email tools that tell you when an email is opened or read. As a result, anyone can use a streak without prior knowledge. If you know how to operate a Gmail, Stream CRM wouldn't be a problem.
How to Use Streak CRM
The first step to enjoying the CRM benefits is to install and set it up on your computer. Then, head to Streak.com to get the software. The Streak CRM chrome plugin makes it easy to integrate the app with your device. Or you can use the extension for another browsing app if you don't use Chrome.
Also, there is an add-on for Gmail, which leads you directly to your inbox. Once you get to your inbox, sign in to Streak CRM with your Gmail account automatically. After giving it permission to use your data, you will notice your Gmail has a new face with new features that weren't there.
Just from your Gmail inbox, you can see everything you need to manage your business workflow. You can explore many of the features and tools to see how they work. For instance, the Pipeline feature in your inbox allows you to manage and conduct sales processing, customers, hiring process, project, support ticket, and essentially everything about your customers' journey. You can create pipelines, add contact numbers and details effortlessly.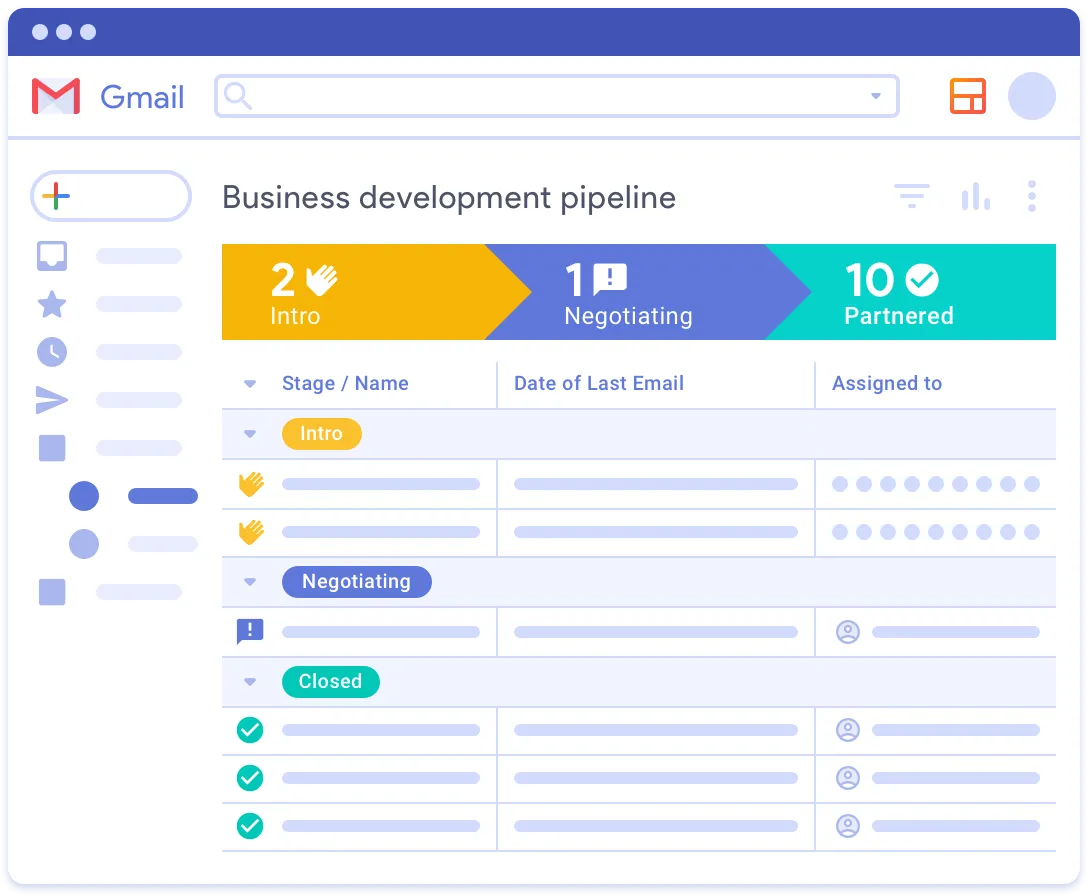 In conclusion, instead of having a cluttered Gmail inbox, you can use Streak to organize all your messages into Gmail, Files, tasks, contacts, call logs, comments, and more.
Streak CRM Detailed Features
The interface is well arranged and outlined, allowing team members to collaborate since it extends Gmail's familiar layouts that users can navigate easily.
Get real-time notification of when your recipients receive your emails. Also, you can follow up on those who miss it to have access to the information.
Data and information tracking
Track your pipelines, contacts, and tasks in your inbox.
Set a particular time for your email to be viewed by customers. You can also edit or cancel scheduled emails easily from your draft.
Instead of wasting time writing new messages or replies, you can use snippets to insert commonly written messages like thank you into your emails through shortcuts and shareable among your team. Also, you can use the mail merge tool to send group message templates with stored data variables from your pipelines.
When you notice that conversations or topics have changed, you can split similar emails into a certain group to avoid confusion.
Customizing and personalizing customer data with every email you send is time-wasting. Mail merge makes that easy by allowing you to personalize mass emails with users' names and data. You can also import this information from pipelines and preview how your recipients will view the message.
Other Streak CRM features include:
Custom permissions
Email filters
Consolidated billing
Webhook API access
Boxes
Custom columns/fields
Data recovery service
Exclusive phone support
Import and Export capabilities
Magic columns
Formulas
Linked boxes
File attachments from Google Drive
Advanced Zapier integration
Mobile access (iOS)
Saved email views
Streak CRM Cost
Solo paid plan
The Solo paid plan stands to be the most suitable and appropriate for single users, small business owners, and professionals seeking a functional CRM package. This Streak CRM pricing begins at $19 per user, and it offers basic CRM up to 5000, 800 mail merge, and email tracking.
Pro paid plan
This plan is suitable for established businesses and teams that need a complete CRM solution in their corporations. It goes for $59 per month. It features an advanced CRM, shared pipelines, 1500 mail merge, and email tracking. There is a 14-day trial to explore the plan before making a final decision.
Enterprise Paid Plan
The enterprise paid plan is for large businesses and companies looking for sophisticated and deep customization and data validation of their users. It goes for $159. Some of its unique features include all the features in the other plans, custom permissions, data validation before working on it, high priority support for users who need help at any point.
How much does Streak cost?
You can try them out at first. However, if you want to upgrade, you must pay a fee depending on your business goals. For instance, the platform has a paid plan of $19, $59, and $159. Streak also offers a 20% discount if you pay a year upfront.
Streak CRM Detailed Integrations
Any CRM's pleasure is allowing the user to do a lot from your inbox. Streak CRM integrations allow you to synchronize with many popular apps. That way, you can easily automate your workflow and have more time for other aspects of your business.
Besides your Gmail, you can integrate the CRM with your Google sheet, Google Calendar, Google contacts, Facebook Lead Ads, and Mailchimp.
Alternatives to Streak CRM 
There are other functional Streak CRM alternatives for you. They help you organize your emails and improve your business brand through excellent customer management. Check below for suitable Streak alternatives:
Zoho CRM
Copper
NetHunt CRM
Pipedrive
Yesware
HubSpot CRM
Salesflare
Zendesk Sell
ActiveCampaign
Agile CRM
Salesforce Marketing Cloud
Keap (former Infusionsoft)
Nutshell
Freshsales
Nimble
Contactually
Streak CRM Review Conclusion
Email is still one of the best direct communication forms with customers and prospects. It can determine the success or fall of your business. You risk losing many sales opportunities when you don't manage your Gmail well. Luckily, Streak CRM for Gmail helps business owners manage their customer's data most efficiently.
The CRM helps you organize your Gmail, manage your customer's data effectively, collaborate with your team, and prioritize your workflow. Right from your inbox, you can improve your customer service without any brand awareness. For instance, you can send bulk emails, schedule emails, track emails, do sales processing, and do your general business.
A centralized location like Streak CRM ensures you achieve your business goals without compromising excellent customer support systems. The digital world is moving at a fast-paced speed. If you want the best for your business and customers, consider Streak CRM. It provides a free trial and paid plans with great features and tools to automate your workflow fully.