Teamwork
Ana-Maria Stanciuc
June 4, 2021
54
Project Management
Visit Teamwork
Add to wishlist
Added to wishlist
Removed from wishlist
0
Add to compare
Teamwork Review
Even if you are a small, medium, or large business, you probably have to deal with many projects and different departments. The best solution to manage all the work and teams is to use o project management software product; it can be a lifesaver. Not only that can you have the big picture of all your projects and deadlines, but also you'll get to improve your people's workflow and make their life easier and your clients happier. Teamwork is one of the project management software that deserves to be brought to user attention. The segment of project management software products is so evolved, and you can find so many tools. But which one is the best for your business? Which one is going to bring value to your company? Let's find out from this Teamwork review if this can be your tool and how you can use it at its best.
PROS:
Easy to use
Time tracking feature
Customizable
Highly scalable
Billing and invoicing
Free version
CONS:
Lack of CRM integration
Mobile app needs improving
Teamwork – Project Management Software
---
Not so long ago, people were using pen and paper and lots of agendas. That was the traditional definition of project management software offline. Nowadays, the process of digitalization is so evolved and so present in our lives that we have to adapt. And it is not a bad thing. Imagine that now you can have all those agendas with notes and ideas in one digital place.
You can go with your business to the next level by focusing on the essential things. And have all your projects together in one tool. Teamwork is one of the project management software that can do that for you. Even planning events, meetings boost your team's productivity and keep your employees happy and organized.
Moreover, using a tool like Teamwork, you can observe the evolution of your projects. And learn what people can do better next time. Also, Teamwork, compared to other tools like this one, offers time-tracking. This feature will help you understand how much time people are spending on working on a project and shows you the right insights to approximate the exact delivery of the project.
Therefore, I want you to understand from this Teamwork review how necessary is a project management software product when you have to deal with many projects and how a simple tool can organize your entire business so that you can have real growth. Also, if you are already using a tool for managing your projects, maybe you'll fall in love with Teamwork and its features.
---
What is Teamwork?
First of all, project management is a hard domain to manage, and you have to learn many things to succeed. Sometimes it can be overwhelming for one person to manage so many things in a business. That's why sometimes you might need some help and manage to stay on top of everything by using a top project management tool. And this is what Teamwork is doing – organize and manage all your projects, people and teams. Teamwork is easy to use and can help you improve your team productivity, keep an eye on every project, deadline, or how much time your people are spending on finishing a project. Personally, I think that a tool like this is the right choice for your business to grow.
The pandemic has accelerated the need for project managers or business owners to organize projects. And find a better solution to help their people work better while working from home. But, even though this demand has increased, Teamwork continues to be one of the best players in the project management software market. Probably you're going to understand from this review why businesses are pleased by the functionalities of this tool.
If you're looking for a definition, I can say that Teamwork is cloud-based project management. The software stands out from the crowd by being really intuitive and easy to use from the first interaction with the platform.
How to use Teamwork project management?
As you can see, you can create an account in a breeze and start working on your projects. The platform is easy to use. You have aligned in the header what you can start creating with Teamwork: Projects, Planning, Reports, Calendar, and add People to your team. It's that easy to start creating projects, create milestones and add tasks for your people. I'm not just saying that this software is user-friendly and easy to use because you can observe yourself. The dashboard has a clean design and really intuitive, even though my account is just for a short demo.
To sum up, the simple answer for how you can use Teamwork starts with creating an account. After that, you're free to add your projects, share tasks with your team. About your team, there is an interesting fact that Teamwork is offering: time-tracking. With this cool feature, you and your employees can keep track of your work and how much time you spend on a project or in a day.
You can install it on both Windows and Mac operating systems as a native desktop application by simply downloading it directly from the Teamwork website. Please don't get me wrong, or the tool, but don't take this feature as a method of spying on your team, but to improve productivity on having the big picture of time and projects.
Teamwork Project Management Templates
To ease your user interaction with the tool and to manage to organize all your projects and people better, Teamwork is offering predefined templates, projects charter. These templates allow you to scale your best practices, reduce time spent on manual admin, and ensure that every detail goes according to plan on small and big projects. Also, you can create your own. Moreover, you can simplify people's workflow and reduce human errors. Let's find out what types of templates you can use:
Product Launch
Bug Tracking
Content Plan
Event Planning
Website Project Plan
Marketing Campaign
Public relations planning
Software implementation plan
New client onboarding checklist
Project management
Business goals
Event Marketing
New employee onboarding
Design project management
Creative request
Task Management
Project Tracker
I hope you understood how easy you could to create and manage a project with Teamwork. Let's find out what features offer and what makes it different from monaday.com or Asana, or other project management tools.
Who can use Teamwork?
Teamwork offers solutions for different types of teams and businesses. The main goal of this tool is to give a boost to your business by organizing your team better and every time have the big picture of what is actually happening in your company. Let's see what type of businesses can use Teamwork and why:
Creative Agency
Teamwork helps you plan and track your projects, so you have more time to deliver creative work that wows your clients. It helps teams complete creative services work on time and budget, from copywriting to brand and web design.
Professional Services
With this tool, you can tailor each project to your firm's unique needs and ways of working. Teamwork gives you full flexibility over your project setup at every stage of your progress.
Agencies
Teamwork offers you the right instruments to grow the profit of your agency and manage all your clients' projects. Moreover, you can work closely with your clients by giving them full access to Teamwork for greater collaboration and visibility of project progress.
Marketing Teams
From campaign planning to content production, the right project management software can take your marketing team's work from done to delightful. You can easily work with teams across different departments to move work forward and have a clear picture of who needs to deliver what, when. Having one tool to communicate, work, and complete tasks mean work moves forward quickly, and your team gets results faster.
Product Teams
Build great products faster with Teamwork Easily manage and execute on product requirements from concept to completion.
Project Management Teams
Teamwork helps project management teams deliver better projects in less time. Using a project management tool, you can see exactly what needs to get done and when. Get quick status updates on tasks and milestones, see who's working on what, and spot potential blockers before they become problems.
---
back to menu ↑
Teamwork Features
Now, let's see why this tool is still amazing in this ocean of project management software markets. First of all, I want to highlight that people's intention to purchase a tool depends on the tool pricing and its features and how friendly the interface is. Teamwork offers a great package of premium features that makes it different from other project management software products. So, to be on top of your projects every time, and organize better your team, here's what you can have with the Teamwork platform:
Plan

Collaborate

Deliver

Report

Integrate
Teamwork offers a long list of features to make project management quicker and more productive. Also, the main goal of this tool is to save time and have the big picture of all your projects in development. As I said before, Teamwork is designed to be useful now more than ever with the work-from-home trend. They also have a set of benefits that you will probably find in other project management software. Still, I think the deciding factor is how easy people can use the platform and what instruments that tool is offering for a wide variety of teams and domains.
Probably you're asking what a Gantt chart is. Let me clear that for you. A Gantt chart is a project management instrument that helps you with planning and scheduling projects. Project management timelines and tasks are converted into a horizontal bar chart, showing you the timeline (when it starts and when it ends), how much of the task is completed, and who is on the task. This feature can be helpful when you want to keep your functions evidence, works for both small and large teams.
With Teamwork Gantt charts, you can break down your projects into a task, assign to the right people, add deadlines, and follow the process. Moreover, you can visualize the timeline for each project and know how much is completed and what else needs to be done. Basically, with this feature, you can track each project and be on top of them every time.
Bringing your teams together and offer them one single platform to organize has never been so easy. Basically, that's why project management software products had been designed – as a solution for people's need to organize better and avoid human errors and misunderstandings. With the Teamwork platform, you can track everything that is doing in your company. In addition, the tool offers businesses the right instruments and features to centralize their work, an easy way for employees to communicate, and different departments to collaborate on projects.
Now you can keep track of multiple projects without missing deadlines or the workflow for each one. Moreover, Teamwork is offering more than a platform; they have developed Teamwork apps for Android or iOS so that every member of your team can be up to date and work from everywhere.
Well, this one is a nice feature to have that Teamwork offers extra than other tools. Understanding how much time someone is spending on a project is valuable if you want to improve your people's workflow and eliminate dead times. Is not only great for you as a business owner, but also for your employee. With this feature, they can estimate the time spent on a task and see how they can improve their performance on the next one. Or simply for a better organization of their time and tasks. Also, the time tracking feature will help people keep their focus and deliver their work on time. Say no to missed deadlines.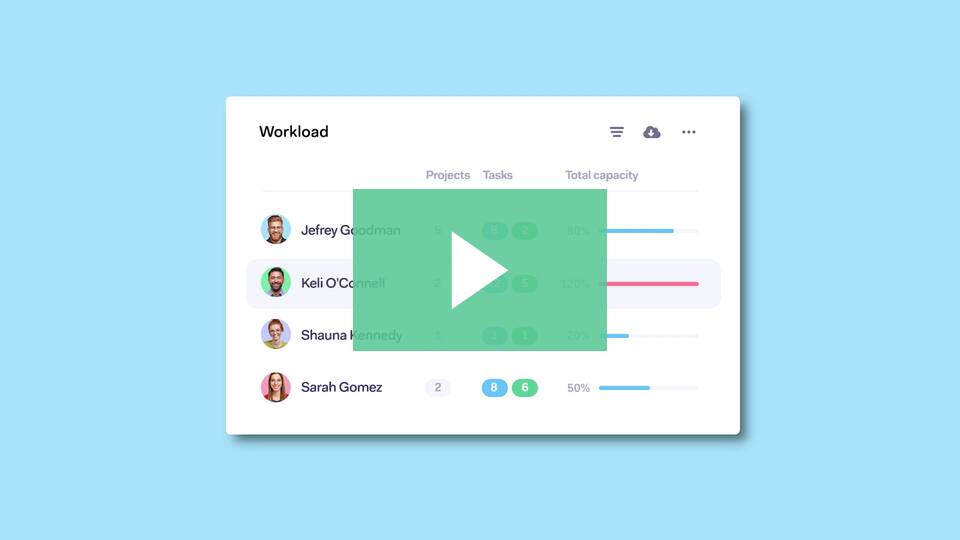 The benefits of time tracking for agency projects:
Measure project profitability
Easier invoicing and budget management
Build stronger client relationships
With this feature, you can definitely improve the collaboration between teams and people. Especially for medium to large businesses, there are many departments and people, and it can be hard for one project manager to have the big picture of all of them and their projects. That's why I think that Teamwork can solve that problem for you. With this software product, you can start planning your projects and set them up by assigning work to teams and sub-teams — saving you time on admin work and giving you a high-level view of team accountability and workload.
Moreover, Teamwork helps you get more organized and group your people into departments, sub-teams, and save more time on planning and setup. Also, Teamwork can improve communication between people. Notify, tag, or mention an entire Team in a comment or message using their team @handle, so you can get updates and input when needed — and ensure no one misses an important notification.
This feature will help you have a clearer picture of your team resources. Workload gives you a quick overview of everyone's tasks, so you can manage resources more effectively, quickly reassign tasks, and ensure you deliver projects on time. Moreover, you can easily re-assign tasks and projects based on deadlines and priorities and add project resources as needed with a simple drag and drop function.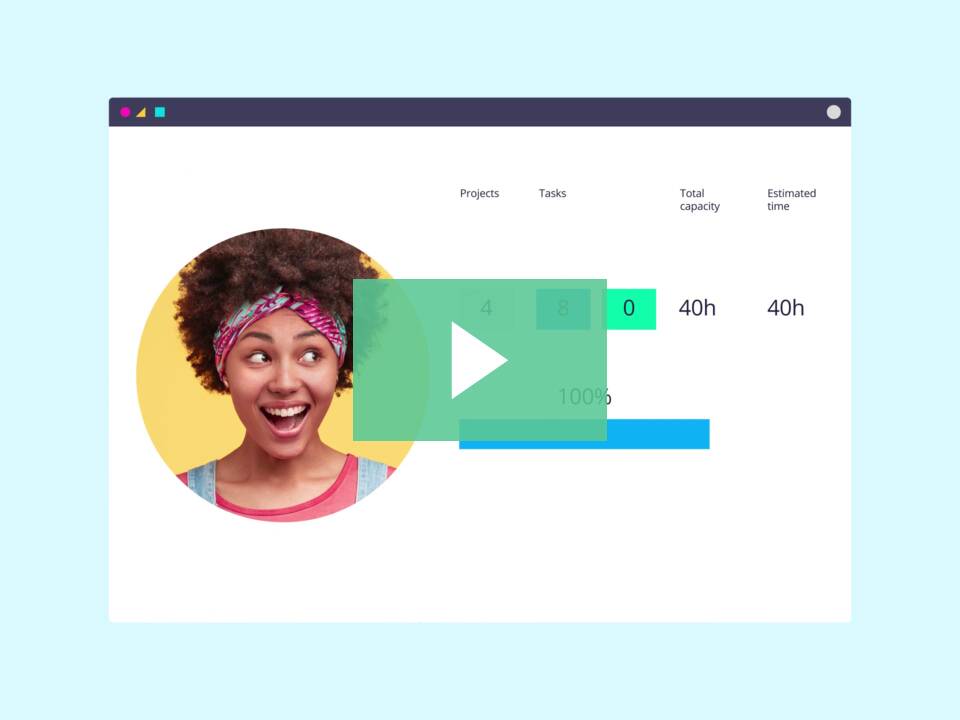 A kanban board is designed to help people get full visibility on their work (projects, tasks) and maximize productivity and workflow. Moreover, with this Kanban board offered by Teamwork, you can automate your workflow, optimize the processes.
With Teamworks's portfolio project management tool, you can get a panoramic view of all your projects and departments. Moreover, you can manage all your projects from one central place.
With this feature, you can give your clients power in Teamwork for better collaboration on projects, and a more productive client experience, at no extra cost. I think this feature is ideal for agencies and professional teams to avoid unlimited and tired feedbacks. In this way, everything can be more transparent and the workflow flawless. And, in the end, it is all about creating a better partnership with all your clients to become part of the projects.
So, these are some of the basic, still beneficial, features of Teamwork that will get you in this world of project management software. Now, I want to present some other features that will help you get that overview of your company and help you grow with a simple organization.
Calendar
Get a snapshot view of the important upcoming milestones, events, and tasks using the calendar.
Project Owner
Assign an owner to each individual project for an extra layer of accountability and clarity.
Milestones
Define your goals and attach task lists to monitor progress and give your team a clear vision.
Task list templates
Save time by creating and saving task list templates and using them when creating new similar task lists.
Tasks and Subtasks
Create tasks and sub-tasks to break down your workload and assign to one or multiple team members.
Notebooks
Write and share content on a project with notebooks. Update and observe changes between your notebook versions.
Files and versioning
Keep all your important files in one place and add updated versions to ensure clear visibility of the progress.
Followers
Enable people to stay in the loop on task progress without having to assign an action to them
Messages
Use the message function to write to your team, communicate with context, and group your messages into appropriate categories.
Privacy
Specify which users have visibility and access across projects with advanced privacy settings.
Permissions
Set the parameters and permissions of your users and decide what, when, and how notifications are sent.
a
Custom Fields
Track, manage, and filter information that's unique to your business needs using project and task custom fields.
Defaults
Create task templates, default task templates, and categories that you can use time and time again.
Billing
Quickly and easily create invoices using your team's billable time logs.
Risk register
Manage all risks associated with your project in one place and give the whole team visibility.
Tags
Group everything into specific categories with tags and combine tags with filters to quickly find the exact information you need.
Time logging
Easily keep track of the time you spend on your tasks and projects.
Filters
Use filters to view your project information through different customized lenses and save them for future use.
Dashboard
Build personalized Dashboards to show key project metrics for you and your team and see how your work is tracking at a glance with activity timelines.
Project Updates
Project owners and admins can add status updates to projects, as well as a health indicator to keep all stakeholders in the loop quickly and easily.
Task History
Easily track changes to tasks and milestones made by team members to maintain full visibility.
Teamwork Spaces
Embed Teamwork task lists into a space in Teamwork Spaces to make planning more productive.
Teamwork Desk
Creating Teamwork tasks directly from tickets in Teamwork Desk to make sure workflows seamlessly from one point to the next.
Teamwork CRM
Create Teamwork tasks and projects in Teamwork CRM to help you close deals faster and make client handoff more efficient.
Teamwork Chat
Create Teamwork tasks directly from messages in Teamwork Chat so you can make team communication actionable.
Now that you've discovered how many great things Teamwork software can do for your business and project management, probably you're asking how much it will cost you to take advantage of every benefit. So let's find out Teamwork pricing and its plans.
---
back to menu ↑
Teamwork Pricing
Pricing can be a deciding factor when you're purchasing a software product. So, if you want to see if this tool is the match one for you, then let's find out how much Teamwork costs and which plan is ideal for your type of business. First of all, Teamwork offers a free version for individuals and small teams that are just getting started with project management. This free version is called simple "Free Forever." I think this plan can give you a taste of the tool and then subscribe to a premium one to get your team organized. Also, you have to know that you'll get Basic Project & Task Management, Milestones, and Messages for this plan.
Moreover, with the free account, you can have a maximum of 5 people and two projects at a time and 100MB storage space. Also, you get most of the core features that come with the other account types, but not billing and invoicing, project templates, task templates, client users, collaborators, advanced team management features, the ability to invite clients, and a few other features.
Still, when you are convinced that you need a project management software like Teamwork, you have the possibility to benefit from it with a free 30-days trial for the premium plans. In this way, you'll have a full premium experience and see for yourself how many things you can improve in your company. Moreover, besides the premium plans, they offer discounts for non-profit organizations.
Starting from: $15
Pricing model: Monthly/Annually
Free Version: Yes
Free Trial: 30-days free trial
---
Here are the premium pricing plans that you can subscribe:
For the Deliver plan, you'll pay $12 per user per month but billed once annually, and if you want, the monthly subscription is around $15. So what you'll get if you choose the Deliver plan? A minimum number of five can use the platform or app and everything in the free plan, plus you have an increase of the file storage to 100GB and the number of projects to 300. This plan also comes with unlimited collaborators and clients and manages project-level teams, not company-level teams or subteams.
The Grow plan is ideal for large businesses and teams, full of features that will help you work more efficiently. The price starts from $21 per user per month but is billed once annually and comes with everything in Deliver. Moreover, the storage increase to 250GB, and projects to 600. It also includes 50 project templates, burndown reports, project time budgets, custom fields, change history, and all the integrations supported by Teamwork.
---
back to menu ↑
Teamwork integrations
To get the best from Teamwork and project management, you can integrate it with a lot of your favorite tools. Moreover, Teamwork supports webhooks, allowing you to create automation with other online services external to Teamwork, such as Slack. For example, you could create a webhook that sends a message to the executive team anytime someone marks a milestone complex course.
But, of course, for a webhook to work, you need the connected service to support webhooks, too. Moreover, you can connect Teamwork with a lot of apps and services through Zapier. For example, you can use Zapier to connect Teamwork to Salesforce such that when someone creates a new sales opportunity in Salesforce, a new task automatically appears in Teamwork with the relevant detail.
MS Teams
HubSpot
Slack
Zapier
Zoho
Analytics
Dropbox
Google Drive
Asana
Trello
Clockify
Quickbooks
---
back to menu ↑
Teamwork Alternatives
Teamwork is a great project management software to have for your business and your team. It offers a great variety of features, including Time-tracking, bringing your clients to the platform to see in real-time the evolution of their project, and many more. Moreover, it is easy to use compared to other project management tools, intuitive, and the platform is user-friendly. Thus, all you have to do is create an account and start becoming a better project manager for your team.
If you are not satisfied with what Teamwork offers and want something cheaper or offer you other features designed for your business needs, many other software products are on the market. But, again, each one is different, and what is good for my team or me is not necessarily good for you or your business. So, let's see what other project management tools you can choose:
Asana

Monday.com

Trello

Infinity

ClickUp
What is the best alternative to Teamwork?
The best alternative to Teamwork is the one that works for your business and your team. Yet, one of the most popular tools that are Teamwork's competitor is Asana. To create a context for project management, I want to highlight the pandemic's changes to the way people are working now. When the pandemic started, people asked how they would manage to work together in a company without seeing each other or working in an office.
The solution came from the software developers who created these project management tools to help businesses and employees overcome that period and ease working from home. Indeed, businesses were using project management software products before this period, but they've developed new features to manage all the departments and things to do in a company.
Teamwork vs. Asana
Let see who is better for project management between Asana and Teamwork. Both of them are great project management software that helps people communicate and work better. Also, both offer the minimum benefits of a platform designed for management, like task lists, due dates, collaborative tools, add team members, and so on. Asana was created as a tool for teams to organize and work with task lists and boards. On the other hand, Teamwork is a management platform that helps you collaborate with your team and clients. Also, you have a time-tracking feature.
When you want to purchase a project management tool for your business, you have to take into account the size of your teams, their need for collaboration, if you want to help them boost their productivity, what kind of business do you own, what kind of projects you have and what kind of support do you need.
Then you have to find out what kind of features you need: Collaboration, project views, or other advanced features needed for your company. In this case, Asana offers many templates to help you manage your projects, while Teamwork offers more advanced features like time tracking or collaboration with your clients.
If you're interested in the pricing, both of them offer free versions, monthly payment, annual subscription. Still, even if the pricing is quite close as value, Teamwork offers more liberty to customize the platform and many other advanced features missing from Asana.
---
Review Conclusion
Here we are at the end of this Teamwork review, where I tried to detail as many benefits could fit into a review. But, of course, there are many other benefits of this project management software that you'll probably discover once you've created the account. Moreover, they are constantly improving their product, so for sure next week they will surprise their user with new features.
From all the project management, productivity tools that I've been using, this one is quite intuitive, easy to use, yet complex in features. It is not only a tool where you can put down your projects or discuss and work with your team members but a real help to get things done and organized. In a company, getting all your people, departments, and projects organized is the hardest mission.
Moreover, they offer a free version and other premium plans designed for each company size, industry, and needs. A good tool is known for its results, and Teamwork definitely is helping you scale your business and boost people's productivity.
If you have tried Teamwork or already using it, offer us your experience in the form of a review. But if you haven't tried yet, this is the right moment to do it!
| | |
| --- | --- |
| device-supported | Desktops, Mobiles |
| features | Ad tags, Add sub-tasks, Billing, Calendar View, Client User, Collaboration, Commenting / Notes, Custome Fields, Dashboard, Files and versioning, Followers, Gantt Charts, Kanban Board, Milestones, Permissions, Portfolio Management, Project Management, Share the workload, Task Templates, Team Collaboration, Teamwork Chat, Time Logging, Time Tracking |
| integrated-with | Asana, Clockify, Dropbox, Google Analytics, Google Drive, HubSpot, Microsoft Teams, Quickbooks, Slack, Trello, Zapier, Zoho |
| languages | English |
| price-range | 1-50, Custom |
| pricing-model | Custom, Annual Subscription, Monthly payment |
| works on | Android OS, Apple iOS, Web Browsers |
She likes to be called just Maria, and she's here to serve you the best reviews. To serve, cause in her spare time she's also a pastry chef. That's been said, for Maria, writing about technology is a piece of cake. Maria likes poetry, but unfortunately for this, there is not a tool yet. But for improving your content, there are lots. She is that type of human being that swims against the current and likes to promote quality in everything she does and writes. But she doesn't know how to swim in a Goddamn ocean. We all are ordinary people with everyday needs but different passions. What unites us is the interest in technology and the real desire to help people. And pets.