Bambee Reviews
& Product Details
What is Bambee HR software?
Today Bambee isn't standard HR outsourcing in the sense of "set it and forget it." Instead, it's more akin to human resources consultancy for small organizations that can't afford (or justify) hiring a full-time employee. For example, assume you and your team have 80 percent of HR under control. Payroll, accounting, and hiring are all running smoothly, but now and then, you run into a circumstance when you wish you had a full-time HR department on staff.
Bambee is on-demand expertise for a reasonable monthly cost. They'll assist you in navigating the 20% of HR that makes your work more difficult and leads to problems down the road. Consider the firm a wellspring of guidance and advice for difficult and unknown problems. So, you're not using Insperity or another full-service HR provider to handle your HR. Instead, you'll get Bambee's support in setting up effective processes and rules, as well as with the odd tricky question.
You have a dedicated HR manager with Bambee that you may contact at any moment if you have a query. This is someone who specializes in the issues that small businesses confront and can assist you in avoiding the pitfalls of doing business. Damage management and troubleshooting aren't the only things on the table. Your manager collaborates closely with you to help you develop effective HR process materials and navigate the maze of rules.
Found in these Categories
Best For
Streamline HR & automate onboarding, policies & employee training
StartUps

Freelancers

Small Business

Medium Business

Large Enterprise

Non-profit Organization

Personal
Cloud, SaaS, Web-Based

Mobile - Android

Mobile - iPhone

Mobile - iPad

Desktop - Mac

Desktop - Windows

Desktop - Linux

Desktop - Chromebook

On-Premise - Windows

On-Premise - Linux
Company Name

Bambee

Located In

United States

Website

bambee.com
Starting from:
$99 /month
Pricing Model: Subscription
Pricing Details:
Bambee is reasonably priced, allowing any company to hire an HR manager. In terms of personnel count, they offer four pricing models. The costs start from $99/month and can go up to $3,699/month (150-249 employees). For 250+ employees, you will have to talk to sales and get a custom quote.
See Bambee Coupons
Benefits Management

Performance Management

Onboarding

Reporting & Dashboards

Employee Database

Payroll Management

Compensation Management
Additional Features
Training Management

Document Management

Negative Feedback Management
There's a reason why individuals spend their entire careers learning about human resources—there's a lot to it. The good news is that no one expects you to be an expert on everything, and you don't have to do it alone. Recruiting, payroll, benefits administration, and more–the best HR outsourcing services will handle as many (or as few) of these responsibilities as you like. With less time and irritation on your end, you'll be able to provide a better experience for your employees. Today we have examined one such HR software solution called Bambee HR, which will help you reduce all the stress. So, without further ado, let us dig into the review.
Every small business in the country should have access to a human resources specialist.

Bambee founder and CEO Allan Jones
This is the essence of Bambee's services.
The truth is that outsourcing can save money in the long run, but for many small businesses, it is prohibitively expensive. So, they try to manage HR independently, which works for a while.
Jones explained to TechCrunch. "When I was a kid, my father had a little minimarket and was sued for wrongful termination, so he had to take money out of my savings account." Like Jones' father, many small firms are exposed to severe risks because they lack HR experience. Are you ready to face a lawsuit for wrongful termination? Have you worked on all of your hiring documents so that they won't lead to a lawsuit?
Bambee HR – An affordable HR software solution
There's a lot of emphasis on engaging your consumers and ensuring that you're providing the greatest service possible. But it's just as crucial to have engaged personnel involved in you and your company. Businesses must use Human Resources to ensure that their employees are engaged, perform at their best, and fulfill their needs. This could be in HR software or hiring a human resources assistant or manager. Several HR-related duties must be completed in every organization that employs employees, ranging from hiring to firing and everything in between. Don't forget about the legal ramifications if you get this wrong!
HR software can track your employees' lifecycles and help them be more productive. In the United States, a full-time HR Manager costs roughly $6,000 per month, whereas a part-time outside consulting business costs around $200-$300 per hour. This is not in most small firms' budgets. As a result, just about 5% of small businesses have a full-time HR manager.
Small enterprises employ over 70% of the workers in the United States (and only a tiny percent of these will have an HR manager). Unfortunately, this means that more than 30 million employees do not have frequent, consistent access to an objective Human Resource specialist throughout their careers.
Bambee aspires to be the answer. All sizes and stages of business have access to knowledgeable, objective, and well-trained Human Resources personnel. We'll go over the benefits, drawbacks, features, and exactly what you can expect from Bambee when you sign up in this Bambee review.
Is Bambee HR software the right choice for you?
Bambee can be used in a variety of sectors. They've worked in various industries to ensure that businesses adhere to relevant labor laws and other federal and state regulations. As a result, they're best for small and medium firms with less than 1000 employees that want to stop doing their HR. However, they have several high-profile clients, such as Fantastic Sams, Comfort Inn, and Domino's.
For a monthly charge of $99, companies that join Bambee receive:
A Bambee Certified experienced HR Manager. There are no hidden fees or long-term commitments.
A professional Human Resources Manager will be assigned to your firm (based on company size, location, industry & culture).
They will audit your company's operations and structures. Then they'll ensure that federal, state, and local laws are followed.
Your HR Manager will then tailor, establish, implement, and maintain HR policies specific to your company and culture. Handling staff communication, obtaining signatures, and keeping all paperwork are examples of this.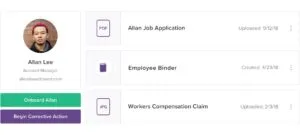 Details of Bambee HR Features
Bambee was created to believe that every firm, regardless of size, should hire an HR department and run like any other significant corporation in the sector. The platform provides your company with a real, experienced human resources department. They're responsible for developing company policy, pursuing legal action, and overseeing your staff. The service does not include a freelance HR manager or a phone assistant.
They provide a committed and experienced HR manager, an important function in every company. However, Bambee provides more than just administration; here are some of the service's highlights:
Interactions and communication that are quick
You can contact your HR manager through Bambee by phone, email, or live chat. Aside from that, the website offers an interactions section that makes HR interactions even easier. The accessible rapid interactions are General, Employee concerns, Policy requests, Termination, and Wages.
Users can communicate with their HR at any moment. This saves you time and allows you to make swift business decisions. For example, if you have a problem with one of the employees or government law, HR can usually address your problem in a matter of hours.
Indicator of Business Compliance
Bambee makes its web dashboard available to all its users. The platform's Business Compliance Indicator score is a standout feature. Your company's total score is based on its efficiency and security. A higher score indicates that your company and its personnel are performing well. Conversely, a lower score indicates that certain aspects of your business or policy need improvement.
Every time your score is evaluated, the hired HR will make suggestions to improve it. It also includes information about your employees' performance and a business report. Having a bird's-eye view of your personnel relationships boosts collaboration and, as a result, productivity.
Reports on Employee Performance
Bambee's web dashboard provides a detailed personnel report. People can track every employee's progress in a single window. These reports can assist you in determining whom to keep, promote, or fire. Employees are the heart and soul of any company; therefore, it's critical to understand what they do. HR managers assist in increasing organizational transparency and serving as a link between management and employees. Personal notes from HR are included in the prepared reports to explain the reasoning further.
Active Corrective Platform
 In any business, mistakes are unavoidable. However, it can't be good for any organization, whether a poorly planned policy or an unwelcome legal action. Bambee HR is aware of these errors and actively tries to fix them through its Corrective Action Plan (CAP). There are written and verbal warnings, erroneous policies, and performance development plans. In addition, when a company expands or branches out, it frequently creates new policies. It is critical to the success of the company.
Bambee allows you to work with experienced HR professionals to develop rules tailored to your company's needs. Unfortunately, they also deal with erroneous salary and termination policies, which can be a headache.
Bambee HR software Review Conclusions
Bambee's company aims to lower internal operating expenses by decreasing job redundancy and passing the cost savings on to the customer. In addition, they want to concentrate on small businesses, where their high-quality product will be less expensive than your cell phone bill.
Therefore, they've distilled HR best practices from Fortune 500 companies into a low-cost, high-impact solution. As a result, Bambee is an excellent solution for small businesses that need complete end-to-end HR support. When compared to the cost of hiring a full-time HR manager or the risk of not properly handling an HR issue, Bambee becomes a no-brainer.
You can sample Bambee for free if you are a small business or a startup with less than 150 employees (no credit card required). We hope that our Bambee review has opened your eyes to the world of HR and that you've decided to invest in your company's HR management.